On March 4, 2022, the team behind UkraineDAO announced the successful completion of a funding initiative that secured roughly 2,258 Ether (ETH) or $6.7 million through the non-fungible token massive flash sale of digital Ukrainian flag in solidarity with Ukrainian citizens.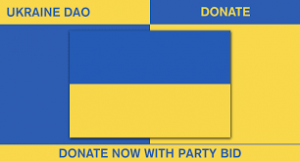 Launched earlier this week, UkraineDAO is a decentralized autonomous organization backed by Nadya Tolokonnikova, a Russian activist and feminist punk band Pussy Riot, Trippy Labs, and PleasrDAO members. All proceeds from the secured funds will go towards non-profit organizations helping Ukrainian citizens affected by the ongoing Russian invasion.
UkraineDAO hosted the NFT as a PartyBid auction, allowing participants to pool resources and bid collectively for fractionalized ownership of the digital Ukrainian flag. Participants received ERC-20 tokens "LOVE "depending on their donations. In the meantime, the NFT team has not fractionalized funds for distribution.
While commenting about the successful sale of the Ukrainian flag NFT, co-founders Crypto Steve and Tolokonnikova said in a blog post that their mission was to leverage the power of the crypto community to help those who desperately need it most.
In a subsequent Tweet, Crypto Steve applauded participants who just raised their hands, being of service and selfless to stand in solidarity with Ukrainian citizens. Steve said that the beauty of a DAO is its potential to set a new paradigm for fundraising, adding:
"If you want to make something happen, you start reaching out to friends. The fact that the Web3 space has mobilized faster and at the magnitude that countries do is super powerful."
Buy Bitcoin Now
UkraineDAO Committed To Listening To All Voices
While responding to a question on how the DAO will distribute the proceeds of the NFT sales, Tolokonnikova confidently said that the organization remains dedicated to respecting different voices within the DAO.
Nonetheless, Tokolonnikova revealed that after reaching out to local non-profit organizations in the country, they have determined Come Back Alive, the Ukrainian non-profit organization, as the most trusted choice.
In that case, UkraineDAO clarified to channel the funds only towards medical help, but not towards military equipment. On March 3, 2022, Mykhailo Fedorov, the Ukrainian vice-Prime Minister, announced that his country would continue to amass funds through NFTs after raising more than $40 million in the past few days. In the meantime, UkraineDAO is still accepting direct crypto donations.