Consumers have gotten used to little returns on savings accounts, but there are now better deals
If you are among the millions of people whose savings are declining in an account paying little or no interest, it might be time to act because you could be getting 4.25%, or more on your money.
Earlier this week, the Coventry building society cautioned that Britons have a combined £268bn sitting in easy and instant access accounts earning no interest – a rise by more than £9.6bnon a year ago.
After a long period when interest rates on savings accounts were so poor – normally zero or 0.1% – it seems that consumers have grown out of the habit of moving their money to secure a better deal.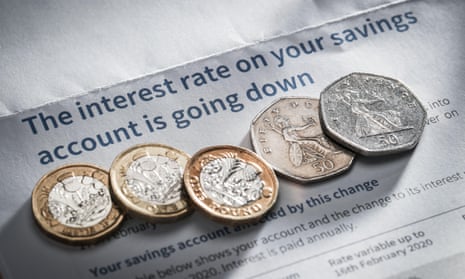 But, fast forward to 2023, and interest rates have returned to the point where this exercise is worthwhile. This week Ford Money renewed its savings products and is paying 4.25% for those ready to lock their money away for a year – or 4.5% for those signing up for its two-year bonds.
These savings rates seemed improbable, even until quite recently.
"Just over a year ago, when the base rate was still at 0.10%, the best easy access account on the market was paying about 0.71% – today Zopa is offering 2.86%, four times as much," Anna Bowes, who manages the Savings Champion website, said.
"In terms of what that means for the pounds in your pocket, if you have £50,000 in an account paying 0.71%, which would produce interest of £355 a year. If you are instead earning 2.86%, your £50,000 would earn £1,430 per annum. People really need to check what they are getting. For example, Virgin Money is offering just 0.25% on its Everyday Saver easy-access account. It's important to make sure you are not languishing in one of these poor-paying accounts," she said.
Savers who want to retain some access to their money can earn 3.35% by going for a notice account. OakNorth Bank is paying that rate to savers ready to give it 120 days (about four months) if they want to make a withdrawal. You can also earn 3.2% on 90-day notice accounts with several other providers, which will be a better choice if you think you'll require the money sooner.
Buy Crypto Now
While the major banks continue to offer low rates to online savers – normally 0.5%, customers can get significantly higher rates even within the same bank, which makes it a lot easier to move. For instance, Barclays is offering 0.5% on its "everyday" saver, or a much more attractive 4% on its one-year flexible cash Isa.
Jeremy Cox, head of strategy at the Coventry building society, says that towards the end of last year, money going into interest-paying easy access accounts reached a record high of £1tn, but that more than £268bn of household savings was still sitting in accounts collecting zero interest.
"As we enter the New Year, rates of about 3% are readily available in the savings market and we expect money going into zero-paying easy access accounts to lower as savers shift money into higher-rate accounts to maximize their savings pots," Cox said.