On March 7, 2023, Israel's National Cyber Directorate officially said that Iran was behind the cyberattack on Israel's leading engineering university in February.
The Israel Institute of Technology in Haifa, also called, Technion, was targeted by hackers in early February. Based on the announcement, the people responsible for the attack are a group that is linked to Iran's Ministry of Intelligence and Security.
These hackers demanded 80 bitcoins from Technion, equivalent to $1,747,971. Notably, the wording of the email that came after the attack has several anti-Israel rhetorics, meaning the attack was motivated by ideological reasons and nothing about greed.
They wrote in the email:
"We regret to inform you that we've had to hack the Technion network completely and transfer 'all' data to our secure servers. Keep calm, take a breath, and think about an apartheid regime that causes troubles here and there. They should pay for their lies and crimes, their names and shames."

"They should pay for occupation, war crimes against humanity, killing the people (not only Palestinians' bodies but also Israelis' souls), and destroying the future and all dreams we had. They should pay for firing high-skilled experts."
Buy Bitcoin Now
The institute's website crashed and students were asked to log off. The hackers demanded ransom from the institute. They threatened to increase the ransom by 30% in case their demands are not met in 48 hours, and publish the university's data for sale on the web if the ransom is not paid in five days.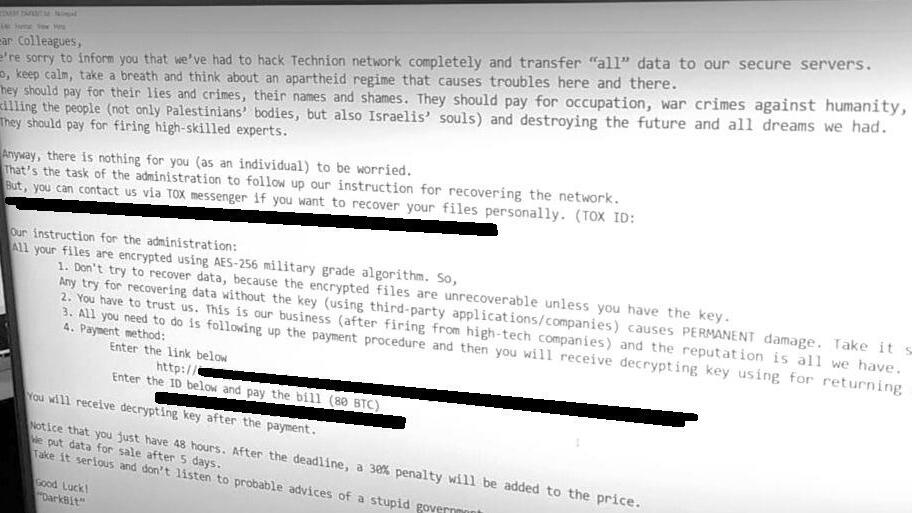 Israeli media has previously insisted that the cyberattack was executed by a group known as Darkbit. Technion is a flagship of scientific research in Israel, training thousands of high-level engineers each year. In September, a group of pro-Iranian hackers stole and published the personal information of 30,000 Israeli students and teachers.