by John Lounsbury
Every body focused yesterday on the zero growth in non-farms payrolls in August.  But if the number had been +100,000 or even +200,000 the serious nature of the employment crisis in this country would not have been changed.
The following from chartoftheday.com shows a different view of the dismal employment situation.  Click on graph for larger image.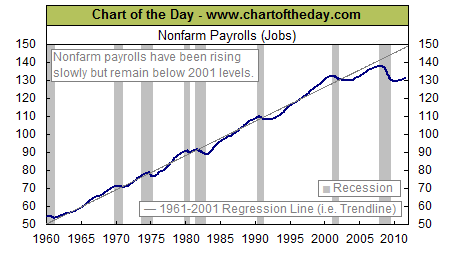 The current number of non-farms payrolls is below those of 1999-2001.  The population has grown from about 280 million in 1999 to approximately 312 million today.  So, adjusted for population growth, employment is in much worse condition than the above graph indicates.
The following graph shows the non-farms payroll data normalized to total population.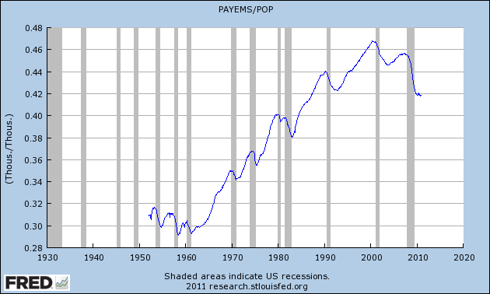 The above graph shows that employment levels (as measured by non-farms payrolls) have fallen back to early 1987 levels.
The other factoid taken from the above graph is that population normalized employment has reached the low point of a recession that started at the turn of the century.  There was a failed attempt at a recovery 2003-07.  Then the recession resumed.
The title of this article could well have been "Non-farms Payrolls at Levels not Seen since Early 1987" or "More than 24 Years of Employment Gains Lost."
What the graph is specifying in hard data is an employment depression starting in 2001 and still deepening.
While the U.S. stock market can be supported in this massive depression by global earnings, if global economic activity slows down where will support for current earnings come from.  And more earnings growth from here?
Europe is definitely slowing under the austerity demands stemming from the sovereign debt crisis.  Asia is slowing under the attempts of central banks to stem inflation.
Where is the growth going to come from?
Related Articles
Prediction:  Demand will Rule the World by Micahel Pettis
Fat Dividends: Some are Iffy, Others are Beauties by Bill Barhart
Wash, Rinse, Repeat? by David Grandey
August Investment Review by MacroTides
European Banking System on Verge of Collapse by Keith Fitz-Gerald
Is the End Near – Or Is It Different This Time? by Ed Easterling
Do You Want to Ride Through another Bear Market? by MacroTides
It's Time to Bail on Bank Stocks by Martin Hutchinson
Investing in a Volatile Market by David Grandey
Gundlach Sees Cusp of a Global Banking Panic by Robert Huebscher
Why the U.S. Credit Rating Downgrade Could Cause a Full-Fledged Market Crash by Jason Simpkins
Elliott Waves: Potential High for Stocks and Low for Dollar by Avi Gilburt
Investors: The News is Getting Even Worse by Art Patten
Gold Trend Lines by John Lounsbury