by Guest Author David Grandey, All About Trends
Another Monday, this time August 30.  And here we are yet again back to where we were a week or so ago.  Net result of the past week?  Nowhere.  We have had a volatile range-bound trading on pre-holiday low volume. Tuesday is the ADP employment report so we'll see what that has to say.  Personally I'd have to say that we will chew around all week with lower and lower volume coming in as we go along toward the long holiday week-end. That all makes for AMPLIFIED moves in both directions.Let's look at the indexes: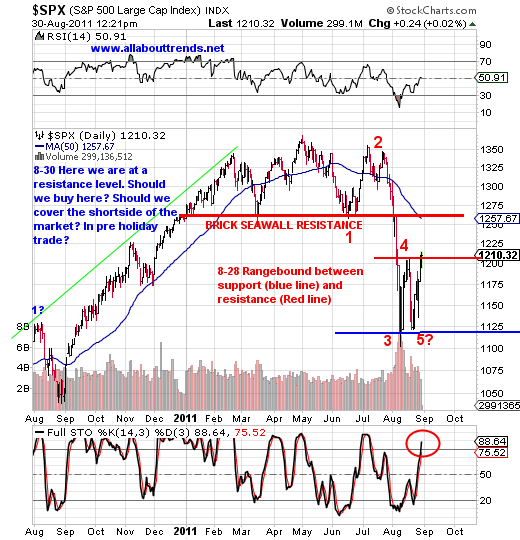 Now let's see how some of the leading stocks are faring:
Just like the indexes, each of these leaders has simply traded up to resistance with the stochastics overbought.
Given where we are technically one may want to consider laying low with new purchases this week because low volume pre-holiday periods. Keep in mind brick seawall resistance is just above. Coupled with tomorrow is the end of the month and we have more economic news coming in the form of ADP report, ISM and Fridays jobs report — all of which makes for potentially more volatility.
Related Articles
About the Author
---
David Grandey is the founder and CEO of All About Trends, a subscription based newsletter service focused on helping individuals secure consistent profits in the market by trading what they see, not what they think, hear or fear. The focus is on how to trade uptrends, downtrends and changes in trends. All About Trends offers a free newsletter at www.allabouttrends.net and a free report — "How To Outperform 90% Of Wall Street With Just $500 A Week."
---
Disclaimer from All About Trends



THESE ARE NOT BUY RECOMMENDATIONS!

Comments contained in the body of this report are technical opinions only. The material herein has been obtained from sources believed to be reliable and accurate, however, its accuracy and completeness cannot be guaranteed. All About Trends reserves the right to refuse service to anyone at anytime for any reason.

Allabouttrends.net

is not an investment advisor, hence it does not endorse or recommend any securities or other investments. Any recommendation contained in this report may not be suitable for all investors and it is not to be deemed an offer or solicitation on our part with respect to the purchase or sale of any securities. All trademarks,

service marks

and

trade names

appearing in this report are the property of their respective owners, and are likewise used for identification purposes only. The member/subscriber agrees that he/she alone bears complete responsibility for his/her own investment/trading decisions.

Allabouttrends.net

shall not be liable to anyone for any loss, injury or damage resulting from the use of any information. Trade at you're own risk, this information is strictly for educational and informational purposes only. Allabouttrends.net assumes NO responsibility whatsoever for any losses experienced by anyone who uses its educational materials to make financial decisions. All charts courtesy of

stockcharts.com

.



Want to know more? Visit our

web site

. Have you enjoyed good results from our newsletter or have a comment or question? Contact us at

[email protected]

. We'd love to hear from you. If you enjoy these newsletters, tell a friend!

Finally, we have a public list at www.stockcharts.com

— you can help us out by voting for it each day.

At the bottom of our list is a place to vote for us. Voting for us each day helps our list get closer to the top which means more visibility and more subscribers and more opportunity for us to help others like you be successful.