by Guest Author Avi Gilburt, managing member of the financial consulting firm of Gilburt & Associates, LLC.
I am going to try to present to you as objective an Elliott Wave count in the S&P500 as I possibly can, which is also supported by an Elliott Wave count on the US Dollar. For those unfamiliar with the Elliott Wave Principle, Elliott Wave International provides a very nice summary of the theory.  In its simplest form, the Elliott Wave Principle provides that markets move in 5 waves in the direction of the main trend, and in 3 waves as a countertrend.
I am going to begin with the assumption that we are in a long term bear market, and working our way to completion of a "cyclical bull market" retracement within that larger bear market. The basis behind my assumption for the long term bear market is that we have a fairly clean and clear 5 wave move down from the all-time highs on the S&P500 chart, wherein the wave relationships are clearly indicative of standard Fibonacci relationships between the various waves.
When you have a 5 wave move off a prior high, it is usually indicative of a change in trend, based upon Elliott Wave Principles. Therefore, this is the basis for my assumption that we are currently in a larger bear market, and this move back up since March 2009 has only been a 3 wave counter-trend rally.
Ultimately, my premise is that we will shortly reach a high for this counter-trend move in the S&P500 at the same time that we will attain a low for a counter-trend move in the US Dollar. This will coincide with the re-emergence of significant deflationary pressures, which will cause the equity markets to continue a significant multi-year decline and will cause the US Dollar to continue its significant multi-year rally.
Therefore, the market is now setting up a shorting opportunity that will even potentially exceed 2007 in potential profitability from the short side.
HISTORICAL BACKGROUND AND WAVE COUNT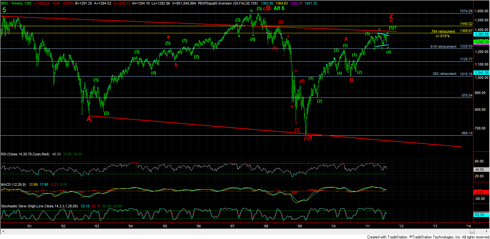 After the impulsive 5 wave move down from the highs in the S&P500, which we labeled as Wave 1 down in red, we then expected a Wave 2, three wave, counter-trend move, which we label as A-B-C. Waves A and C usually subdivide into 5 waves and Wave B usually subdivides into 3 waves. Standard Fibonacci retracements for such Wave 2 counter-trend moves are .500, .618 or .764 of the initial impulsive 5 wave move.
In our case, as you can see, most of this pattern has now been filled in. We had a 5 wave move off the lows into the .618 Fibonacci retracement for the A wave. The B wave came down into the .382 Fibonacci retracement level of the Wave 1 decline. Currently, I believe we are within the C wave of Wave 2. It would also seem that we have now completed or are about to complete 4 full waves of the C wave, with a final 5th wave rally remaining, which should complete within the .764 retracement area.
I also want to point out that Waves A and C will usually maintain some Fibonacci relationship, most often 1:1 or 1:.618. In our case, we now have an almost complete wave count wherein Wave c will be roughly .618 the length of Wave A. Furthermore, the level at which Wave C will be .618 the length of Wave a will also converge in the region with the .764 retracement of the entire Wave 1 move down. Additionally, Wave C will also be a Fibonacci 13 months long at the end of August to beginning of September. Whenever we have such a confluence of Fibonacci levels, coupled with a Fibonacci time period, it is usually a point at which the market will exhibit a strong reaction.
CURRENT WAVE COUNT – HOW HIGH WILL WE GO?
I.  Analysis of S&P 500
A nice key that the market may be presenting to us right now is that we have been forming what looks to be a 4th wave triangle within this C wave of Wave 2. Frost & Prechter, the authors of Elliott Wave Principle, have stated that, from their research, e-waves within 4th waves will either truncate prior to the bottom of the lower channel of the triangle, or pierce through the underside of the triangle, but rarely actually find support on the lower trend line. Therefore, we should have either completed or are about to complete a 4th wave triangle.

Elliott said that a triangle always occurs in a position prior to the FINAL wave in a pattern, such as a 4th wave. As Frost & Prechter also state it, "in the stock market, when a triangle occurs in the 4th wave position, wave 5 is sometimes swift and travels approximately the distance of the widest part of the triangle." Elliott used the word "thrust" in referring to this short wave following a triangle. As such, it gives us a clear indication that a top is near, based upon this methodology.
Of course, the question is how high will we go until such a wave is completed. To answer this question, I want to provide several items of information:
The .764 retracement level in the S&P 500 is within the 1365 region and we have not been able to technically overcome and maintain that level to date;

The 1360 region is also where the c-wave of wave 2 is equal to .618 of the a-wave of wave 2;

The widest part of the triangle was 115 points within the b-wave, and based upon a low of 1275, it would give us a potential high of 1390;

Since we often see equality between waves 1 and 5, and wave 1 was approximately 120 points, such equality would give us a potential high of 1395.

Additionally, since it is also possible that wave 5 can be as small as .618 of the size of wave 1, this would be approximately 73 points, and would provide us with a high of 1348.
Based upon these facts, we could have a top for Wave 5 of this final move up in the equity markets from the March 2009 low within a range of 1348 to 1395. Of course, this 5th wave can also provide an extension to the next level of resistance in the S&P500 around 1440, which would also be where wave 5 would be equal to 1.382 times the size of Wave 1. However, I do not see this as the most likely topping point in the market at this time.
II.  Analysis of USD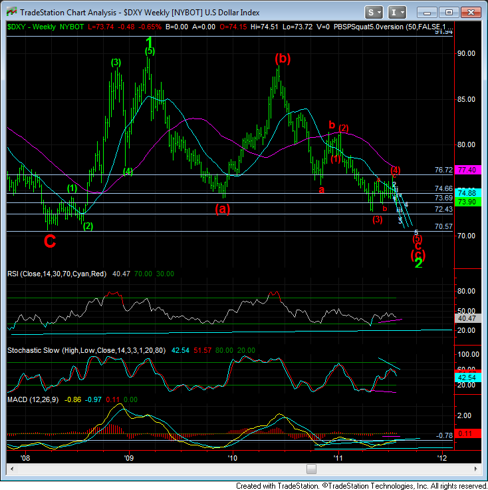 If you look at the long term dollar chart, you can see that I view the 2008 low of the 70.60 region as the completion of a larger correction within the USD chart. From that point, it had a 5 wave move up, which was an inverse move relative to the equity markets. This is what economic theory dictates should happen during a period of deflationary pressures, which existed at the time the equity markets were in their year-long downtrend.
For the last two and a half years, the USD has been retracing an ABC wave 2 retracement, again, inverse to the wave 2 retracement within the equity markets.

Currently, we seem to have completed wave (4) of the c wave of Wave (c) of Wave 2, as I have it labeled. This means that the market is now in the middle of its 5th and final wave down, and coming to the end of its Wave 2 correction. This count will be proven wrong if the USD makes a new low below its 2008 low, which would take it outside of our target zone for a low. Furthermore, if the USD were to break out over 74.82 prior to completing its 5 waves down, this would also invalidate this count, and could mean that the US Dollar has already begun its multi-year bull trend.
CONCLUSION FOR HIGH ALERT WARNING
My theory is that the dollar will be putting in a Wave 2 low at the same time that the equity market puts in a Wave 2 high in the region of 1348-1395 (and maybe as high as 1440). Based upon this theory, it would behoove us to closely follow the US Dollar and equity market charts concurrently for signs of mutual completion patterns.
If the USD is concluding it's final 5 wave move down in its final C wave of its wave 2 at the same time that the equity market is concluding its final C wave within its wave 2, then we have a high probability point for a top in the equity markets, and a low in the USD market. If the USD breaks over 74.82 in the DXY chart prior to making a new low, then chances are that the top is already in.
This would then signal a multi-year reversal in both the USD and equity markets. Therefore, you need to be raising cash, and, for the more experienced traders, perparing to short the market for what is setting up to be a better shorting opportunity than even 2007!
Related Articles