The Ukraine legislature, Verkhovna Rada, has approved a renewed crypto bill referred to as "On Virtual Assets," previously returned to parliament for consideration due to an inclusion of a new regulatory body for crypto oversight.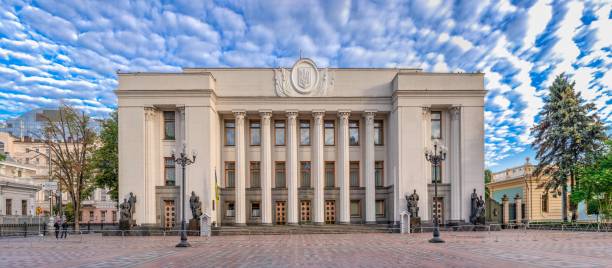 On February 17, 2022, the Ukraine parliament passed the revised legislation in the second reading during a preliminary session, with the renewed crypto bill garnering 272 upvotes out of 365 deputies.
Ukrainian policymakers honored several bill recommendations pushed by Ukraine President Volodymyr Zelensky, including exemption of the Ministry of Digital Transformation from the list of Ukrainian authorities overseeing the cryptocurrency market.
For now, the updated version of the On Virtual Asset bill establishes The National Securities and Stock Market Commission of Ukraine (NSSMC) and the National Bank of Ukraine (NBU) as the only two regulatory authorities to oversight the crypto industry.
The revised legislation gives the NBU an obligation to oversee the turnover of virtual assets backed by currency valuables such as dollar-pegged crypto assets, Stablecoins. On the other hand, the bill gives NSSMC a mandate to supervise various digital assets, including derivative financial instruments and virtual assets service providers.
While commenting about the newly revised legislation, Alex Bornyakov, the deputy minister of Digital Transformation of Ukraine, said:
"Shrinking regulatory bodies can significantly accelerate crypto market launch. To ensure the growth of the crypto industry, we are ready to cooperate with The National Commission on Securities and Stock Market. Ultimately, real change in any market is driven by collaboration."
According to Konstantin Yarmolenko, head of advisors at parliamentary group Blockchain4Ukraine, the law requires Zelensky to sign and publish the new crypto provisions within the next 10 days. Local policymakers are also looking forward to registering the crypto bill on the Ukraine tax code, which handles all matters related to the taxation of digital assets and other virtual assets.
Buy Crypto Now
The Ukraine Parliament Drafted The Bill To Regulate Crypto
"On Virtual Asset" bill was drafted in May 2020. The bill aimed to determine the legal status of digital assets like Bitcoin (BTC) in the country. After several stage readings, the Ukraine head of state pushed it back to parliament for revision due to the heavy burden of setting up a new crypto regulatory body in the country.
Created in August 2019, the Ministry of Digital Transformation of Ukraine is known for partnering with notable industry players, including the world's largest crypto exchange Binance.
Unfortunately, the bullish crypto news appeared amid the ongoing tensions between Ukraine and Russia, with emerging reports alleging Russia increased security forces on its borders despite previous claims to withdraw some. Nonetheless, Russia is also making notable crypto developments, with the government planning to unleash new crypto regulation late this week.