by Lee Adler, Wall Street Examiner
The Fed's Industrial Production (IP) Index slowed dramatically in April. It weakened enough to decisively break the uptrend in force since 2011, when the trend growth rate slowed from the bungee rebound of 2010.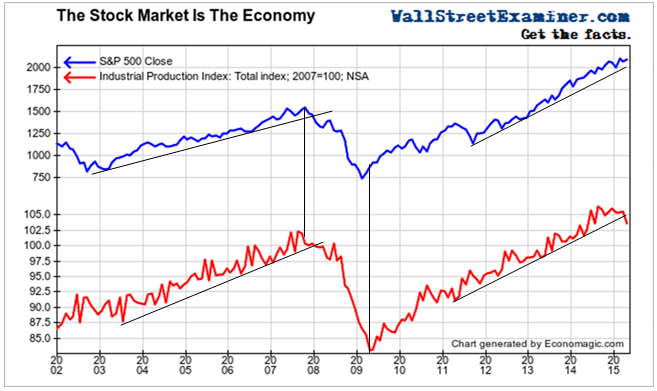 The Stock Market Is The Economy- Click to enlarge
The Fed says that this index measures the output of the nation's factories, farms, and "utilities." The inclusion of "utilities" is important. While the index does not purport to measure the entire economy, utilities serve the service businesses and households employed in services, which comprise the bulk of US economic activity in terms of dollar value. Since utilities count service businesses and households employed in that business among their customers, total industrial production should reflect the direction of the entire economy. Total energy production would also include the impact of service business related consumption.
The industrial production index measures the unit volume of production which is then converted to an index, with the base year level currently being 2007 equaling 100.
So what does this break in the trend imply for the stock market? There's no evidence over the past 15 years that stock prices have followed industrial production when the economy turned. The turn in stock prices was approximately concurrent with the turn in IP at the top in 2007. The turn in stocks led the turn in IP at the bottom in 2009. However, central banks were not directly manipulating markets prior to 2009 as they have been since then.
The major central banks pump funds into the worldwide liquidity pool and much of that flows through US markets. With Kuroda and Draghi still running the market manipulation pumps full blast while Yellen bides her time, we have to wonder if this time will be different.
Ultimately the stock market is its own best indicator. The trend there is still intact.
I also want to be careful with the IP trend growth rate. It slowed to an annual rate of +1.9% in April. But that's not the lowest it has been in the past 4 years. It dropped to +1.7% in July 2013 before beginning a sustained acceleration that took it to a growth rate of +4.8% in November 2014. That's where the current plunge in growth momentum commenced. The number has yet to go negative or even to break prior lows.
There's another reason to not get too beared up too soon about this number. Yellen will stay on the bench as long as the numbers don't get too cold. If they weaken too much, she could rejoin Draghi and Kuroda in the pumpfest. That's a scary thought.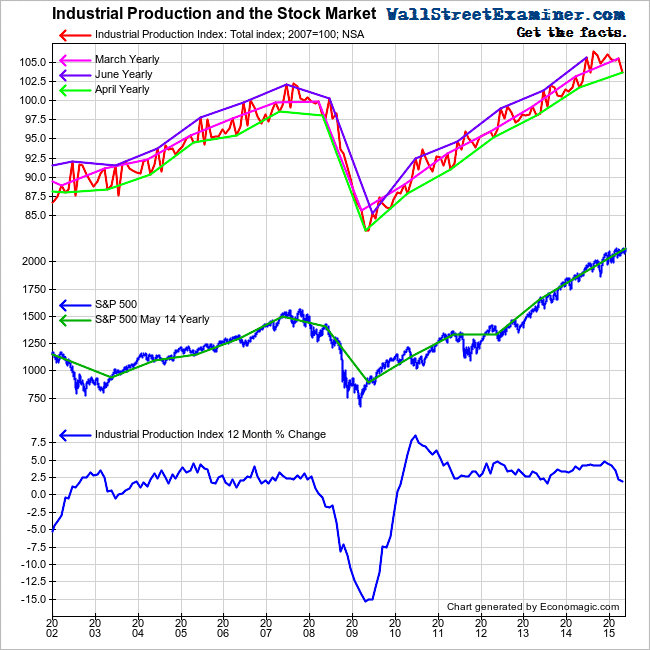 Industrial Production and The Stock Market- Click to enlarge