by Greg Guenthner, Daily Reckoning
Whenever the market gets a little frothy, you can always count on rabid traders to ratchet up the penny stock chatter.
This time around, a handful of questionable marijuana stocks are helping a few lucky speculators rake in the gains. But of course, traders are getting cocky-losing their money on outrageous bets as some of these scam penny stocks begin to quickly slide toward zero…
I'm not trying to rub salt in their wounds. But with speculators buying up over-the-counter penny stocks in numbers not seen since the late 1990s, twisted logic (and even pure insanity) are clearly entering a new bull market.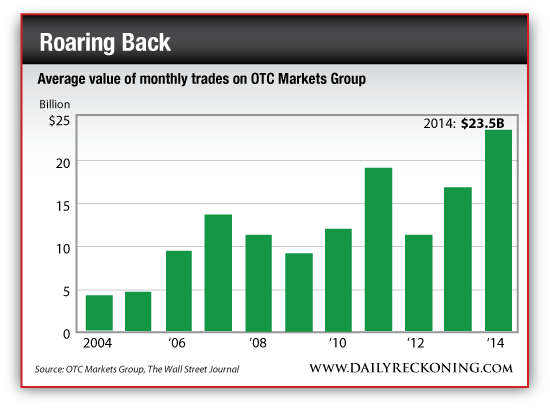 Just look at this ridiculous quote from a penny stock speculator from a recent Wall Street Journal article:
"I like things below three cents, because of the upside potential, and it limits the downside… I buy twice what I want, and when it [doubles or triples], I sell half, and keep the rest."
This quote is so stupid that I had to read it twice. First, your downside risk is 100% whether a stock is trading at $300 or 3 cents, pal. And this so-called trader is banking on a double or triple before he's even made the trade. There's no mention of what he'll do if the stock starts the drop…
---
What is the Income Play Rich Investors Love? (Hint: It's Tax-Free)
---
"It's like saying you prefer to sit in your garage with the door closed and your engine running because it limits the risk of getting in an accident," said our small-cap specialist Jonas Elmerraji. "I don't know about you, but I'd rather take the small risk of a fender-bender than the certainty of being dead in my garage."
Unlike the wrongheaded trader from the WSJ article, Jonas has a point. Of course, when the mania on the OTC markets die down, the results won't be pretty…
"When liquidity starts drying up in the OTC markets, a lot of these guys are going to lose their shirts," Jonas continues. "You want limited downside risk? Buy small companies that have exciting businesses, little analyst coverage, and big cash balances in the bank."
Jonas relies on digging up unique, fundamentally sound companies to power his penny stock portfolio. Instead of trolling through the grey-market scams you usually find with over-the-counter listings, Jonas has instead found a way for you to buy early-stage IPO stocks before they go public.