Econintersect Climate and Weather Update, 29 September 2014

Written by Sig Silber
We continue to await the much advertized El Nino.
But for the short term our weather seems to be more La-Nina-ish. Or is it Modoki-ish? Or are ocean patterns other than the routine ENSO Cycle having more or equal inflence on our weather as ENSO which is projected to present its El Nino phase this winter?
NOAA is not saying possibly because "Modoki" has not entered their vocabulary or at least not their computer models. NOAA is certainly aware of recent warmer and cooler patterns of surface water in the Atlantic and Pacific and this is taken into consideration I believe in their forecast models and the discussions that come to us with their "outlooks". But the general public is far more familiar with El Nino and La Nina so most of the focus is on that aspect of the situation which deals mostly with the Pacific Ocean along the Equator.
On a small scale, the teleconnections between the Western Pacific and North America may soon be demonstrated relative to the 6 – 14 day outlook. It is one World or at least two Hemispheres each of which are very highly interconnected with respect to weather.

Let's start by taking a close look at the 6 – 14 day outlook issued today September 29 for the U.S. I am only showing the "second week" namely the day 8 -14 outlook. The first week can be found in Part II of my report but 8 – 14 days covers most of the 6 – 14 day period.
8 – 14 Day Outlook
Temperature Forecast: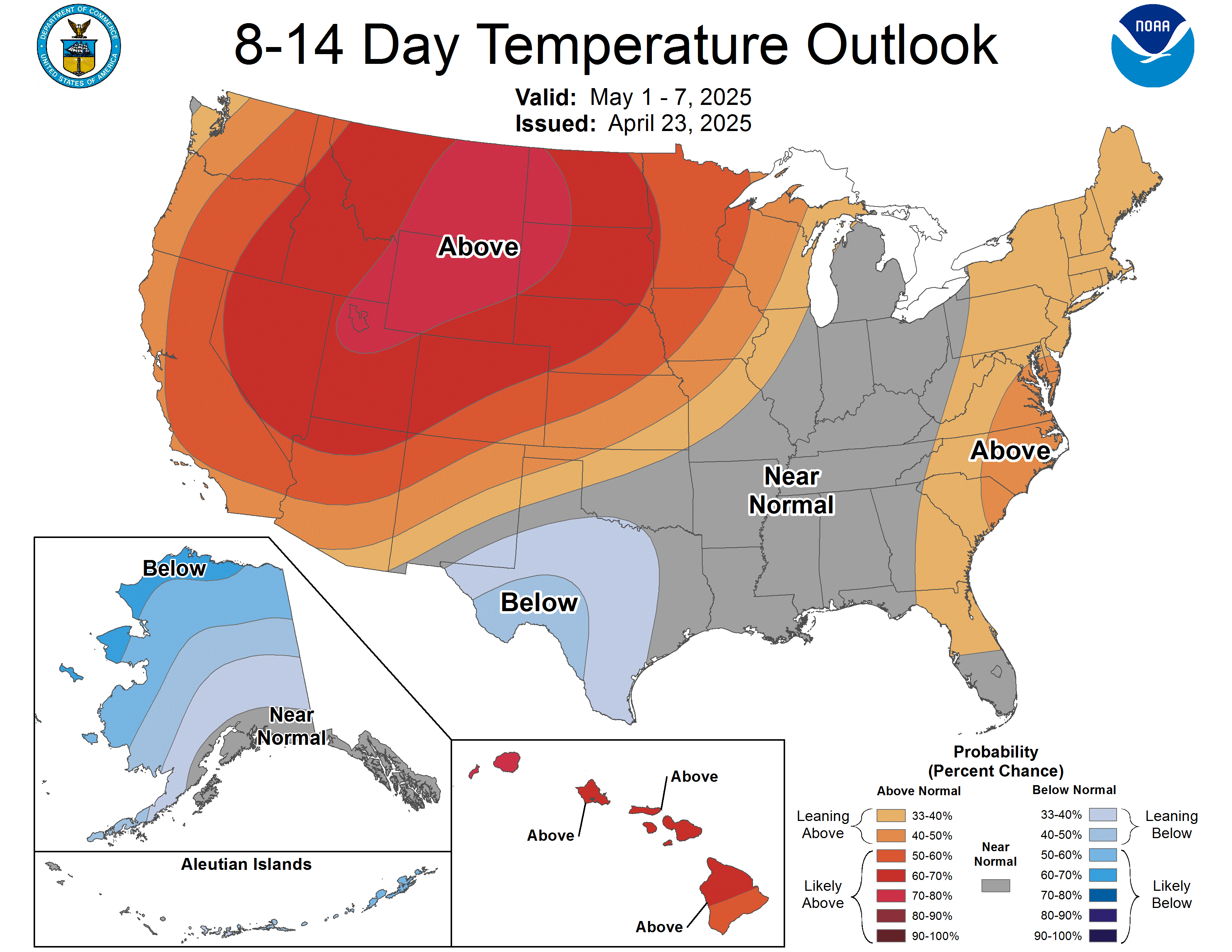 Precipitation Forecast: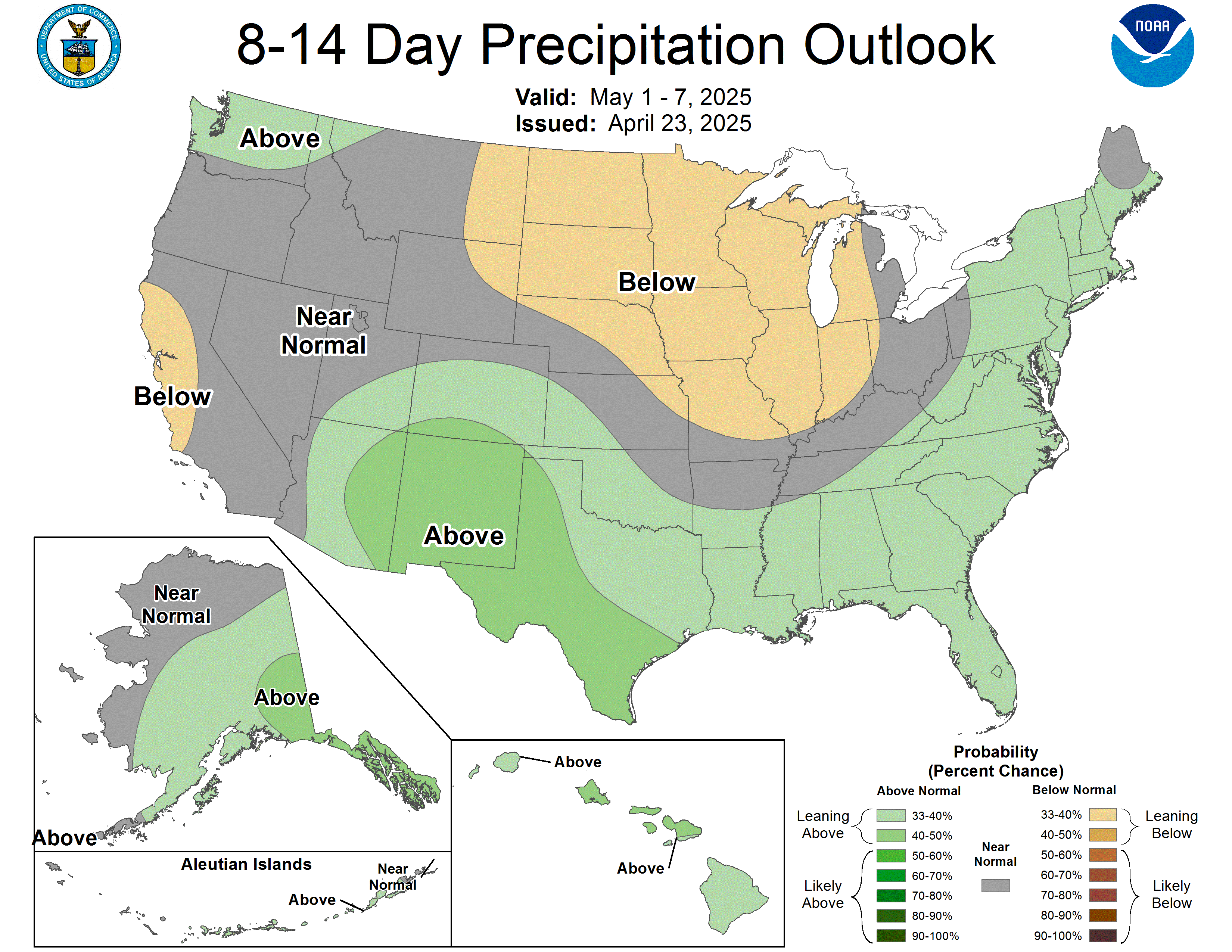 Notice that with respect to temperature, we again have that familiar situation with a relatively cooler intrusion coming down from Canada into the center of the Lower 48. This is probably the reason that the Lower 48 are likely to be wetter and warmer as the 6 – 14 day period unfolds.

Can we learn anything from the discussion provided by NOAA?
"6-10 DAY OUTLOOK FOR OCT 05 – 09 2014

ABOVE-NORMAL TEMPERATURES ARE FAVORED FOR MOST OF THE WESTERN HALF OF THE NATION, UNDER AN ANTICIPATED BROAD RIDGE OVER THE CONUS. MODEL FORECASTS DO NOT SHOW A GREAT DEAL OF COLD AIR ASSOCIATED WITH THE EASTERN TROUGH, SO THE CHANCES FOR BELOW-NORMAL TEMPERATURES ARE ONLY SLIGHTLY ELEVATED NEAR THE GREAT LAKES, WHERE MODEL AGREEMENT IS BEST. ELSEWHERE IN THE EAST, NEAR-NORMAL TEMPERATURES ARE FAVORED, EXCEPT NEAR MAINE WHICH MAY SEE ELEVATED CHANCES OF ABOVE-NORMAL TEMPERATURES AHEAD OF THE EASTERN TROUGH. ALASKAN TEMPERATURES ARE SOMEWHAT UNCERTAIN BECAUSE THE STATE IS EXPECTED TO BE UNDER ABOVE-NORMAL UPPER LEVEL HEIGHTS, BUT TOOLS SHOW ELEVATED CHANCES OF BELOW-NORMAL TEMPERATURES IN ANOMALOUS NORTHERLY UPPER LEVEL FLOW. THE CHANCES OF ABOVE-NORMAL TEMPERATURES ARE ELEVATED THROUGHOUT COASTAL AREAS OF ALASKA DUE TO ABOVE NORMAL SEA SURFACE TEMPERATURES.

TOOLS FAVOR BELOW-MEDIAN PRECIPITATION AMOUNTS FOR MUCH OF THE CONUS UNDER NORTHWESTERLY FLOW AHEAD OF THE RIDGE EXPECTED OVER THE WEST COAST OF NORTH AMERICA. MODELS SUGGEST AN ACTIVE JET OVER THE U.S.-CANADIAN BORDER, ELEVATING CHANCES FOR NEAR- TO ABOVE-MEDIAN PRECIPITATION AMOUNTS. THE CHANCES FOR NEAR-TO BELOW-MEDIAN PRECIPITATION AMOUNTS ARE ENHANCED FOR MOST OF THE ALASKA MAINLAND, WITH NEAR- TO ABOVE-MEDIAN PRECIPITATION FAVORED FOR THE PANHANDLE.

8-14 DAY OUTLOOK FOR OCT 07 – 13 2014

SURFACE TEMPERATURE FORECAST INDICATE ABOVE-MEDIAN TEMPERATURES FOR MUCH OF THE EASTERN CONUS, HOWEVER, A FORECAST BLOCK OVER THE NORTH ATLANTIC NEAR GREENLAND REQUIRES CLOSE WATCHING, SINCE IT MAY ENABLE COLDER ARCTIC AIR TO ENTER THE EASTERN TROUGH, SO PROBABILITIES FOR ABOVE-NORMAL TEMPERATURES ARE LOWER THAN GUIDANCE SUGGESTS FOR THE EASTERN AND EAST-CENTRAL CONUS. THE 8-14 DAY PRECIPITATION OUTLOOK IS QUITE A BIT WETTER THAN IN THE 6-10 DAY PERIOD, SUGGESTING THAT SHORT-WAVE ENERGY DIVING INTO THE EASTERN TROUGH MAY PICK UP SOME MOISTURE AND ELEVATE CHANCES FOR NEAR- TO ABOVE-MEDIAN PRECIPITATION AMOUNTS OVER MUCH OF THE EASTERN CONUS. CONDITIONS FAVOR BELOW-MEDIAN PRECIPITATION FOR THE WESTERN CONUS UNDER AN EXPECTED UPPER-LEVEL RIDGE.

Now let us take a more detailed look at the "Analogs" which NOAA provides related to the 5 day period centered on 3 days ago and the 7 day period centered on 4 days ago. "Analog" means that the weather pattern then resembles the recent weather pattern and was used in some way to predict the 6 – 14 day Outlook.
What are they telling us today?
Analog

Centered

Day

ENSO

Phase

PDO
AMO
Other Comments
1951 Oct 11
El Nino
–
+
Traditional El Nino
1951 Oct 12
El Nino
–
+
Traditional El Nino
1952 Sept 10
Neutral
–
+
In between two El Ninos
1963 Sept 16
El Nino
–
–
Modoki Type I
1969 Sept 20
El Nino
–
–
Long Modoki Type I
2005 Oct 3
La Nina
–
+
Right at the beginning
2008 Sept 20
Neutral
–
+
Right before a La Nina
2008 Sept 21
Neutral
–
+
Right before a La Nina

2009 Sept 8

El Nino
–
+
Modoki Type II
2009 Sept 20
El Nino
–
+
Modoki Type II
So we have a situation where the analogs are flashing El Nino: some conventional and some Modoki (basically warm Central Equator but cold east and west of the warm area). However, the ocean conditions at the time of the analogs were not favorable for the development of an El Nino but pretty much in the condition more closely associated with La Nina. Thus it is a confusing picture and I continue to believe that NOAA has not figured this out correctly.
Impact of Western Pacific Typhoons
Cyclonic activity in the Western Pacific (more information on Kammuri can be found here) may be influencing North American weather again in the near term. The Western Pacific is certainly active. There may another as yet unnamed storm following right behind Kammuri. Kammuri is not a major storm but it can impact U.S. weather as it turns east and moves across the Northern Pacific. You can see that happening in this graphic.

Well, how does a Tropical storm in the Western Pacific impact weather in the U.S. Midwest?
Here is an explanation related to a Western Pacific Typhoon that impacted the U.S. two years ago. The actual link can be found here.
"The following animations illustrate the evolution of a large-scale atmospheric wave pattern in response to the recurving of Tropical Storm Maliksi in the Northwest Pacific Ocean. Both animations depict the evolution of the wave pattern every 24 hours beginning at 8:00PM Eastern Time on 2 October 2012 and ending at 8:00PM Eastern Time on 5 October 2012. The first animation shows the region from 5 degrees south to 75 degrees north, and from 110 degrees east to 110 degrees west. The second animation shows the region from 5 degrees north to 75 degrees north, and from 150 degrees west to 40 degrees west. The North Pacific Ocean is in the center of the first animation, and the United States is in the center of the second animation."
And here is Part 2 which overlaps Part 1 but extends across the U.S.
And more explanation:
"Perhaps some of you are still wondering how the displacement of atmospheric mass could contribute to the production of large-scale atmospheric waves? Remember, tropical cyclones, like any large-scale cyclone or small-scale cluster of thunderstorms, act to heat the upper troposphere and cool the lower troposphere. Thus, as part of the internal circulation of tropical cyclones, heat and mass near Earth's surface are transported upward toward the top of the troposphere (while, to compensate for this upward transport, mass and cooler air from the upper-troposphere are transported toward the surface within and surrounding the tropical cyclone). Now, because this heat and mass cannot be pushed out into space (if you believe in the conservation of atmospheric mass, which you should), it eventually reaches a point where it can no longer be transported upward, and therefore has to be transported sideways (horizontally).

Recalling that the atmosphere is always trying to achieve stability, much of this horizontal transport of heat and mass will occur in the direction of lower temperatures (typically associated with higher latitudes). At the same time, to compensate for this transport of heat and mass toward colder regions, mass (and accompanying cold air) that originates in these colder regions will move in the direction of higher temperatures. Thus, to first-order, you have what appears to be an amplifying sine wave, with one part of the wave moving northward, and the other part of the wave moving southward. The atmospheric response to this displacement of mass is manifest in the formation of large-scale cyclones and associated circulations along these waves. This is how the atmosphere works toward achieving a more stable state, whereby the high latitudes (upper troposphere) are heated, while the low latitudes (lower troposphere) are cooled. This is science at its best."
Now of course every storm is different but the above is a partial explanation of the term "teleconnections".
El Nino Update.
Let us look at the latest NOAA Hovmollers.
First Sea Surface Temperatures
Reading from the top down, I do not see any week to week change here.
And now the low-level wind anomalies.
Not much change here either but yet there should be if an El Nino were developing. We can get some insight into how this is evolving by taking a look at the Southern Oscillation Index or SOI which is a measure of the air pressure differential between Darwin Australia and Tahiti (Tahiti SLP – Darwin SLP). On the one hand that differential is caused by the position of warmer and colder water near the Equator as warm water convects creating low pressure areas and this warmer air later descends elsewhere causing high pressure. On the other hand the SOI because it measures the strength of what is called the Walker Cycle is a predictive tool as well.

General a 30 day average of -8 is consided El Nino Conditions. And indeed we have had recently a 30 day average exceeding (less than) -8 recently. But notice the daily values since September 17. They have been the reverse of what one would expect if an El Nino was developing.

To me this is signalling that we do not currently have a positive feedback situation which is strengthening this incipient El Nino. That can chance quickly.
And then the third (there are more than three but I focus on three) part of the equation: Kelvin Waves.
Here is what the situation looked like last week.
And now this week.
In reality when dealing with a Hovmoller diagram there is no need to show last week and this week since all prior weeks are included in the current diagram. But I thought it useful to make the point that this Kelvin wave is not really moving east or at least to my eye it is not or if so very slowly. For sure there is no sign yet of the upwelling phase which would signify a negative factor tending to initiate or strengthen the future termination of the El Nino phase of the ENSO cycle.
When I look at all the graphical information, in my own mind I am not able to gain confidence that an El Nino or at least a traditional/canonical El Nino is 60% to 65% likely this winter. I think NOAA has it wrong.
And here is the view from Australia and note the date as it was written prior to the ability to know the most recent daily readings of the Tahiti – Darwin air pressure differential.
From Australia
"Late season El Niño remains possible

Issued on Tuesday 23 September 2014

Despite most ocean and atmospheric indicators falling short of El Niño thresholds, model outlooks and recent observations indicate that a late El Niño remains possible. The Bureau's ENSO Tracker indicates there is at least a 50% chance of El Niño developing over the coming months, which is double the long-term likelihood.The Southern Oscillation Index (SOI) has now remained negative for several weeks, and some renewed warming has occurred across the equatorial Pacific Ocean over the past fortnight. Both support the possibility of El Niño becoming established in the months ahead. Six of the eight international climate models surveyed by the Bureau indicate El Niño, or near-El Niño, conditions are likely for the southern summer.

El Niño is often associated with below-average rainfall over large parts of southern and eastern inland areas of Australia and above-average daytime temperatures over southern Australia. Such impacts can often occur while an event is developing, as experienced in some locations over the past several months.The Indian Ocean Dipole (IOD) in the tropical Indian Ocean continues to show signs that it has returned to a neutral state. Waters to the north of Australia and in the Timor Sea are now at near-average temperatures. All climate models surveyed by the Bureau indicate the IOD will continue to weaken, with neutral conditions likely to become well established during the coming months."
How the World is Doing With Respect to Precipitatation.
Let us take a look at August as that is the latest information I have although the link provided should take you to updated information as it becomes available.
The full report can be found here I am not sure I can draw any conclusions from this graphic but perhaps someone else can. Was the northern hemisphere wetter than the southern hemisphere? It seems so especially for the U.S. and Europe.

Click here for the Econintersect Weather and Climate Page Where You will Find:
NOAA and other agency graphics (including international agencies) that auto update. So this includes both short term- and seasonal "updates". It will ALWAYS be up to date even if my commentary on the graphics is not. I update my commentary when it seems necessary and certainly every Monday but some of these graphics auto update every six hours. This section of the report has been reorganized to make it easier to follow.


Economic and other Impacts of major weather events. Not sure there is any other place to obtain this information consistently other than very specialized subscription services.

Information on Climate Cycles both those which are fairly short term i.e. less than a decade in duration and multi-decadal cycles.

Economic and other Impacts of those Climate Cycles which are referred to by the IPCC as Internal Variability as opposed to secular Climate Change which is always in the same direction. Again I am not sure if there is another source for this information where it is pulled together in one place as I have.

Information on Anthropogenic Global Warming science i.e. the secular change in our climate that overlays both short term weather and historical climate cycles as well as black swan events like volcanic eruptions. I prefer to call this Global Warming as it is the warming that triggers the other changes.

Economic and other Impacts of Global Warming. The IPCC AR5 WG2 attempts to describe and quantify these and I have some excerpts from their report. Over time I will go beyond their report.
For now this is all in one article which may be a little difficult to navigate but that will soon change and the information will be accessed easily by topic.