Econintersect:  Two years ago billionaire George Soros called gold the "ultimate bubble."  The price at the time was just above $1,100 an ounce.  In the wake of
that call, gold proceeded to rise more than 60% in the next 21 months to a record close of $1,900.23 on September 5.  Since then the Midas metal has declined to end the year at $1,545.97, a loss of 19%.  According to a report by Bloomberg Friday (December 30), gold has some famous detractors who now have an opinion that agrees with the two-year old Soros view.  Names mentioned of those who have sold substantial amounts of bullion this year include John Paulson, Paul Touradji, Eric Mindich, Charles Morris (HSBC Global Management), Dennis Gartman and Soros himself.
Of course, if one had reacted to Soros bubble call at $1,100, a short position today would be showing a loss around 40%. Soros didn't sell all his gold at that time, however, but retain substantial holdings into the first quarter of this year, when he sold 99% of his holdings, according to Bloomberg. In the Q1 2011 gold traded both sides of $1,400 so Soros added gains of about 25% or so after he called the bubble. He may have sold early, but if he had held all the way through $1,900 and back down to $1,550 he would have only made an additional 11% for living through a very volatile period that has seen gains of 60% and 12% and declines of 10% and 11%. Soros probably would agree with legendary investors Bernard Baruch, Nathan Rothchild and Joseph Kennedy, all of whom have been quoted as saying that those who accumulate wealth usually sell too soon, meaning before the top. (See article at ABC News.)
In spite of all the negative opinions quoted, Bloomberg also reports that a poll of 44 traders and analysts produced a median expectation of $2,120 for Gold in 2012. That would be a gain of almost 40% from here.
At the end of August, as gold approached its current all-time high, an article at GEI Investing discussed the long-term support trend lines. The graph below shows the five-year and ten-year trend support levels for the eleven-year bull market: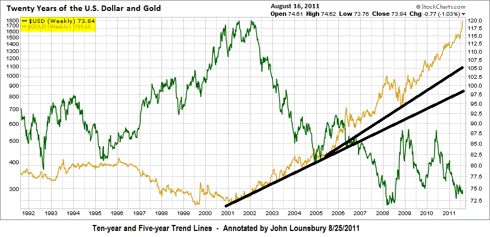 You can see that the five year bull market is still intact at the present time until gold breaks below about $1,075 and the ten-year bull lives until the price drops below about $990. Those support levels are a long way below current price.
But try to tell someone who bought gold close to $1,900 that they are still in a long-term bull market when they are down more than 40% at $1,100.
Sources: Bloomberg, ABC News and GEI Investing