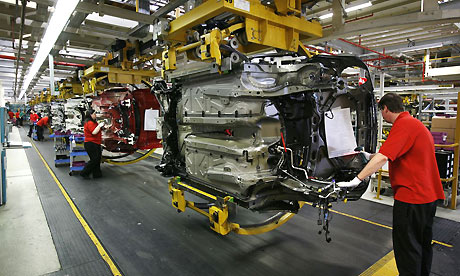 Econintersect: The regional Federal Reserve's manufacturing and business surveys are normally quite noisy, and Econintersect tends to ignore them in analyzing the economy.  But the Chicago Fed Midwest Manufacturing index (CFMMI), is a hard data index which indicates seasonally a 0.9% decline in manufacturing in April 2011.
Also released today, the Dallas Fed opinion survey for manufacturing sector outlook for May was released showing a significant improvement.  Econintersect finds opinion surveys to be much less reliable than hard data surveys.The Chicago manufacturing data shows a major decline as the national Industrial Production (IP) index "only" fell a seasonally adjusted 0.4% in April 2011 (analysis here).  Close examination of the data shows the reduction was driven by auto sector production.  However, reaction to this survey is muted as the Midwest data overall data was included in the IP data released earlier this month.
The Chicago Fed Midwest Manufacturing Index (CFMMI) decreased 0.9% in April, to a seasonally adjusted level of 83.6 (2007 = 100). Revised data show the index increased 1.5% in March to 84.4. The Federal Reserve Board's industrial production index for manufacturing (IPMFG) decreased 0.5% in April. Regional output in April rose 8.6% from a year earlier, and national output increased 5.0%.
The regional steel and auto sectors decreased in April, while the machinery and resource sectors increased:
• Regional auto sector production declined 5.0%;
• Regional steel sector output decreased 0.3%;
• Regional resource sector output increased 0.4%; and
• Regional machinery sector production improved 1.0%.

The Dallas manufacturing outlook survey history is shown in the following graph:
The extreme volatility of this survey data indicates that the best summary statement about the latest release is that it is near the center point of the range of values during the recovery starting in the summer of 2009. 
Sources:  Chicago Fed and Dallas Fed