Gold has tried to break past $2,000 in the past but eventually failed. Nonetheless, with the end of the tightening cycle, it might finally be time for gold to make new record highs after it broke the $2,000 level. After a pullback in February, the precious yellow metal reversed higher in March as the US dollar resumed the drop and rallied back past $1,900 amid the banking crisis.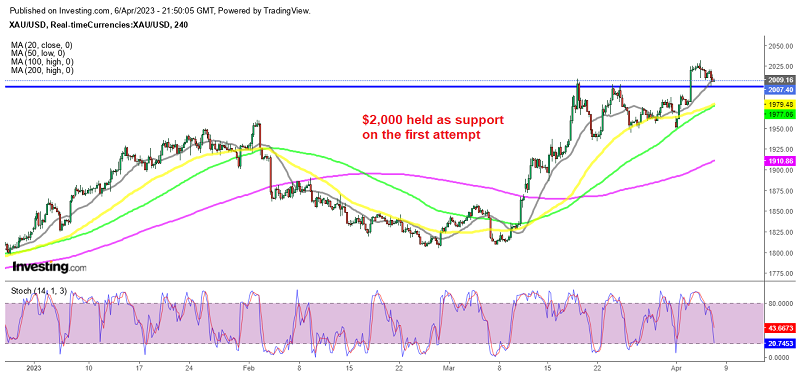 There was a notable attempt to break the $2,000 level two weeks ago but the buyers failed once more. Nonetheless, developments in the band market indicate that there is a return to lower yields, which may be a massive tailwind for gold.
The Fed meeting in May is expected to be highly important in determining whether gold can hold the latest gains after the move above $2,000, and The United States NFP report released on April 8 might play an integral role in that. A consistent break above $2,000 may result in a possible breach of the 2020 and 2022 highs around the $2,075 zone.
But, XAU/USD has shown lots of uncertainty after a rally past the $2,000 level on Monday. There exists some divergence between Fed speakers and money markets, and more guidance is necessary, potentially in the form of economic data that will provide gold with further direction.
Market expectations indicate Rate cuts near the 100bps by the end of the year, while some Fed officials are now calling for more rate hikes past the 5% rate to maintain some strong downside pressure on inflation.
Recent economic data that has shown weakness in the United States has supported market expectations of the Fed Reserve stopping rate hikes. But, the Non-Farm Payroll (NFP) numbers were a highly important event for the week. If the NFP numbers beat expectations, it might have given the USD more support that would leave gold vulnerable.
Buy Crypto Now
Gold is trading at $2,006 at the time of publication.
Fed member Bullard held a speech on Thursday, and he continued to beat the same drum, of keeping the rates significantly higher for longer. However, he is a usual hawk at the Fed so that was expected. Real yields continue to drop, but an NFP beat is expected to increase interest rate projections and increase the opportunity cost of holding gold, exposing the XAU/USD pair to the downside.