Written by Sig Silber
Being the biggest bully on the block might not matter if there is no one to fight. Being in the top five of the strongest El Nino's since 1950 may not lead to as significant negative impacts as suggested by the main indicator of El Nino strength, the ONI, if this El Nino arrives a bit early as it will. The timing of the arrival of an El Nino may be as important as the strength. We will be learning if that is the case in a few months. NOAA will provide us with a new Seasonal Outlook on Thursday so I am very interested in what they may to say on this. It is a very strange situation and is perhaps unprecedented. I am attempting to look at the historical perspective in the main part of my article today but I do not have sufficient information to draw all the conclusions I would want to make with respect to this very powerful El Nino. In the meantime, it appears that El Nino has eaten the Southwest Monsoon as is to be expected and this may be a further sign of an early arrival of Fall.
This is the Regular Edition of my weekly Weather and Climate Update Report. Additional information can be found here on Page II of the Global Economic Intersection Weather and Climate Report. Additional information can be found here on Page II of the Global Economic Intersection Weather and Climate Report.
I decided to defer the specific discussion of the 1997/1998 El Nino in favor of a more general discussion. I did move three graphics from that NOAA report into the section of my weekly report where I track this El Nino as it provides a good way of relating the timing of this El Nino to the timing of the 1997/1998 Super El Nino.
I decided instead to take a look at the historical ONI Readings since 1950 which were recently adjusted by NOAA.
Also I have decided to provide the news from Australia and Japan and the comparable information from NOAA in the front of my report rather than at the end so here it is.
Here is the NOAA latest forecast for the Oceanic Nino Index or ONI which is the most widely used measure of the situation of the ENSO Cycle. It auto-updates daily. Notice it is projected to peak in OND which is this year before Christmas and the projected peak is under 2.0.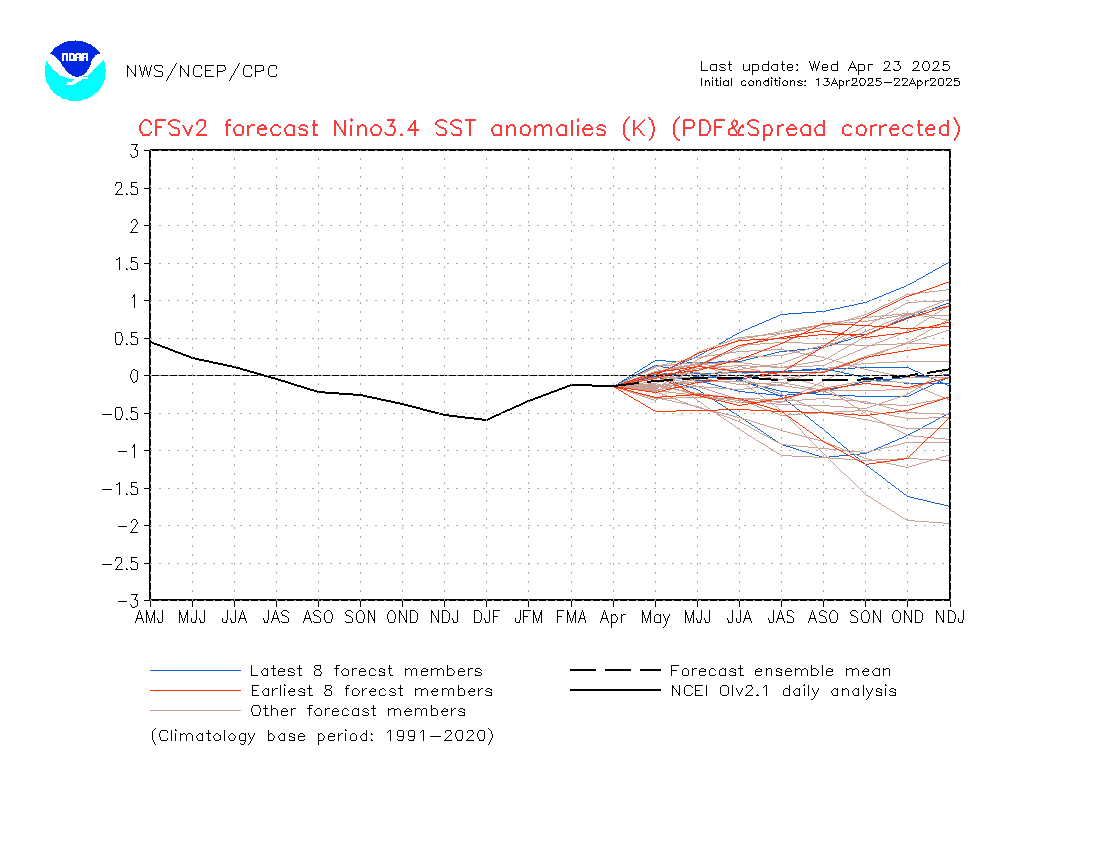 Australia has their own model which updates every two weeks. It also auto-updates. Notice it peaks late in 2015.
Notice the criteria in Australia for achieving El Nino or La Nina status are different than that used by most others being plus or minus 0.8 rather than 0.5.
And here is the discussion.
Mature El Niño in the tropical Pacific region

Issued on 18 August 2015

The 2015 El Niño has continued to strengthen over the past fortnight. The ocean and atmosphere are reinforcing each other, with tropical Pacific Ocean temperatures well above El Niño thresholds, consistently weakened trade winds, and a strongly negative Southern Oscillation Index. Strong coupling of the tropical Pacific Ocean and atmosphere is typical of a mature El Niño, and suggests only a small chance of the event finishing before the end of the year.

All international climate models surveyed by the Bureau of Meteorology indicate the tropical Pacific is likely to warm further, peaking later in the year. Typically, El Niño peaks during the late austral spring or early summer, and weakens during late summer to autumn.

El Niño is usually associated with below-average winter–spring rainfall over eastern Australia and above-average daytime temperatures over the southern half of the country. However, El Niño is not the only influence on rainfall and temperature; other factors, such as sea surface temperatures to the north of Australia and in the Indian Ocean, also affect Australia's climate.

The Indian Ocean Dipole (IOD) continues to remain neutral. A positive IOD event remains possible, with three of the five international models indicating a positive IOD is likely during spring. The other two models remain neutral.

Next update expected on 1 September 2015
Latest JAMSTEC ENSO Index Forecast
Notice it peaks in September which is real soon but is very high at 2.5 which would make it the El Nino with the highest ONI value since 1950 when good records began to be kept. The peak shown is for one month and the ONI is a three-month average but even with that consideration you get a value for the peak ONI in the 2.5 range if things work out as projected. .
.
Discussion released with this model run::
Aug 12, 2015

Prediction from 1st August, 2015

ENSO forecast: The SINTEX-F model predicts that the currently evolving El Niño reaches its peak in early boreal fall and maintains its amplitude until boreal winter. It is expected to be one of the strongest El Niño events in recent decades.

Indian Ocean forecast: The model predictions suggest a weak positive Indian Ocean Dipole (IOD) event will persist until boreal fall. Subsequently, a basin-wide warm mode will appear in boreal winter and spring as the Indian Ocean capacitor effect in response to Pacific El Niño.

Regional forecast: In boreal fall, as a seasonally averaged view, most parts of Europe, Africa, Western Russia, Middle East, India, Southeast Asia, Australia, Northern South America, Mexico, and Canada will experience a warmer-than-normal condition. On the other hand, central/eastern U.S., southeastern Russia, northeastern China and Southern South America will experience a colder-than-normal condition. Based on monthly pictures (not shown), it is expected that most parts of Japan will experience a slightly cooler-than-normal condition in September and October, whereas, in November it will experience a slightly warmer-than-normal condition, partly because of the El Niño. The strong El Niño may weaken the impact of a weak positive IOD event.

According to the seasonally averaged rainfall prediction in boreal fall, Indonesia, India, Australia (particularly eastern part), northern Brazil, Panama, southern Europe, and southern Africa will experience a drier-than-normal condition. On the other hand, most parts of Japan, the Bay of Bengal, Southeast Asia, Baja California, and U.S. will experience a wetter-than-normal condition. All those may be partly related to the El Niño and the positive IOD, together with their remote influences.
Note the forecast peak ONI of 2.5 (very high) and the decline starting right before New Year's Eve. This is important because some studies may be showing that the impacts are not just related to the magnitude of the ONI but also to the rate of change of the ONI. The Queensland precipitation forecast model is based on the recent level and the direction of the change of the SOI Index and you can read more about that here. They are doing additional research on how to improve local forecasts and you can read more about that here. But that discussion is about the SOI not the ONI. So we do not know or at least I have not seen an analysis that relates El Nino impacts to the rate of change of the ONI. There are also lags and perhaps leads as the ENSO changes to the Atmosphere teleconnect to other parts of the World.
I was surprised that with such a strong forecast for the level of the ONI, which it it was reached, would be a modern record, that the discussion was not more dire. This made me curious as to why that was the case. Is it simply a reluctance to get people upset or are there reasons for thinking this El Nino event might not have as extreme impacts as the ONI projection at first glance would suggest? So that is why I reoriented my discussion for this issue of my report.
All the models show the ONI peaking this year. My own model is similar to that of JAMSTEC. That is why I have reservations about the staying power of this powerful El Nino.
There are other meteorological agencies that issue forecasts but the above is enough because the models used are sufficiently similar that the forecasts will also be fairly similar.
Past History of ENSO Events.
Let's look at the history. It may not be the best index but the Oceanic Nino Index or ONI is the one most used and can be found here. Red is a warm sea surface anomaly along the Equator in the Pacific in an area called Nino 3.4. Blue is a cool anomaly.
Some Observations:
To be recorded as an El Nino or a La Nina, there must be five consecutive overlapping three-month periods where the ONI value is either 0.5 or greater (El Nino) or -0.5 or less (La Nina). But in some cases the warm or cold event lasts a lot longer than five consecutive overlapping three-month periods: perhaps as long as three years.
Generally El Nino and La Nina take turns. In many cases an El Nino is followed by a La Nina and in turn the La Nina is followed by an El Nino etc. I have tried to organize the data in the below table to show this.
But sometimes there is a short break between two El Ninos or two La Nina's and one wonders if that was really two events or a single event where the criteria forced there to be a declaration of two or three of the same phase of ENSO in a series when it really should have been considered a single event.
The maximum ONI reading may not be representative of the strength of an El Nino or La Nina over its life since it might be a two or three year event with a short period of time with very high positive or negative ONI.
And of course it is important to remember that although the ONI is measuring the temperature anomaly in an area of the Equatorial Pacific that is considered to be the correct place to measure ENSO events (in Asia the exact location is slightly different), in reality what the ONI is telling us is simply whether the Equatorial Warm Pool is to the west over by Indonesia, in the Central Pacific only (a Modoki), or extending from the Date Line all the way to the coast of Ecuador and Peru. ENSO is really about the geographical distribution of warm water along the Equatorial Pacific.
The prevailing Easterlies and other factors tend to move the warm surface water to the west creating the La Nina condition. When the pool of warm water builds up and if there is a slowdown of the Easterlies or if there is a wind burst that starts a Kelvin Wave, the warm water moves to the east. If it only gets to the Date Line, that is called a Modoki. If it makes it all the way to Ecuador and Peru that is a Traditional El Nino and if the warm water is pretty much evenly distributed, that is called ENSO Neutral. When warm water is spread out, there is more convection which causes more clouds and clouds further east and the process of evaporation to cause convection cools the water. So although the process is not regular and thus not a true cycle it is a process that must proceed from one extreme to the other and can not stay in any one state indefinitely.
Thus El Nino, El Nino Modoki and La Nina as well as ENSO Neutral should be considered normal events and part of the rhythm of Nature and not sensationalized. And yet each phase has positive and negative impacts on different parts of the World or at least half of the World and probably much more than half.
Analysis of the Above ONI Data
Now let us analyze that data. You can follow what I have done as all I have done to get started is look in the above table for five or more consecutive three-month periods where the ONI was 0.5 or greater (El Nino) or -0.5 or less (La Nina) as that is the NOAA definition of an El Nino or La Nina but in theory the synchronization with the Atmosphere must also be present but for now let's ignore that as I have no way of easily going back to see how the atmosphere and ocean were relating.
El Ninos
La Ninas
Start
Finish
Max ONI
PDO
AMO
Start
Finish
Max ONI
PDO
AMO
DJF 1950
J FM 1951
-1.4
–
N
T
JJA 1951
DJF 1952
0.9
–
+
DJF 1953
DJF 1954
0.8
–
+
AMJ 1954
AMJ 1956
-1.6
–
+
M
MAM 1957
JJA 1958
1.7
+
+
M
SON 1958
JFM 1959
0.6
+
–
M
JJA 1963
JFM 1964
1.2
–
–
AMJ 1964
DJF 1965
-0.8
–
–
M
MJJ 1965
MAM 1966
1.8
–
–
NDJ 1967
MAM 1968
-0.8
–
–
M
OND 1968
MJJ 1969
1.0
–
–
T
JAS 1969
DJF 1970
0.8
N
–
JJA 1970
DJF 1972
-1.3
–
–
T
AMJ 1972
FMA 1973
2.0
–
–
MJJ 1973
JJA 1974
-1.9
–
–
SON 1974
FMA 1976
-1.6
–
–
T
ASO 1976
JFM 1977
0.8
+
–
M
ASO 1977
DJF 1978
0.8
N
–
M
SON 1979
JFM 1980
0.6
+
–
T
MAM 1982
MJJ 1983
2.1
*
–
SON 1984
MJJ 1985
-1.1
+
–
M
ASO 1986
JFM 1988
1.6
+
–
AMJ 1988
AMJ 1989
-1.8
–
–
M
MJJ 1991
JJA 1992
1.6
+
–
M
SON 1994
JMA 1995
1.0
–
–
JAS 1995
FMA 1996
-1.0
+
+
T
AMJ 1997
AMJ 1998
2.3
+
+
JJA 1998
FMA 2001
-1.6
–
+
M
MJJ 2002
JFM 2003
1.3
+
N
M
JJA 2004
MAM 2005
0.7
+
+
M
ASO 2006
DJF 2007
1.0
–
–
JAS 2007
MJJ 2008
-1.4
–
+
M
JJA 2009
MAM 2010
1.3
–
+
JJA 2010
MAM 2011
-1.4
+
+
JAS 2011
FMA 2012
-0.9
–
+
T
MAM 2015
NA
1.0
+
N
I need to review this table a couple of times before I draw too many conclusions as I may have made some errors mostly in terms of categorizing the period of time during an ENSO event as being PDO and AMO positive or negative. Those indices vary by month so it is tough to determine what the condition was for the duration of the ENSO event. In the left hand column for El Nino's I have designated them as Traditional (T) or Modoki (M). The literature on which ENSO events were a Modoki is not always clear and since it is a Japanese concept, the ENSO events which were considered by JAMSTEC to have been an El Nino are not 100% the same as those designated by NOAA. But the correlation is pretty close.
By my count (and over the next week I will check my work) we have had 22 El Nino Events and 14 La Nina Events since 1950 so that is about 36 events in 65 years. So ENSO events are not rare. About 15 of those El Nino events were Modokis which could be argued are closer to ENSO Neutral than being an El Nino so if one eliminates some percentage of the El Nino Modokis, you end up with perhaps about an equal number of El Ninos and La Ninas. I will look at the ocean conditions associated with these ENSO events during the week. Some believe the ocean conditions, especially the PDO, impact the ratio of El Ninos to La Ninas. Others believe that Global Warming may be the cause of so many Modokis. The three most powerful El Ninos were all traditional El Ninos as is the current one. But the current El Nino is quite different from any of the prior three champions so drawing conclusions about it is not straightforward.
So far I have not been able to find a comparable El Nino to compare with our current El Nino which makes it very difficult to really have an opinion as to how this is going to play out.
Also I am going to start reporting on El Nino news stories. My Editor started the ball recently with this. So I am going to keep it rolling.
Here is the first one. Full disclosure: I am the President of the New Mexico Weather Modification Association and I am a member of the ASCE/EWRI Weather Modification Standards Committee so I may have a bias but I include this article to make the point that for most of the World an El Nino is a drought event. For the U.S. Southwest it is an anti-drought event. So where you live makes a difference.
Those with links to articles on the current El Nino or information on impacts from where they live should please post that as comments or send that information to me. The GEI Editor will provide you with contact information for me or relay your emails to me.
Switching to the Current (Right Now to 5 Days Out) Weather Situation:
A more complete version of this report with daily forecasts is available in Part II. This is a summary of that fuller report. This link Worldwide Weather: Current and Three-Month Outlooks: 15 Month Outlooks will take you directly to that set of information but in some Internet Browsers it may just take you to the top of Page II where there is a TABLE OF CONTENTS and you may have to wait for a few seconds for your Browser to redirect to the selected section with that Page or if that process is very slow you can simply lick a second time within the TABLE OF CONTENTS to get to that specific part of the webpage.
First, here is a national 12 hour to 60 hour forecast of weather fronts shown as an animation. Beyond 60 hours, the maps are available at the link provided above.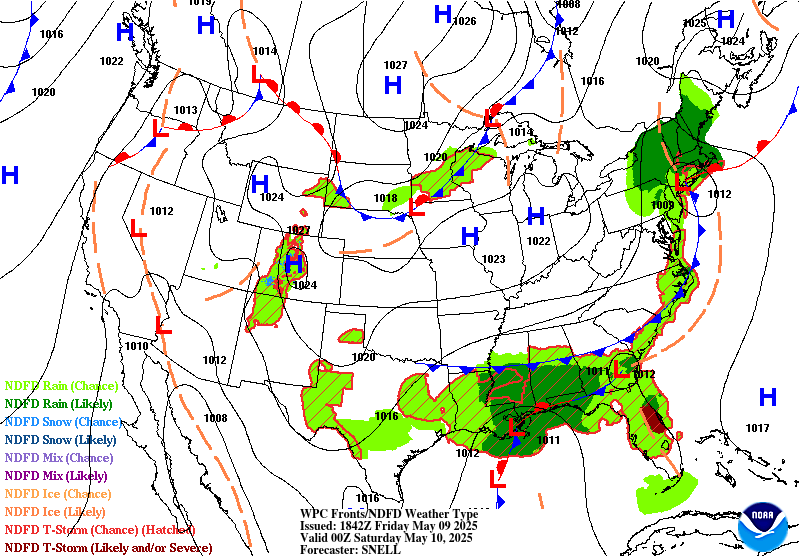 The explanation for the coding used in these maps, i.e. the full legend, can be found here.
The map below is the mid-atmosphere 7-Day chart rather than the surface highs and lows and weather features. In some cases it provides a clearer less confusing picture as it shows only the major pressure gradients. You can see the location of the Four Corners area where Utah, Colorado, Arizona, and New Mexico meet. At this time of the year there is typically a high pressure system near that area and it is called the Four Corners High. When the Four Corners High is centered directly over the Four Corners area, it creates pretty much a block for the Sonoran Monsoon which only visits its northern neighbor when the highs and lows are located in a way that draws the moist air north. Small changes in the location of that feature make a big difference in the weather of probably about ten or more states. This High moves around a lot so by the time you view this report, it most likely it will be located somewhere else. The models are moving it around run to run and each location results in a different circulation pattern plus the jet stream is involved although I am not showing those graphics here (but they are available on Page II of this Report). If you know where the High is, you can always imagine the clockwise circulation and how that might impact the movement of moisture in from the Gulf of Mexico and up from Mexico and in from the Gulf of California. So this graphic can be very very useful. And it auto-updates, I think every six hours. Even without a weather map, you generally can figure it out. Wind to your back, High to your right, Low to your left.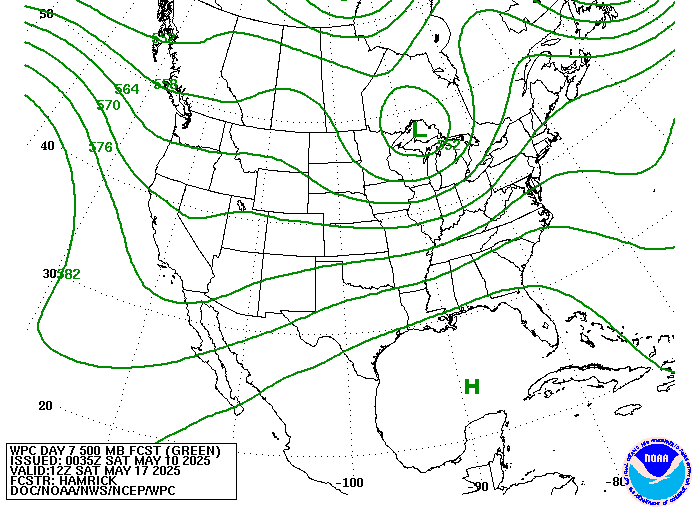 Because "Thickness Lines" are shown by those green lines on this graphic it is a good place to define "Thickness" and its uses. You can find a full uk.sci.weather style explanation (thorough) at that link or just remember that Thickness measures the virtual temperature (temperature plus moisture content) of the lower attmosphere and is very useful especially in the winter at identifying areas prone to snow and in the summer areas which are going to be hot and humid. Here is a U.S. style explanation of "Thickness" by Jeff Haby who is a valuable source of Haby Hints for anyone who wants an explanation of a meteorological term.
There certainly is a lot of storm activity in the Western Pacific.
In the Eastern Pacific Tropical Weather Outlook graphic below, notice that there is no Pacific Tropical Storm projected to be close enough to the coast to significantly impact CONUS right now. The Sonoran Monsoon which we commandeered (as well as a large part of what used to be Mexico and is now the U.S. West) and renamed (probably more recently) the North American Monsoon or the Southwest Monsoon is a series of bursts and pauses in activity as it impacts the ten or so states in CONUS with the major impacts being with respect to New Mexico and Arizona. At this time of the year warm water off of the coast of Mexico, such as from an El Nino, reduces the ocean/land temperature differential and can weaken the Monsoon overall but the cyclones generated by that warm ocean water can enhance the Monsoon for short periods if those cyclones stay close enough to the Mexican coastline. So that is what is being watched now and I do not see it happening. In this graphic which is showing the current water vapor with the location of storms forecast out two days so you see what I see. And what I see is a pattern that is keeping Mexico fairly dry although it looks like some moisture was peeled off of Tropical Depression ELEVEN-E and may impact Arizona soon. But these cyclones are tending to draw moisture away from Mexico right now.
.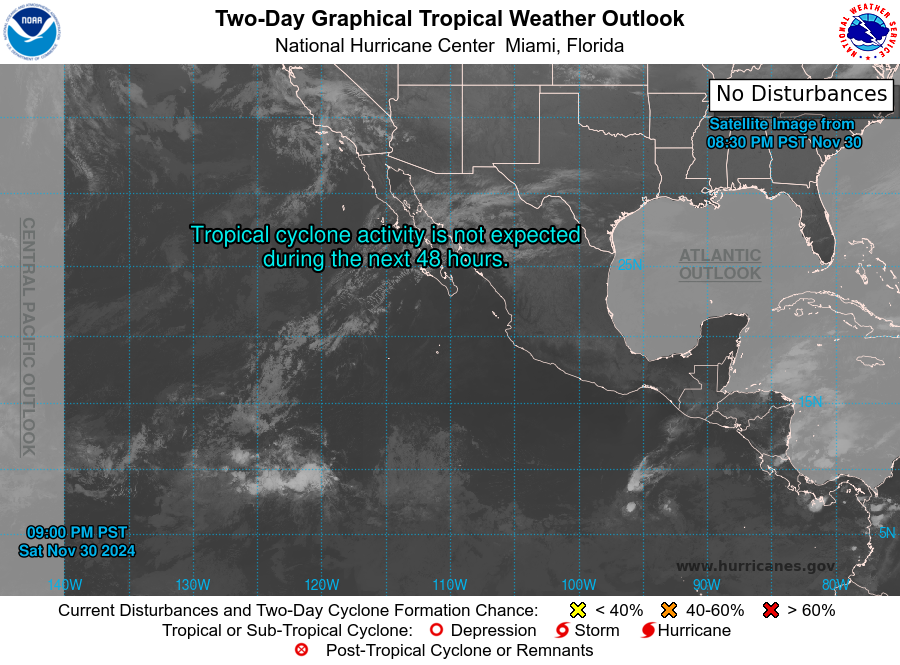 The below graphic is harder to look at but provides more detail on the water vapor being generated by these storms and the normal summer action of the Southwest Monsoon. It covers a much larger area within CONUS so you can see where the moisture currently is and is going. This graphic is very good at pointing out the divisions between cloudy and not cloudy areas.
Looking at an even larger area, below is a view which highlights the surface highs and the lows re air pressure on Day 6 (Day 3 can be seen in Part II of this Report). The Eastern Pacific Subtropical High is no longer serving as a total block to all storms attempting to move from the Pacific into CONUS but it has moved closer to the Coast and again looks like the RRR. But a small Low is there right along the West Coast. But this Subtropical High plays a role in directing most of our weather north into Canada or along the Northern Tier of CONUS and it impacts the positioning of the Four Corners High and thus the strength and location of the Monsoon. Some suggest that pattern might be changing soon. Notice the low pressure area south of Hudson Bay in Canada which may be soon providing some relief from high temperatures in the Great Lakes Area.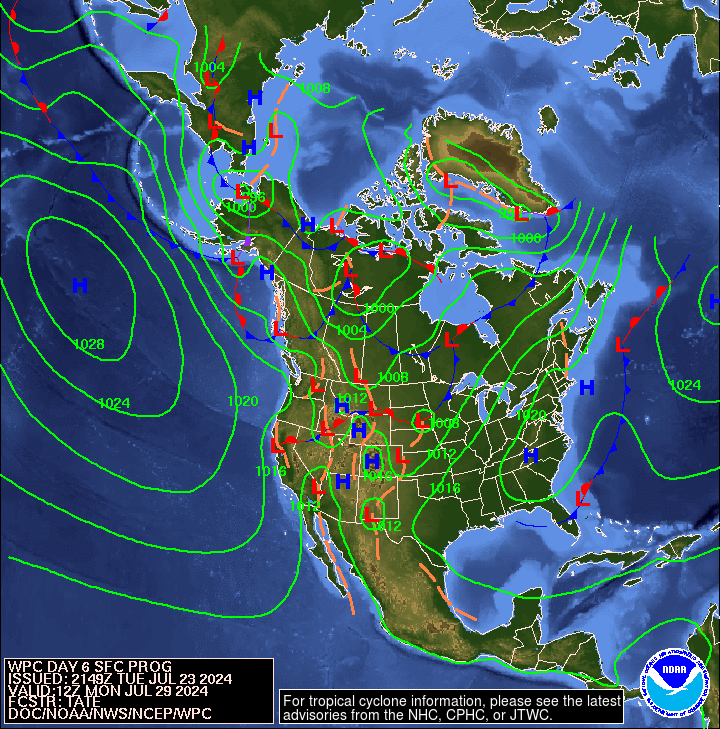 Outlook Days 6 – 14 (but only showing the 8 – 14 Day Maps)
And here is the updated August Temperature Outlook Issued on July 31, 2015.
And here is the current 8 – 14 Day Temperature Outlook which will auto-update and thus be current when you view it. It covers the week following the current week. Today's 6 – 14 Day Outlook is just nine days of the month and the map shown below of the 8 to 14 day Outlook only shows seven days. The 6 – 10 Day Map is available on Page II of this report. As I view this map on August 17 (it updates each day), it suggests that late-August may be a bit warmer than originally anticipated especially in the Eastern Half of CONUS. Some Great Lakes States may get some relief from the Low Pressure System currently north of them in Canada. Not sure if that relief will last as long as shown in this graphic.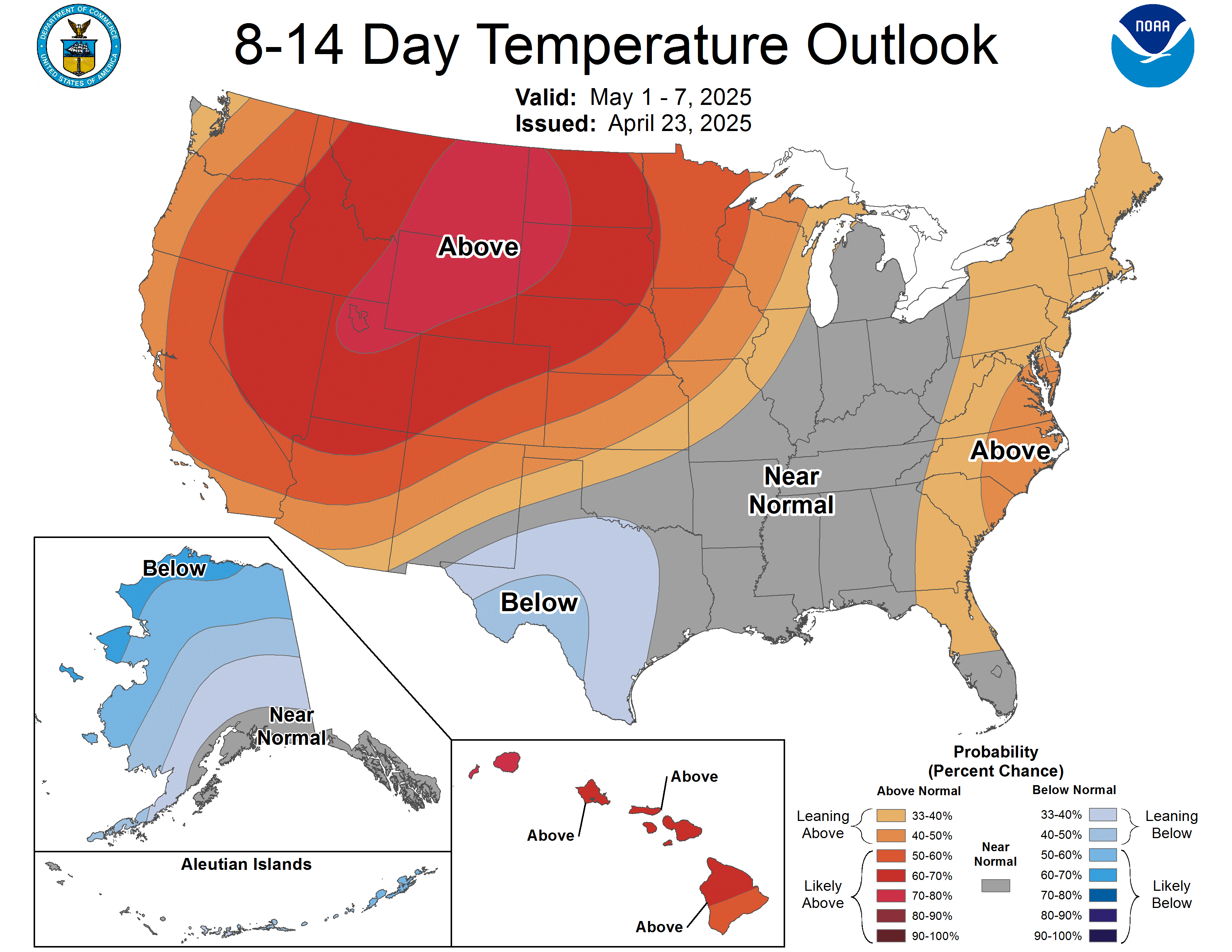 And here is the Updated Precipitation Outlook for August released on July 31, 2015.
Below is the current 8 – 14 Day Precipitation Outlook which will auto-update daily and thus be current when you view it. And again remember that this map shows only seven days and the 6 – 10 Day map is available on Page II of this report. As I view this map on August 17 (it updates each day), the short-term precipitation outlook is quite different than originally anticipated but less different than recent forecasts. I have very low confidence in this forecast. NOAA seems to be able to handle the temperature forecasts more reliably than the precipitation forecasts and they have a history of issuing very different precipitation forecasts on Mondays than they had been issuing in prior days and then changing those forecasts on Tuesday or Wednesday. In their defense it may well be that some changes are taking place that justify a different forecast but I am not ready to sign on to the below at this point. I would like to see some consistency in the Outlook for a few days before my confidence level rises.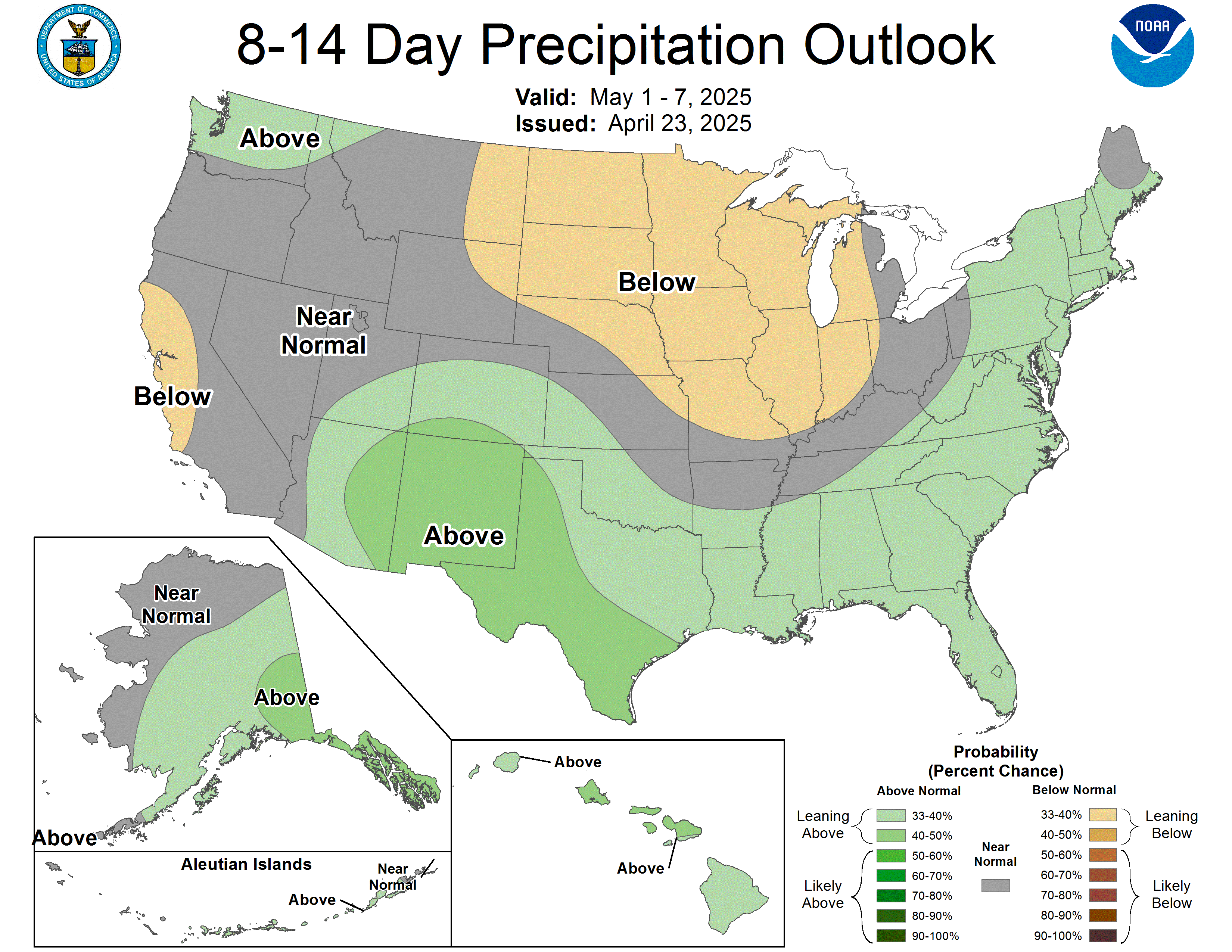 Here are excerpts from the NOAA discussion released today August 17, 2015
6-10 DAY OUTLOOK FOR AUG 23 – 27 2015

TODAY'S MODEL FORECASTS ARE IN GOOD AGREEMENT ON THE FORECAST 500-HPA CIRCULATION, WITH A STRONG OMEGA-TYPE BLOCKING PATTERN FORECAST OVER THE NORTHEAST PACIFIC, ANOMALOUS RIDGING CENTERED OVER THE WEST-CENTRAL CONUS, AND BELOW-NORMAL HEIGHTS OVER THE GREAT LAKES. THE GFS AND ECMWF ENSEMBLE MEANS, ALONG WITH THE 0Z DETERMINISTIC ECMWF, ARE IN ESPECIALLY GOOD AGREEMENT ON THIS PATTERN. THE RECENT DETERMINISTIC RUNS OF THE GFS HAVE BEEN SHOWING HIGHER HEIGHTS OVER THE CONUS THAN THE OTHER GUIDANCE, INTRODUCING MORE FORECAST UNCERTAINTY.

TELECONNECTIONS UPON THE HIGH-AMPLITUDE HEIGHT CENTER FORECAST NEAR SOUTHWESTERN ALASKA ARE NOT VERY REVEALING, AN UNSURPRISING FINDING GIVEN THE TIME OF YEAR. MORE PROMINENT IN TODAY'S MANUAL BLEND THAN IN THE OUTLOOKS ISSUED THIS WEEKEND IS THE PATTERN OVER NORTHEASTERN NORTH AMERICA AND THE NORTH ATLANTIC. HERE, A COHERENT WAVE PATTERN CONSISTING OF A RIDGE OVER NORTHEAST CANADA WITH TROUGHS ON EITHER SIDE IS FORECAST. THIS PATTERN SERVES TO DIRECT THE SHORTWAVE TROUGHS FARTHER SOUTH OUT OF CANADA, LEADING TO A COOLER SOLUTION OVER MUCH OF THE CENTRAL CONUS RELATIVE TO YESTERDAY'S OUTLOOK. THE VARIOUS DYNAMICAL FORECAST TOOLS ARE IN GOOD AGREEMENT ON THE TEMPERATURE OUTLOOK.

THE PRECIPITATION TOOLS ARE IN POOR AGREEMENT, LEADING TO A LOW-CONFIDENCE OUTLOOK ON THAT FRONT. GENERALLY, NEAR- TO ABOVE-MEDIAN PRECIPITATION IS FAVORED OVER THE REGIONS WITH ENHANCED BAROCLINICITY INFERRED FROM THE MEAN TEMPERATURE OUTLOOK OVER THE CENTRAL AND EASTERN CONUS. ANOMALOUS NORTHERLY MID-LEVEL FLOW AND ABOVE-NORMAL SEA LEVEL PRESSURE OVER PARTS OF THE CENTRAL CONUS SHIFT THE FORECAST DISTRIBUTION SLIGHTLY TO THE DRIER SIDE. ABOVE-NORMAL HEIGHTS OVER THE SOUTHWEST FAVORS SOME ENHANCED MONSOONAL ACTIVITY, BUT NOT EXCEPTIONALLY SO.

FORECAST CONFIDENCE FOR THE 6-10 DAY PERIOD: NEAR AVERAGE, 3 OUT OF 5, DUE TO FAIRLY GOOD AGREEMENT AMONG TEMPERATURE AND CIRCULATION TOOLS, OFFSET BY A LARGE DEGREE OF UNCERTAINTY IN THE PRECIPITATION OUTLOOK.

8-14 DAY OUTLOOK FOR AUG 25 – 31 2015

THE FORECAST CIRCULATION OVER THE CONUS DURING WEEK-2 SHOWS A MARKED EASTWARD PROGRESSION COMPARED TO THE 6-10 DAY PERIOD. THIS IS LARGELY DUE TO THE BREAKDOWN OF THE HIGH-AMPLITUDE PATTERN DOWNSTREAM OVER THE NORTH ATLANTIC. THE BLOCKING RIDGE FORECAST OVER THE NORTH PACIFIC DURING THE 6-10 DAY PERIOD WEAKENS SOMEWHAT AND SHIFTS SLIGHTLY EASTWARD, WITH A LONGER WAVELENGTH DURING WEEK-2. THE ENSEMBLE MEANS FROM THE GFS, ECMWF, AND CANADIAN FORECAST SYSTEMS ARE IN GOOD AGREEMENT ON THIS FORECAST PATTERN. THE DETERMINISTIC GFS HAS BEEN FORECASTING, WITH GOOD CONTINUITY, A MORE AMPLIFIED RIDGE OVER THE GREAT LAKES THAN THE ENSEMBLE MEANS.

THE SURFACE TOOLS ARE GENERALLY IN GOOD AGREEMENT. THE TEMPERATURE OUTLOOK REFLECTS THE INCREASED TENDENCY TOWARD COOLER-THAN-NORMAL CONDITIONS IN THE WEST UNDER FALLING HEIGHTS, WHILE THE FORECAST RIDGE PROGRESSES EASTWARD TOWARD THE OHIO VALLEY, INCREASING SOUTHERLY RETURN FLOW IN THE CENTRAL CONUS.

THE PRECIPITATION TOOLS ARE IN MUCH BETTER AGREEMENT DURING WEEK-2 THAN IN THE 6-10 DAY PERIOD, ALBEIT WITH LOW PROBABILITIES. THIS IS TO BE EXPECTED GIVEN THE RATHER LOW FORECAST SKILL DURING THIS SEASON. AN INCREASED TENDENCY FOR TROUGHING IN THE WEST FAVORS ABOVE-MEDIAN PRECIPITATION, WHILE A WEAKER BAROCLINICITY OVER THE CENTRAL AND EASTERN U.S. MAKES BELOW-MEDIAN RAINFALL MORE LIKELY FOR THOSE REGIONS.

THE COMPOSITE ANALOG PACKAGE FROM TODAY'S WEEK-2 MANUAL HEIGHT BLEND DOES NOT REFLECT A TENDENCY TOWARD WARM ENSO EVENTS, SUGGESTING THAT THE EXTRATROPICAL PATTERN FORECAST OVER NORTH AMERICA IS LARGELY UNAFFECTED BY ENSO. [Editor's Note: I have been pointing out for some time now that the analogs have not been suggesting that El Nino is impacting our weather]

FORECAST CONFIDENCE FOR THE 8-14 DAY PERIOD IS: ABOUT AVERAGE, 3 OUT OF 5, DUE TO GOOD AGREEMENT AMONG THE ENSEMBLE MEANS, OFFSET BY A FORECAST LOW-AMPLITUDE PATTERN AND DISAGREEMENT BETWEEN THE DETERMINISTIC GFS AND THE ENSEMBLE MEANS.
Analogs to Current Conditions
Now let us take a detailed look at the "Analogs" which NOAA provides related to the 5 day period centered on 3 days ago and the 7 day period centered on 4 days ago. "Analog" means that the weather pattern then resembles the recent weather pattern and was used in some way to predict the 6 – 14 day Outlook.
Here are today's analogs in chronological order although this information is also available with the analog dates listed by the level of correlation. I find the chronological order easier for me to work with. There is a second set of analogs associated with the outlook but I have not been analyzing this second set of information. This first set applies to the 5 and 7 day observed pattern prior to today. The second set which I am not using relates to the forecast outlook 6 – 10 days out to similar patterns that have occurred in the past during the dates covered by the 6 – 10 Day Outlook. That may also be useful information but they put this set of analogs in the discussion with the other set available by a link so I am assuming that this set of analogs is the most meaningful.
Analog

Centered

Day

ENSO

Phase

PDO
AMO
Other Comments
1952 August 27
Neutral
–
+
1952 August 28
Neutral
–
+
1988 August 1
La Nina
Neutral
Neutral
Strong La Nina
1988 August 2
La Nina
Neutral
Neutral
Strong La Nina
1991 August 22
El Nino
Neutral
Neutral
Modoki Type II
1991 August 23
El Nino
Neutral
Neutral
Modoki Type II
1999 August 31
La Nina
–
+
Strong La Nina
2000 August 27
La Nina
–
+
Strong La Nina
2007 August 3
La Nina
–
+
Strong La Nina
The first thing I noticed is that today is August 17 and these are analogs centered on dates 3 or 4 days ago which for six of the non-duplicative analogs are dates in the future. Are we going to experience weather that normally would occur about one or two weeks later in the summer? This is the same as last week. Again like last week, the analogs suggest to me that the current El Nino is not going to impact our weather significantly over the next two weeks. The ocean phases associated with the analogs this week are also not very convincing but point to McCabe Condition D which is associated with Southwest Drought. This is the condition we have been in since perhaps 1998. The current situation does look like both oceans have about equal control right now. The seminal work on the impact of the PDO and AMO on U.S. climate can be found here.
You may have to squint but the drought probabilities are shown on the map and also indicated by the color coding with shades of red indicating higher than 25% of the years are drought years (25% or less of average precipitation for that area) and shades of blue indicating less than 25% of the years are drought years. Thus drought is defined as the condition that occurs 25% of the time and this ties in nicely with each of the four pairs of two phases of the AMO and PDO.
Historical Anomaly Analysis
When I see the same dates showing up often I find it interesting to consult this list.
Progress of the Warm Event
Let us start with the SOI.
Below is the Southern Oscillation Index (SOI) reported by Queensland, Australia. The first column is the tentative daily reading, the second is the 30 day moving/running average and the third is the 90 day moving/rolling average.
| | | | |
| --- | --- | --- | --- |
| Date | Current Reading | 30-Day Average | 90 Day Average |
| 11 August 2015 | -4.6 | -18.37 | -12.44 |
| 12 August 2015 | -11.5 | -18.44 | -12.27 |
| 13 August 2015 | -19.5 | -18.48 | -12.11 |
| 14 August 2015 | -30.1 | -18.44 | -12.11 |
| 15 August 2015 | -31.7 | -18.55 | -12.21 |
| 16 August 2015 | -28.7 | -18.89 | -12.26 |
| 17 August 2017 | -17.0 | -19.2 | -12.18 |
This past week has continued to be consistent with the continued development of the current El Nino. The 30-day average, which is the most widely used measure, on August 17 was reported as being -19.2 which is clearly an El Nino reading. The 90-day average also is solidly in El Nino territory at -12.18. The SOI is clearly indicative of an El Nino Event in progress..
Here are the low-level wind anomalies. There has been this past week yet another mid-Pacific wind burst from 160E to the Data Line. It looks like it is playing out and so far I see no indication yet that this has triggered another Kelvin Wave but we may not know it's impact for a few more days. This very negative SOI is consistent with a strong El Nino.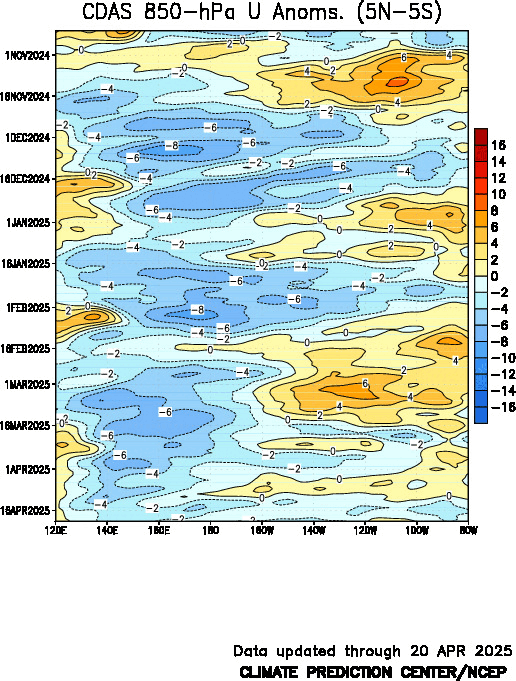 In this graphic, you can see how the convection pattern (really cloud tops has since May shifted to the East from a Date Line (180) Modoki pattern to a 170W to 120W Traditional/Canonical El Nino Pattern. But recently the signs of an El Nino are getting quite faint and shifting back to the west. The probable impacts on CONUS are thus lessened. The impacts of an El Nino during the summer in the Northern Hemisphere are subtle.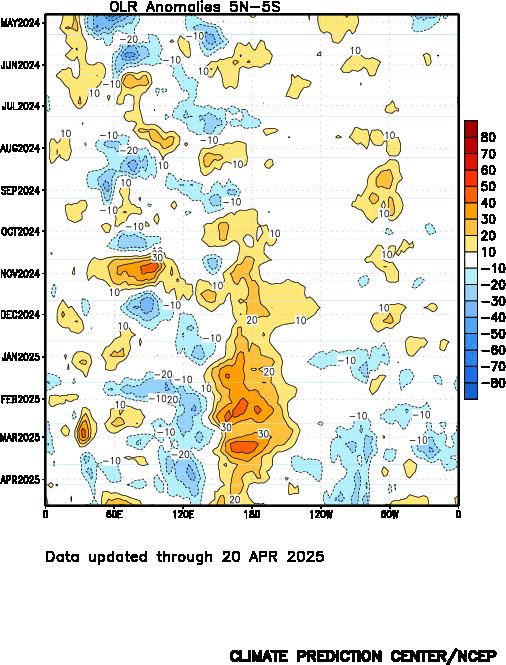 It may be useful to compare the current OLR Anomalies with the 1997/1998 Super El Nino.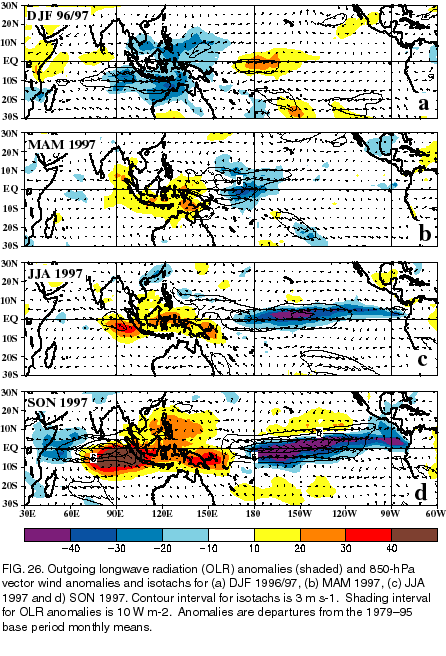 It is now August and this El Nino is a bit early but the OLR pattern has not shifted to the East as in did with the 1997/1998 El Nino. It still could happen, but so far it has not. There has been almost no impact.
Let us now take a look at the progress of the Kevin wave which is the key to the situation. Since February there have been three successive downwelling Kelvin Waves without really an upwelling Kelvin Wave on any consequence to counter their impact. The first wave which started in February was the most effective at getting this El Nino started. The second wave reinforced to some extent but not much and this third (and I believe last) downwelling Kelvin Wave has created an El Nino that will have a major peak coming soon and possible a second smaller peak.
The main impact of this latest Kelvin Wave has already moved east to 170W where it is not ready to exist stage right just yet but it will within two or three months. You can see in the past week where some of the warmer water has moved to the east a bit to 155W. You also see the intense activity between 145W and 120W which is in the area where the ONI is measured. You also see the cooling down of the water east of 90W which may signify the end stage of this El Nino.
But continued SOI activity could create yet another Kelvin Wave although I think the Pacific Warm Pool at this point has been substantially depleted. The ENSO "battery" is weakening and will need a La Nina to recharge itself.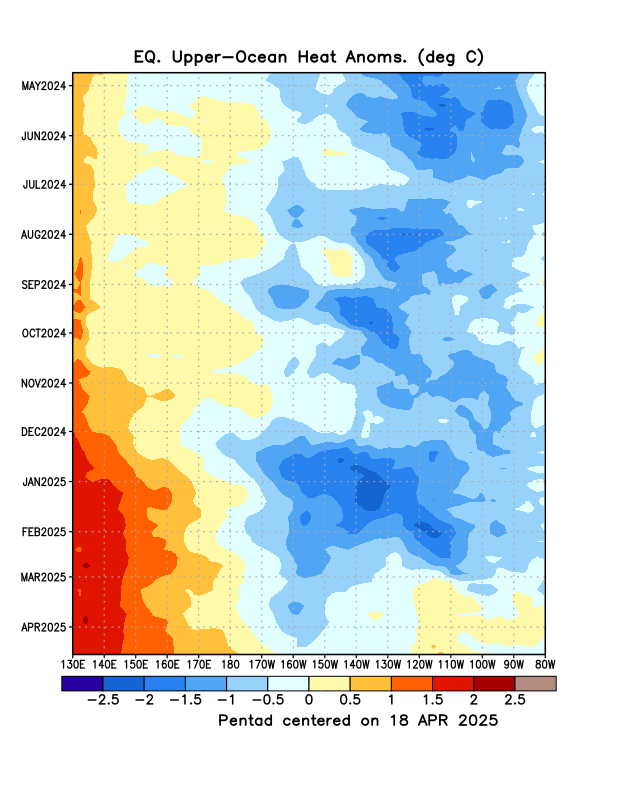 We are now going to change the way we look at a three dimensional view of the Equator and move from the surface view to the view from the surface down. We will look at the current situation but first let us take a look at how this evolved during the 1997/1998 El Nino. So I have incorporated Figure 25 from the NOAA report which I presented last week.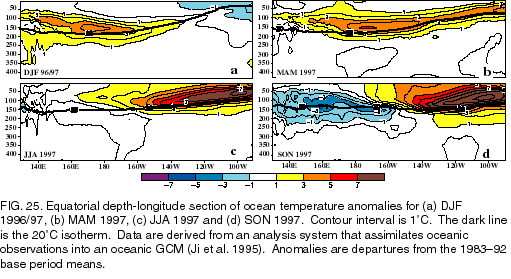 When I examine the current situation which will be graphical described just a few paragraphs down, to me as compared to the 1997/1998 El Nino, the current El Nino has developed more rapidly. The SON sub-surface temperature distribution in the Equatorial Pacific shown above i.e. the lower right or "d" subgraphic to me looks more like the current situation. I am not sure when NOAA will declare the cooler water to the west in the graphic that I am showing below for our current El Nino as an Upwelling Kelvin Wave but that cooler water was not in place in 1997 until SON so this El Nino is a couple of months further along in its evolution than the 1997/1998 El Nino and will end earlier in the winter than the 1997/1998 El Nino. Also the 1997/1998 had a larger amount of slightly warmer subsurface water in the Eastern Pacific and that water takes time to surface, create convection, and thus cool. Something happens to allow the Easterlies to resume their strength and that in turn moves this water back towards the Western Pacific Warm Pool.
I believe that the difference in the time of arrival and decay will make a major difference in the impacts both to the Northern Hemisphere and Southern Hemisphere. I am not prepared to speculate definitely on the difference in impacts but I suspect that the ONI values being reported and projected may overstate the impacts for an early arriving El Nino. We shall see if my assessment is proved to be valid or nonsense.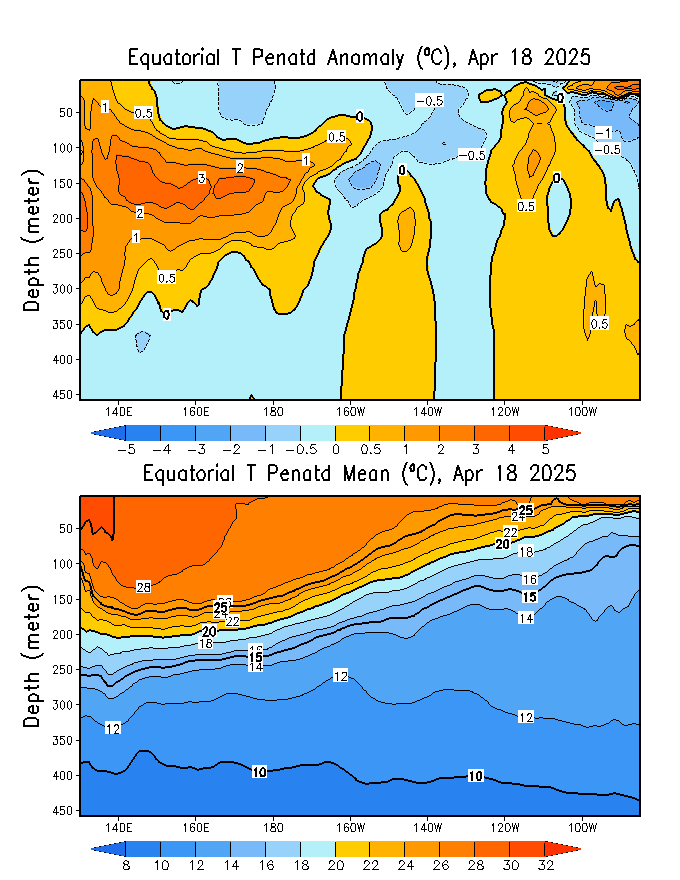 I believe that the difference in the time of arrival and decay will make a major difference in the impacts both to the Northern Hemisphere and Southern Hemisphere. I am not prepared to speculate definitely on the difference in impacts but I suspect that the ONI values being reported and projected may overstate the impacts for an early arriving El Nino. We shall see if my assessment is proved to be valid or nonsense.
Current Sub-Surface Conditions
Top Graphic (Anomalies)
The above graphic showing the current situation has an upper and lower graphic. The bottom graphic shows the absolute values, the upper graphic shows anomalies compared to what one might expect at this time of the year in the various areas both 150W to 90W Longitude and from the surface down to 450 meters.
The top graphic is the most useful of the two and shows where 2C (anomaly) water is impacting the area in which the ONI is measured i.e. 170W to 120W. The 2C anomaly now extends to 160W which is very impressive. The subsurface warm water appears to be making its way to the surface in the Eastern Pacific.
The big issue is where will the +6C and +5C anomaly water go as it reaches the beaches of Ecuador? To the extent it surfaces, it can create convection and impact the Walker Circulation which could then provide positive feedback to this El Nino. But that warm water might tend to go north or south or both. That is part of the phase out process for an El Nino and that is where we are in the life of this El Nino. It is peaking and will soon begin its decline. But it is certainly taking its sweet time probably because of the large amount of the subsurface warm water. Water is a very good insulator: I believe it has the second highest specific heat capacity of all known substances. So that means that other than by mixing, that warm water under the surface will stay warm until it rises to the surface where it can be cooled by evaporation (while making clouds) or moves to the north where it will impact Mexico and the Southern Coast of the U.S. That is part of the basis for models predicting that the ONI of this El Nino will continue to rise but I am a bit skeptical because I see it as rising to the east of the ONI measurement area and not being counted.
Bottom Graphic (Absolute Values which highlights the Thermocline.
The bottom half of the graphic is not that useful in terms of tracking the progress of this Warm Event as it simply shows the thermocline between warm and cool water which pretty much looks like this as shown here during a Warm Event and you can see that the cooler water is not making it to the surface to the east along the coast of Ecuador. However, one is beginning to see the increase in the slope of the thermocline (look at the 25C dividing line for example which appears to have reached the surface). We can now begin to monitor the 20C Isotherm which is often thought of as being the middle or lower edge of the thermocline where the slope is also steepening and looks like it may reach the surface fairly soon.
TAO/TRITON GRAPHIC
Taking a close look at the bottom half of the TAO/TRITON graphic below, notice that the 1.5C+ anomaly has vanished. It is almost as if the ENSO process is working in reverse and the weaker Easterlies or actual Westerlies in the Central Pacific are now moving cooler water into the Nino 3.4 area. This not only impacts the measurement of the ONI but also the Walker Circulation.
When the leading edge of the warm water area moves beyond 170W, the anomalies in the western parts of Nino 3.4 start to decline. But at the same time, the subsurface warm water in the Eastern Pacific is coming to the surface and that makes the anomalies in the eastern part of Nino 3.4 larger. You can see there are no longer two centers of warm surface water one related to the cumulative impact of the first two Kelvin Waves and the other at 170W representing the impact of the most recent third Kelvin Wave. The western warm area has more or less vanished in the last few days – mixed in with the rest of the water.
For my own amusement, I calculate the ONI each week using a method that I have devised. To refine my calculation, I have divided the 170W to 120W ONI measuring area into five subregions (that I have designated A through E (from west to east) with a location bar shown under the TAO/TRITON Graphic) and have mentally integrated what I see below and recorded that in the table I have constructed. Then I take the average of the anomalies I estimated for each of the five subregions.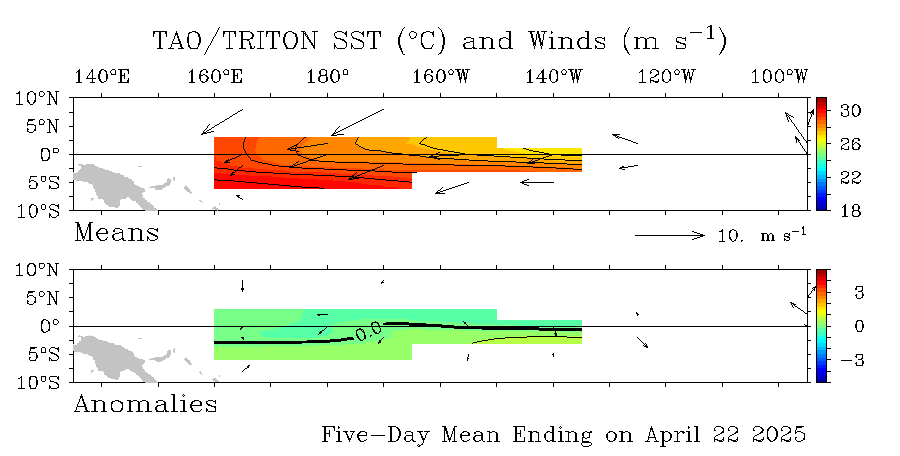 Location Bar for Nino 3.4 Area Above

| | | | | | | |
| --- | --- | --- | --- | --- | --- | --- |
| ———————————————– | A | B | C | D | E | —————- |
So as of Monday August 17 in the afternoon working from the August 16 TAO/TRITON report, this is what I calculated.
Calculation of ONI from TAO/TRITON Graphic

| | |
| --- | --- |
| Anomaly Segment | Estimated Anomaly |
| A. 170W to 160W | 1.1 |
| B. 160W to 150W | 1.2 |
| C. 150W to 140W | 1.5 |
| D. 140W to 130W | 2.0 |
| E. 130W to 120W | 2.3. |
| Total | 8.1 |
| Total divided by five subregions i.e. the ONI | (8.1)/5 = 1.6 |
My estimate of the Nino 3.4 ONI has declined a bit to 1.6. NOAA has today reported the weekly ONI as being 2.0 a slight increase from what was reported last week and certainly a psychologically important level and much higher than my rough calculation. The increase in the NOAA estimated ONI is I believe mostly due to the subsurface water in the Eastern Pacific backing up to the west as it comes to the surface. This warm water certainly impacts the weather in Ecuador and Peru but may not have a direct impact on weather in CONUS other than by spawning tropical cyclones which move north and enter the circulation of the Southwest Monsoon. That activity seems to have decreased recently.
Nino 4.0 is now reported as being 1.0. You can already see (in my calculation table) the gradient from West to East that has formed with the higher values in the East and the Western part of the Zone having a smaller anomaly which I believe has already begun to decline.
The real action is in Nino 1+2 which is now reported as 2.0 which is a very large decline from recent weeks. The issue remains the extent to which warm water off of Ecuador and Peru impacts CONUS weather. I think it has very little impact and that is what we are seeing right now.
Here is another way of looking at it:
.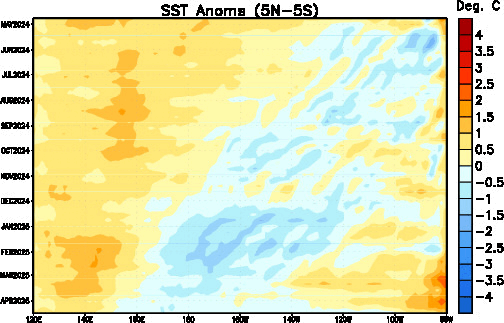 This Hovmoeller shows a lot of useful information about the history of this warm event which I have discussed in previous weeks and I will not repeat the same interpretation over and over again. Today I continue to see the warm water in the Eastern Pacific expanding to the west which leads to higher ONI calculations. But I also see cooler water moving east and preparing to eliminate the SST anomaly in the western part of the Nino 3.4 ONI measurement area. You also can see some cooling taking place in the extreme Eastern Pacific but you need a sharp eye to see that in this graphic. We certainly see the warm subsurface water rising but a bit further to the west than I had anticipated. All the model forecasts recently have figured this out correctly but so far the impacts have not matched the temperature anomalies along the Pacific and that is vexing.
Recent Impacts of Weather Mostly El Nino but possibly Also PDO and AMO Impacts.
I was not satisfied showing a 90 day and a 30 picture since the 30 day is subsumed into the 90 day so I decided to show three one-month pictures as I think that is a lot easier to follow. I do not plan to update the prior two months each week but monthly.
First the Temperature an Precipitation Departures from two months ago
Then the same graphic one month later
And what was the current 30-Day picture one week ago.
That series of graphics showed a drying trend which is not exactly what you expect with an El Nino. For many parts of CONUS it was a cooling trend also which may be associated with an El Nino.
And now and update of that 30 day graphic of departures/anomalies one week later
It is difficult to see much difference especially considering that these are two 30 day averages with only 7 days of new data replacing the earliest 7 days of data but it does appear to have a slight warmer tone to it
Comparison with 1997/1998 El Nino
And I think it is useful to take a look at the 1997 second half of the year impacts of the 1997/1998 Super El Nino.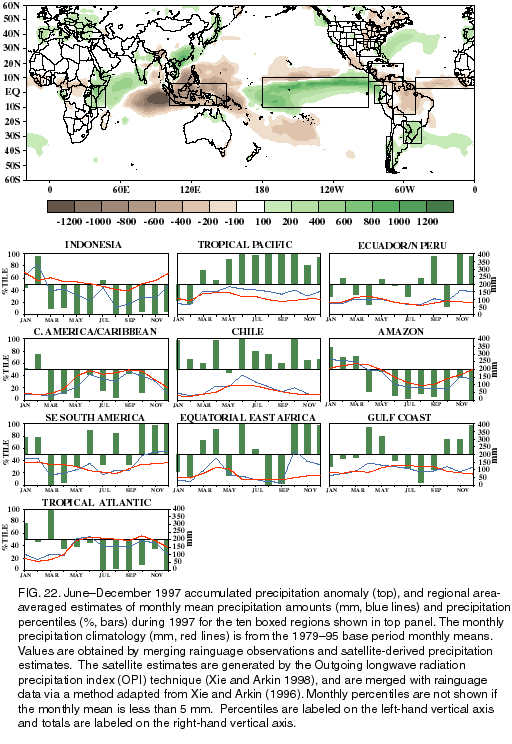 Notice the impacts on CONUS precipitation might have been different than one might have expected. This graphic and the OLR graphic are very related. This measures precipitation the OLR measures clouds which are fairly well correlated.
Putting it all Together.
We are in El Nino conditions now. The actually impacts on CONUS are not clear. We started by having wetter conditions than usual in the Southwest but that has tapered off quite a bit. But this is the Summer so El Nino impacts on Summer conditions in the Northern Hemisphere are muted even though this is a powerful El Nino. So it is somewhat of a confusing situation as the impacts are not currently proportional to the current strength of this El Nino.
It is probably influencing the IOD to tend towards being positive thus providing a double whammy for parts of Asia and Australia. The length and intensity of this El Nino is still not clear mostly in terms of whether or not it will extend into the early part of 2016. All the computer models predict that it will last longer than my mental model suggests to me. The disagreement is in terms of a couple of months but a couple of months makes a difference in terms of agriculture and other economic impacts. Actually the JAMSTEC model is not very different from my assessment. We may or may not have a Pacific Climate Shift as the PDO+ may be simply related to the Warm Event (and quite frankly at this point appears to be). But for now we do have PDO+. The AMO being an overturning may be more predictable so the Neutral status moving towards AMO- is probably fairly reliable but not necessarily proceeding in a straight line. So none of this is very difficult to figure out actually if you are looking at say a five-year forecast. The research on Ocean Cycles is fairly conclusive and widely available to those who seek it out. I have provided a lot of information on this in prior weeks and all of that information is preserved in Part II of my report in the Section on Low Frequency Cycles 3. Low Frequency Cycles such as PDO, AMO, IOBD, EATS. It includes decade by decade predictions through 2050. Predicting a particular year is far harder. But we are beginning to speculate on the winter of 2016/201 which I believe will tend to be ENSO Neutral but I am not so sure that it will not lean towards being a cool event or at least closer to a La Nina than neutral. One thing is fairly certain for the U.S. it will be less wet and warmer than the winter of 2015/2016 which will be quite wet and cool. JAMSTEC is predicting that the Spring of 2017 will begin a mild La Nina.
TABLE OF CONTENTS FOR PART II OF THIS REPORT The links below may take you directly to the set of information that you have selected but in some Internet Browsers it may first take you to the top of Page II where there is a TABLE OF CONTENTS and take a few extra seconds to get you to the specific section selected. If you do not feel like waiting, you can click a second time within the TABLE OF CONTENTS to get to the specific part of the webpage that interests you.
A. Worldwide Weather: Current and Three-Month Outlooks: 15 Month Outlooks (Usefully bookmarked as it provides automatically updated current weather conditions and forecasts at all times. It does not replace local forecasts but does provide U.S. national and regional forecasts and, with less detail, international forecasts)
B. Factors Impacting the Outlook
1. Very High Frequency (short-term) Cycles PNA, AO,NAO (but the AO and NAO may also have a low frequency component.)
2. Medium Frequency Cycles such as ENSO and IOD
. Low Frequency Cycles such as PDO, AMO, IOBD, EATS.
C. Computer Models and Methodologies
D. Reserved for a Future Topic (Possibly Predictable Economic Impacts)
TABLE OF CONTENTS FOR PART III OF THIS REPORT – GLOBAL WARMING WHICH SOME CALL CLIMATE CHANGE. The links below may take you directly to the set of information that you have selected but in some Internet Browsers it may first take you to the top of Page III where there is a TABLE OF CONTENTS and take a few extra seconds to get you to the specific section selected. If you do not feel like waiting, you can click a second time within the TABLE OF CONTENTS to get to the specific part of the webpage that interests you.
D2. Climate Impacts of Global Warming
D3. Economic Impacts of Global Warming
D4. Reports from Around the World on Impacts of Global Warming.