Written by Sig Silber
NOAA released their new Seasonal Outlook on Thursday and it is remarkable mostly by how cautious they are in the Outlook beyond Spring. The Southern Oscillation has breathed new life into the El Nino Conditions but so far without much impact on U.S. weather other than possibly delaying Spring on the East Coast.
Or is the better title for this week's Weather and Climate Report: "CLIMATE SHIFT – YES OR NO?"
This is my weekly Weather and Climate Update Report. Additional information can be found here on Page II of the Global Economic Intersection Weather and Climate Report.
I thought I would repeat this animation. IT TAKES A FEW SECONDS TO RUN SO PLEASE BE PATIENT. It shows the Warm Event along the Equator dissipating or turning into a Modoki Type II i.e. cold Eastern Pacific, warm Central Pacific (mostly west of the Date Line) and warm water off the Northwest Coast of the U.S. But is the story changing? Is the Modoki cleaning up its act and going Traditional? Watch the frame dated March 19 carefully! Right now it is the next to the last frame.
But first a diversion as there is no rush to get to Act III.
Last week I presented a graphic showing one way a Traditional El Nino, El Nino Modoki Type I and El Nino Modoki Type II are different and I mentioned that graphic came from a report prepared by a NOAA Researcher working with the Cooperative Institute for Marine and Atmospheric Studies in Miami?
Here is more from the full report which can be found here.
As you can see:
Traditional El Ninos generate cyclones that develop further east than Modoki cyclones
Traditional El Nino cyclones tend to complete their journey further north than Modoki cyclones
Modoki Type II cyclones have the best chance of providing precipitation to the far west of the Tropical Pacific. Modoki Type I cyclones have a better chance of providing precipitation to Southern China.
Not shown in this graphic (I could have provided another set of graphics to show this) is the situation in the Philippine Sea. Modoki Type I tends to create an anomalous High Pressure System and Modoki Type II a Low Pressure System there. This changes the wind directions for the entire area.
But of course the above analysis applies to winter conditions in the Western Pacific and we are now in Spring. Perhaps I can find research on the Spring and Summer impacts on cyclones. Two weeks ago, I presented information on worldwide spring and summer impacts of El Nino but did not differentiate among different flavors of El Nino. As you can see, how you segment the information has a big impact on how useful it is.
The reason I am presenting this information today is for the benefit of our readers in the Western Pacific and because what happens in the Western Pacific impacts the United States. For me to figure this out, I need to do more reading and perhaps NOAA should do so as well.
Progress of the Modoki
I thought I would recalculate the ONI again as I did last week and wow the situation has changed!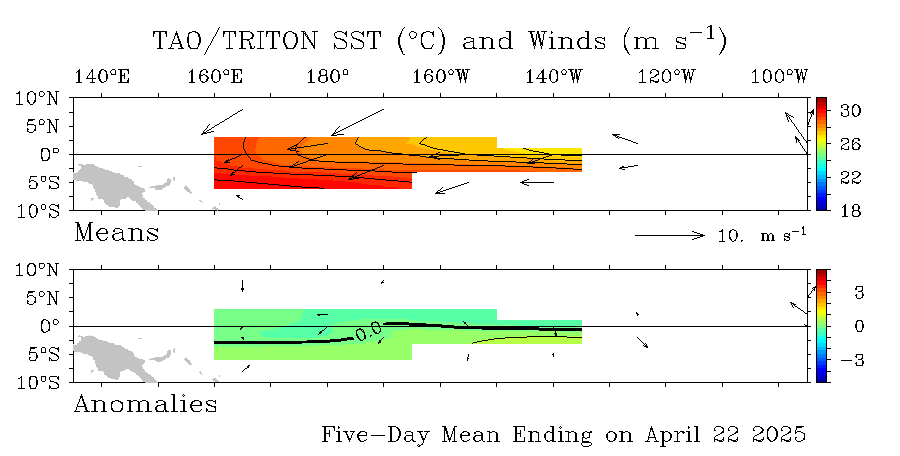 First I want to call your attention to the fact that we now have Easterly anomalies in the Eastern Pacific. The arrows east of 120W now point East. That does not mean we have westerly winds (see the upper graphic) but that the Easterlies have relaxed. Now we have true El Nino Conditions FOR THE FIRST TIME.
So as of Monday March 23 in the afternoon working from the March 22 TAO/TRITON report, this is what I observed.
Calculation of ONI from TAO/TRITON Graphic

| | | | |
| --- | --- | --- | --- |
| Anomaly Segment | Midpoint | Length on Equator in cm | Midpoint X Length (tempxcm) |
| -0.5C to 0C | -0.25 | 0 | 0 |
| 0C to +0.5C | +0.25 | 2 | 0.5 |
| +0.5C to 1.0C | +0.75 | 1.5 | 1.125 |
| 1.0C to 1.5C | +1.25 | 1.5 | 1.875 |
| | Total | 5 Centimeters | (TempxCentimeters) |
| | | | 3.5/5=0.7C Estimated ONI |
My estimate of the Nino 3.4 ONI is now 0.7. Notice it is now warm both north of the Equator and south of the Equator which is a big change. This symmetry around the Equator has increased the accuracy of my estimation approach.
The real story here however still remains Nino 4.0 where the ONI there is now reported by NOAA to be 1.2. Nino 3.4 ONI is officially reported by NOAA as 0.6 but probably is higher as I have calculated above. Nino 1 and 2 are again coming into play. Something is clearly happening in the Equatorial Pacific. It started as a Traditional El Nino, changed to a Modoki-ish event that did not evolve as a Modoki would, and now appears to be morphing into a Traditional El Nino.
Now let us focus on the main event which is the New NOAA Season Outlook Issued March 19, 2015
We will start with the Maps but I first want to preface all of the below with a statement that I do not have much confidence in the Outlook that NOAA has just issued. That is not intended to be a criticism because if we are involved in a Climate Shift, as we may be, it of course would be difficult to prepare anything other than a short-term outlook. So I think they are exercising good judgment but one needs to read the following with that in mind.
First the current month and three-month average: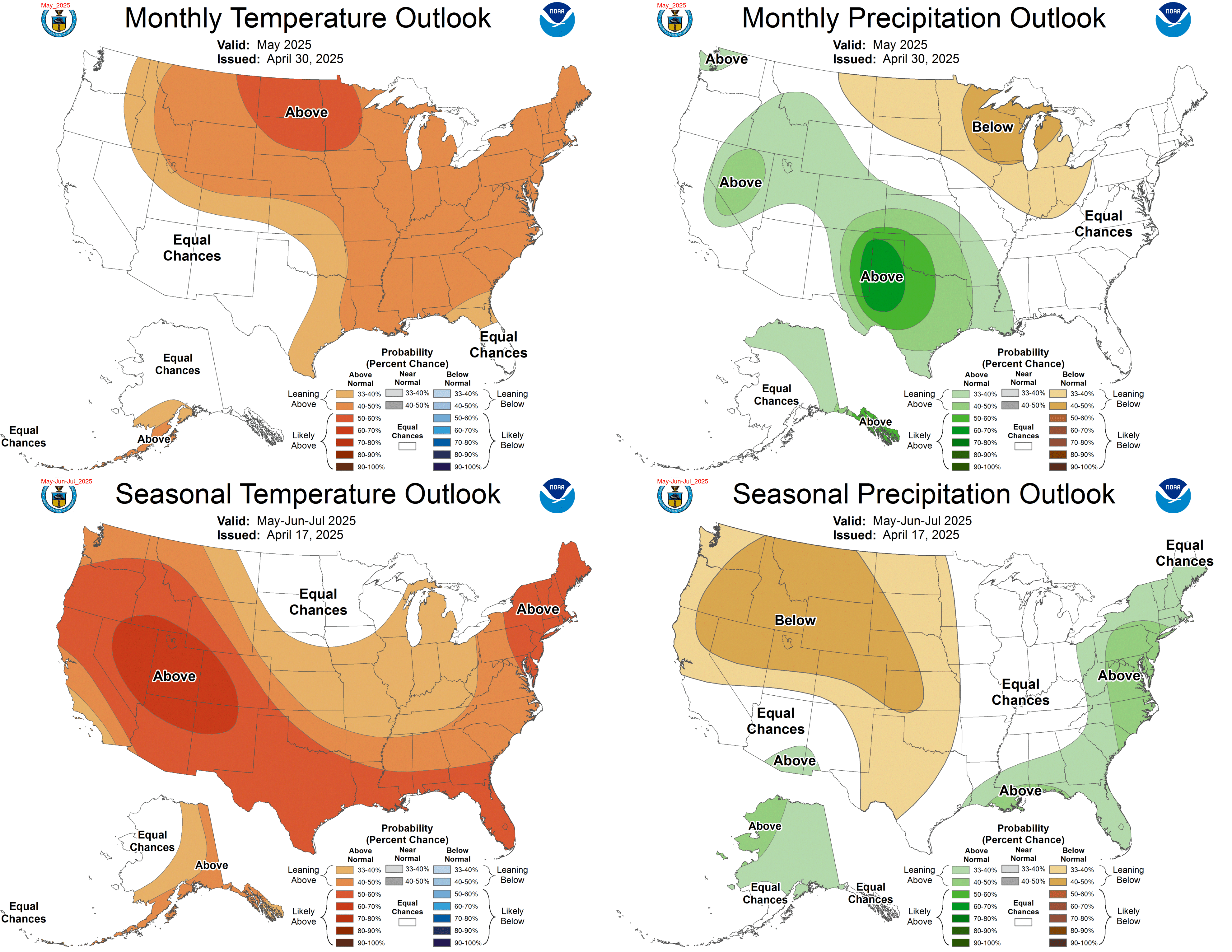 and then longer term
Temperature Outlook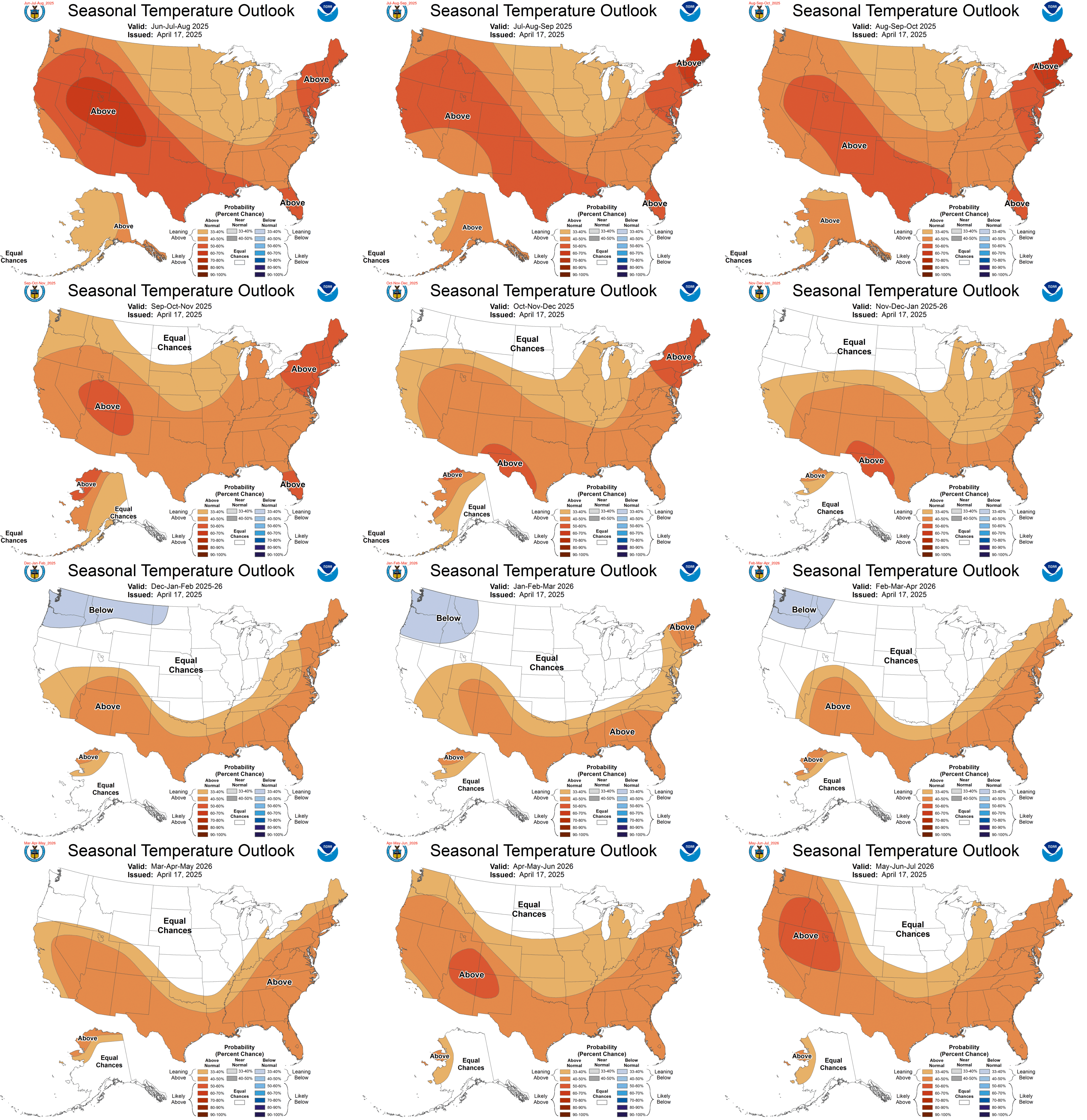 PRECIPITATION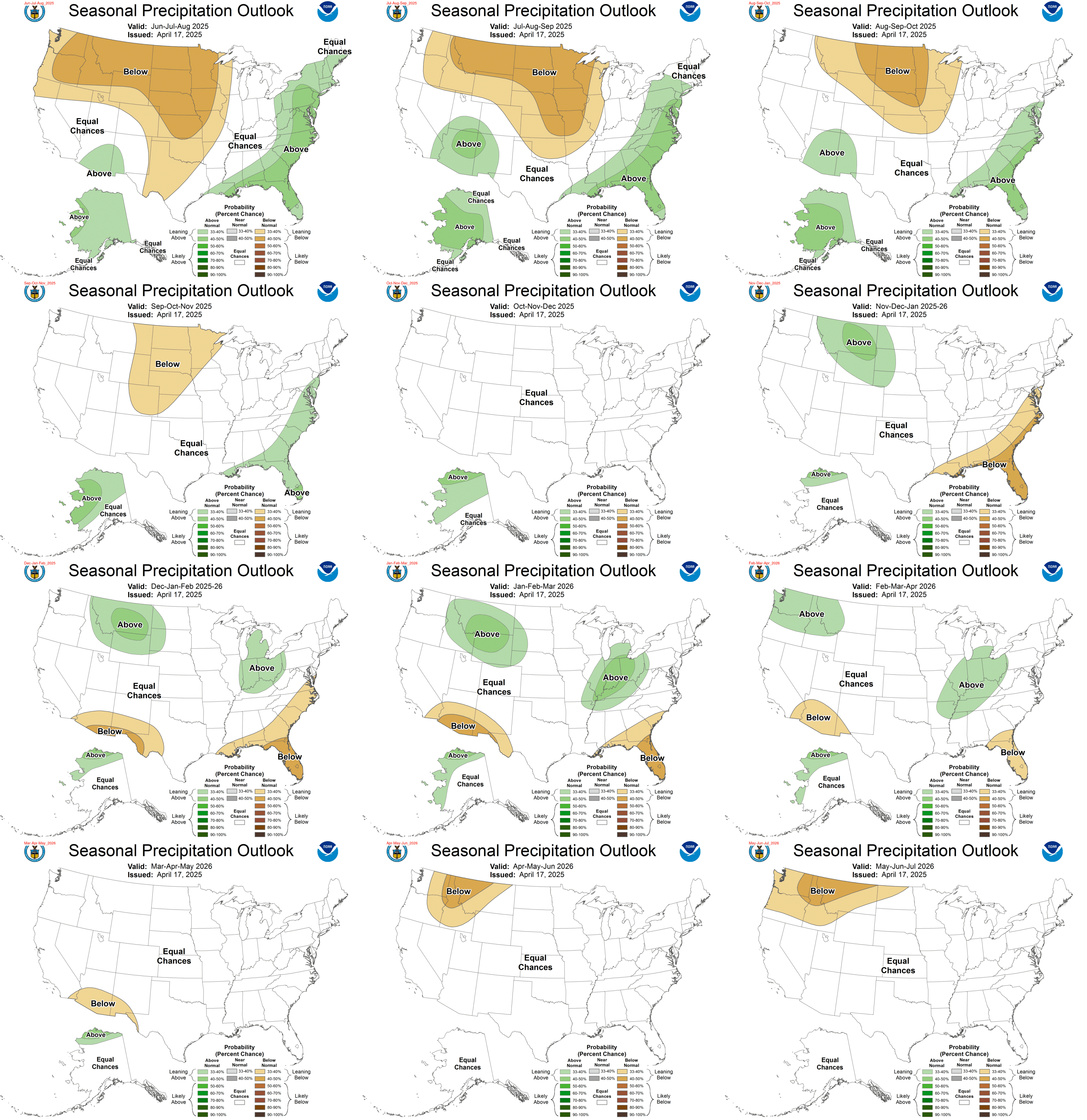 If you want larger versions of each map (temperature and precipitation) you can find them here. And each of those maps can be clicked on to further enlarge them.
Excerpts from the most recent discussion released by NOAA follow. Notice that the maps suggest that this Warm Event has ended from a precipitation perspective except for the Southwest excluding California. I look for NOAA to revise this outlook on April 16 with some hints coming on March 31.
CURRENT ATMOSPHERIC AND OCEANIC CONDITIONS

THE CURRENT ATMOSPHERIC AND OCEANIC STATE IS CONSISTENT WITH POSITIVE, CENTRAL-EQUATORIAL PACIFIC SEA SURFACE TEMPERATURE (SST) ANOMALIES AND WEAKLY COUPLED, ATMOSPHERIC EL NINO CONDITIONS. THE OFFICIAL ENSO OUTLOOK STATES THAT THERE IS APPROXIMATELY A 50% CHANCE THAT EL NINO CONDITIONS WILL CONTINUE THROUGH BOREAL SUMMER 2015. IF EL NINO CONDITIONS PERSIST THROUGH BOREAL SUMMER, IT IS HISTORICALLY LIKELY THAT CONDITIONS WILL PERSIST INTO THE FOLLOWING WINTER. EL NINO IMPACTS ARE GENERALLY MOST SIGNIFICANT TO THE CLIMATE VARIABILITY OF NORTH AMERICA DURING THE COLD SEASONS.

IN THE LAST MONTH SST ANOMALIES HAVE BEEN POSITIVE IN THE CENTRAL EQUATORIAL PACIFIC AND NEGATIVE IN THE EASTERN EQUATORIAL PACIFIC. THE MOST RECENT WEEKLY AVERAGE SST ANOMALY IN THE NINO 3.4 REGION WAS +0.5 C, WITH A +1.0 C ANOMALY IN THE NINO 4 REGION AND A -0.2 C ANOMALY IN THE NINO 3 REGION. FOR SEVERAL MONTHS AN AREA OF POSITIVE SST ANOMALIES HAS EXTENDED IN A HORSESHOE PATTERN FROM THE NORTH PACIFIC ALONG THE WEST COAST OF NORTH AMERICA AND SOUTHWESTWARD TO THE CENTRAL EQUATORIAL PACIFIC. THIS ANOMALOUS SST PATTERN PROJECTS ONTO THE NORTH PACIFIC MODE OF VARIABILITY AND THE SST PATTERN OF THE PACIFIC DECADAL OSCILLATION (PDO). THE LATEST MONTHLY VALUE OF THE PDO INDEX FOR FEBRUARY 2015 IS +2.30 WITH HISTORICALLY HIGH POSITIVE VALUES RECORDED FOR DECEMBER, JANUARY AND FEBRUARY, 2015.

LOW-LEVEL WESTERLY WIND ANOMALIES AT 850 HPA WERE OBSERVED RECENTLY OVER THE CENTRAL, EQUATORIAL PACIFIC. IN THE PAST MONTH, CONVECTION WAS ENHANCED NEAR THE DATE LINE AS INDICATED BY NEGATIVE ANOMALIES IN THE OUTGOING LONGWAVE RADIATION (OLR). THESE ATMOSPHERIC CONDITIONS COUPLED WITH THE PERSISTENT POSITIVE SST ANOMALY OVER THE CENTRAL EQUATORIAL PACIFIC FOR THE LAST SEVERAL MONTHS HAS BEEN DETERMINED TO MEET THE CRITERIA TO BE CONSIDERED EL NINO CONDITIONS.

POSITIVE SUBSURFACE TEMPERATURE ANOMALIES EXPANDED ACROSS THE CENTRAL AND EAST-CENTRAL EQUATORIAL PACIFIC DURING THE LAST TWO MONTHS ASSOCIATED WITH THE DOWNWELLING PHASE OF AN EQUATORIAL KELVIN WAVE, WHILE NEGATIVE ANOMALIES ONLY REMAIN IN A SMALL REGION NEARER TO THE SURFACE IN THE EASTERN PACIFIC. ANOMALOUS HEAT CONTENT OF THE EQUATORIAL PACIFIC FROM THE SURFACE TO A DEPTH OF 300 METERS HAS NOW ATTAINED THE GREATEST POSITIVE VALUE SINCE SPRING 2014. THE CURRENT POSITIVE SUBSURFACE HEAT ANOMALY PROVIDES A SOURCE OF WARMER-THAN-AVERAGE OCEAN WATER FOR CONTINUATION OF POSITIVE SURFACE TEMPERATURE ANOMALIES FOR THE NEXT SEVERAL SEASONS.

PROGNOSTIC DISCUSSION OF SST FORECASTS

THE MAJORITY OF DYNAMICAL AND STATISTICAL MODELS FORECAST THE SEASONAL AVERAGE NINO 3.4 SST ANOMALY THROUGH NEXT AUTUMN TO REMAIN NEAR OR ABOVE THE +0.5 C THRESHOLD USED TO DETERMINE EL NINO EVENTS. MOST DYNAMICAL MODELS PREDICT AN INCREASE IN THE NINO 3.4 INDEX WITH TIME TO ABOVE +1.0 C, WHILE MOST STATISTICAL MODELS INDICATE A CONTINUATION OF WEAK EL NINO SST CONDITIONS BETWEEN +0.5 C AND +1.0 C OR A REDUCTION OF ANOMALIES TO BELOW +0.5 C. THE CPC NINO 3.4 INDEX CONSOLIDATION PREDICTS A GREATER THAN 50% PROBABILITY THAT SEASONAL MEAN ANOMALIES WILL REMAIN ABOVE +0.5 C INTO NEXT WINTER, WITH PROBABILITIES NEARER TO 60% IN THE SPRING.

PROGNOSTIC TOOLS USED FOR U.S. TEMPERATURE AND PRECIPITATION OUTLOOKS

THE SEASONAL TEMPERATURE AND PRECIPITATION OUTLOOKS FOR THE THREE-MONTH APRIL, MAY AND JUNE (AMJ) SPRING SEASON THROUGH THE AUGUST, SEPTEMBER AND OCTOBER (ASO) SEASON ARE BASED PRIMARILY ON COUPLED OCEAN-ATMOSPHERE DYNAMICAL MODEL FORECASTS FROM THE NORTH AMERICAN MULTI-MODEL ENSEMBLE (NMME), INCLUDING THE NCEP CLIMATE FORECAST SYSTEM (CFS), AND THE INTERNATIONAL MULTI-MODEL ENSEMBLE (IMME), WHICH COMBINES THE CFS WITH THE EUROPEAN CENTER AND METEO-FRANCE CLIMATE MODELS. OUTLOOKS AT LONGER LEAD TIMES, BEGINNING WITH THE SEPTEMBER, OCTOBER AND NOVEMBER (SON) 2015 SEASON THROUGH AMJ 2016 RELIED SOMEWHAT ON THE CPC CONSOLIDATION TEMPERATURE AND PRECIPITATION FORECASTS. CONSISTENCY OF THE OUTLOOKS WITH CORRELATIONS BETWEEN SEASONAL MEAN TEMPERATURE OR PRECIPITATION AND SEASONAL NINO 4, NINO 3.4 OR PDO INDICES WERE ALSO CONSIDERED, ESPECIALLY FOR LATE AUTUMN 2015 AND NEXT WINTER. POTENTIAL IMPACTS OF INTERANNUAL MODES OF CLIMATE VARIABILITY WERE NO LONGER USED TO ADJUST THE OUTLOOKS FOR SEASONS FOLLOWING JANUARY, FEBRUARY AND MARCH (JFM) 2015, WHICH FOLLOW THE CPC CONSOLIDATION FORECAST CLOSELY. OUTLOOKS FOLLOWING JFM 2015 DERIVE CLIMATE SIGNALS PRIMARILY FROM DECADAL CLIMATE TRENDS.

30-DAY OUTLOOK DISCUSSION FOR APRIL 2015

THE APRIL TEMPERATURE OUTLOOK SHOWS AN ENHANCED LIKELIHOOD OF ABOVE-NORMAL TEMPERATURES FOR THE FAR WEST AND ALL OF ALASKA, WITH THE HIGHEST PROBABILITIES LOCATED ALONG THE COAST OF THE PACIFIC NORTHWEST AND THE SOUTHERN AREAS OF ALASKA. CONSIDERATIONS OF BELOW AVERAGE SNOW COVER, ONGOING DROUGHT CONDITIONS AND DYNAMICAL MODEL GUIDANCE ALL SUPPORT VARIOUS REGIONS OF THIS FORECAST AREA. BELOW AVERAGE TEMPERATURES ARE FAVORED IN TWO AREAS WITHIN THE CONUS, AN AREA CENTERED ACROSS WESTERN TEXAS AND ANOTHER SPANNING THE EASTERN GREAT LAKES, NORTHEAST AND NORTHERN MID-ATLANTIC. THE REGION NEAR TEXAS IS SUPPORTED BY EL NINO CONSIDERATIONS IN WHICH COMPOSITES AND REGRESSIONS INDICATE A BELOW NORMAL SIGNAL IN THAT REGION. PROBABILISTIC NMME AND IMME DYNAMICAL MODEL GUIDANCE AND TO SOME DEGREE MJO COMPOSITES FOR RMM PHASES 2 AND 3 ALSO SUPPORT THIS REGION.

DYNAMICAL MODEL GUIDANCE CONTINUES TO INDICATE A MEAN TROUGH ACROSS EASTERN NORTH AMERICA AS HAS BEEN OBSERVED THROUGHOUT MUCH OF FEBRUARY AND MARCH. THE CFS, PROBABILISTIC NMME AND IMME GUIDANCE FAVOR ELEVATED ODDS FOR BELOW NORMAL TEMPERATURES IN THIS AREA. POSITIVE SNOW COVER AND DEPTH ANOMALIES IN SOME OF THESE AREAS ALSO FAVORS BELOW NORMAL TEMPERATURES AS DO MJO COMPOSITES FOR FORECAST MJO EVOLUTION FOR THE REMAINDER OF MARCH INTO EARLY APRIL.

THE APRIL PRECIPITATION OUTLOOK DEPICTS ELEVATED PROBABILITIES FOR ABOVE MEDIAN PRECIPITATION ACROSS THE SOUTHWEST, SOUTHERN AND CENTRAL ROCKIES AND FROM SOUTHERN TEXAS TO THE SOUTHEAST CONUS. DYNAMICAL MODEL GUIDANCE FROM THE CFS, PROBABILISTIC NMME AND IMME ARE IN GOOD AGREEMENT ACROSS THE SOUTHWEST FOR ANOMALOUS WETNESS WHILE EL NINO CONDITIONS, THE MJO (EARLY IN THE MONTH), AND DYNAMICAL MODEL GUIDANCE SUPPORT THE FORECAST IN THE SOUTHEAST. THE FAVORED UPPER-AIR HEIGHT PATTERN AT THE CURRENT TIME ESPECIALLY DURING THE FIRST HALF OF THE MONTH IS FOR RIDGING (TROUGHING) ACROSS WESTERN (EASTERN) NORTH AMERICA WHICH SUPPORTS ELEVATED ODDS FOR BELOW MEDIAN PRECIPITATION FOR PARTS OF THE NORTHERN PLAINS AND WESTERN GREAT LAKES. BELOW MEDIAN PRECIPITATION IS ALSO FAVORED BY DYNAMICAL MODEL GUIDANCE FOR THE FAR PACIFIC NORTHWEST.

THREE MONTH OUTLOOK

TEMPERATURE

THE APRIL THROUGH JUNE (AMJ) 2015 TEMPERATURE OUTLOOK INDICATES ENHANCED PROBABILITIES OF ABOVE-NORMAL TEMPERATURES FOR ALASKA, WEST OF THE ROCKY MOUNTAINS, AND IN NORTHERN STATES EXTENDING ACROSS THE NORTHERN PLAINS TO THE WESTERN GREAT LAKES. PROBABILITIES OF BELOW-NORMAL TEMPERATURES ARE ENHANCED FOR EASTERN ARIZONA AND WESTERN TEXAS.

PRECIPITATION

THE APRIL THROUGH JUNE (AMJ) 2015 PRECIPITATION OUTLOOK INDICATES ENHANCED PROBABILITIES OF ABOVE-MEDIAN PRECIPITATION FOR THE INTERIOR OF ALASKA, THE U.S. SOUTHWEST, AND THE SOUTHEAST EXCLUDING THE LOWER FLORIDA PENINSULA. THE PROBABILITIES OF BELOW-MEDIAN PRECIPITATION ARE INCREASED FOR COASTAL REGIONS OF THE PACIFIC NORTHWEST, AS WELL AS THE WESTERN GREAT LAKES REGION, INCLUDING EASTERN PARTS OF THE DAKOTAS AND NORTHERN IOWA.

PROGNOSTIC DISCUSSION OF OUTLOOKS – AMJ 2015 TO AMJ 2016

TEMPERATURE

BEGINNING WITH THE AMJ 2015 SEASONAL TEMPERATURE OUTLOOK AND CONTINUING THROUGH THE REMAINDER OF 2015, THE PROBABILITIES OF ABOVE-NORMAL TEMPERATURES ARE ENHANCED OVER MUCH OF THE U.S. WEST AND ALASKA. ENHANCED PROBABILITIES OF ABOVE-NORMAL TEMPERATURES EXTEND ACROSS THE NORTHERN PLAINS INTO THE WESTERN GREAT LAKES IN SPRING 2015. BELOW-NORMAL TEMPERATURES ARE MOST LIKELY FOR PORTIONS OF EASTERN ARIZONA AND WESTERN TEXAS. THESE FORECASTS ARE SUPPORTED BY CLIMATE MODEL GUIDANCE FROM THE NMME AND IMME, AS WELL AS CONSISTENT WITH CORRELATIONS WITH EL NINO AND PDO INDICES.

FROM MJJ 2015 THROUGH ASO 2015, PROBABILITIES OF ABOVE-NORMAL TEMPERATURES ARE INCREASED FOR THE ENTIRE GREAT LAKES REGION INTO THE NORTHEAST, AS INDICATED BY CONSENSUS OF NMME AND IMME GLOBAL CLIMATE MODEL FORECASTS. ABOVE-NORMAL TEMPERATURES CONTINUE TO BE MOST LIKELY IN NEW ENGLAND THROUGH NEXT SPRING 2016 AND FOR LARGER PORTIONS OF THE NORTHEAST FROM JFM 2016 ONWARD, FOLLOWING OBSERVED DECADAL TEMPERATURE TRENDS. GREATER CHANCES OF ABOVE-NORMAL TEMPERATURES EXTEND DOWN THE EASTERN SEABOARD FROM JJA THROUGH ASO 2015 AND ALONG PARTS OF THE GULF COAST FROM JAS THROUGH OND 2015, CONSISTENT WITH THE LONGER-LEAD SEASONAL FORECASTS OF DYNAMICAL MODELS. PROBABILITIES OF ABOVE-NORMAL TEMPERATURES CONTINUE TO BE ENHANCED FOR ALL OF ALASKA THROUGH OND 2015, AND FOR THE SOUTHERN COAST OF ALASKA INTO DJF 2015/2016. INCREASED PROBABILITIES OF ABOVE-NORMAL TEMPERATURES CONTINUE FOR THE NORTH SLOPE OF ALASKA THROUGHOUT THE NEXT YEAR, DUE TO DECADAL CLIMATE TRENDS.

PRECIPITATION

THE AMJ 2015 PRECIPITATION OUTLOOK INDICATES ENHANCED PROBABILITIES OF ABOVE-MEDIAN PRECIPITATION FOR THE SOUTHWEST AND ACROSS MOST OF THE SOUTHEAST, AS WELL AS FOR INTERIOR ALASKA, AS PREDICTED BY THE CONSENSUS OF NMME AND IMME MODEL FORECASTS AND CONSISTENT WITH REGRESSIONS TO EL NINO AND PDO INDICES. DURING THE AMJ 2015 SEASON, BELOW-MEDIAN PRECIPITATION IS MOST LIKELY FOR COASTAL REGIONS OF THE PACIFIC NORTHWEST AND FOR EASTERN PARTS OF THE NORTHERN PLAINS AND THE WESTERN PORTIONS OF THE GREAT LAKES REGION. THE OUTLOOK FOR MJJ 2015 IS VERY SIMILAR TO AMJ 2015. ENHANCED PROBABILITIES FOR ABOVE-MEDIAN PRECIPITATION CONTINUE FOR PARTS OF THE SOUTHWEST INTO JAS 2015, AND ENHANCED PROBABILITIES FOR BELOW-MEDIAN PRECIPITATION CONTINUE FOR PARTS OF THE PACIFIC NORTHWEST THROUGH ASO 2015, EXPANDING NORTHWARD INTO THE ALASKA PANHANDLE FROM MJJ THROUGH ASO 2015. THESE OUTLOOKS ARE STRONGLY SUPPORTED BY CLIMATE MODEL FORECASTS FROM THE NMME AND IMME, AS WELL AS CONSISTENT WITH POSITIVE EL NINO AND PDO INDICES.

FROM SON 2015 ONWARD, ALL SEASONAL PRECIPITATION OUTLOOKS INDICATE EQUAL CHANCES (EC) OVER THE ENTIRE FORECAST DOMAIN, AS CLIMATE SIGNALS ARE WEAK OR INCONSISTENT. A DECADAL PRECIPITATION TREND INDICATING A TENDENCY FOR BELOW-MEDIAN PRECIPITATION OVER PARTS OF THE SOUTHEAST IN WINTER IS OPPOSED BY THE INCREASED LIKELIHOOD OF EL NINO IMPACTS, WHICH FAVOR ABOVE-MEDIAN PRECIPITATION AMOUNTS OVER THE SOUTHEAST IN WINTER.
Short-term Outlook –
Let us take a look at what was issued today March 23, 2015. It will auto-update every day so it will be changing day by day (and thus be up to date whenever you elect to read this report) but my comments as well as the comments of NOAA may become out of sync with the map since these comments do not auto-update.
Generally I only show the "second week" namely the 8 -14 Day Outlook. The first week (6 – 10 Day Outlook) together with much additional information on current weather patterns and near-term forecasts can be found in Part II of my report, but 8 – 14 days covers most of the 6 – 14 day period.
Here is the April Temperature Outlook issued March 19, 2015.
And here is the 8 – 14 Day Temperature Outlook issued today March 23, 2015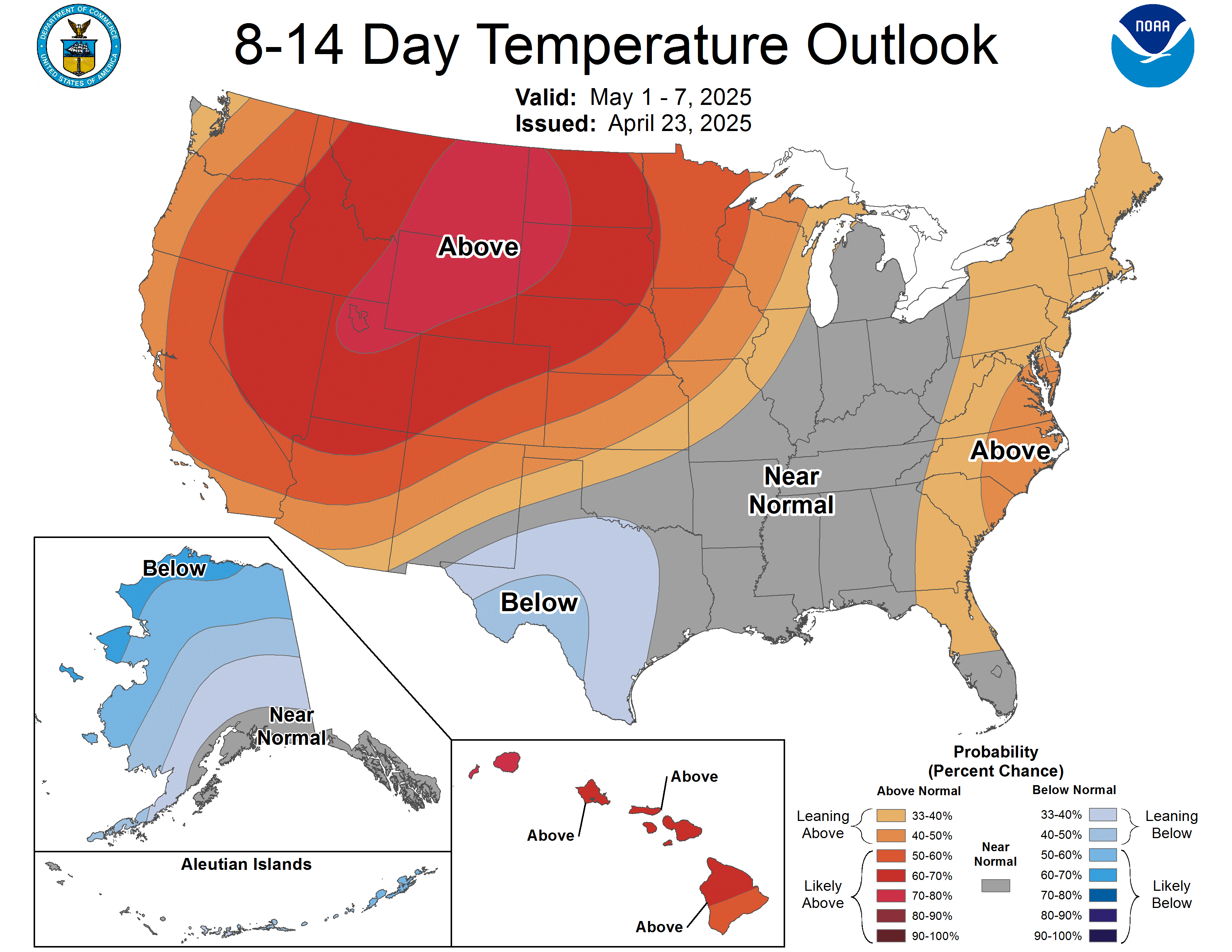 The Temperature Outlook for the first week of April is somewhat consistent with the Monthly Outlook but far more more intense.
Here is the Precipitation Outlook for April issued on March 19.
And here is the 8 – 14 Day Precipitation Outlook issued today March 23, 2015.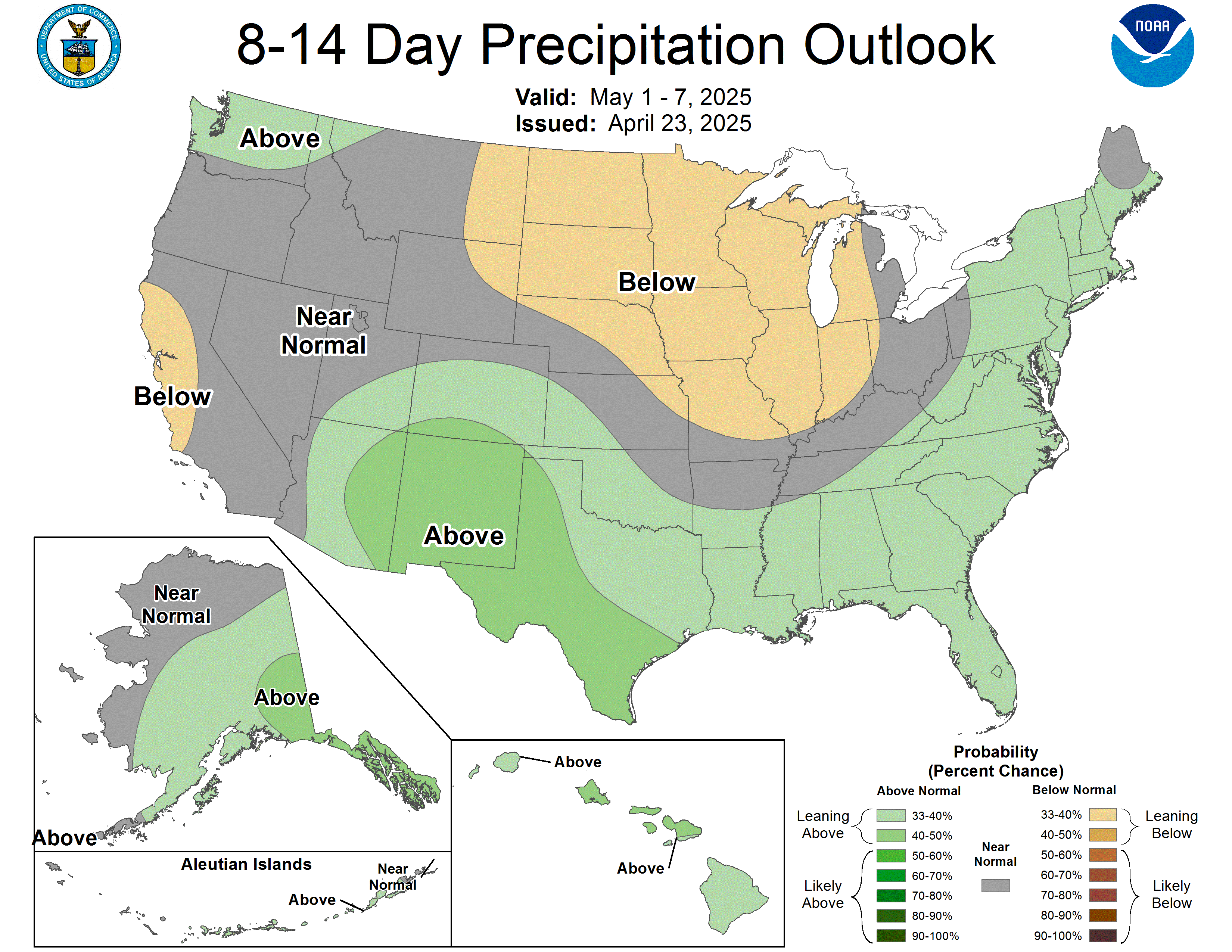 The Precipitation Outlook for the first week of April is totally different than the Monthly Outlook. I think it is because of the misinterpretation by NOAA of the type of El Nino we are having.
Here are excerpts from the NOAA release today March 23, 2015.
"6-10 DAY OUTLOOK FOR MAR 29 – APR 02, 2015

TODAY'S ENSEMBLE MEAN 500-HPA HEIGHT FORECASTS ARE IN REASONABLE AGREEMENT OVER NORTH AMERICA FOR THE PERIOD. THEY ALL SHOW ANOMALOUS RIDGING OVER WESTERN NORTH AMERICA WITH A DOWNSTREAM TROUGH CENTERED OVER EASTERN CANADA. THE GEFS AND ECMWF ENSEMBLE MEANS ARE IN VERY GOOD AGREEMENT, WHILE THE CANADIAN ENSEMBLE MEAN DEPICTS A MORE AMPLIFIED RIDGE NEAR THE WEST COAST. GIVEN ITS RUN-TO-RUN CONTINUITY AND LEADING ANOMALY CORRELATION OVER THE PAST 60 DAYS, THE CANADIAN MEAN IS GIVEN SOME WEIGHT IN THE OFFICIAL MANUAL BLEND DESPITE THE AGREEMENT BETWEEN THE TYPICALLY-FAVORED GEFS AND ECMWF.

THE OFFICIAL BLEND DEPICTS A NEGATIVE HEIGHT ANOMALY IN EXCESS OF 210 METERS EAST OF HUDSON BAY, A PATTERN THAT FAVORS CONTINUED ADVECTION OF ANOMALOUSLY COLD AIR TOWARD THE NORTHEASTERN CONUS. COLDER-THAN-AVERAGE TEMPERATURES ARE FAVORED OVER THE SOUTHEAST MOSTLY DUE TO A VERY COLD AIR MASS EXPECTED EARLY IN THE PERIOD. ABOVE-NORMAL TEMPERATURES ARE STRONGLY FAVORED OVER THE WESTERN CONUS, ESPECIALLY OVER THE SOUTHWEST, WHERE MUCH ABOVE-NORMAL TEMPERATURES ARE FORECAST EARLY IN THE PERIOD. THE ECMWF-BASED TEMPERATURE TOOLS FAVOR A WARMER SOLUTION ACROSS THE CENTRAL CONUS COMPARED TO THE GEFS- AND CANADIAN-DERIVED TOOLS. THE AUTOMATED SURFACE BLEND WAS TWEAKED TOWARD THE COOLER CANADIAN/GEFS SOLUTION. ABOVE-NORMAL TEMPERATURES ARE FAVORED FOR ALASKA WITH FAIRLY HIGH CONFIDENCE UNDER THE INFLUENCE OF ANOMALOUS SOUTHERLY MID-LEVEL FLOW AND ABOVE-NORMAL 500-HPA HEIGHTS.

WITH ANOMALOUS NORTHERLY MID-LEVEL FLOW FORECAST OVER MUCH OF NORTH AMERICA, DRIER-THAN-NORMAL CONDITIONS ARE FAVORED FOR MUCH OF THE CONUS, THOUGH NOT EXCEPTIONALLY SO, GIVEN THE LIMITED PREDICTABLY INHERENT IN THE PRECIPITATION FIELD. THE ONE NOTABLE EXCEPTION OVER THE CONUS IS THE GREAT LAKES REGION, WHERE ABOVE-MEDIAN PRECIPITATION IS SLIGHTLY FAVORED DUE TO THE PRESENCE OF THE MEAN FRONTAL BOUNDARY LATER IN THE PERIOD, AS REVEALED BY THE ENSEMBLE MEAN MSLP FORECASTS.

FORECAST CONFIDENCE FOR THE 6-10 DAY PERIOD: ABOVE AVERAGE, 4 OUT OF 5, DUE TO GOOD AGREEMENT AMONG MODEL SOLUTIONS, OFFSET SLIGHTLY BY UNCERTAINTY IN THE TEMPERATURE FORECAST OVER THE CENTRAL U.S.

8-14 DAY OUTLOOK FOR MAR 31 – APR 06, 2015

THE FORECAST CIRCULATION FOR WEEK-2 IS OVERALL SIMILAR TO THAT FORECAST FOR THE 6-10 DAY PERIOD, WITH TWO NOTABLE CHANGES. FIRST, THE POSITIVE HEIGHT ANOMALY FORECAST OVER FAR WESTERN CANADA IN THE EARLY PERIOD IS FORECAST TO RETROGRADE OVER THE GULF OF ALASKA. SECOND, THE FORECAST PATTERN BECOMES MORE ZONAL OVER THE WESTERN AND SOUTHERN CONUS. ON THE FIRST POINT, TODAY'S ENSEMBLE MEAN SOLUTIONS HAVE TRENDED CLOSER TO YESTERDAY'S CANADIAN ENSEMBLE MEAN. THEREFORE, AS IN THE 6-10 DAY PERIOD, THE 00Z CANADIAN ENSEMBLE MEAN IS GIVEN CONSIDERABLE WEIGHT IN BOTH THE OFFICIAL 500-HPA HEIGHT BLEND AS WELL AS THE SURFACE FORECASTS.

A MARKED WARMUP OVER THE SOUTHEAST IS FORECAST COMPARED TO THE 6-10 DAY PERIOD, AND IS WELL AGREED UPON BY THE SURFACE FORECAST TOOLS. THE PROBABILITY OF ABOVE-NORMAL TEMPERATURES OVER THE WEST ARE RELAXED SUBSTANTIALLY COMPARED TO THE EARLY PERIOD AS THE UPPER-LEVEL RIDGING IS FORECAST TO RETROGRADE ACROSS THE GULF OF ALASKA. SOME DETERMINISTIC MODEL RUNS FAVOR A DEEP TROUGH IMPACTING PARTS OF THE NORTHERN ROCKIES OR NORTH-CENTRAL CONUS DURING THE PERIOD, LEADING TO A SHIFT TOWARD COOLER PROBABILITIES ACROSS THE NORTHERN TIER OF THE U.S. IN THIS REGARD, AN ECMWF/CANADIAN BLEND IS FAVORED OVER THE GEFS SURFACE TEMPERATURE TOOLS.

THE PRECIPITATION OUTLOOK IS DECIDEDLY UNCERTAIN, WITH ALL TOOLS DEPICTING RELATIVELY WEAK SIGNALS. THE FORECAST IS OVERALL SIMILAR TO THE 6-10 DAY FORECAST, BUT FOR A SHIFT TOWARD WETTER PROBABILITIES OVER MUCH OF THE CENTRAL AND EASTERN CONUS, WHERE ODDS FOR A MORE ACTIVE STORM TRACK ARE INCREASED COMPARED TO THE EARLY PERIOD.

FORECAST CONFIDENCE FOR THE 8-14 DAY PERIOD IS: AVERAGE, 3 OUT OF 5, DUE TO GOOD MODEL AND TEMPERATURE TOOL AGREEMENT, OFFSET BY WEAK SIGNALS IN THE PRECIPITATION TOOLS."
Analogs to Current Conditions
Now let us take a detailed look at the "Analogs" which NOAA provides related to the 5 day period centered on 3 days ago and the 7 day period centered on 4 days ago. "Analog" means that the weather pattern then resembles the recent weather pattern and was used in some way to predict the 6 – 14 day Outlook.
Here are today's analogs in chronological order although this information is also available with the analog dates listed by the level of correlation. I find the chronological order easier for me to work with. There is a second set of analogs associated with the outlook but I have not been analyzing this second set of information. This first set applies to the 5 and 7 day observed pattern prior to today. The second set which I am not using relates to the forecast outlook 6 – 10 days out to similar patterns that have occurred in the past during the dates covered by the 6 – 10 Day Outlook. That may also be useful information but they put this set of analogs in the discussion with the other set available by a link so I am assuming that this set of analogs is the most meaningful.
Analog

Centered

Day

ENSO

Phase

PDO
AMO
Other Comments
1974 March 27
Neutral
–
–
Followed by a second La Nina
1981 March 12
Neutral
+
–
1994 April 1
Neutral
+
–
1997 March 18
Neutral
+
Neutral
Followed by a powerful El Nino
1997 March 20
Neutral
+
Neutral
Followed by a powerful El Nino
1998 March 12
El Nino
+
+
A powerful El Nino
1998 March 13
El Nino
+
+
A powerful El Nino
2004 April 6
Neutral
+
+
2007 April 4
Neutral
Neutral
+
Right after a moderate El Nino
2007 April 5
Neutral
Neutral
+
Right after a moderate El Nlino
I was remiss last week not noticing the prevalence of AMO- in the analogs. This week there are eight ENSO Neutral analogs. The only really interesting analogs are the 1997/1998 ones. The 1997/1998 was a very power El Nino which seemed to trigger a change in the phase of the PDO from positive to negative which is counter-intuitive but data is data. It seems like climate shifts in the Pacific often occur in association with ENSO events of the opposite sign. That is one reason why I am not convinced that the current high readings of the PDO signify a multi-decadal change to PDO +. The Ocean Phases of the analogs this week point slightly towards conditions A and C. Those two combination are very different in terms of the resulting winter climate. More reason to have low confidence in the NOAA forecasts.
Red is a high likelihood of drought, blue the opposite.
Back to the Current Situation:
Sometimes it is useful to take a look at the location of the Jet Stream or Jet Streams.
And sometimes the forecast is revealing. Below is the forecast out five days. It is fairly obvious that with this pattern accurate forecasting for a particular day is made more difficult.
To see it in animation, click here.
This longer animation shows how the jet stream is crossing the Pacific and when it reaches the U.S. West Coast is going every which way. One can imagine that attempting to forecast this 6 – 14 days out is quite challenging.
And below is another view which highlights the surface highs and the lows re air pressure on Day 3. The RRR remains offshore and blocking precipitation from reaching California. Also notice the split Aleutian Low.
And here is Day 6. Notice the low-pressure impacting the Great Lakes. That might be a bit unusual for Spring.
El Niño Discussion
The view of El Nino as a 2014/2015 event appears to be morphing into a view that it is a 2015/2016 event. But all predictions about El Nino for next winter must be tempered by what is called the Spring Prediction Barrier (SPB). Nevertheless, an El Nino this coming winter is a real possibility.
It is useful to understand where ENSO is measured.
Of most interest to NOAA is 120 W to 170 W labeled Nino 3.4 as that is where the ONI Index most often used in the U.S. for defining ENSO Events is measured. More information can be found here. In Asia they tend to pay more attention to Nino 3
And now the low-level wind anomalies.
This is a very dramatic change from last week and might show even more if it was up to date but it is not but it is the graphic released today. I believe it is current as of March 20 which is not bad. Notice the very reddish-brown area between 160E and the Date Line which extends but with less intensity all the way over to 140E. That occured two weeks ago and we are past that. But now we have light brown from 140E all the way to the coast of South Ameria. That indicates weaker and in some case significant weaker Easterlies. The big question now is will this continue.
The Southern Oscillation Index (SOI) this week has been consistently quite negative until the last two days. Today's reading of -1.1 is not an extremely negative value. The SOI fluctuates based on local weather conditions in Tahiti and Darwin Australia which is why the 30 and 90 day averages are more significant than the daily values. The 30 day average of -10.7 is certainly consistent with El Nino conditions (a 30 day average of -8.0 or more negative (using the standard SOI Index) is considered to be consistent with El Nino conditions). The 90 day average is currently -7.1 which is not yet sufficiently negative to be considered consistent with El Nino conditions. You can always find the updated daily values and the 30 and 90 day averages here.
17 March 2015 -35.9

18 March 2015 -22.1

19 March 2015 -15.8

20 March 2015 -31.2

21 March 2015 -18.8

22 March 2015 -6.7

23 March 2015 -1.1
I thought I would also show what I call the Kelvin Wave graphic again this week. It is really the Upper Ocean Heat Anomaly.
You can easily see that this Kelvin Wave has stalled re its eastward progression as I have predicted it would based on the wind situation. Remember the bottom of the graphic is the current readings and as you look up you see basically day by day the historical progression of these waves. When the pattern starts to deviate from 45 degrees and becomes more vertical, that signifies a decreasing impact of the Kelvin Wave. And we see that. Off to the left we may see the beginning of the next upwelling cooling wave which could signal the end of this Warm Event.
Remember that part of the Tropical Pacific is unusually warm this year to begin with so it does not take much to register as a positive anomaly since an anomaly is the combination of the variation in the background level and the deviation caused by any new impetus. But what is most important is the cold area over to the East which is what makes this a Modoki rather than a traditional El Nino. We still have upwelling of cold water off of Ecuador so they probably still see no sign of an El Nino. And fishing there is most likely not negatively impacted by an El Nino. So there is no traditional El Nino this winter but we have a warm event which could easily become a full-fledged El Nino Modoki (and the past two weeks appears to be gaining strength) and could eventually morph into a traditional El Nino but I do not think that is likely although many of the models are predicting that will happen. But we will see. If the Southern Oscillation resumes being very negative and stays that way for a few weeks, I will reassess my conclusions.
Since we looked at the Upper Ocean Anomalies let's also look at the Surface Anomalies which I have not been reporting on lately.
I do not see a significant change from last week. I am surprised. I expected to see more given the behavior of the SOI but there is some change but not dramatic. It still looks like a Central Pacific or Date Line Warm Event not a Traditional/Canonical El Nino.
And finally the latest model results released by NOAA on March 23, 2015. This is probably the most important graphic re this week's discussion.
Not to belabor a point but today is March 23 and to see a firm value for the Jan/Feb/March ONI on this chart as well as a firm value for March makes me wonder about the protocol followed by NOAA. I can only say that when I briefly taught a graduate course in Engineering Economics that would not have gone over well with me on a term paper and I probably would have put a question mark next to it. I have a lot of respect for psychics but it usually does not show up in science and engineering. I do expect the Jan – March ONI to turn out to be greater than 0.5 but I do not think it is good form to show projected values as an observed value on a graphic.
The continued tendency for models to show a strengthening of this El Nino is reasonable but questionable given the reality of what is called the Spring Prediction Barrier (SPB). If I was preparing that graphic. I would definitely have a footnote on that to avoid misleading the reader.
Pulling it All Together.
There has been a short-term strenghtening of this Warm Event at the wrong time of the year. It is looking a bit more like a Traditional El Nino. NOAA expresses a point of view that I can neither confirn nor contradict (I have not done the research to do either) that if this Warm Event entends through the summer, the odds of an El Nino next winter are very good. It does not seem unreasonable to me but I do not have the data to assess it. For the Spring and Fall it should have minimal impact. Because right now we still have more of a Modoki-ish pattern than a Traditional Pattern I have very little confidence in the NOAA Three-Month precipitation Outlook. I expect them to begin walking back from their forecasts next Tuesday when I will publish a Special Update Edition. I publish regularly on Monday's and NOAA will issue their April update on Tuesday March 31 so most likely I will publish a Special Update on Tuesday or Wednesday rather than having everyone wait for the following Monday.
The PDO is showing very high readings which could signify the beginning of a climate shift in the Pacific which would be very significant for World weather for two or three decades. It will take three years before we know if that has occurred. At this point I am not at all convinced that this is the time that the flipping will occur but it might or it might take a strong La Nina to signal that change. I am inclined to think the latter but we will see.
Click Here for the Econointersect Weather and Climate Page II where you will find:
A more complete set of NOAA and other agency graphics (including international agencies) that auto update. So this includes both short term- and seasonal "updates". Most of the graphics will ALWAYS be up to date even if my commentary on the graphics is not. I update my commentary when it seems necessary and certainly every Monday, but some of these graphics auto update every six hours.
Economic and other Impacts of major weather events. Not sure there is any other place to obtain this information consistently other than very specialized subscription services.
Information on Climate Cycles both those which are fairly short term i.e. less than a decade in duration and multi-decadal cycles.
Economic and other Impacts of those Climate Cycles which are referred to by the IPCC as Internal Variability as opposed to secular Climate Change which is always in the same direction. Again I am not sure if there is another source for this information where it is pulled together in one place as I have.
Click Here for Page III which deals with Global Warming.
Information on Anthropogenic Global Warming science i.e. the secular change in our climate that overlays both short-term weather and historical climate cycles as well as black swan events like volcanic eruptions. I prefer to call this Global Warming as it is the warming that triggers the other changes.
Economic and other Impacts of Global Warming. The IPCC AR5 WG2 attempts to describe and quantify these and I have some excerpts from their report. Over time I will go beyond their report as it is very deficient.