Written by Sig Silber
Weather patterns are moving ever so slightly from East to West confirming that winter is over but not yet feeling that way on the East Coast. The Media Front, accustomed to misinterpreting NOAA Advisories, is quiet. With respect to the daily forecasts issued by NOAA, we are in the mode that three-day old weather forecasts are as good as current ones in this slow-motion environment. That changed a bit on Sunday with a new interpretation of shifting weather patterns further north. But I expect that new interpretation to hold at least through this week as I think NOAA got it correct and are simply recognizing the changes that have taken place with regards to the Aleutian Low and the Jet Stream.
This is my weekly Weather and Climate Update Report. Additional information can be found here on Page II of Weather and Climate Report.
I thought I would start with this animation. IT TAKES A FEW SECONDS TO RUN SO PLEASE BE PATIENT. It shows the Warm Event along the Equator dissipating or turning into a Modoki Type II i.e. cold Eastern Pacific, warm Central Pacific (mostly west of the Date Line) and warm water off the Northwest Coast of the U.S. So since the ONI is measured between 120W and 170W you could be using NOAA supplied estimates of the ONI to conclude that part of the NOAA criteria for an El Nino will be achieved by the end of March.
But as you will see later, there is some question as to how one should interpret the index used by NOAA. In the same vein, the SOI can be judged to be consistent with an El Nino by selecting the SOI Index that achieves that goal. To me that is tawdry. But I guess it is Government in Action.
It would appear that someone wanted to have an El Nino declared and did not even have the patience to wait until the end of March when at least a legal case could be made that this situation met the NOAA El Nino Criteria. One wonders why the rush. Perhaps someday we will find out.
You be the judge. Consider the last flash of the animation which is the current situation (or at least the most recent analysis that appears in the animation which gets updated every few days – as it turns out, it was updated today) and match it to the below.
I extracted the December – February pattern from the analysis which is discussed in detail in Page II of the report. Unfortunately, the analysis I have ends with Dec – Feb and we are in March but I think that is close enough. When I try to match the three images with either the animation above or the bottom part of the graphic below, I conclude that Modoki Type II is the best match although not a perfect match. But there is no resemblance to a Traditional El Nino.
Oh – and did I mention that the above graphic comes from a report that was prepared by a NOAA Researcher working with the Cooperative Institute for Marine and Atmospheric Studies in Miami? So there is no excuse for NOAA not recognizing that this not a Traditional El Nino. Modoki is a Japanese word but much of the research on the various flavors of El Nino has been done in the United States. So one wonders why NOAA is not recognizing what is happening in the Equatorial Pacific.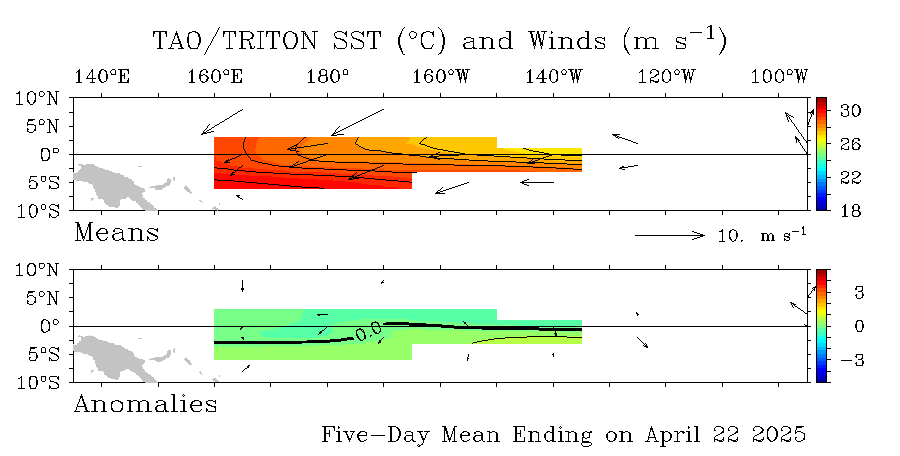 I thought I would go through the exercise of estimating the ONI (Sea Surface Anomaly spanning 120W to 170W). I printed out the above and took measurements of the various sections along the Equator. It is not a precise method as the graphic has high granularity (0.5 degree C) so when I use the midpoint values of the distance between contour lines showing equal temperature anomalies, that leaves a fairly high range of values but it tends to be a good method for a first approximation and for understanding what is going on.
When you print this out, you may get a larger or smaller image depending on your printer so your absolute measurements may be different than mine but the proportions should be the same and you should calculate the same estimate of the ONI. It must be remembered than in general this graphic auto-updates every day so what I measured today (on Monday late afternoon) might be different by the time you read the article. But you can easily follow my calculations and update them as the graphic updates.
So as of Monday March 16 in the afternoon working from the March 15 TAO/TRITON report, this is what I observed. Curiously, it did not change materially from yesterday. But it is a dynamic situation and one should expect that the ONI calculation can change on a daily basis.
Calculation of ONI from TAO/TRITON Graphic

| | | | |
| --- | --- | --- | --- |
| Anomaly Segment | Midpoint | Length on Equator in cm | Midpoint X Length (tempxcm) |
| -0.5C to 0C | -0.25 | 1.5 | -0.375 |
| 0C to +0.5C | +0.25 | 1.5 | +0.375 |
| +0.5C to 1.0C | +0.75 | 1.0 | +0.75 |
| 1.0C to 1.5C | +1.25 | 1.0 | +1.25 |
| | Total | 5 Centimeters | +2 (TempxCentimeters) |
| | | | 2/5=0.4C Estimated ONI |
So my estimate of the ONI is only 0.4. which is not 0.5 or greater. Notice it is warmer north of the Equator than south of the Equator so depending on how you handle that in the ONI calculation, you may get different values. You can see that visually in the above graphic. The formal definition of the ONI used by NOAA looks both five degrees of latitude North and South and you can see why that results in a higher calculated value of the ONI.
To reproduce that which is akin to integration, I would have had to blow up that graphic and superimpose a grid structure on it and average the sum of the values from all the cells. That can be done but I did not feel like doing it especially as this graphic changes every day. As per the definition of the integral, as the grid size approaches zero, you end up with the integral. In theory that means I would need to have an infinite size table in this article and my Editor would not be pleased.
I have no idea how much resolution NOAA uses and they of course in their analysis of the data cannot go beyond the resolution of the data. Given the pattern shown in the TAO/TRITON Graphic, the NOAA estimate of the ONI would be higher than what I have calculated and in fact today they reported an ONI of 0.5 for this past week. So I am not disputing the accuracy of their ONI reading, just trying to provide a bit more context.
The pattern of warmer north of the Equator in the Eastern Pacific and colder further south is normal during a warm event because of the Peruvian Current which to me makes me think that the ONI Index is not particularly useful. An index that can change fairly dramatically by very small changes in the strength of the Peruvian Current or wind direction without having any significant impact on weather is somewhat useless. The Equator is fixed in location. The Equator is not the same thing as the ITCZ which probably is what we are interested in not the Equator. I provided a hint on that last week when I discussed a paper that talks about the impact of different flavors of El Nino on Hadley Cells but I promised myself not to get overstressed this week so I will leave this discussion right here for now.
If you have a strong positive or negative Traditional ENSO Event, little details like this are not important. But when quibbling about whether an Index has crossed a threshold, it becomes at the same time important and silly. The gestalt of the pattern is more important than the value of an index. That is why eyes are often better than computer models or at least very complementary to computer models.
The real story here is in Nino 4.0 (ONI = 1.0) not Nino 3.4 (ONI 0.5). Something is clearly happening in the Equatorial Pacific. It is just not a Traditional El Nino.
Short-term Outlook –
Let us take a look at what was issued today March 16, 2015. It will auto-update every day so it will be changing day by day (and thus be up to date whenever you elect to read this report) but my comments as well as the comments of NOAA may become out of sync with the map since these comments do not auto-update.
Generally I only show the "second week" namely the 8 -14 Day Outlook. The first week (6 – 10 Day Outlook) together with much additional information on current weather patterns and near-term forecasts can be found in Part II of my report, but 8 – 14 days covers most of the 6 – 14 day period.
Here is the updated March Temperature Outlook issued February 28, 2015.
And here is the 8 – 14 Day Temperature Outlook issued today March 16, 2015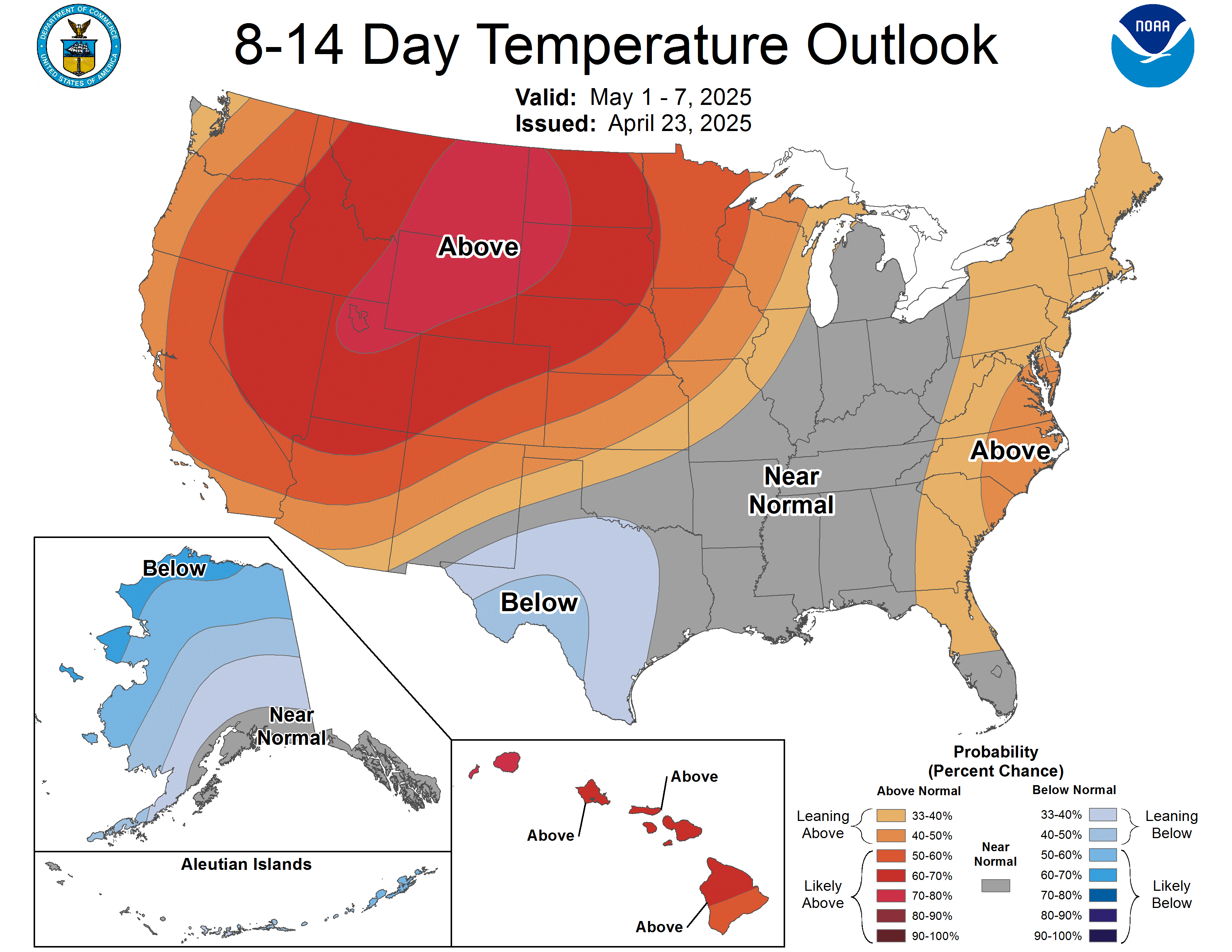 The Temperature Outlook for the last week of March is fairly consistent with the Monthly Outlook but still more intense and in recent days has shifted west to some extent…i.e. retrograde rather than zonal.
Here is the updated Precipitation Outlook for March issued on February 28, 2015.
And here is the 8 – 14 Day Precipitation Outlook issued today March 16, 2015.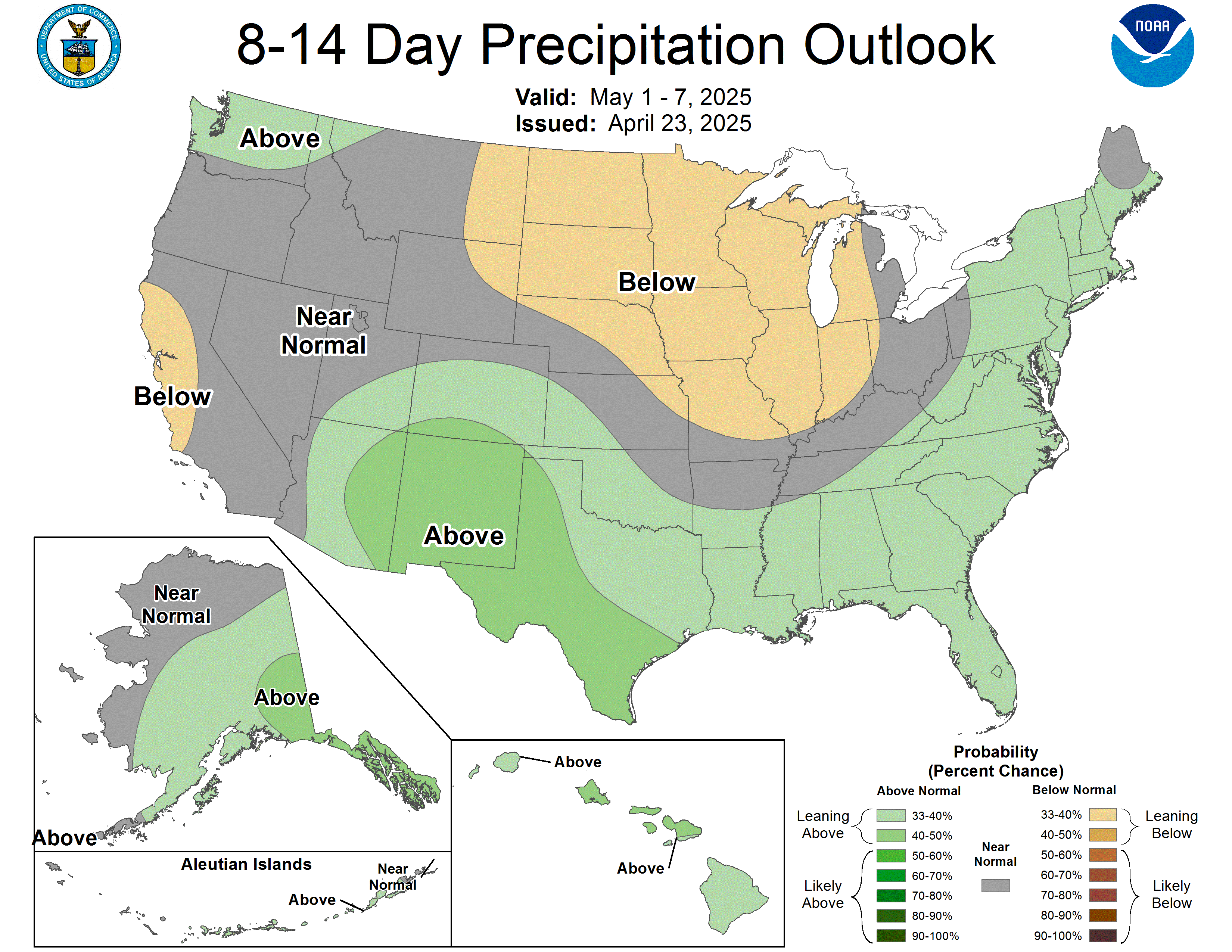 The Precipitation Outlook for the last week of March is fairly consistent with the Monthly Outlook. It changed over the weekend. So a good question is does the NOAA discussion released today provide any explanation for that change which over weekends is issued without a discussion.
But on weekends you can still find such a discussion in local forecasts as local forecasters work 24X7. Everyone is working from the same data and using the same forecasting models. The blending of the contradictory results is where expertize comes into play. In general, local forecasters have a better feel for the geography that they deal with as small geographical features have a big impact on local weather. The maps I post are more generalized and deal with larger features.
Here are excerpts from the NOAA release today March 16, 2015.
"6-10 DAY OUTLOOK FOR MAR 22 – 26 2015

TODAY'S 500-HPA HEIGHT FORECASTS FROM THE AVAILABLE MODELS EXHIBIT GOOD AGREEMENT. THE MODELS GENERALLY INDICATE NEAR TO BELOW NORMAL HEIGHTS NEAR THE ALEUTIANS, NEAR TO ABOVE NORMAL HEIGHTS OVER THE WESTERN CONUS, AND NEAR TO BELOW NORMAL HEIGHTS EAST OF THE MISSISSIPPI. SOME MODEL SOLUTIONS DEPICT A WEAKNESS IN THE WESTERN RIDGING, WITH THE WEAKNESS ACROSS THE NORTHERN ROCKIES INDICATING SOME NORTHERN STREAM STORM ACTIVITY. THE 500-HPA HEIGHT MANUAL BLEND FAVORS THE SOLUTIONS THAT CALL FOR MORE NORTHERN STREAM ACTIVITY, [Editor's Note: this is the change that occurred on Sunday] BALANCED WITH THE MODEL SKILL DURING THE LAST 60 DAYS AND THE CORRELATION WITH PAST OBSERVATIONS. THE 0Z CANADIAN ENSEMBLE MEAN HAS THE HIGHEST ANOMALY CORRELATIONS DURING THE PAST 60 DAYS AND THE SECOND HIGHEST ANALOG CORRELATION, BUT INDICATES LESS ENERGY ACROSS THE NORTHERN ROCKIES. THE HIGHER RESOLUTION SOLUTIONS FROM THE DETERMINISTIC 6Z GFS AND 0Z ECMWF, AND THE 0Z AND 06Z GFS ENSEMBLE MEANS ALL INDICATE LOWER HEIGHTS ACROSS THE NORTHERN ROCKIES, SO THOSE WERE INCLUDED IN THE MANUAL BLEND AS WELL.

ABOVE NORMAL TEMPERATURES ARE GENERALLY FAVORED ACROSS THE CONUS, FROM THE WEST COAST TO THE GREAT PLAINS, WITH SLIGHTLY LOWER PROBABILITIES ACROSS THE NORTHERN ROCKIES. TROUGHING AND BELOW NORMAL 500-HPA HEIGHTS SUPPORT BELOW NORMAL TEMPERATURES FROM THE GREAT LAKES TO THE CAROLINAS TO NEW ENGLAND. SOUTHERLY ANOMALOUS FLOW FAVORS ABOVE NORMAL TEMPERATURES OVER MUCH OF ALASKA, EXCEPT FOR THE NORTH SLOPE AND EASTERN PORTIONS OF THE INTERIOR BASIN OF ALASKA. THE TEMPERATURE OUTLOOK IS LARGELY A COMBINATION OF THE GEFS REFORECAST PRODUCT AND THE BIAS CORRECTED 0Z CANADIAN ENSEMBLE MEAN TOOL.

UNCERTAINTY ABOUT THE AMOUNT OF NORTHERN STREAM ENERGY OVER THE ROCKIES AND GENERALLY FLAT FLOW ACROSS THE SOUTH RESULTED IN LOW PROBABILITIES FOR THE PRECIPITATION OUTLOOK [Editor's Note: this is the change that occurred on Sunday]. BELOW MEDIAN PRECIPITATION IS FAVORED FROM THE SOUTHWEST TO THE LOWER MISSISSIPPI VALLEY DUE TO UPSTREAM ABOVE NORMAL HEIGHTS. THE POTENTIAL FOR NORTHERN STREAM ENERGY RAISES THE ODDS FOR ABOVE MEDIAN PRECIPITATION ACROSS THE PACIFIC NORTHWEST, NORTHERN ROCKIES, AND NORTHERN GREAT PLAINS. THE LONGWAVE TROUGH AXIS IS FORECAST TO BE OVER NEW ENGLAND, WHICH FAVORS BELOW MEDIAN PRECIPITATION OVER THE GREAT LAKES REGION, A CONTINUATION OF THE PATTERN FROM THE PAST 60 DAYS.

FORECAST CONFIDENCE FOR THE 6-10 DAY PERIOD: ABOVE AVERAGE, 4 OUT OF 5, DUE TO GOOD AGREEMENT AMONG MODEL SOLUTIONS

8-14 DAY OUTLOOK FOR MAR 24 – 30 2015

MODEL FORECASTS OF 500-HPA HEIGHTS EXHIBIT GOOD AGREEMENT OVER THE FORECAST DOMAIN. IN GENERAL, ABOVE NORMAL HEIGHTS ARE FORECAST OVER THE WEST WITH BELOW NORMAL HEIGHTS OVER THE EAST. SOME TROUGHING IS ALSO EVIDENT NEAR THE ALEUTIANS. THE 0Z CANADIAN ENSEMBLE MEAN IS THE LARGEST CONSTITUENT IN THE MANUAL BLEND AS IT HAS THE BEST PERFORMANCE DURING THE PAST 60 DAYS. AMONG THE MODEL SOLUTIONS, THE MOST UNCERTAINTY IS OVER THE SOUTHWEST AND GREAT BASIN. SOME MODELS PREDICT ABOVE NORMAL HEIGHTS ALL THE WAY TO MEXICO, WITH A WEAKNESS OVER THE GREAT BASIN, WHILE OTHER MODELS CONFINE THE LARGEST POSITIVE ANOMALIES TO THE PACIFIC NORTHWEST. THE MANUAL BLEND FAVORS THE SOLUTIONS WITH THE LARGEST POSITIVE ANOMALIES OVER THE PACIFIC NORTHWEST AS THOSE ALIGN WITH TELECONNECTIONS ON THE NEGATIVE HEIGHT ANOMALIES NEAR THE ALEUTIANS.

ABOVE NORMAL TEMPERATURES ARE FAVORED FROM THE HIGH PLAINS TO THE WEST COAST AND ACROSS ALASKA, WITH RIDGING AND ABOVE NORMAL HEIGHTS OVER MOST OF THAT REGION. TROUGHING FAVORS BELOW NORMAL TEMPERATURES FROM SOUTHERN TEXAS TO THE GREAT LAKES, AND EASTWARD TO THE COAST.

RIDGING AND ABOVE NORMAL HEIGHTS ACROSS THE WEST FAVOR A STORM TRACK INTO ALASKA, SO ABOVE MEDIAN PRECIPITATION IS FAVORED OVER SOUTHERN ALASKA, INCLUDING THE PANHANDLE. THERE IS SOME INDICATION OF SOUTHERN STREAM VARIABILITY OVER THE SOUTHWEST, WHICH SUPPORTS ABOVE MEDIAN RAINS FOR PORTIONS OF TEXAS. A BAROCLINIC REGION ALONG THE BASE OF THE TROUGH OVER THE EAST SUPPORTS A STORM TRACK FAVORING ABOVE MEDIAN PRECIPITATION TO MUCH OF THE CONUS EAST OF THE MISSISSIPPI, NOT TOO DISSIMILAR FROM WHAT HAS BEEN OBSERVED DURING THE PAST 30 DAYS.

FORECAST CONFIDENCE FOR THE 8-14 DAY PERIOD IS: AVERAGE, 3 OUT OF 5, DUE TO GOOD MODEL AGREEMENT, OFFSET BY WEAK SIGNALS IN THE PRECIPITATION TOOLS.

FORECASTER: MATT ROSENCRANS"
I included the name of the forecaster this week because Matt is my favorite (although they are all good). Matt often goes into more detail than some of the others. I was disappointed that he did not mention the AO or NAO as that looked to me like it might be impacting the Weather on the East Coast. But when I researched it just now, the forecast is not for NAO negative but the observed is less positive than earlier this month. Like I said, Matt knows his stuff.
Analogs to Current Conditions
Now let us take a detailed look at the "Analogs" which NOAA provides related to the 5 day period centered on 3 days ago and the 7 day period centered on 4 days ago. "Analog" means that the weather pattern then resembles the recent weather pattern and was used in some way to predict the 6 – 14 day Outlook.
Here are today's analogs in chronological order although this information is also available with the analog dates listed by the level of correlation. I find the chronological order easier for me to work with. There is a second set of analogs associated with the outlook but I have not been analyzing this second set of information. This first set applies to the 5 and 7 day observed pattern prior to today. The second set which I am not using relates to the forecast outlook 6 – 10 days out to similar patterns that have occurred in the past during the dates covered by the 6 – 10 Day Outlook. That may also be useful information but they put this set of analogs in the discussion with the other set available by a link so I am assuming that this set of analogs is the most meaningful.
Analog

Centered

Day

ENSO

Phase

PDO
AMO
Other Comments
1966 March 11
El Nino
–
–
Tail end
1972 March 13
La Nina
–
–
Tail end just prior to a strong El Nino
1987 March 4
El Nino
–
–
Modoki Type I
1987 March 5
El Nino
+
–
Modoki Type I
1993 March 22
Neutral
+
–
1995 March 13
El Nino
+
–
Tail end Modoki followed by a La Nina
2007 March 24
El Nino
–
+
Tail end followed by a La Nina
2007 March 25
El Nino
–
+
Tail end followed by a la Nina
This is really a mixed bag. There are six El Nino analogs most of which were at the tail end of the event or even the following month and many of which were Modokis. The only really interesting analog is the March 1987 El Nino which was late arriving and impacted two winters. The Ocean Phases of the analogs this week provide no clues but I will continue to show the below graphic in my report so that everyone becomes familiar with it although it is not very useful this week.
Red is a high likelihood of drought, blue the opposite.
Back to the Current Situation:
Sometimes it is useful to take a look at the location of the Jet Stream or Jet Streams. You can see how the current weather patterns to the extent they are influenced by the Jet Stream have shifted north.
And sometimes the forecast is revealing. Below is the forecast out five days. You can see the forecasted Day 6 decline in Jet Stream activity which is probably temporary.
To see it in animation, click here.
This longer animation shows how the jet stream is crossing the Pacific and when it reaches the U.S. West Coast is going every which way. One can imagine that attempting to forecast this 6 – 14 days out is quite challenging.
And below is another view which highlights the surface highs and the lows re air pressure on Day 3. The RRR is offshore and pretty much only blocking California.
And here is Day 6. The projected changes here have just started showing up in the forecasts on Sunday but it looks like the combination of the Low and High off the West Coast could be directing storms towards Oregon. The Low off the East Coast and a huge High north of Canada is clearly impacting their weather. When I was writing this on Sunday, I was wondering if the Monday NOAA discussion would describe any of this as being AO- or NAO-. They did not even though it looks kind of like NAO- to me but that is not how it is being reported just less positive than earlier this month. The measurement of the NAO is complex to say the least. It is not difficult to look at a graphic like this and figure out the major features of the weather patterns. Part of Europe is shown on this map but the high and low pressure systems are not shown unfortunately. You can tell what is going on in Siberia but not Northern Europe.
I interpret a lot of the above as moving towards a more Spring-like pattern that will manifest itself moving from west to east to the great relief of the East Coast although they may have one more shot at cold air to deal with. In the very short term the pattern is slightly retrograde as the activity impacting the East Coast is slightly displacing warm air in the West slightly further west. All in all, it is a non-remarkable Spring pattern.
El Niño Discussion
The view of El Nino as a 2014/2015 event may be morphing into a view that it is a 2015/2016 event. But all predictions about El Nino for next winter must be tempered by what is called the Spring Prediction Barrier (SPB).
It is useful to understand where ENSO is measured.
Of most interest to NOAA is 120 W to 170 W labeled Nino 3.4 as that is where the ONI Index is measured. More information can be found here.
And now the low-level wind anomalies.
This shows more change from last week and would show even more if it was up to date but it is not but it is the graphic released today. I believe it is current as of March 12. Notice the very reddish-brown area between 160E and the Date Line which extends but with less intensity all the way over to 140E. That indicates significantly weaker than usual Easterlies and actually a strong westerly gust similar to that which occurred some time last year but is no longer visible on this graphic.
But you also see very clearly the blue area that now extends all the way to the Date Line indicating stronger Easterlies. It has actually creeped a little further east indicating some progression of the El Nino process. The Southern Oscillation Index (SOI) this week has been consistantly quite negative. Today's reading of -35.2 is an extremely negative value. The SOI fluctuates based on local weather conditions in Tahiti and Darwin Australia which is why the 30 and 90 day averages are more significant than the daily values. The 30 day average of -3.0 is certainly not consistent with El Nino conditions (a 30 day average of -8.0 or more negative (using the standard SOI Index) is considered to be consistent with El Nino conditions). The 90 day average is currently -6.7 which also is not sufficiently negative to be considered consistent with El Nino conditions. You can always find the updated daily values and the 30 and 90 day averages here.
10 March 2015 -17.1

11 March 2015 -16.4

12 March 2015 -15.8

13 March 2015 -8.3

14 March 2015 -6.4

15 March 2015 -12.4

16 March 2015 -35.2
I thought I would also show what I call the Kelvin Wave graphic again this week. It is really the Upper Ocean Heat Anomaly.
You can easily see that this Kelvin Wave has started to stall re its eastward progression as I have predicted it would based on the wind situation. Remember the bottom of the graphic is the current readings and as you look up you see basically day by day the historical progression of these waves. When the pattern starts to deviate from 45 degrees and becomes more vertical, that signifies a decreasing impact of the Kelvin Wave. And we see that.
Remember that part of the Tropical Pacific is unusually warm this year to begin with so it does not take much to register as a positive anomaly since an anomaly is the combination of the variation in the background level and the deviation caused by any new impetus. But what is most important is the cold area over to the East which is what makes this a Modoki rather than a traditional El Nino. We still have upwelling of cold water off of Ecuador so they see no sign of an El Nino. And fishing there is most likely not negatively impacted by an El Nino. So there is no traditional El Nino this winter but we have a warm event which could easily become a full-fledged El Nino Modoki (and this week appears to be gaining strength) and could eventually morph into a traditional El Nino but I do not think that is likely although many of the models are predicting that will happen. I think it is model error but we will see.
Since we looked at the Upper Ocean Anomalies let's also look at the Surface Anomalies which I have not been reporting on lately.
I do not see a significant change from last week.
And finally the latest model results released by NOAA on March 16, 2015. This is probably the most important graphic re this week's discussion.
The caption says it all. The CFS.v2 ensemble mean predicts Nino 3.4 SST anomalies to be greater than 0.5C through Oct, Nov. Dec 2015. You can read from this graphic the SON value which appears to be just about 0.5. Moving ahead to the fifth consecutive three-month average you see the Jan, Feb, March value which appears to be just over 0.5.
Oh My Gosh. March has not fully happened yet.
That is why we are in a holding pattern because the fifth consecutive three-month average is not yet available. Two and a half months are in. To be sure the probability is high that this three-month average will equal or exceed 0.5 but in most circles you do not show a forecasted value as being an observed value unless you have credentials as a psychic.
This graphic is a modified version of the graphic that appears on Page II of this Report. It is modified by NOAA to be consistent with the maps on the right which can be found here. Those maps have been processed to adjust for the observed skill of the models. I probably could do a better job with triangles but just by eyeballing this chart it looks like it is showing an ONI reading of about 0.7 forecast through the Spring but with an upward trend. I believe that NOAA has again reported a weekly ONI of 0.5.
But now is not the time to nitpick. It is showing higher ONI values going into the summer. That may turn out to be correct but given the Spring Prediction Barrier I would think that NOAA might have wanted to put a footnote on that in the graphic. Notice that according to this model even if the ONI was our only criteria, it would still be too early to declare an El Nino.
If the SSTA in NINO 3.4 was your only criteria, the recent readings released by NOAA of 0.5 for the ONI would be considered as marginal (and that would be in the strictest use of the term marginal since greater than or equal to 0.5 is the criteria) El Nino conditions but the other factors have not fallen into place. And this model does not attempt to classify the type of El Nino which is very important in terms of weather impacts. Notice the model is forecasting higher ONI levels as we move into the summer. It is difficult to read the maps to the right but the upper left map is the forecast for April/May/June and it looks like a traditional El Nino and I simply do not believe it.
This just out from Australia is very interesting and explains some things. Australia has their own model which updates every two weeks.
Notice the criteria for achieving El Nino or La Nina status are different than that used by most others. And curiously, the view from Australia with respect to the development of an El Nino this year has until now been pretty much more subdued than the view from the U.S.
Tropical cyclone activity may lead to further ocean warming

Issued on 17 March 2015

The past fortnight has seen unusual conditions in the tropical Pacific, which may increase the chance of El Niño in 2015.

In the western Pacific, severe tropical cyclone Pam and tropical storm Bavi* straddled the equator, producing one of the strongest reversals in the trade winds in recent years. This change is expected to increase the already warm sub-surface temperatures currently observed in the tropical Pacific Ocean, which may in turn raise tropical Pacific Ocean surface temperatures in the coming months. However, it remains too early to say whether the reversal in the trade winds is a short term fluctuation or the beginning of a sustained trend.

International models surveyed by the Bureau have strengthened their outlooks for the likelihood of El Niño, with all eight models suggesting ocean temperatures will exceed El Niño thresholds by mid-year. However, model outlooks spanning the traditional ENSO transition period, February to May, generally have lower accuracy than outlooks made at other times of year.

The Bureau's ENSO Tracker remains at El Niño WATCH. This is due to a combination of warmer-than-average sub-surface temperatures in the tropical Pacific Ocean and models indicating that central and eastern tropical Pacific will warm to El Niño thresholds by mid-year. An El Niño WATCH indicates that there is about a 50% chance of El Niño forming in 2015—double the normal likelihood of an event.

El Niño is often associated with below-average winter–spring rainfall over eastern Australia and above-average daytime temperatures over the southern half of Australia.

Next update expected on 31 March 2015
Pulling it All Together.
So this certainly continues to look to me like a warm event that is not a full-fledged El Nino and is not a traditional El Nino. So the expected impacts are different than the expected impacts from a traditional El Nino. Whatever this pattern is, it is not very different from ENSO Neutral. I am still thinking the Japanese sized this up from the start and that this is really more like a Modoki than a traditional El Nino and that weather patterns are shifted some number of degrees further west (or possibly rotated) than would be the case for a traditional El Nino which is why the weather where I live is more typical of a La Nina than an El Nino. This is characteristic of an El Nino Modoki in the U.S. Southwest. The increased frequency of Modokis has been the case since the PDO went into its Negative Phase in 1998/1999 which is why a possible change to PDO Positive is so very important. Where I live it would end the drought but of course it would initiate drought elsewhere. An extensive discussion of the PDO is found here in Part II of this report.
I do not see a traditional El Nino of any significant strength likely to happen this winter (which is essentially over) although a "near" El Nino appeared in January to be making its presence known to a limited extent but mainly outside of the U.S. That no longer appears to be the case for March. It remains a complicated situation mostly because of the at least temporary shift of the configuration of the Pacific with respect to the location of warm and cold water to a configuration which is called PDO Positive (+).
NOAA has declared that El Nino Conditions are in place which is a stretch and they have done that presumably to lay the foundation for declaring this to have been an El Nino Event. If their models are correct and an El Nino of any flavor develops for the 2015/2016 winter, it may be considered appropriate that the start date was in Sept – Nov of 2014. If such an El Nino does not develop this coming winter, I think NOAA will be the subject of well-deserved ridicule for attempting to invent an El Nino. There is no doubt that a warm event is in progress. The two questions are:
A. Is it an El Nino? and
B. Is it a Traditional El Nino or a Modoki?
No one questions that it is a Warm Event.
I have felt for some time that an El Nino Watch for next year might be in order as there remains a lot of warm water in the Warm Pool but usually it takes a few years for that to built up sufficiently for another warm event to get under way. ENSO Neutral is where some of the models were headed and I suspected that they had it correct for next winter. But now many of the models have recently been predicting a continuation or strengthening of this warm event. And if the PDO has indeed switched to its Positive Phase we should expect a powerful El Nino soon. It could be next winter. At this point, those who are making predictions need to take a deep breath and calm down. March is not a good time to predict ENSO for the following winter.
Click Here for the Econointersect Weather and Climate Page II where you will find:
A more complete set of NOAA and other agency graphics (including international agencies) that auto update. So this includes both short term- and seasonal "updates". Most of the graphics will ALWAYS be up to date even if my commentary on the graphics is not. I update my commentary when it seems necessary and certainly every Monday, but some of these graphics auto update every six hours.
Economic and other Impacts of major weather events. Not sure there is any other place to obtain this information consistently other than very specialized subscription services.
Information on Climate Cycles both those which are fairly short term i.e. less than a decade in duration and multi-decadal cycles.
Economic and other Impacts of those Climate Cycles which are referred to by the IPCC as Internal Variability as opposed to secular Climate Change which is always in the same direction. Again I am not sure if there is another source for this information where it is pulled together in one place as I have.
Click Here for Page III which deals with Global Warming.
Information on Anthropogenic Global Warming science i.e. the secular change in our climate that overlays both short-term weather and historical climate cycles as well as black swan events like volcanic eruptions. I prefer to call this Global Warming as it is the warming that triggers the other changes.
Economic and other Impacts of Global Warming. The IPCC AR5 WG2 attempts to describe and quantify these and I have some excerpts from their report. Over time I will go beyond their report as it is very deficient.