Written by Steven Hansen
The U.S. new cases 7-day rolling average is 10.5 % HIGHER than the 7-day rolling average one week ago. U.S. deaths due to coronavirus are now 5.7 % HIGHER than the rolling average one week ago. At the end of this post is a set of interactive graphs and tables for the world and individual States – as well as today's headlines which include;
The List of Retracted COVID-19 Papers Is up to 33
CDC warns coronavirus could spread through air and travel beyond six feet
Top US health official says coronavirus vaccine not likely until mid-2021: 'That's just a fact'
The cruise industry will implement these COVID-19 precautions: testing, masks, ventilation, more
The Risk Of Severe COVID-19 Within Households Of School Employees And School-Age Children
CDC pulls revised guidance on coronavirus from website
In A Month, U.K. Could See 50,000 New Coronavirus Cases A Day, Expert Warns
U.S. sets record with over one million coronavirus tests in a day
Millions can't pay rent. Landlords making less than $50,000 a year are caught in the middle
​​
The recent worsening of the trendlines for new cases and deaths likely should be attributed to going back to school – especially at college/university level.
My continuing advice is to continue to wash your hands, wear masks, and maintain social distancing. No handwashing, mask, or social distancing will guarantee you do not get infected – but it sure as hell lowers the risk in all situations – and evidence to-date shows a lower severity of COVID-19. In addition, certain activities are believed to carry higher risk – like being inside in air conditioning and removing your mask (such as restaurants, around your children/grandchildren, bars, and gyms). It is all about viral load – and outdoor activities are generally very safe.
The daily number of new cases in the U.S. is remaining stubbornly and embarrassedly high.
The following graphs show the 7-day rolling average for new coronavirus cases and deaths have been updated through 21 September 2020:
z coronavirus.png​
Coronavirus Statistics For 21 September 2020
U.S. Only
Global
U.S Percentage of Total
Today***
Cumulative
Today***
Cumulative
Today
Cumulative
New Confirmed Cases
40,690
6,800,000
287,325
31,090,000
14.2%
21.9%
Deaths**
251
199,509
3,554
961,352
7.1%
20.8%
Mortality Rate
0.6%
2.9%
1.2%
3.1%

total COVID-19 Tests per 1,000 people

2.02*
311.1*
* as of 17 Sep 2020
** evidently several States included "probable" deaths today in the number
*** red color indicates record number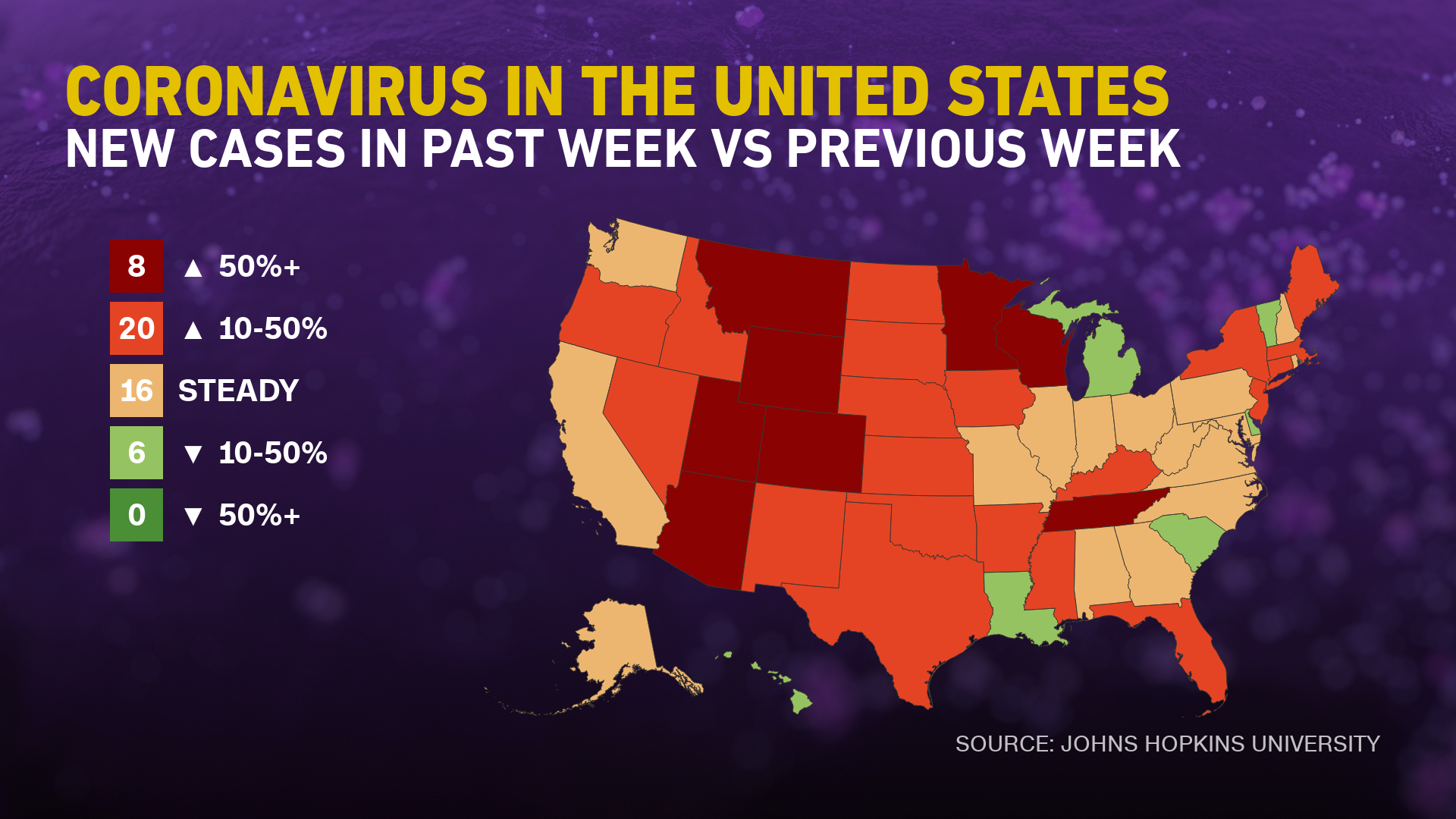 ---
Coronavirus News You May Have Missed
CDC warns coronavirus could spread through air and travel beyond six feet – CNBC
The U.S. Centers for Disease Control and Prevention has warned that COVID-19 could spread through airborne particles that can remain suspended in the air and travel beyond six feet.
The agency previously said the virus mainly spreads from person to person through respiratory droplets when a sick person coughs, sneezes or talks.
Genentech's Phase III EMPACTA Study Showed Actemra Reduced the Likelihood of Needing Mechanical Ventilation in Hospitalized Patients With COVID-19 Associated Pneumonia – Businesswire
Genentech, a member of the Roche Group (SIX: RO, ROG; OTCQX: RHHBY), today announced that the Phase III EMPACTA study met its primary endpoint, showing that patients with COVID-19 associated pneumonia who received Actemra® (tocilizumab) plus standard of care were 44% less likely to progress to mechanical ventilation or death compared to patients who received placebo plus standard of care (log-rank p-value = 0.0348; HR [95% CI] = 0.56 [0.32, 0.97]). The cumulative proportion of patients who progressed to mechanical ventilation or death by day 28 was 12.2% in the Actemra arm versus 19.3% in the placebo arm. The EMPACTA study did not identify any new safety signals for Actemra.

"The EMPACTA trial demonstrated that Actemra can reduce the need for mechanical ventilation in patients with COVID-19 pneumonia, an important outcome in this serious disease," said Levi Garraway, M.D., Ph.D., chief medical officer and head of Global Product Development. "We plan to share this important data with the FDA and other health authorities around the world."

The study is the first global, Phase III COVID-19 clinical trial to primarily enroll patient populations that are often underrepresented in clinical studies and have been disproportionately affected by the COVID-19 pandemic. Approximately 85% of the 389 patients were from minority racial and ethnic groups. The majority of patients were Hispanic, with significant representation of Native American and Black or African American populations. The trial was conducted in the United States, South Africa, Kenya, Brazil, Mexico and Peru.
U.S. sets record with over one million coronavirus tests in a day – Reuters
The United States set a one-day record with over 1 million coronavirus diagnostic tests being performed, but the country needs 6 million to 10 million a day to bring outbreaks under control, according to various experts.

The country performed 1,061,411 tests on Saturday, according to data from The COVID Tracking Project, a volunteer-run effort to track the outbreak.

The record comes after testing has fallen for several weeks. The United States tested on average 650,000 people a day in the week ended Sept. 13, down from a peak in late July of over 800,000 people a day.

Since the start of the pandemic, testing shortages have hampered efforts to curb the spread of the virus.
The Risk Of Severe COVID-19 Within Households Of School Employees And School-Age Children – Health Affairs
Using pre-pandemic household data, we examined how often persons at risk of severe coronavirus disease 2019 (COVID-19) were connected to schools, either as employees or by living in the same households as school employees or school-age children. Between 42.0 and 51.4 percent of all school employees met the Centers for Disease Control and Prevention's (CDC) definition for having increased risk or potentially having increased risk of severe COVID-19. Among all adults with CDC risk factors for severe COVID-19, between 33.9 million and 44.2 million had direct or within-household connections to schools. [Editor's Note: This Fast Track Ahead Of Print article is the accepted version of the peer-reviewed manuscript. The final edited version will appear in an upcoming issue of Health Affairs.]

Across the United States, school districts are grappling with questions of whether and how to reopen elementary and secondary schools in the 2020-21 academic year.1 Keeping schools closed and relying on distance learning will have serious learning, social, nutritional, and health consequences for children, especially those in low-income families. There would also be impacts on parental employment and the overall economy. Reopening schools potentially increases the risk of coronavirus disease 2019 (COVID-19) exposure among teachers, other school employees, students, and their household members.
In A Month, U.K. Could See 50,000 New Coronavirus Cases A Day, Expert Warns – NPR
The U.K.'s COVID-19 numbers are rising fast and could reach new 50,000 cases per day by mid-October, the country's top science adviser announced Monday. Sir Patrick Vallance said his warning is based on current trends that show "the epidemic is doubling roughly every seven days."

"There's no doubt we're in a situation where the numbers are increasing," Vallance said during an online briefing hosted by 10 Downing Street. The challenge now, he added, is to prolong the time it takes for infection rates to double.

If the U.K.'s rate of new cases doubles four more times, the government health expert said, "you would end up with something like 50,000 cases in the middle of October per day."

That, in turn, would likely lead to more than 200 deaths per day by the middle of November, he added.
CDC pulls revised guidance on coronavirus from website – The Hill
The Centers for Disease Control and Prevention (CDC) said Monday pulled revised guidance from its website that had said airborne transmission was thought to be the main way the coronavirus spreads, saying it was "posted in error."

The sudden change came after the new guidance had been quietly posted on the CDC website on Friday.

"CDC is currently updating its recommendations regarding airborne transmission of SARS-CoV-2 (the virus that causes COVID-19)," the CDC wrote. "Once this process has been completed, the update language will be posted."

The CDC guidance on the coronavirus is now the same as it was before the revisions.
Top US health official says coronavirus vaccine not likely until mid-2021: 'That's just a fact' – The Hill
[editor's note: There continues to be a big problem with the "facts" presented by the "experts". A slightly different "fact" was presented here – Trump's coronavirus vaccine czar says U.S. could immunize 'most susceptible' Americans by December]

With the U.S. hovering closer to 200,000 coronavirus fatalities, the pressure to develop an effective vaccine grows. But health officials continue to say a widespread vaccine will not be available until mid-2021.

Adm. Brett P. Giroir, the assistant secretary of the U.S. Department of Health and Human Services and member of the White House Coronavirus Task Force, confirmed that the U.S. is still a long way from a widely-available vaccine.

"A vaccine that would be widely available in hundreds and millions of doses would not likely happen until mid-2021. That is a fact," he said.

The distribution of just a few million doses of the vaccine, however, could still lead to a marked improvement, Giroir noted.

"From my perspective, even a few million doses early in November or December, if we have 5 or 10 percent of the population that we can vaccinate, we can get 80 or 90 percent of the benefit," he continued.

This benefit would come in the form of a reduced mortality rate. Vulnerable populations like frontline workers are expected to be the first demographic to receive the initial doses of an approved vaccine. Giroir says that vaccinating workers such as nursing home employees will prevent the virus from spreading to vulnerable elderly patients.
The List of Retracted COVID-19 Papers Is up to 33 – Retraction Watch
We've been tracking retractions of papers about COVID-19 as part of our database. Here's a running list, which will be updated as needed.

Temporarily retracted

"Experimental Treatment with Favipiravir for COVID-19: An Open-Label Control Study," published in Engineering on March 18, 2020 and temporarily retracted, now back online, all without explanation.
"Should sexual practices be discouraged during the pandemic?" Journal of the American Academy of Dermatology, publication date unknown (accepted April 16), retracted on or around May 11, and replaced on an unknown date. Our coverage here.
"An effective protective equipment to use in the vaginal delivery of the pregnant women with suspected/diagnosed COVID-19: Delivery Table Shield," published in the American Journal of Obstetrics and Gynecology on June 15, 2020, withdrawn sometime before June 25, 2020. Our coverage here.

Expressions of concern

"Hydroxychloroquine and azithromycin as a treatment of COVID-19: results of an open-label non-randomized clinical trial," published in International Journal of Microbial Agents on March 20, 2020. More context here and here.
"Chinese mental health burden during the COVID-19 pandemic," published on April 14, 2020 in the Asian Journal of Psychiatry. Our coverage here.
The cruise industry will implement these COVID-19 precautions: testing, masks, ventilation, more – USA Today
[editor's note: also see Royal Caribbean, Norwegian Cruise Line submit health protocols to CDC]

CLIA has broken four key areas down with specific requirements for each.

1. Embarkation and testing

As a part of CLIA's new protocols, passenger and crew testing is priority in the boarding process as part of a layered screening strategy.

Crew testing: 100% of crew members are to be tested before leaving home, before embarkation and after a minimum 7-day quarantine before beginning duties. They are also to be tested at least once monthly thereafter.
Passenger testing: 100% of passengers are to be tested ahead of embarkation and subsequently rescreened prior to boarding.

2. Onboard procedures

Masks: Required for all passengers and crew members on ships and during excursions when physical distancing cannot be upheld; masks are also mandatory for crew when working around food and beverages,
Physical distancing: Is to be maintained in accordance with health authorities' distancing guidelines during embarkation, on excursions, private islands and on board.
Ventilation: Ships are to implement air management plans to decrease risk of spread by increasing fresh air flow and using enhanced filters and other technology.

3. Medical and public health response

To improve health-related responses on ships, cruise lines will follow certain steps if a COVID-19 case emerges.

Enhanced communication and reporting of illness on board.
Remote health evaluations and, if necessary, isolation in pre-designated cabins when needed.
"Risk-based" response plans and medical disembarkation protocol, including pre-made arrangements with ports partners and destinations.
Testing and screening for passengers and crew who may have been in contact with the ill party.

4. Shore excursions

Any shore excursions are to meet cruise lines' strict protocols. Passengers who do not comply with those rules on excursions will not be allowed to reboard, which MSC did in Europe when a family broke protocol.

All of the core element protocols are subject to change as technology and knowledge of COVID-19 continue to evolve.
COVID-19 long haulers find hope in recovery program – USA Today
Throughout her illness, she experienced gastrointestinal, cognitive, and pulmonary symptoms. She had asthma attacks, lost her sense of smell and had a burning sensation in her arms, also known as neuropathy.

"Somewhere along the way, I had everything," she said.

Berz is one of the many so-called COVID-19 long haulers, who suffer through symptoms months after their initial diagnosis. Many fear they will never recover.

A new treatment program originally intended for geriatric patients has shown promising results for these long-suffering COVID-19 patients.

Noah Greenspan, a cardiopulmonary physical therapist and founder of the Pulmonary Wellness Foundation in New York City, said about 750 patients have enrolled in his COVID Bootcamp program and many report progress – including Berz.

… Although the program was created around patients older than 70, Greenspan quickly realized it was too vigorous for his long haulers, mostly patients in their 30s, 40s and 50s.

"It's a very delicate balancing act," he said. "We had to come up with a very specialized rehab and learn fast what's detrimental to people."

Bootcamp patients are asked to walk for four minutes, in two two-minute intervals, increasing a minute each day. Before the program, Berz could barely make it to her mailbox. Now she walks 12 minutes a day.

The program incorporates breathing exercises and weight training, which could be as simple as lifting an arm over the head for a minute.
Millions can't pay rent. Landlords making less than $50,000 a year are caught in the middle – CNBC
Residential landlords who make less than $50,000 a year get a bigger share of their annual income from rent than higher earners, according to the Hamilton Project.
That means a tenant's inability to pay rent has an outsized impact on such landlords, who are also more likely than higher earners to have lost a job or employment income during the recession.
The following are foreign headlines with hyperlinks to the posts
Taj Mahal Reopens In India For 1st Time In 6 Months
Dozens Infected with COVID-19 at Hospital After Nurse Retirement Party in Granada, southern Spain
Cuba faces one of its worst food shortages in years after the pandemic shattered its tourist-dependent economy.
In India, more than 90,000 new cases are now being detected daily, sending the country's total cases soaring past five million.
Israel, with nearly 1,200 deaths attributed to the virus, imposed a second lockdown last week, one of the few nations to do so.
European nations are likely to impose more restrictions on public life in the coming days
The following are additional national and state headlines with hyperlinks to the posts
Group of 'armed citizens' confronts health workers conducting random COVID-19 testing
Mask skeptic lawmaker takes on side gig overseeing drug company trial
An "anti-masker" Idaho pastor is now in the ICU with COVID-19. "I haven't taken this Covid seriously enough," said his wife, who also contracted the virus.
Black Women Turn to Midwives to Avoid COVID and 'Feel Cared For'
Utah, California, South Carolina and other states had reached their peak earlier but have reported an increasing number of cases in the past weeks.
Penguin Found Dead With Whole Face Mask in Its Stomach
Third of All North Dakota's Coronavirus Diagnosed in Last 3 Weeks
Distrusting the F.D.A., Black doctors form an expert panel to vet virus vaccines.
With remote work flexibility, some people opt to relocate ahead of retirement
Assisted living facilities and nursing homes with higher numbers of minority residents are more likely to have more Covid-19 cases
Today's Posts On Econintersect Showing Impact Of The Pandemic With Hyperlinks
July 2020 Labor Market Survey: Employment Expectations Decline
August 2020 Consumers' Expectations Improve Slightly But Remain Weak
August 2020 CFNAI Super Index Moving Average Index Suggests A Marginal Slowing Of The Economic Rate Of Growth
Home Equity Rises Despite The Pandemic With Homeowners Gaining Over $620 Billion In Equity In 2Q2020
Warning to Readers
The amount of politically biased articles on the internet continues to increase. And studies and opinions of the experts continue to contradict other studies and expert opinions. Honestly, it is difficult to believe anything anymore. A study usually cannot establish cause and effect – but only correlation. Be very careful what you believe about this pandemic.
I assemble this coronavirus update daily – sifting through the posts on the internet. I try to avoid politically slanted posts (mostly from CNN, New York Times, and the Washington Post) and can usually find unslanted posts on that subject from other sources on the internet. I wait to publish posts on subjects that I cannot validate across several sources. But after all this extra work, I do not know if I have conveyed the REAL facts. It is my job to provide information so that you have the facts necessary – and then it is up to readers to draw conclusions.
Coronavirus INTERACTIVE Charts
include($_SERVER['DOCUMENT_ROOT'].'/pages/coronavirus.htm'); ?>
Analyst Opinion of Coronavirus Data
There are several takeaways that need to be understood when viewing coronavirus statistical data:
The global counts are suspect for a variety of reasons including political. Even the U.S. count has issues as it is possible that as much as half the population has had coronavirus and was asymptomatic. It would be a far better metric using a random sampling of the population weekly. In short, we do not understand the size of the error in the tracking numbers.
Just because some of the methodology used in aggregating the data in the U.S. is flawed – as long as the flaw is uniformly applied – you establish a baseline. This is why it is dangerous to compare two countries as they likely use different methodologies to determine who has (and who died) from coronavirus.
COVID-19 and the flu are different but can have similar symptoms. For sure, COVID-19 so far is much more deadly than the flu. [click here to compare symptoms]
From an industrial engineering point of view, one can argue that it is best to flatten the curve only to the point that the health care system is barely able to cope. This solution only works if-and-only-if one can catch this coronavirus once and develops immunity. In the case of COVID-19, herd immunity may need to be in the 80% to 85% range. WHO warns that few have developed antibodies to COVID-19. At this point, herd immunity does not look like an option although there is now a discussion of whether T-Cells play a part in immunity [which means one might have immunity without antibodies]
Older population countries will have a higher death rate.
There are at least 8 strains of the coronavirus. New York may have a deadlier strain imported from Europe, compared to less deadly viruses elsewhere in the United States.
Each publication uses different cutoff times for its coronavirus statistics. Our data uses 11:00 am London time. Also, there is an unexplained variation in the total numbers both globally and in the U.S.
The real question remains if the U.S. is over-reacting to this virus. The following graphic from the CDC puts the annual flu burden in perspective [click on image to enlarge]. Note that using this data is dangerous as the actual flu cases are estimated and not counted – nobody knows how accurate these guesses are.
What we do not know about the coronavirus [actually there is little scientifically proven information]. Most of our knowledge is anecdotal, from studies with limited subjects, or from studies without peer review.
How many people have been infected as many do not show symptoms?
Do we develop lasting immunity to the coronavirus? Another coronavirus – the simple cold – does not develop long term immunity.
To what degree do people who never develop symptoms contribute to transmission?
The US has scaled up coronavirus testing – and the accuracy of the tests has been improving. However, if one loses immunity – the coronavirus testing value is reduced.
Can children widely spread coronavirus? [current thinking is that they are becoming a major source of the pandemic spread]
Why have some places avoided big coronavirus outbreaks – and others hit hard?
What effect will the weather have? At this point, it does not seem hot weather slows this coronavirus down – and it seems air conditioning contributes to its spread.
Outdoor activities seem to be a lower risk than indoor activities.
Can the world really push out an effective vaccine in 12 to 18 months?
Will other medical treatments for Covid-19 ease symptoms and reduce deaths? So far only one drug (remdesivir) is approved for treatment.
A current scientific understanding of the way the coronavirus works can be found [here].
Heavy breakouts of coronavirus have hit farm workers. Farmworkers are essential to the food supply. They cannot shelter at home. Consider:
they have high rates of the respiratory disease [occupational hazard]
they travel on crowded buses chartered by their employers
few have health insurance
they cannot social distance and live two to four to a room – and they eat together
some reports say half are undocumented
they are low paid and cannot afford not to work – so they will go to work sick
they do not have access to sanitation when working
a coronavirus outbreak among farmworkers can potentially shutter entire farm
The bottom line is that COVID-19 so far has been shown to be much more deadly than the data on the flu. Using CDC data, the flu has a mortality rate between 0.06 % and 0.11 % Vs. the coronavirus which to date has a mortality rate of 4 % [the 4% is the average of overall statistics – however in the last few months it has been hovering around 1.0%] – which makes it between 10 and 80 times more deadly. The reason for ranges:
Because influenza surveillance does not capture all cases of flu that occur in the U.S., CDC provides these estimated ranges to better reflect the larger burden of influenza.
There will be a commission set up after this pandemic ends to find fault [it is easy to find fault when a once-in-a-lifetime event occurs] and to produce recommendations for the next time a pandemic happens. Those that hate President Trump will conclude the virus is his fault.
Resources:
include("/home/aleta/public_html/files/ad_openx.htm"); ?>