by Reverse Engineer, Doomstead Diner
Originally posted at Doomstead Diner 16 July 2016.
Much going on over the last two days in the World of Collapse. 2 days ago we had the Truck Massacre in Nice, today there is ongoing an attempted Military Coup d'Etat in Turkey. You just can't keep up anymore with all the shit going down! I'm going to have to start publishing an article more than once a week!
Let's go in chronological order here and start with the Truck Massacre. It occured in France, on Bastille Day, big Holiday like July 4th in the FSoA. Tradition has it that people gather together and blow off fireworks in a simalcrum of the actual firefights that took place during the original wars/revolutions/battles for independence. The National Anthem of the FSoA even celebrates this in the lyrics:
And thy rocket's red glare,
Thy bombs bursting in air,
Gave proof through thee night,
That our flag was still there.
However, generally speaking these fireworks are not dangerous now, although a few Darwin Award Winners each year succeed in blowing off various parts of their own anatomy. Still, they ARE a celebration of the Violence & War that it took to create their beloved Nation-State.
Problem here now is this violence is getting real again, and with lots of firecrackers going off and chinese rocket explosions, can the revelers tell the difference between them and guns or bombs going off? Probably not, leading to mass confusion on the street in a large crowd of people.
In this case also, while apparently the perp had a gun and was firing out the window of his truck as he mowed people down, the main vector for death in this case was the truck he was driving. This speaks to the issue of Gun Control and whether it would really make a significant difference in Terrorist Death Toll if the French or the FSoA succeeded in "banning guns", or at least the kind of semi-automatic rifles like the AR-15 often used in these events.
In all likelihood, this would NOT make a huge difference, since those interested in delivering Death to unsuspecting people would find other means of doing it. The Killer Truck is one example. Car Bombs and Pipe Bombs another. Arson where many people congregate such as Hotels, Theaters and Nightclubs another. The commuter rail system also is highly vulnerable. All you need to cause a derailment of a packed commuter train is a Crowbar on a section of track in the wee hours before rush hour.
On the other hand, will making more gunz freely available to the public to Open Carry stop or at least slow down the mass killings done by terrorists with their own gunz? That depends to a large extent on the type of event it is and how smart or stupid the perp is.
In all cases, the perp has the element of SURPRISE against those he intends on shooting. They don't know it's coming until the first shot fires off. In the case of Orlando where the Shooter was actually mixed in with the crowd, a few people Packing Heat might have made a difference in the the final tally of Dead People. In the case of the Dallas Cop Massacre, it would have made no difference whatsoever. In that case, the shooter took an elevated position in a parking garage and it probably took a couple of minutes just to figure out where the shots were coming from. Most of the dead cops probably were hit in the first 2-3 minutes, and you don't even need semi-auto for that, a bolt action with a clip would do the trick. You gotta aim before you fire anyhow if you want Kill Shots, you can't just spray bullets willy nilly unless in the middle of a crowd. Then the cops still standing had to figure out how to get to the guy, and even armed to the teeth themselves they didn't think they could do it by standard means, so they improvised a Robot to go in and blow the perp to Kingdom Come. Even with CC permits, nobody is going to have a robot with them to do that job.
In the incident in Nice, there were plenty-o-cops around, France is after all still under a "State of Emergency" (aka Martial Law) since the last big attack in November and Charlie Hebdo before that. However, it takes time to react to a truck careening through a large crowd of people, and then the cops gotta get in position to shoot through the windshield in order to take out the driver. The Killing Field apparently was around 1 mile long, and the driver was doing maybe 30 mph during the spree. That means he covered the whole mile in around 2 minutes. There is no way to stop that, short of having Truck Control Laws and preventing people from driving trucks, which obviously would not be good for commerce. If the truck had a Tesla Autopilot on it, it could have gone on even LONGER mowing people down even AFTER the perp was taken out!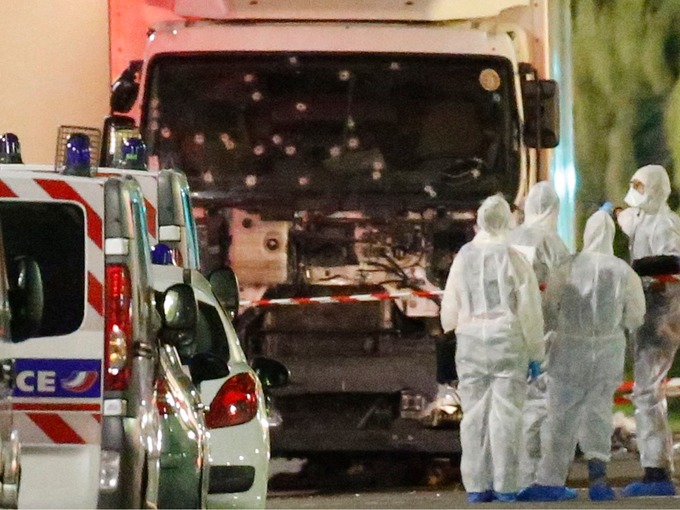 Which then speaks to yet another method of mass killing, which is using RC Drones. This has mainly been a Goobermint/Military sponsored method of MK to date, but the technology of RC is quite available to anyone. Most consumer drones don't have power to carry much payload, but you can certainly adapt the controls to an Ultralight Aircraft capable of carrying a 200 lb load of explosives. Such Ultralights can be built from motorcycle engines in the 250cc category for around $5000. DEATH FROM ABOVE on the cheap!
So it is unlikely that a gun ban will do a lot to stop mass killing among those motivated to do so, by one means or the other. How much being able to CC will help also is quite debatable. It has a real DOWNSIDE in a crowd situation where it might be effective, which is that the cops don't know who is Friendly Fire and who the perps are? So in all likelihood in a real melee, lots of the Good Guys shooting to help the cops would get shot by the cops!
This is why in all historical wars, the opposing sides wear UNIFORMS, and why the cops themselves wear uniforms. In a battle, this identifies Friend from Foe. In this type of assymetric warfare, the cops don't know WHO is friend or foe. On the other hand, if the perps consider the cops as foe, they can easily be identified by their uniforms. This of course puts the cops at a significant disadvantage in such a melee, especially in the case of multiple shooters targeting them specifically. So far such a situation has not yet occured in the FSoA, but it is a regular feature of life for the Mexican Police Force. The Drug Dealers know who they are, but they don't know who all the drug dealers are. So they are targets, sitting ducks essentially.
Finally on this topic for today is a DISTINCTION which is not being made in the Media or by the Pols issuing out statements "condemning" the massacre. This Dog & Pony Show is just STUPID, what would anyone do but 'condemn" this, unless they happen to side with the shooter? Condemning the acts doesn't do a fucking thing to address the causes or to reduce them in frequency and in death toll.
The distinction not made is between Terrorist Acts pulled off by a Lone Wolf with his own personal grudges or unstable psychology and those pulled off by one or more perps who are motivated Politically and may be affiliated with some Terrorist Organization like Daesh. Both types are the outcome of a collapsing civilization; both types can result in a relatively large death toll in a given event, but they have a different nature and the ability to deal with them in any effective manner as a result also varies quite a bit.
In the case of the Terrorist Attack in Paris in November where numerous targets were hit by numerous perps, this was pretty clearly a part of an Organization. So in the aftermath of that, French & Belgian police went full on arresting the Usual Suspects in both countries until they could nail down who was in these cells and go after them.
In the case of all the other recent attacks mentioned, Orlando, Dallas and Nice, they all appear to have been pulled off by Lone Wolf Nut Jobs. They may have expressed "allegiance" with the goals of Daesh, but that doesn't mean they have any contact with or direction from the center of this movement. It just means they are looking for something to justify their actions and a Peer Group. As individuals they have much in common with the organized Daesh in MENA. They are also members of the underclass, they also have little opportunity for success wherever they live and they are also Muslims. So it is convenient to align with Daesh, but they are not really part of an "International Terrorist Organization".
However, every time such a Lone Wolf successfully pulls off a Mass Murder, it gets attributed first to Daesh, and then second to Muslims in general, and the psychotic behavior of these individuals is then transferred through the mass media and the politicians as being attributable to ALL Muslims, and Islam in general as a brutal and medieval sort of religion. Which all the main ones are really, they all developed well before modern industrial culture did.
What this does is to take the responsibility off your own Local Failures and then ascribe to "the other", who are demonized by Pols and the Media as responsible for the mayhem. The fact is though, the local Home Grown Lone Wolves are simply reacting to the failures within their own local communities. They are ALWAYS the underclass, at best they hold an hourly payheck job they can lose on any day, with no savings to carry them over. They never made enough money to have any significant savings. They often have Marital Problems, because when you have financial problems, marital problems and arguments quickly follow. They often have drug and alcohol problems, because when your life is a mess and seems like it will be a mess as far on the horizon as you can see, you rely on alcohol and drugs to blot out the pain. Often enough those are even Prescription Drugs, anti-depressants to keep you from getting too depressed about your situation, but that doesn't actually change your situation. Whatever it is making you depressed is still there, you are just too wasted to realize it.
So in reality here, this really has little to do with religion, or even Organized Terror. It's a social response to a collapsing civilization, and the folks "going nuts" or "getting violent" first are the folks at the bottom end of the society, the people with NOTHING LEFT TO LOSE. There are more of those being manufactured by Industrial Civilization every day, so we can expect a whole lot more of this type of behavior moving into the future. At least until somebody in power actually addresses the underlying problems of Resource Depletion and Population Overshoot, which is unlikely to occur anytime too soon.
Much more left to elucidate as far as the Roots of Terrorism are concerned, but in close follow-up to the events in Nice we had the SURPRISE attempted Military Coup d'Etat occur in Turkey on Friday, conveniently enough after the markets closed for the weekend. LOL. So now let us move on to the second half of this discussion which to some people might not seem related, but in truth is very closely related to both types of Terrorism.
Turkey while it has seemed "stable" at least relative to places like Syria and Iraq is centrally located between just about all the major players here. They have Iran on one side, Mother Russia on another and then NATO operating in Iraq. They have their own internal divisions with Haves and Have Nots as well, the Kurds being the main Have Not and target inside Turkey for repression.
Then they have an incredibly corrupt regime in power run by Erdocrook, double dealing with ISIL on one side to buy oil and so keep money flowing into Erdocrook's Swiss Bank Account while at the SAME TIME theoretically "battling" the same folks over in Syria, where both NATO and the Ruskies drop the DEATH FROM ABOVE every day, in the hope they might actually hit something besides women, children and hospitals so they can take out important people and WIN THE WAR!
Far as the Turkish military is concerned, who is it that actually has to cross the border into Syria and engage…somebody. Said somebodies probably are not wearing any uniforms, and there are a lot of somebodies from different factions here. So who do you shoot, and who will shoot at you? You see the similarity with the CC carry problem in a demonstration with police present and shooting I trust. I'll tell you who has to cross the border and do this insane sort of warfare where nobody is quite sure who the Enemy is, it is the typical Turkish Grunt, and he is probably even less happy about this shit than the truckloads of Amerikan Grunts returning from this Hell Hole and commiting suicide. Not only can't they figure out who the enemy on the ground really is, they ALSO got Ruskie and NATO bombers dropping down the Death from Above, and based on history their targeting is not always so good.
So one can imagine here the morale amongst the Rank & File Turkish soldier is not so good, and they are not too happy about going out as Cannon Fodder in an Endless War that enriches Erdocrook while their own families at home are STARVING. Eventually this dissention works its way up to the upper ranks of the military, they start finding it hard to get these grunts to Follow Orders. Even though Erdocrook did a full purge of the military leadership a few years back, the folks he installed are likely under a lot of pressure from the ranks below. Instead of a Mutiny within their own ranks jeopardizing their own leadership positions, they risk a Mutiny against Erdocrook themselves.
Besides Rank & File pressure, there's also various types of international pressure Erdocrook is under. First he has been aligning mostly with the Saudis and attempting to set up an Islamic style Caliphate rather than the secular type of Goobermint Turkey has been running under since the days of Kamal Attaturk. Second he has all the Refugee problems between Syria & Turkey, and then between Turkey & Greece, and Greece of course is now turning into just about as big a Concentration Camp for MENA refugees as Turkey itself is. The rest of the Northern Europeans now don't want to let anyone out of those concentration camps, so the problem is backing up.
In a sense, this is not real different than what is going on in the Oil Market these days, now there is a glut in the distillates of diesel and gasoline, and they are running out of storage room as the demand continues to be less than the supply being dragged up, even if that supply is diminishing. So at some point here a Firesale is going to be necessary. EVERYTHING MUST GO! 90% OFF!
While you can do a liquidation sale of petroleum products pretty easily, liquidation of a large portion of the Human Population is significantly more difficult and brings with it significantly more problems, such as we have witnessed in the last few weeks from Orlando, to Dallas, to Nice and to Turkey. These are not unrelated and separate problems, they are all manifestations of a Collapse Dynamic that is ongoing and accelerating, which we have been tracking on the Diner for the last 5 years. None of this is unexpected, the only thing that is real hard to put a finger on is the timeline.
Until the leadership acknowledges and owns up to the underlying problems, no real solutions are possible. Even once you do own up to the problem, the possible solutions are mostly unpalatable, particularly those in power who wish to hold onto their perks in the current society. In theory, a downspin and a transition to a lower per capita energy future could be managed, but not with the current leadership and not with the current system of maldistribution. Both are a recipe for mayhem, and both must be removed before we can address our problems in an intelligent manner.