by Lee Adler, Wall Street Examiner
Wall Street pundits showed some consternation about the year to year decline in May auto sales last week but they missed the big picture.
In the Tale of Two Economies, while the owners of stocks and bonds get richer and make the top lines of many economic data series look ok, Americans by and large are doing persistently worse.
As I wrote in an article with the same title as this at David Stockman's Contra Corner:
Stockholders, particularly the leveraged speculators with access to the never ending stream of free central bank printed money, party on while stocks hover at new highs. Oceans of central bank printed cash and free financing for speculative schemes have stopped every stock market selloff and driven every rally higher in spite of weakening fundamentals. As stock and bond prices have surged, the benefits have accrued to only a few. More and more Americans find the going getting tougher, with increasing percentages of people falling through the economic cracks. This trend isn't new. It has been in force for 40 years.
As the following graphs show, auto sales have been slowly increasing over the last 40 years, with major dips for recessions. But 40 years ago the U.S. population was 218 million, 105 million (33%) less than today. While the U.S. population has increased by 44% since 1978, 37 years later in 2015 auto sales were up only 7%. See the upper (blue) plot below. When the sales data is divided by population the sales on a per capita basis has declined by 35% over the same time period (1978-2015).
Click for larger image at The Wall Street Examiner.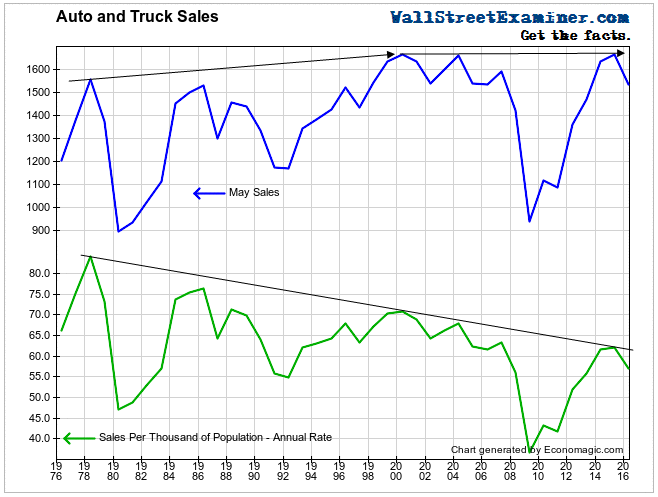 From Contra Corner:
For Americans, the purchase of a new car has long been a symbol of success and economic well being. There is no better representation of the decline of US living standards than that this symbol is increasingly out of reach for an ever growing segment of the American people.

The world's central banks have built their policies of money printing and zero or negative interest rates on the idea these policies would drive securities prices higher and that the rising tide of securities prices would lift all boats. The "wealth" the central banks created by pumping up that ocean of liquidity has certainly resulted in bigger and bigger yachts. But that rising liquidity hasn't lifted the small boats. It has swamped them. Central bank policies have written A Tale of Two Economies, a long running sad story for a growing number of Americans.