by Greg Guenthner, Daily Reckoning
Yesterday, we talked about how to avoid getting sucked into the collective stupidity of the "all-time high" rubberneckers.
The markets continue to plow higher this week. The major averages are extending their gains. Different sectors and industries are popping up on our radar. Breakouts abound.
To begin the trading week, I promised to share three powerful trends we're looking to play in the days and weeks ahead. I'm revealing the first big idea right now. Even with all eyes on the roaring markets, this major breakout continues to build under the radar. Now's your chance to climb aboard before the herd catches on.
Let's get down to business…
The real moves under the surface of the major averages haven't earned much attention these days. That's too bad. Because if you want to actually profit from the next thrust higher, you have to know what names are fueling the fire.
Right now, the market's giving us some clues. Just barely scratching below the market's surface reveals a couple of forgotten market niches that are set to line your pockets with profits.
Just check out copper.
While gold pulled back late last week, good ol' Dr. Copper launched to prices we haven't seen since 2015.
Keep in mind, copper has endured a painful downtrend for six years. The metal has now exploded out of its long-term downtrend after building a solid base last year. It's time to get ready for some huge gains…
---
What is the Income Play Rich Investors Love? (Hint: It's Tax-Free)
---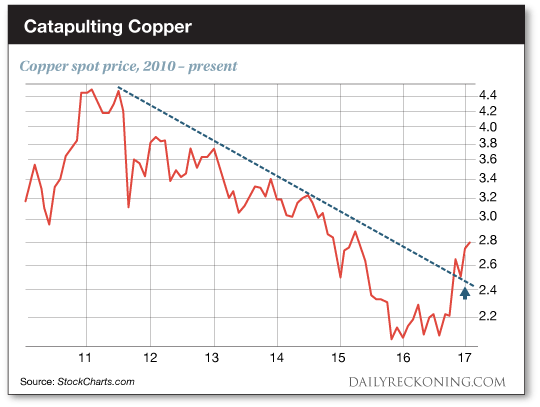 Your eyes aren't playing tricks on you. This chart goes all the way back to mid-2010 when copper prices were double what they are today. The copper bull had even trickled down to the criminal class seven years ago. Opportunistic thieves were snatching up copper wire from construction sites and selling it for scrap. Heck, they were even stealing copper downspouts off historic homes in broad daylight to make a buck.
But there's no problem an extended bear market can't solve. As the commodity supercycle started to lose steam in 2011, so did the copper bandits. Spools of copper wire could safely sit overnight at jobsites once again. Back in the trading pits, folks lost interest in the metal as it sank back down near its financial crisis lows.
After copper was left for dead, it took several months of bottoming action for this commodity to build a proper base. Finally, we saw the rumblings of a potential breakout back in October. Fast forward to this year and copper is ditching its downtrend for gains.
Hop on the next leg of the base metals rally while you can…