by Greg Guenthner, Daily Reckoning
Buckle your chinstrap! Stocks are rolling over. Oil and gas plays are taking a beating. Even red-hot precious metals are taking a break.
And one vulnerable sector is itching to drag the market even lower in the coming weeks…
The Dow coughed up 140 points yesterday. The S&P fared slightly worse, dropping nearly 1%. But the real loser has been the Nasdaq Composite. It's finished lower eight out of the last nine trading sessions. Floundering tech stocks are mostly to blame.
Squishy earnings have hit some of the biggest tech names on the market. Many of these stocks were leading us higher off the February bottom.
Not anymore…
CNN reports:
"The tech heavy index is down nearly 5% this year and 9% below last year's record high while the Dow and S&P 500 are in the black so far in 2016 and not too far from their peaks. The sector is clearly in a funk."
This tech funk is ripping though the market rally like a bad a case of chicken pox. And it could get much worse before it gets better.
In case you haven't bothered to keep track, the list of terrible tech earnings just keeps getting longer. Google's parent company Alphabet missed analyst estimates for earnings and revenue for the first quarter. Microsoft whiffed on first quarter earnings. Twitter has quickly reclaimed garbage stock status as it pushes new lows. And even Apple shares are getting slammed after laying a rare earnings egg. These are some of the most widely owned stocks on the market.
But what about the more speculative tech names that have delivered us countless trading opportunities this year?
These stocks are falling apart.
---
What is the Income Play Rich Investors Love? (Hint: It's Tax-Free)
---
Take 3D printers. This group was hit especially hard over the past couple of years. But the industry quickly became one of our favorite "garbage stocks" this year. In fact, powerful squeeze trades like we witnessed in 3D printers have been one of the driving forces behind the market's big move back into the green. The best thing about these rallies is that no one believed they would stick. Investors' indifference (or even fear) of these rallies simply added more fuel to the fire. That gives traders like us multiple opportunities to make money on the same stock as it breaks out, consolidates, and then breaks out again.
Remember 3D Systems Corp. (NYSE:DDD)? After bottoming out earlier this year below $7 at streaking higher, this 3D printing flagship and forgotten tech superstar is now digging its own grave. We were able to wring 20% gains out of this stock in just a few days during its march higher. But the stock is quickly falling apart…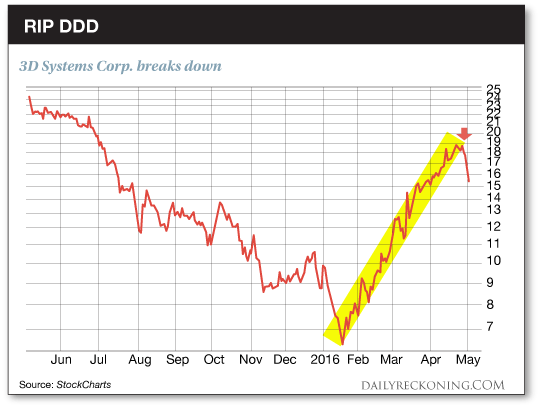 DDD dropped almost 8% yesterday. Now the tight uptrending channel we were excited to trade earlier this year is completely busted. The stock has plummeted nearly 20% in just about a week. Looks like this comeback is toast. I'm seeing a lot of charts that are starting to look similar to the DDD horror show. You don't want to get stuck holding the bag on these comeback trades when they begin to fall apart…
In case you haven't had your first cup of coffee this morning, I'll spell it out for you as simply as I can: This is not the type of environment where you want to be putting on a bunch of new trades on the long side.
Now's not the time to take any big chances…