Written by Econintersect
Early Bird Headlines 31 January 2019
Econintersect: Here are some of the headlines we found to help you start your day. For more headlines see our afternoon feature for GEI members, What We Read Today, published Monday, Wednesday and Friday, which has many more headlines and a number of article discussions to keep you abreast of what we have found interesting.
---
Please share this article – Go to very top of page, right hand side for social media buttons.
---
​Global
U.S.
GOP rejects bill to give back pay to federal contractors, wants to repeal estate tax instead (Salon) Not a single Republican senator has joined the effort to give back pay to hundreds of thousands of federal contractors who were unpaid during the partial government shutdown. But the party's leaders are pushing ahead with a bill to repeal the federal estate tax on behalf of the wealthiest Americans. Minnesota Sen. Tina Smith and Massachusetts Rep. Ayanna Pressley, both Democrats, have introduced bills that would give back pay to federal contractors, who are not entitled under law to be paid after a shutdown as federal employees are, Vox reported.
Sen. Elizabeth Warren on Wealth Tax Plan, Health Care and Venezuela (Bloomberg) Elizabeth Warren (D, MA) discussed her proposed wealth tax plan, U.S. health-care policy, and the political crisis in Venezuela with Bloomberg's Joe Weisenthal on "Bloomberg Markets: What'd You Miss?"
72 percent in poll think Trump, Congress will fail to reach border deal (The Hill) Just 28% of those surveyed in a new poll think President Trump and Congress will reach a deal on border security in the next three weeks, underscoring the deep skepticism voters hold toward Washington after the longest government shutdown in U.S. history. Seventy-two percent of registered voters polled think no deal will be reached, according to the latest Hill-HarrisX poll. Lawmakers aiming to reach a deal met for the first time on Wednesday – and just hours after Trump tweeted his own apparent skepticism of their efforts.
Roger Stone's Arrest Was Appropriate, Not Heavy-Handed (LawFare) This is the opinion of Chuck Rosenberg, a former U.S. attorney, senior FBI official and chief of the Drug Enforcement Administration. He writes:
Law enforcement simply does not hand a summons to someone who threatens to kill a witness and trust that person to act responsibly with it. No conscientious prosecutor would think a summons appropriate there, or think that a threat to kill a witness is simply what targets of grand jury investigations routinely do.
Despite the increase, the number of border apprehensions through the first 11 months of 2018 remained far below the levels throughout most of the 1980s, 1990s and 2000s, when around 1 million or more migrants were being apprehended each fiscal year.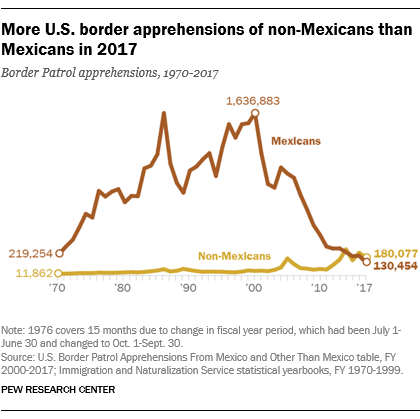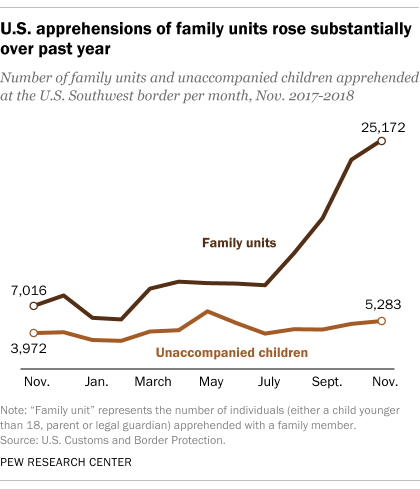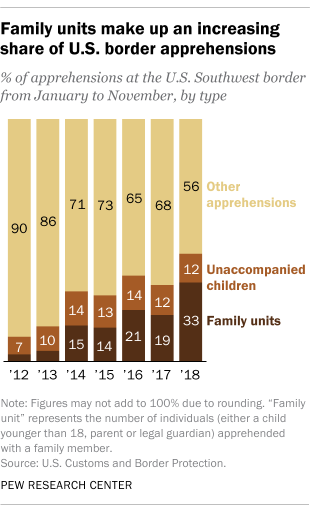 Trump has frequently pointed to sympathetic crime victims to justify his get-tough policies at the Southern border. But experts say the president's rhetoric overstates the threat posed by immigrants, who tend to commit crime at lower rates than people who are born in the United States.
Germany​
Israel
U.S. Warns Israel Against Strikes on Syria (The Diplomatic Observer) Speaking at a hearing of the U.S. Senate Select Committee on Intelligence in Washington on Tuesday, Director of National Intelligence Dan Coats said that Israel's continued aerial assaults against Syria would increase the risk of Iran's retaliation. Coats said:
"We assess that Iran seeks to avoid a major armed conflict with Israel. However, Israeli strikes that result in Iranian casualties increase the likelihood of Iranian conventional retaliation against Israel."
Russia
China
China said on Thursday its manufacturing activity contracted for the second-straight month in January.
Official manufacturing Purchasing Managers' Index (PMI) for January was 49.5, according to the National Bureau of Statistics of China.
That's higher than the 49.4 reported in previous month, and the 49.3 expected by analysts in a Reuters poll.
The advisory also indicates that US-Chinese citizens or Americans of Chinese heritage are especially vulnerable to "additional scrutiny and harassment."
Venezuela
Alongside several other countries, the U.S. immediately recognized Guaido as the Latin American country's rightful interim leader, ramping up the pressure on President Nicolas Maduro.
It has thrust the oil-rich, but cash-poor, country into uncharted territory – with political tensions approaching boiling point ahead of two nationwide anti-government protests this week.
.