by Felix Richter, Statista.com
— this post authored by Dyfed Loesche
The FBI has released its annual crime report.
Based on data from its Uniform Crime Reporting (UCR) Program the 2015 stats reveal a 3.9 percent increase in the estimated number of violent crimes and a 2.6 percent decrease in the estimated number of property crimes last year, when compared to 2014 data. The 20-year trends for both categories of crime are down. The violent crime rate has almost been cut in half since 1992.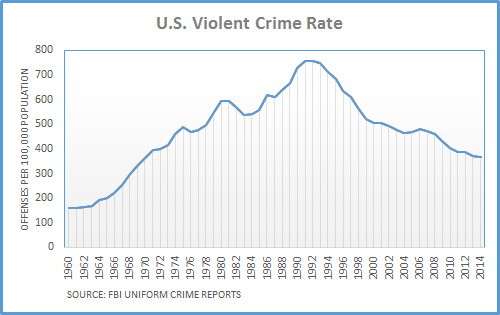 From FactCheck.org.
According to the report, there were close to 1.2 million violent crimes committed in the United States in total. While that's an increase from 2014 figures, the 2015 violent crime total was 0.7 percent lower than the 2011 level and 16.5 percent below the 2006 level. Our infographic shows what the most prevalent crimes in both categories were.
This infographic shows the most prevalent violent and property crimes committed in the USA in 2015
You will find more statistics at Statista.