Written by Yichao Wang, GEI Associate
According to the customs data, Chinese exports fell 8.3% in July from a year earlier, far worse than expected. The figure suggests a strong downward pressure on the Chinese economy in the second half of the year. But, as we shall see below, the problems behind this slowdown do not all originate in China.
Sluggish demand is a fundamental reason that causes the exports to slide. The U.S. economy is growing slowly under massive QE. The manufacturing purchasing managers' index (PMI) only rose slightly to 53.8 in July from a 20-month low of 53.6 in June. The EU still flounders in economic stagnation. The investor confidence index of Germany fell sharply to 25 points in August. These two areas, the two largest trading partners for China, are a significant part of the decreased demand for China's exports: Demand from the United States dropped 1.3 percent last month; exports to the European Union fell 12.3 percent in July.
The investor confidence index of Germany: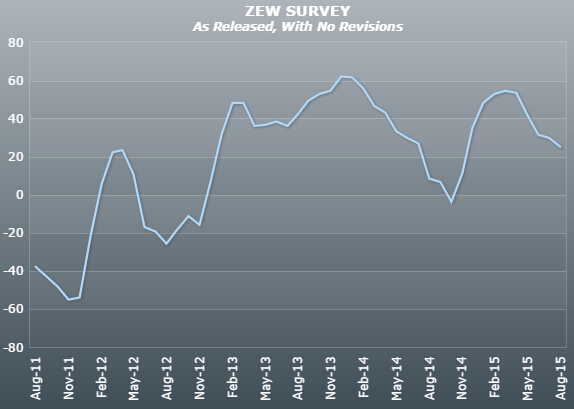 As for developing countries, Russian manufacturing activity declined in June for the seventh straight month, with the PMI below 50. Although the manufacturing PMI of Brazil climbed to 47.2 in July, the reading below 50 still suggests the contraction in the manufacturing sector.
The relatively strong Chinese currency also causes the export weakness. Beijing has been keeping yuan strong to support domestic buying power as well as to encourage the international use of its currency for political purposes. As ANZ Research shows, the currency's nominal effective exchange rate has risen by 13.5 percent since June 2014. Although a strong yuan can help prevent capital outflows, it certainly provides a drag on exports.
---
Editor's note: In the last two days (since this article was written) China has devalued the yuan renminbi by more than 3%. This is nearly 1/4 of the effective rise over the past year mentioned by the author.
---
The export sector of China had been a major contributor to growth in past years, constituting about 30% of GDP. As exports tumbled, this has exerted additional slowdown pressure and requires growth to rely more on domestic demands. It also implies that policies will continue to be relaxed in the domestic market.