Chainlink (LINK) seemed to catch the attention of investors when it exploded to reach $52 in May 2021. However, most of the crypto enthusiasts had already had their eyes on the token long before that. The innovative project enables universally linked smart contracts and does that in an entirely secure, reliable, and efficient manner.
As the name suggests, the Chainlink network is used to link chains – it utilizes a decentralized oracle network to integrate external data sources into different blockchains.
Apart from being an interesting project that has solid real-world applications, Chainlink is also a worthwhile investment.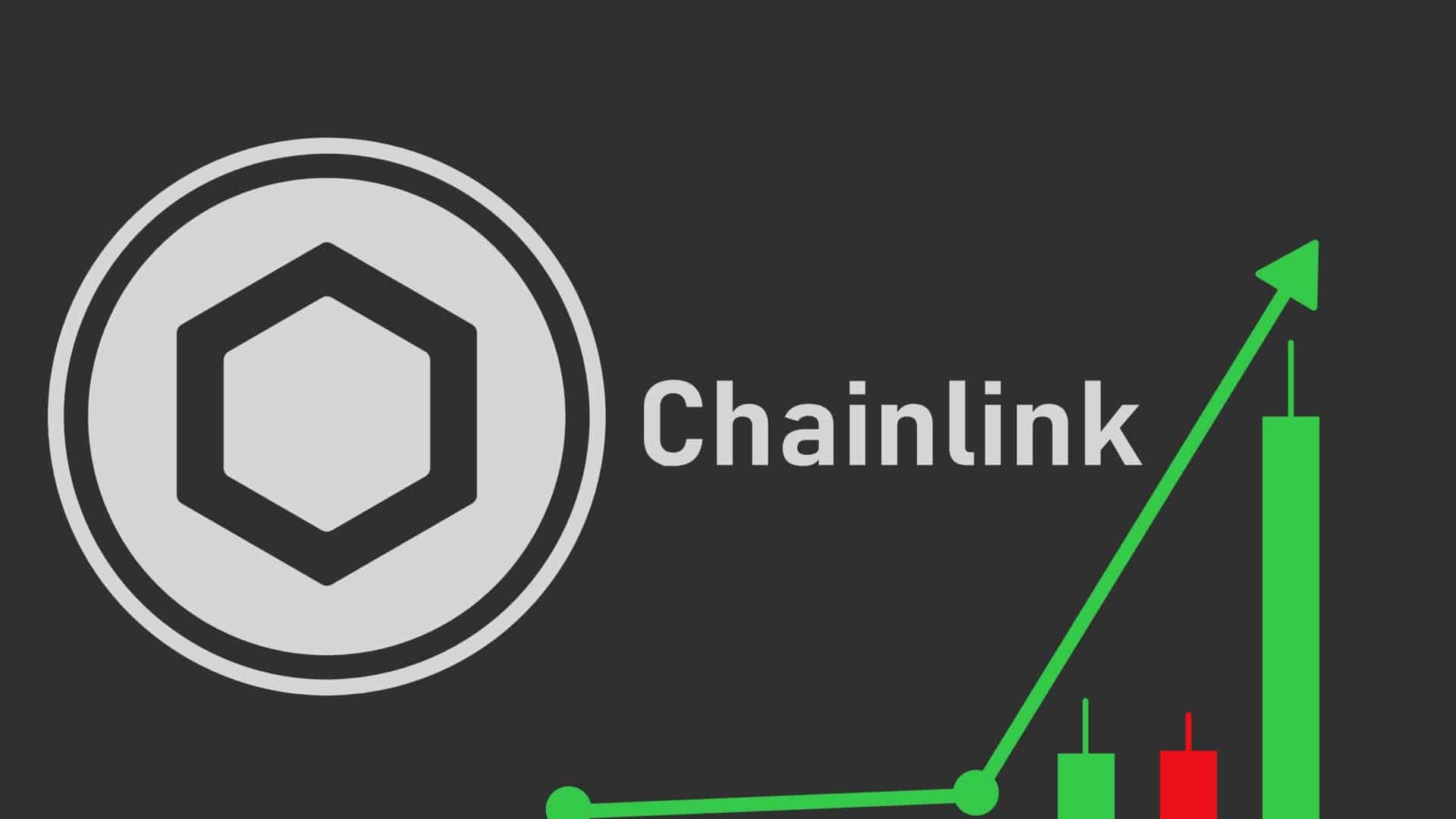 Chainlink (LINK) Overview
Chainlink is a decentralized oracle network that was designed on Ethereum. Its token LINK is an ERC-677 token, an extension of ERC-20. The Chainlink network is used to facilitate and support the secure and reliable transfer of data between off-chain sources and on-chain smart contracts.
The decentralized oracle network offers real-world data to smart contracts hosted on the blockchain. Smart contracts are pre-specified agreements on the blockchain that evaluate different information and automatically execute when various conditions are met. Chainlink's smart contract platform has made it a reality through its Oracle Network.
Chainlink (LINK) tokens are what feed the data from the off-chain sources to smart contracts. Notably, the LINK tokens can be stored in any ERC-20 compatible digital wallet, as the ERC-677 standard has similar functionality to the ERC-20 one.
This network is supported by a huge number of data providers, security auditors, node operators, smart contract developers, and many other participants. Chainlink promises decentralized participation for all the users that interact with the platform – anybody can become a node operator on the network.
Chainlink's new whitepaper, published in April 2021, highlighted some new features and capabilities of the network, including but not limited to:
Off-chain computation
Crypto-economic staking
Numerous privacy-preserving features
Chainlink is a special project. It was among the first networks that supported off-chain data transfers to on-chain smart contracts. Also, its innovative nature has attracted lots of partners and data providers like Huobi.
Chainlink discovered how to feed in and acquire info from blockchain networks that are dependable, decentralized, and tamper-resistant. Also, it created a network of nodes to transmit and exchange information between different blockchains, which eventually became a crucial smart contract innovation.
In that context, Chainlink oracles can share critical information, including price feeds, and the outcome of a particular event, and link to traditional settlement strategies in a decentralized and tamper-proof way. In other words, Chainlink exists as a decentralized oracle network composed of data buyers and Chainlink (LINK) node operators.
The information is aggregated and weighed by an oracle reputation network developed by Chainlink. In case the transaction is finished with no issues, the vendors get paid and both parties are satisfied.
The buyers' order information and the Chainlink node operator deliver the info securely. Buyers select the information they require to be supplied, and the vendors bid to do the supply.
Along with that, Chainlink Keepers is also now live, and ChainSafe has recently got massive funding from the Chainlink Community Grant. The funding strives to enhance and advance the development of web3.js.
Vendors have to dedicate some LINK tokens to acquire in case they violate the rules to make a bid. After the vendors are selected, they are now tasked with giving the right answers via blockchain.
Chainlink Price Prediction: A Strong Buy Sentiment For LINK?
Chainlink Price Predictions 2023-2032
Chainlink Price Prediction 2023 – up to $9.43
Chainlink Price Prediction 2026 – up to $31.56
Chainlink Price Prediction 2029 – up to $94.84
Chainlink Price Prediction 2032 – up to $301.62
Nobody is sure when and if the crypto winter will end. Some strategies can be said to be "green shoots" for creating hope for the general crypto space. ETH saw three straight weeks of inflows after 11 consecutive weeks of sell-off, based on the CoinShares report. But, some projects are showing signs of growth in the long term.
Chainlink's primary value proposition offers interoperability to the blockchain space. Chainlink is the largest oracle offering an important service to the growing number of active smart contracts. Within the general crypto market, it is one of the least risky investments.
Interoperability enables two blockchain networks to exchange value and information without involving any intermediaries. The most popular blockchain projects like Ethereum, Bitcoin, and Ripple have been active for a long time without communicating with each other. Thus, interoperability supports quick information sharing, more straightforward execution of smart contracts, and exchange blockchain solutions.
Chainlink Applications
Because of the way the smart contracts of Chainlink were developed, Chainlink has the prospect of fitting into each facet of our lives. Chainlink's smart contracts were created to solve the issue with Oracle. The Oracle issue is that blockchains were disconnected from the outside world.
The smart contracts for Ethereum and other crypto assets may just fetch data that was already stored on the blockchain. Nevertheless, non-deterministic data (data outside the blockchain database) could not be fetched. Nonetheless, the introduction of Chainlink introduced a middleware solution that may fetch data from outside a blockchain database.
It was done by developing decentralized networks of Oracles, and the fascinating thing here is that the blockchain is not affected in any way.
The ground-breaking development raises the prospect of Chainlink through the roof, and this technology is applicable in different areas: triggering insurance payouts; using satellite imagery in the military for information gathering; global trade; paying your workers or getting paid in real-time (instantaneously) for services rendered; direct transactions which eliminate intermediaries for post-trade processing; can be used to vote during elections; can be used for trading on gaming platforms.
Where To Purchase Chainlink (LINK)
To use Chainlink's oracle network, you must have Chainlink's native token, LINK, as a payment means for the service. Chainlink network is powered by Ethereum and uses ERC677, which got its efficacy from ERC 20 token standards and enables token transfer to consist of a data payload.
The ERC677 is also used for settlement with a Chainlink node operator who supplies and feeds data into the platform, paid for by the buyers. The vendors decide the cost of the service after they bid.
Most investors are wondering where to purchase the token Chainlink. Apart from earning Chainlink tokens by participating as a node operator or oracle, they can also be purchased from a crypto exchange.
Top crypto exchange platforms like Coinbase, Binance, and Gemini let people acquire LINK using fiat currency through a credit card or debit card, and bank transfer. Use a hardware wallet to store LINK tokens securely.
When Did Chainlink Reach An All-Time High?
The popularity and demand for smart contract technology increased in 2021 because of the increased proliferation of blockchain technology and the Ethereum blockchain's upgrade. On January 23, LINK's price surged to a new all-time high of $52.
The LINK price continued the positive movement, and a little later, it was trading at record levels above the $30 price zone. On February 14, 2021, LINK reached $35.58, setting a new all-time high, but it has retraced lower ever since.
This coin surged after a small downside movement, reached another all-time high, and traded at $52.30 on May 10. That was the new all-time high set by Chainlink in May.
It could not continue that price growth; moments afterward, it fell almost half that price. Chainlink's price currently is just around $25.
What Pushes LINK Price?
Various prominent elements impact the market value of any crypto. These factors include market sentiments, economic news, and government regulations. Besides these popular asset price influencers, there are other factors responsible for the price actions of LINK.
Chainlink Future Developments
Chainlink continues to gather massive appeal among developers, and it has completed more than 300 integrations with data providers, nodes, decentralized finance, and blockchain-based projects. Up to today, every single Chainlink integration has underpinned LINK's market capitalization, and continued growth is expected.
In 2022, #Chainlink reached several major milestones from value enabled to #LINK staked, helping the #Web3 economy scale securely.

Here's a look at key network highlights & how Chainlink is growing to meet global demand for #ProofNotPromises 🧵👇 pic.twitter.com/fO6pCmvlEo

— Chainlink (@chainlink) December 31, 2022
The more projects linked to Chainlink, the higher the market price of LINK, mostly if the projects boom with impressive scalability. In 2021, Chainlink had more than 700 partnerships, collaborations, and integrations; in the first quarter of 2022, the project added 140 more.
Interests And Speculations
The increase in the price of LINK is mostly tied to increasing interest in the coin and considerable DeFi developments. It is not a secret in the crypto space that when institutional investors turn to an asset, its price goes up.
Consequently, speculations play a considerable role in the price of any asset. The value of LINK will respond to rumors in the Crypto space, news, and discussion in public columns among investors, miners, and developers.
Furthermore, DeFi migration for centralized finance networks will mostly generate huge speculative interest in blockchain projects like Chainlink.
Oracle Services Functionalities
The output of a smart contract is just as good as its external data sources. Thus, in case the data source is malicious, the smart contract outputs inaccurate outcomes.
Guaranteeing the validity and accuracy of data sources is one major concern that Chainlink solves through its oracle services. The expansion of Chainlink's functionality may considerably affect LINK's market value, as seen in 2019 when Google announced a Chainlink integration that resulted in a massive leap in the coin's value.
Many other future integrations and real-world applications will mostly impact LINK's price.
Where To Store LINK
You can utilize a software wallet like Trust Wallet and MetaMask or a hardware wallet like Trezor or Ledger. When it comes to using a crypto wallet compared to an exchange to store crypto, wallets are generally preferred.
Nonetheless, the options are slightly more complicated and do not come with their inbuilt risks. For instance, in case you lose your wallet keys, there is nobody who will unlock them for you. But cryptocurrency investors still recommend using the wallets since they provide you with total control over the coins and are less likely to get hacked.
Chainlink Price History
2018 started with a massive bullish rally, and most digital assets were at their summit. Chainlink token was not an exception. But, after that, a steep freefall in the altcoins market resulted in billions of dollars getting wiped out of the market.
We are now seeing a somehow similar situation. A majority of the altcoins are now at one-half to one-fourth of their all-time high.
Not many altcoin projects managed to survive the famous crypto winter season. Some of the altcoins like Ethereum price and Chainlink price managed to endure the dark moment, and their price started rising.
2019 was a significant year for Chainlink. LINK was performing quite well in the market. The performance is majorly associated with the pioneering dApps on the Chainlink network and listing by several crypto exchanges, such as Bitbox, the previous year.
This market development drove the LINK price from $0.3 at the start of the year to a record $1.13 by May 2019. The oracle coin broke its ATH twice more that year, and on June 24, 2019, LINK's price reached a record $4.540. The bullish rally was mostly powered by the release of the Chainlink network on the Ethereum main network.
In 2020, the Chainlink project became the top performer of all cryptos beating major Cryptos like Ethereum and Bitcoin for a second consecutive year. The massive rally during that year was heavily linked to the 2020 decentralized finance (DeFi) craze.
LINK started trading at about $1.70 and surged toward $4.570 in February. LINK remained relatively quiet until mid-July when the price of the token rallied toward a new all-time high at $8.40. This rally continued, and Chainlink's digital asset price nearly reached $20 but encountered rejection and pulled back to below $12.
In 2021, Chainlink's price enjoyed a huge bull run as wave-like bullish activity caused the price to surge from the $12.00 mark to the recent highs of $36.00.
Chainlink's price found strong resistance at the $36 zone, which it could not break through and it was eventually deflected. The rejection pushed the price down to the $23.50 mark before it bounced back to the $30 support level.
Later, in May, the coin reached its all-time high of $52.88, and from thereon, it began to drop. The Bitcoin price drop impacted Chainlink until it was $30. In the meantime, the price of the coin has been changing its direction towards a surge since the start of 2022.
Chainlink Developments
Chainlink achieved multiple significant milestones in 2022, from the value enabled to LINK staked, assisting in the secure expansion of the Web3 economy. Late in September, Chainlink (LINK) wrapped up its yearly conference, reaffirming its status as the leading blockchain oracle by introducing new products and institutional collaborations.
Apart from announcing product development partnerships with Coinbase Cloud, Chainlink, and CF Benchmarks also showed that they were utilizing the cross-chain interoperability protocol. A global payment provider, SWIFT, said that it was using the protocol for token and messaging interoperability between different blockchains.
Chainlink announced the Staking Plans, striving to be AWS of Web At SmartCon 2022. Sergey Nazarov, the Chainlink co-founder, highlighted plans to launch staking in December, and a new economic model For the Web3 services platform.
Recently, the 100+ expert speakers at the 2022 SmartCon included founders of influential protocols in the Chainlink network. On September 28 and 29, 2022, in New York City, NASDAQ TradeTalks host Jill Malandrino filmed a 2-day interview schedule with notable presenters highlighting their thought leadership.
Malandrino first spoke with Getty Hill, the co-founder of GFX Labs, before sitting down with co-founder, and CEO of Krypton, Michael Nowotny, a decentralized exchange system developed to minimize the efficiencies of DeFi to make it easier and more affordable than conventional financing.
Nowotny thinks that the absence of institutional support for DeFi's expansion is mainly a result of the high transaction costs. He said that Krypton employs a novel mechanism made possible by computing on Chainlink's decentralized oracle networks to address DeFi's inefficiencies.
He gave Chainlink credit for helping Krypton's team since they took home the first DeFi award at the Chainlink Fall 2021 Hackathon and helping Krypton at the protocol level. Chainlink investors will hope that these fresh developments will enhance oracle's native token LINK and enable it to end a 16-month drop.
The Chainlink developers recently confirmed the launch of its staking v0.1 early access scheduled for December 6.
#Chainlink Staking v0.1 Early Access launches on Ethereum mainnet December 6th at 12PM ET.

This blog update covers:

• Pool design
• Alerting mechanism
• Auto-Delegation
• Staking rewards
• Reputation system

And more. Explore the latest below ⬇️https://t.co/M0wQVcUsSk

— Chainlink (@chainlink) November 21, 2022
Chainlink Technical Analysis
Based on the daily price chart, LINK has dropped below the lower limit of its consolidation zone ($6 to $8) and now trading below its 200-Day simple moving average. The price of Chainlink has also been reduced by around 72% in the last year. Notably, the 14-Day Relative Strength Index (RSI) is NEUTRAL and might trade sideways as it is slightly above the oversold region.
Technically, the selling pressure on Chainlink is considerably high, and a further increase can heighten the bear market, with LINK already below the consolidation area. The market pattern of LINK in the first month of trading in 2023 will be quite exciting to see.
Buy Bitcoin Now
Price Predictions
Chainlink is trading at $5.75 to $5.85. The crypto has lost support at $6, based on technical indications. But, a bear momentum still requires to get verified. In case the bulls fail to pull LINK back above $6, will 2023 spell doom for Chainlink? Maybe, given that the LINK bulls have constantly defended the $6 zone, which is critical for the coin. Hence, failure to remain above $6 might trigger a bear market.
Here are analysis and predictions for Chainlink from 2023 to 2032.
| | | | |
| --- | --- | --- | --- |
| Year | Minimum Price ($) | Average Price ($) | Maximum Price ($) |
| 2023 | 8.04 | 8.27 | 9.43 |
| 2024 | 16.53 | 19.67 | 20.06 |
| 2025 | 21.54 | 24.85 | 25.68 |
| 2026 | 26.47 | 27.41 | 31.56 |
| 2027 | 26.61 | 30.09 | 30.38 |
| 2028 | 37.85 | 41.05 | 41.97 |
| 2029 | 79.53 | 82.43 | 94.84 |
| 2030 | 77.12 | 79.40 | 80.77 |
| 2031 | 105.14 | 108.72 | 109.18 |
| 2032 | 245.81 | 252.84 | 301.62 |
2023
Based on the market predictions for 2023, in case demand for the coin grows considerably throughout the year, LINK will reach a maximum of $9.43. Most analysts predict a minimum price of $8.04 and an average trading market price of $8.27.
A price growth might be influenced by a surge in the demand for LINK, a general market upturn above $6, and new developments scheduled for the Chainlink network in 2023.
2024
The Chainlink prediction for 2024 shows that the uptrend will continue, and LINK might reach a maximum of $20.06, with an average market value of $19.67, and a minimum valuation of $16.53.
2025
Based on the Chainlink predictions for 2025, a maximum value of $25.45 is expected for the LINK token. The coin is expected to trade at a minimum of $21.54. Also, $24.8 is said to be the market average. Currently, Chainlink is concentrating on nonfungible tokens (NFTs) and Web3, which might impact the coin's market valuation by 2025.
2026
Predictions for 2026 puts the coin within the range of $23.45 and $27.76. Averagely, LINK is expected to trade at around $25.20 in the entire year. If several important developments and partnerships are achieved as planned, LINK adoption can be increased, and the coin's value can surge to the expected price points.
2027
Based on many analysts and experts, the price of LINK will rise to $30.38 in 2027. An average trading price of $30.09 is expected by the end of the year with lows of $26.61 also highly likely.
2028
The predictions for LINK in 2028 go as high as $41.97 and prices might surge to an average of $41.05 and a minimum of $37.85 by the end of the year.
2029
Based on most analysts and experts, Chainlink might most likely trade for an average of $57.49 and a maximum price of $57.96. The least value of the coin is projected to be $54.64 for 2029.
2030
With a price retracement expected in 2030, the maximum price of LINK is expected to surge to $80.77. Furthermore, LINK might maintain a minimum price of $77.12 and an average trading price of $79.40.
2031
Looking at the Chainlink price prediction for 2031, LINK is expected to trade at an average price of $108.72 and reach a maximum of $109.18. That year's minimum price projection is $105.14. Since it is expected that LINK will be used widely in the future, institutional investors might decide to invest in LINK, which might cause its price to surge to new heights.
2032
The Chainlink price for 2032 might range between $245.81 and $301.62, while the average trading price might hover around $252.84.
Despite the huge optimism of these projections, it is important for investors to do their own thorough market research before making an investment decision.
Not everyone is optimistic about the price of Chainlink. According to Wallet Investor experts, Chainlink is not a good long-term investment since they expect the coin's value to even drop below $0.450 in 2023.
Technewsleader Projection
Their analysts say LINK will reach a maximum of $9.88 by the end of 2023 and the price will surge to a range of $13.82 to $16.84 in 2024. According to them, LINK will peak at $23.99 in 2025 with a possible minimum of $20.49. The positive trend is expected to continue with LINK price reaching $254.57 by the end of 2031.
PricePrediction.net Forecast
Priceprediction.net's Chainlink price forecast is similarly positive. Based on their projections, LINK might peak at $10.29 by the end of 2023 and $22.89 by 2025. Also, according to their projections, Chainlink might trade between $201.44 and $224.20 by 2031. That forecast makes the coin a profitable long-term investment.
The Takeaway
Theoretically, Chainlink faces off against the general crypto market as a digital asset. Nonetheless, there are just three major rivals to Chainlink as a project: API3, Band Protocol, and WINKlink. As linking other projects is the main function of oracle networks like Chainlink, the most critical parameter for these networks is the number of partners they have acquired, making them compatible with each other and the external world.
Chainlink has ten times more partnerships and integrations than the three mentioned competitors combined. That puts it far ahead of its rivals. Thus, it is unquestionably the best.
The long-term price forecasts show that LINK might reach new all-time highs as crypto adoptions keep intensifying in the coming years.
Nonetheless, these are the price predictions underpinned by deep analysis and tracking of historical data. Hence, you should not take them as investment advice. Do your background checks, research, and analysis before investing.