Written by Gary
Opening Market Commentary For 03-07-2014
Gary is off today, and the market open comes from our syndication partner Investing.com
U.S. stocks opened higher on Friday, supported by the release of upbeat U.S. employment data and despite a disappointing U.S. trade balance report.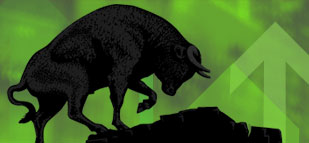 During early U.S. trade, the Dow Jones Industrial Average rose 0.32%, the S&P 500 added 0.26%, while the Nasdaq Composite index edged up 0.17%.
The U.S. Bureau of Labor Statistics said the economy added 175,000 jobs in February, compared to expectations for a 149,000 increase. January's figure was revised up to a 129,000 gain from a previously estimated 113,000 rise. The U.S. private sector added 162,000 jobs last month, exceeding expectations for a 154,000 rise. January's figure was revised up to a 145,000 increase from a previously estimated 142,000 gain. The report also showed that the U.S. unemployment rate ticked up to 6.7% in February, from 6.6% the previous month. Analysts had expected the unemployment rate to remain unchanged last month.
European stocks declined on Friday, as European Central Bank President Mario Draghi's comments on Thursday, while investors were eyeing U.S. employment later in the day.
During European morning trade, the EURO STOXX 50 edged down 0.17%, France's CAC 40 fell 0.15%, while Germany's DAX 30 retreated 0.70%. European equities were under pressure after ECB President Draghi on Thursday confirmed that the bank left its benchmark interest rate unchanged at 0.5%, with the latest economic data indicating that "the moderate economic recovery in the euro zone is proceeding."
Draghi reiterated the ECB's forward guidance on rates, saying that interest rates will remain at their present levels, or lower for an extended period. The ECB remains determined to maintain the high degree of accommodative monetary policy for as long as needed, and will take further actions as it sees fit, he added.
The central bank revised its forecast for economic growth in 2014 to 1.2% from 1.1% in December. However, the bank revised down its inflation forecast for this year to 1.0% from 1.1% in December. The bank expects inflation to pick up to 1.3% in 2015 and 1.5% in 2016, remaining below the bank's target of just under 2%.
To contact me with questions, comments or constructive criticism is always encouraged and appreciated:
Written by Gary