by Jim Bach, Money Morning
The current price of silver is on the upswing. At $17.145 an ounce – the current price of silver as of 8:45 a.m. EDT – the white metal is up 9.3% on the year and 3.5% on the month.
But silver has been more volatile than ever. This price rise comes a little more than two weeks after silver prices were dangerously flirting with the four-year low established back on Nov. 5, 2014. That's when it closed at $15.315. On March 11, it closed at $15.465.
And since then, it's up 10.9%.
What does this volatility and today's rise mean for what's ahead? Here's what to make of the current price of silver…
A Closer Look at the Current Price of Silver and What's Ahead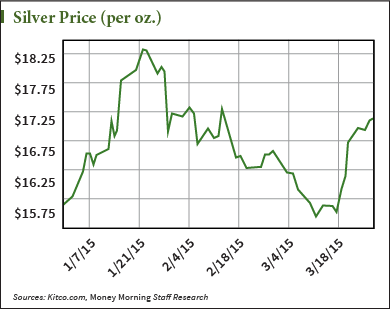 ---
Editor's note: This article was posted at Money Morning on 27 March 2015.  The discussion then is still appropriate for today.  Since late March the price of silver has been in a consolidation pattern as seen in the following chart:
---
It's exciting to see the white metal making gains after a tough 2014. The markets have been frustratingly stubborn to realize the true value of silver. But it's important to understand just how violent price swings have been this year.
The accompanying silver price chart shows this.
By Jan. 22, silver prices climbed to $18.31 an ounce. It was up 16.7% on the year and was hitting levels not seen since Sept. 2014.
But even after the silver price clawed its way up, it was devastated by a stronger dollar and expectations of interest rate hikes. Those deflationary pressures make precious metals' reputation as an inflation hedge less attractive.
From that peak, silver has fallen as much as 15.5% before recovering slightly to silver's current price.
This current silver price surge is a welcome change from the continual doldrums. But it's also important to remember that silver prices are going to continue to be volatile and at times frustrating.
Investors may be asking, "Is silver a good investment?"
Here's why it is…
Why Silver Is a Good Investment
Right now, silver has been slammed by the deflationary pressures on the U.S. economy.
The biggest of which has been the strengthening dollar. The U.S. Dollar Index is up 21.6% in the last 12 months.
This is less on the dollar's own merits and more an indictment of currencies across the world. You see, the U.S. Dollar Index is a weighted basket of currencies. Of the six currencies the dollar is measured up against, 57.6% of the weight comes from the euro, and another 13.6% is the yen.
Now, every currency in the basket has been falling against the dollar, but the Eurozone and Japan continue to debase their currencies with monetary easing policies aimed at sparking inflation.
The euro has fallen 21% against the dollar in the past 12 months. The yen has fallen about 17%.
There's no reason to think with how bearish sentiment is on both these currencies that this downfall won't continue. And for a while, that's going to continue to keep a lid on any substantial silver price rally.
You see, a stronger dollar hurts commodities like silver because a stronger dollar will make goods cheaper. So silver could be in high demand by investors and by industrial users – and it is – but proper price discovery can't happen as long as the dollar is being propped up by artificial market forces.
What's been a bigger drive of the current price of silver is the decline in the broader markets.
This week, the Dow Jones Industrial Average and the S&P 500 erased all their gains on the year. And even the Nasdaq, which has been red-hot in 2015, stepped back in a big way this week.
That gave silver this boost. And that is its value in an investor's portfolio.
Over the last year, silver has moved in a rather strong negative correlation with the markets. In small amounts, silver will be a hedge against market aberrations. Prices will climb in silver as stocks take a hit, and that will work to minimize losses on bigger investments.
So while it's true that silver has been volatile, that volatility will help on the downside if markets tank. In small amounts, it shouldn't diminish gains that stocks make. But if markets do crash, silver will keep a floor under those losses.
The Bottom Line: The current price of silver seems bullish for the white metal, but it's been here before. Even as recently as the past couple months. A stronger dollar will keep it from breaking out significantly, but that doesn't take away from the merits that silver investing does provide – a hedge against what have become very uncertain markets.