Special Report from Money Morning
by Jim Bach, Money Morning
Silver prices in January 2015 rose 9.8%. That makes it the best month for the price of silver since June 2014, when prices climbed 11.4%.
As of yesterday (26 February) silver had moved back lower to $16.45 giving back about half of January's gains.
The January 2015 silver price rally is a welcome change from December 2014, when prices fell 5.2%. Months of declining silver prices before 2015 drove the white metal down to four-year lows.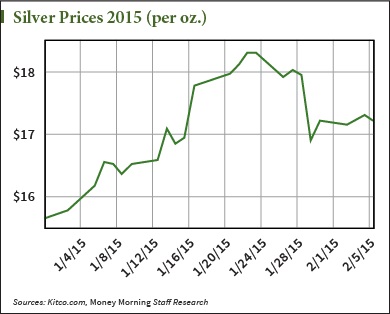 While it's nice to see silver prices rising in 2015, our 2015 silver price chart shows volatility is a big issue. Silver rose about 17% from the start of the year until Jan. 22, then dropped 5.5% in one week.
Silver volatility is going to be a big issue this year. While always subject to violent price swings, silver is going to be operating in a stranger environment than usual…
Why Volatile Silver Prices in January 2015 Will Continue
Europe's economic issues give silver reasons to both rise and fall in 2015. The result will be plenty of short-term volatility.
The Eurozone's problems with deflation and slowing growth will bolster concerns over the global economy. That typically supports investment in gold and silver and hard assets.
But the Eurozone could also provide a headwind. You see, the Eurozone announced at the end of last month that it is embarking on a Eurozone quantitative easing program.
In Eurozone QE, the European Central Bank will buy 60 billion euros ($67.9 billion) a month in bonds. Of that, 50 billion euros ($56.6 billion) will be government bonds from member countries.
While a euro devaluation would be good for silver as investors ditch the euro, it will also strengthen the U.S. dollar. A stronger dollar makes silver cheaper (in terms of dollars.)
Longer term, though, the dollar won't be able to maintain this strength. That's bullish for silver – and another reason we look for price dips as buying opportunities.
Another short-term headwind comes from the silver futures market…
Speculators in silver futures are at their most bullish since July. They are long 329 million ounces of silver and short 68.4 million ounces.
This means silver is vulnerable to more sell-side pressure. If speculators view this nearly 10% gain in January and take it as their signal that silver is oversold, they will start shorting silver.
The last time silver sentiment was this bullish among speculators – in July 2014 – it had just come off a rally that lifted silver prices up 14.3% from its then-2014 lows. From then on, however, it began a vicious spiral down. In the next four months, as the shorts piled on, silver prices fell 28.6%, to $15.315 an ounce in Nov. 2014.
Silver prices would fall to around $12.50 if that were to happen again. That seems unlikely, but with how volatile silver prices are now, it is possible that this prevailing downtrend over the last six months could make a final capitulation to such levels.
The Bottom Line: Expect more volatility than usual from silver right now. Headwinds from Europe and the futures market will push down prices. But bargain buyers will take advantage of those dips and drive prices higher. Silver's cheap at these levels, and in the long-run it's a good crisis hedge regardless of how volatile it is. There's always long-term value in holding silver – but do keep in mind that there are several factors that could have you registering a short-term loss if you buy today.