by Greg Guenthner, Daily Reckoning
Copper is crashing. Hard.
No one-and I mean no one-wants anything to do with this base metal anymore. Stinks for anyone playing copper on the long side. But it also gives you a shot at fast, double-digit gains on another metals play… if you know where to look.
More on this hot trading opportunity in just a minute…
From 2001 to 2011, the price of copper exploded more than 620%, topping out near $4.50. It's impossible to overstate how big this rally was. But that's ancient history now. The day before this was written, the metal plunged to $2.59. And the breakdown we're seeing now could easily send copper prices to $2 or lower over the next couple of years.
Econintersect Editor's note: As this is published (2:23 am EST 24 January 2015), copper is at 2.498.  Follow the price at Investing.com.
Hey, go explain that one to the meth-head who's been stealing copper wire from construction sites for the past five years. Time for Plan B, dude.
Copper's nose dive shouldn't have come as surprise to you, though. It all started back in late November when Copper started acting screwy, dropping well below $3 for the first time since 2010. Here's what I wrote:
"Sagging economies in both China and Europe are reducing demand for copper, while supplies are growing. China alone has accounted for over 40% of all copper consumption in recent years. But the party is winding down. China's economy is forecasted to grow by just 6.8% in 2015 and 6.5% in 2016, the slowest growth rates since the early '90s. Meanwhile, Chile, the world's largest copper producer, expects to produce record levels of the stuff in 2015. In case you're new to this sort of thing, that ain't good for copper."
Nothing's changed since that statement.
We've highlighted the psychological importance of the $3 level in copper prices many times before. And for the past several years, copper has managed to save itself every time it has breached $3. Before its November breakdown, copper snuck below $3 back in March. But by April, it had rallied back above the $3 mark once again.
---
What is the Income Play Rich Investors Love? (Hint: It's Tax-Free)
---
That hasn't happened again. Here's the chart we showed you as copper imploded:
The point of no return held strong. Since breaching $2.90, copper has booked a one-way ticket to Loserville. $2.80 fell soon after. And yesterday the metal plunged to $2.59, like I said. That's nearly a 5% drop on the day, bringing copper down to its lowest level since 2009.

If we zoom out to an updated long-term chart, you can see the wreckage from the last few weeks…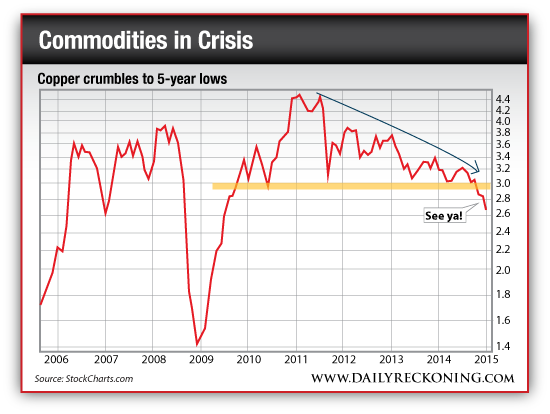 Now, you've already made your money betting against copper with your Freeport-McMoRan Inc. (NYSE:FCX) short play back in December. In fact, you had a shot at booking close to 20% in just two weeks as copper's crash began heating up.
I don't want you to take another shot shorting this copper miner just yet. Traders put FCX through the ringer yesterday, dropping the stock 8%. That doesn't give you a great low-risk entry point.
Instead of chasing copper lower, you can jump on another trend that's shaping up in the metals market: a new silver bull. Or at the very least, a quick rally that could net you gains of 15% or more.
While copper is taking the elevator to $0, silver is actually perking up. In fact, it's actually one of the few commodities that posted a gain yesterday. While volatility has returned to stocks in 2015, silver has been sneaking higher this year.
A quick silver trade could be your ticket to gains if the metal can hang on and move higher from here…