Money Morning Article of the Week
by Jim Bach, Money Morning
Silver prices in December have been all over the place.
December started with a weakening dollar and some short covering. This was enough to propel silver prices this month as much as 3.4%.
Silver had its third most productive week on the year a week ago – up 4.6%. But that rally was short-lived.
On Dec. 9, silver topped out at $17.105 an ounce. Since then, silver has fallen as much as 8.1% to $15.715 on Dec. 16.
This was just $0.40 from the four-year low it hit in early November.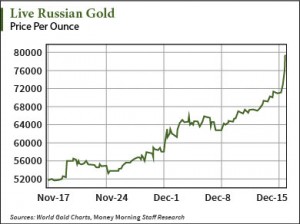 Silver prices have been enough of a headache this year as is. At one point, the white metal was trading around $22, only to fall in November to levels it hasn't seen since 2010.
December began to see a rally – that is, until last week.
Silver bottomed out Tuesday at $15.715. But silver is up again above $16 this afternoon (Friday).
The sharp drop followed by the quick upsurge is mostly at the hands of pretty easily identifiable factors.
Here's why the price of silver in December has been bouncing around so much.
Why Silver Prices Were Rising in December
Believe it or not, there's a lot to suggest that silver was on the upswing. Silver posted consistent gains after the prolonged, five-month slide that pushed prices down almost 30%.
Bearish sentiment was winding down.
Just look at the futures market.
On Oct. 28, speculators were short silver in high volumes. They held 51,711 contracts representing 258.6 million ounces short.
That's almost a quarter of the total demand for silver in 2013. All of which was held in paper contracts betting on its downside.
It marked the highest volume of silver short positions on record.
And that bearish sentiment left the door open to a massive short squeeze opportunity.
The bears retreated slightly, but not in large enough numbers to help silver soar. And it didn't help that money printing in Japan – and talks of money printing in Europe – were strengthening the dollar and providing another headwind to silver.
That's why in November, prices didn't make any dramatic moves up. They did move up 2.3% – the first month of positive gains since June. But that's nowhere near the lift that past instances of short covering have provided. Massive short covering in June shot prices up over 14%.
December marked the month that silver was poised to pop. From the October record, short sellers were shedding an average of 23.4 million ounces of silver a week to their positions.
A short squeeze was underway. This all culminated in the 4.6% advance last week.
As of the most recent Commodity Futures Trading Commission report, speculators held 118 million ounces silver short. That's 140.5 million ounces less than the October peak.
Prices hit a six-week high of $17.105 Dec. 9. Momentum was up, and silver seemed to be having a quick end-of-the-year rally.
Then, something happened…
Why Silver Prices Fell… Again
To put it simply, the Fed happened.
The U.S. Federal Reserve convened its last Federal Open Market Committee (FOMC) meeting of the year on Wednesday.
While Money Morning Members know not to hang too closely on the words of the Fed, there's still a pattern to how silver prices have performed in 2014 on Fed days. And after this meeting, the Fed dropped a version of the dovish line that interest rates would increase a "considerable time" after the end of quantitative easing.
The Fed opted to say instead, "the Committee judges that it can be patient in beginning to normalize the stance of monetary policy."
And how does the Fed define patient? Well, as "consistent with its previous statement that it likely will be appropriate to maintain the 0 to 1/4 percent target range for the federal funds rate for a considerable time."
So really, nothing's changed. Only words were shuffled around. The Fed is still vague on interest rates. But the mere possibility of them getting together and – possibly – suggesting more hawkish policy is enough to move silver.
On average, silver prices have fallen 0.25% on days where the Fed either meets, or releases the minutes of the prior meeting.
While silver gained on the day of the meeting this week by 0.22%, the financial media was awash with unnecessary commentary and speculation on what would come out of the FOMC meeting.
It also didn't help silver that once again, the dollar regained some strength.
Near the beginning of the month, it became clear that both the euro and the yen were oversold. Especially since speculators were shorting the currency on expectations of inflation, well before there was any indication that either region was experiencing it.
There was a slight correction in the last week, in both currencies. After touching up near 120 for the USD/JPY, and below $1.23 for the euro, both changed course with a very quick upswing.
But after that, the speculators resumed their attacks on the currency, and this week they resumed the downtrends they've been experiencing for most of the year.
The Bottom Line: Silver is in a period of short covering, but the Fed and dollar strength provided headwinds to any good gains on a short squeeze. With no Fed meetings left in 2014, the next few weeks could see modest gains as silver looks to continue where it left off with the mass short covering. Dollar strength will, however, provide some ceiling to those gains.