by Poly, Zentrader
This is an excerpt from this week's premium update from the The Financial Tap, which is dedicated to helping people learn to grow into successful investors by providing cycle research on multiple markets delivered twice weekly. Now offering monthly & quarterly subscriptions with 30 day refund. Promo code ZEN saves 10%.
When considering whether an asset is ready to turn higher, I generally look for an extreme negative sentiment level during an extreme price decline while the asset is in the timing band for a Cycle Low. At present, both Gold and Silver sentiment are approaching extremes, likely indicating that an ICL is near.
But let's consider the chart from a broader perspective with the following question: Since this is just week 15 of the current IC, are there enough bears to lead us to believe that an IC low is near? In a bull market, low sentiment is a great predictor of a turn. But if Gold is still in a bear market, or even if it's in a more neutral bottoming period, sentiment might not be negative enough yet for an ICL.
The same logic applies to the COT report (below). Speculators have not yet taken short positions as at other recent Cycle ICLs, suggesting that there is short selling ahead.
As bearish as this sounds, there is a "rest of the story" in support of my view that we're still at a major decision point for Gold. If June 2013 was the final capitulation low that ended the bear market, and I still believe that it was, it was followed by a retest in Dec 2013. Each ICL since has attracted fewer Short speculators and far less hedging…and that's not bear market behavior. Such apathy and disinterest is often observed at – or after – bear market lows.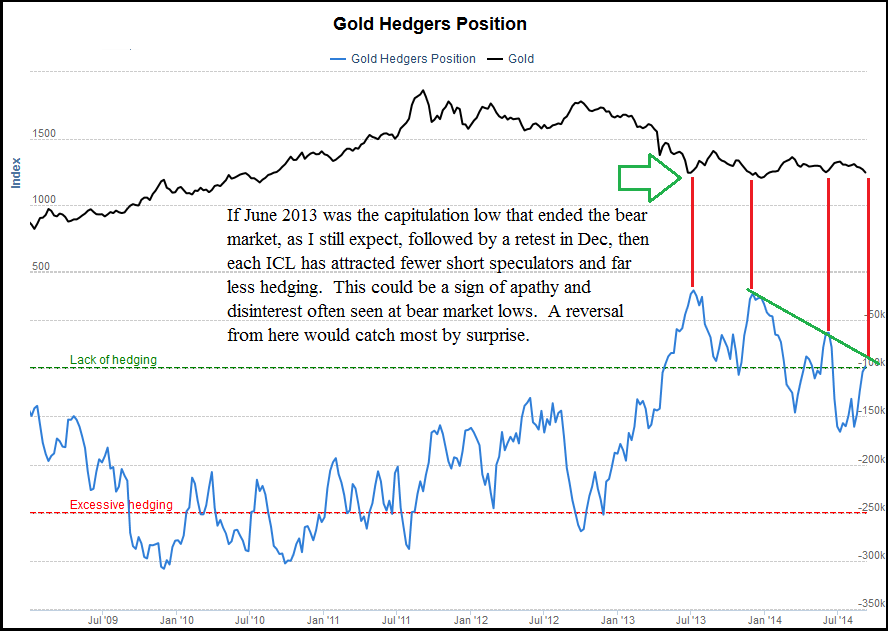 Given the cross-currents, I stand by my work and maintain that no analysis can predict Gold's direction until the consolidation zone is resolved. The best stance at present is to be neutral with a "wait and see" bias. It's a cliché, but cash is a position.
Although my official stance toward Gold is neutral, my analysis has been tilting more heavily bearish in recent weeks…and for good reason as it turns out. Gold closed this past week below $1,240, which was the last ICL, so an Investor Cycle failure is in play. The implication, of course, is that Gold is in longer term decline. It also means that the Yearly Cycle (which started in June 2013) is in decline and moving toward a YCL.
It seems that every analyst and blog are now focused on $1,179 – the current bear market low and 2013's Yearly Cycle Low – and how Gold is likely to fall below it. The massive triangle patterns sported by the Gold and Silver charts have gone mainstream. From a contrarian standpoint, such obvious commentary could wind up working in the precious metals' favor; broadly held expectations often end up over-crowding a trade. In this case, a contrarian might expect a surprise turn and an early ICL.
We can't say for sure what will happen. Through the past 13 years and more than 35 Investor Cycles, ICLs formed 10 times between weeks 15 and 18 – essentially where we are at present. Technically, all the readings we look for at major Cycle Lows are in place today. So although the weekly Cycle count is relatively early, there is absolutely enough precedent here to support an ICL. Supporting this position are the Miners, which are simply refusing to fall – normally by this point in a bearish Investor Cycle, they would be getting murdered.

In closing, I circle back to a recurring theme…that the evidence currently supports both bullish and bearish views. With Gold still in a well-established triangle pattern, the uncertainty is not surprising. This week, however, the bear has begun to stir, with Gold pushing lower and taking out a key Cycle pivot. The current set up is undeniably negative, and odds are that we are still several weeks from an ICL. So the only prudent expectation here is to the downside. The downside case is supported by the current trend, and a test of the last Yearly Cycle Low (June 2013) at $1,179 is likely coming. That is the last line of support for Gold and potentially where the bulls will mount an attack.