by Greg Guenthner, Daily Reckoning
You're probably sick of me writing about gold every week…
I don't care. There's a huge breakout afoot and you need to hop on this trend right away. The train is leaving the station. If you don't jump on right now, it'll leave you behind…
First, a quick recap…
One month ago, I told you gold's price action was beginning to look much healthier. But I tacked a couple caveats onto that statement.
First, I said that even though I liked the action I was seeing in gold, it still needed to clear $1,350 before I would get too bullish on the yellow metal. Next, I insisted that even if gold continued to trend higher, the very best way to play the trend was to buy the miners.
Well, here we are…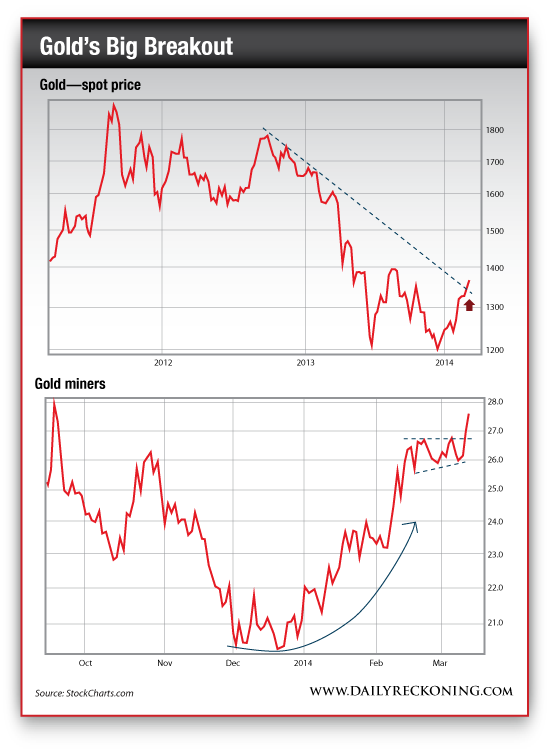 Gold has left $1,350 in the dust. Miners are breaking out to new 2014 highs. While the stock market suffers this week, precious metals are ramping up their performance.
Back on February 11th (in the essay "A Better Way to Play Gold's Upswing"), I told you the Market Vectors Gold Miners ETF (NYSE:GDX) was a buy as it broke above $24. Now that it has consolidated and broken above $27, we could see an accelerated move higher from here with few (if any) chances to buy into the trend after it picks up steam.
---
What is the Income Play Rich Investors Love? (Hint: It's Tax-Free)
---
This is your last shot. Changes in trend happen quickly. They are volatile. And the strongest moves usually won't pause long enough for you to mull over your strategy.
Remember, gold miners have been on the market's "most hated" list for nearly two years. Today, they are quickly shedding their oversold levels and are entering a new bull market.
It's also time to revisit my longer-term gold target of $1,100. After this week's bullish action, I'm looking for upside targets. I think $1,400-plus could happen rather quickly. From there, we'll have to see where the market takes us…
P.S. In today's issue of The Rude Awakening I gave readers a chance to learn about two more exciting miner trades that could make them huge gains as this new bull market progresses. Don't miss out on any other great opportunities like this. Sign up for my Rude Awakening email edition, for FREE, right here.