This as is an excerpt from the mid-week update from the The Financial Tap, which is dedicated to helping people learn to grow into successful investors by providing cycle research on multiple markets delivered twice weekly, as well as real time trade alerts to profit from market inefficiencies. They offer a FREE 15-day trial where you'll receive complete access to the entire site, including the trading plan for US equites, precious metals, and the US Dollar. Coupon code (ZEN) saves you 15%.
Cycle Counts – Gold
Now you know why I was "50-50" as per last weekend's report; I was just never comfortable with that (Oct 24th – $1,698) Low holding up as an Investor Cycle Low.  There was just a lot of evidence out of my Cycle Analyzer that was telling me to be very cautious, that the retracement to date was just not deep enough.  So in reality what we have playing out here is essentially what I have been calling for since mid-October.  Some 5 weeks ago when the decline began, I pointed out that a move back below $1,680 would be a normal retracement and what to expect.
We witnessed a trend-line break as a result of the surge last Wednesday, normally a bullish event so late in a Cycle.  But in this case it only served (as it often does at the tail-end of a Cycle) as a Bull Trap.  The trend-line break sucked in the speculative longs and impatient investors who were afraid they were going to miss a big move higher.  For the first during this Cycle, the selling on Friday was of the capitulation kind.  We often see panic selling late in a Cycle as a result of the weak speculative long positions getting crushed.  During these events, it's the smart money that is accumulating and buying the weakness.  This type of action is healthy in a bull market; it reduces the speculative and open interest and sets the foundation for a new powerful Investor Cycle to begin.
We now have a breakdown below the important 38.2% Fibonacci retracement for this entire Cycle.  The absence of this retracement before Friday was always a concerning factor for me, as almost all Cycle Lows experience at least a 38.2% decline.  We're now also very deep in the Daily Cycle as we enter Day 28, just 3 days short of the longest ever 4th or 5th Daily Cycle.  The deeper a Cycle runs, the greater the odds become of a Cycle Low occurring. Judging by the capitulation sell-off so deep in the Cycle, I strongly believe we are just one to three sessions away from Daily Cycle Low.  This dear members, is opportunity "knocking" on your door!
Click on the graph for a larger and sharper image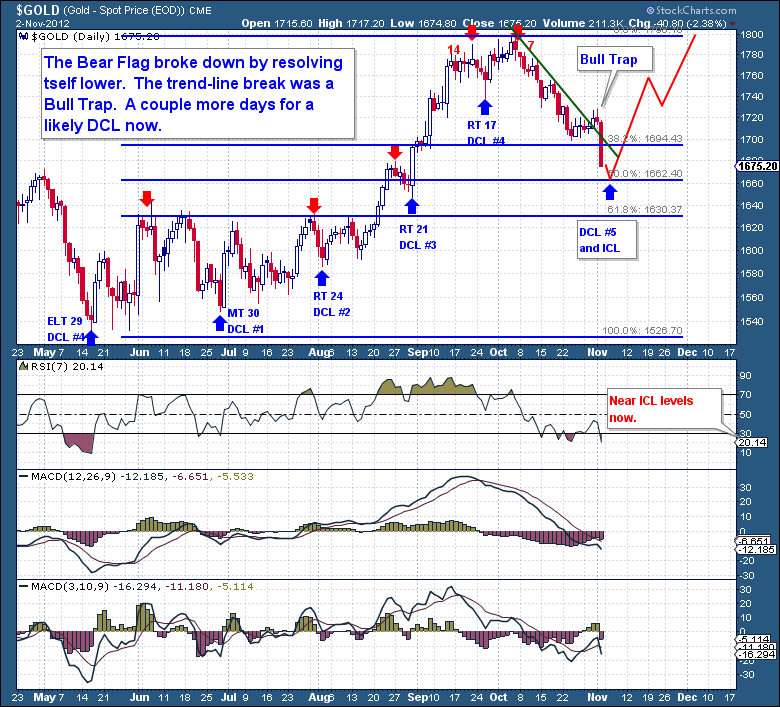 Only last week I had commented how the Investor Cycle (Weekly Chart) was just not oversold enough, not like past Cycles.  With this week's drop, we have fallen far enough to match oversold levels found during most past C-Wave ICL's.  From a timing perspective the coming DCL should be the last Daily Cycle simply because we're just far too deep in the timing band (Week 25) and the Weekly Cycle is now oversold itself.  As the Daily Cycle is due to print a low within the next 1 to 5 days, we can say with a very high level of confidence that next week will also mark a Week 25 ICL.
So in the coming week investors with be presented with an ICL buying opportunity that comes around only 2 to 3 times per year.  By this point, everybody should have a fully loaded core portfolio and at least a 50% trading position exposed to Gold, Silver, and the Precious Metal miners.
Click on the graph for a larger and sharper image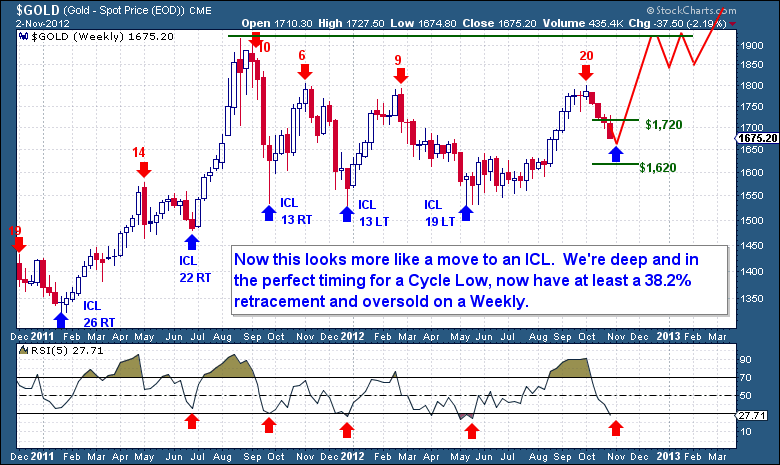 Silver is also showing all the signs of an imminent ICL.  We have capitulation selling, a deep retracement, and generally oversold conditions.  As is often the case with Silver (high volatility), it has already retraced a full 50% of the Investor Cycle and is sitting on its lower Bollinger Band and important 200dma.  Just like the Gold Cycle, Silver is now poised to find an ICL and rocket higher.  Silver always leads out of Cycle Lows and I expect this coming Cycle to be no different.
Click on the graph for a larger and sharper image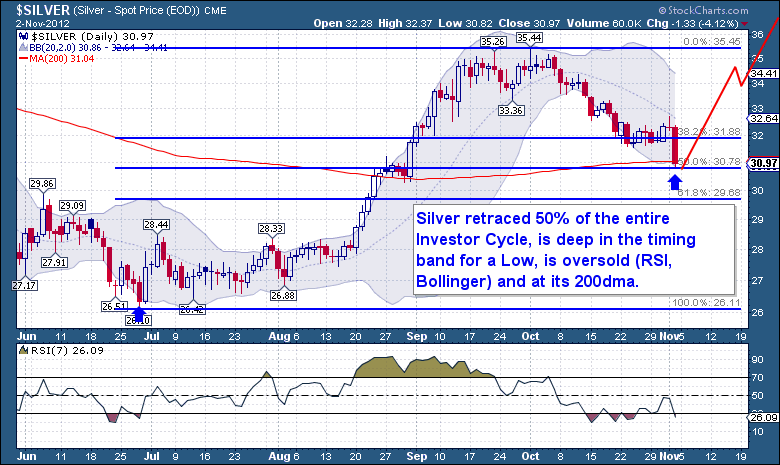 It's interesting to track this current Gold Cycle via my Cycle Analyzer.  In fact all along into this decline my Cycle Analyzer has been indicating that we were not statically ready to form a Cycle Low, at least not with decent probability.  From the Analyzer chart below we see that the deeper a Cycle retraces and the longer it runs, the greater the probability that a Cycle Low is about to print.
This most recent drop (Friday) now puts this Cycle at a point where a Low should form.   When compared to all similar Cycles, the longest a Cycle has ever run is 30 days (3 more than this Cycle) and the deepest correction was just 0.5% more than the current Cycle.  So both from a Cycle length and retracement standpoint, the evidence suggests that Gold is going to print a Cycle Low by next Wednesday, somewhere above the $1,650 area.
Click on the graph for a larger and sharper image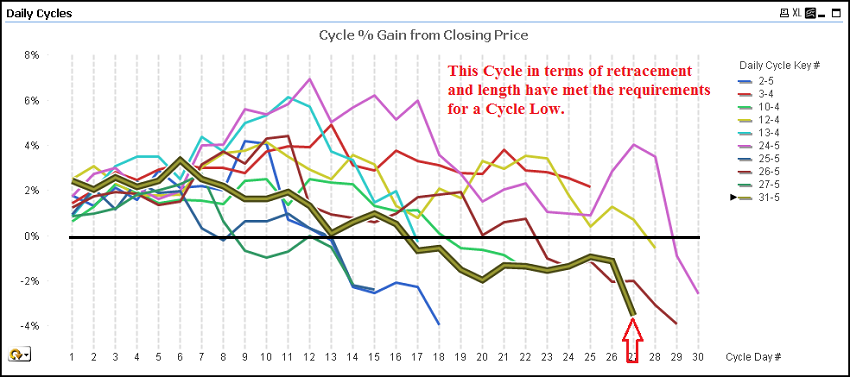 The latest Commitment of Traders (COT) report released on Friday shows a continuing trend towards supporting a new Investor Cycle.  A reduction in gold's open interest and speculative long positions are both very positive for Gold.  The report (see chart below) does not incorporate the significant selling and capitulation which occurred on Friday, so it's certainly much more bullish than the chart indicates.
Click on the graph for a larger and sharper image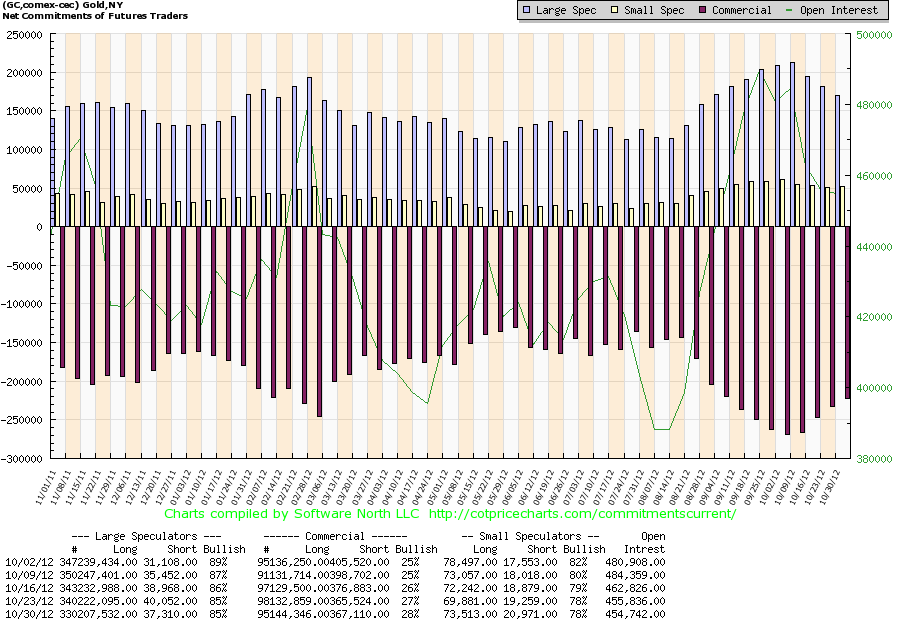 ---