Article of the Week from Money Morning
by David Zeiler, Associate Editor, Money Morning
Although stocks have recovered somewhat, the six consecutive days of losses have many investors asking, "Is this a bear market?"
In that span, the Dow Jones Industrial Average shed 1,878.74 points, or 10.7%. That technically qualifies as a stock market correction. Bear market territory is considered a drop of 20% or more.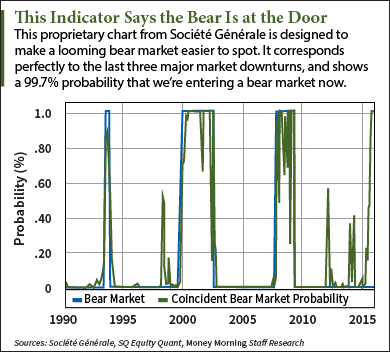 A chart from French multinational bank Société Générale S.A. (OTCMKTS ADR: SCGLY) says yes, this is a bear market. And very convincingly, too – it actually indicates there's a 99.7% chance we're already in a bear market.
The chart was created earlier this year by SocGen's head of quantitative equity research, Andrew Lapthorne. While the details are proprietary, it uses "macroeconomic and fundamental equity variables."
That's a mouthful, but backtesting has shown it's uncannily accurate. The chart corresponds perfectly to the last three major stock market downturns.
Lapthorne wrote in a note earlier this month:
"When you view the U.S. equity market through the prism of investment-style performance. You can see that investors are positioning themselves exactly as you would expect if faced with an economic deceleration."
This week, SocGen's global strategist, Albert Edwards, pointed to Lapthorne's chart as he made his case that this is a bear market.
Edwards wrote in an Aug. 27 note to clients:
"Most investors only realize the economy is in a recession well after it has begun. The same is true of an equity bear market."

Money Morning Capital Wave Strategist Shah Gilani said the prospect of a bear market, while distressing for many, does serve a purpose.
Gilani said:
"What the markets need is a good, long flushing-out. They need to squeeze out excesses built into artificially inflated equity prices and bond prices."
That's good – as the SocGen chart isn't the only evidence telling us this is a bear market…
Is This a Bear Market? It's Starting to Look That Way
The bull market that started in 2009 reached its sixth birthday in March, and became the third-longest in history as of May. The average bull market lasts about four years.

The Standard & Poor's 500 Index formed a "death cross" today (Friday). That's when the 50-day moving average falls below the 200-day moving average. Technical analysts consider it a bearish indicator.

The U.S. Federal Reserve is planning to raise interest rates, which will reduce the cheap money that has helped fuel the stock market's rise.
A China stock market crash and increasingly worrisome signs of weakness in China's economy have already started to affect emerging economies. It's true that China's direct impact on U.S. markets will be slight. But ripples from damaged emerging economies and other major trading partners with China will eventually reach U.S. shores.
While investors can't be sure if this is a bear market, the increasing probability that we could have one means everyone should be taking precautions.
And that does not mean sitting on the sidelines.
Money Morning Chief Investment Strategist Keith Fitz-Gerald, said:

"Running for cover may feel good in the short term, but doing so is totally counterproductive to building 'total wealth.'"
Instead, here's what to do…
How to Thrive in a Bear Market
Fitz-Gerald recommends investors use trailing stops as protection against bear market losses. Trailing stops are calculated as a percentage of the purchase price. If the stock falls below that point, it triggers a sell order.
But a trailing stop will rise as the stock price rises, locking in more of your gains in the event the price reverses.
"Thanks in part to our trailing stop discipline, we have something other investors don't have – the luxury of calmly, coolly evaluating what's happening while deliberating our next steps," Fitz-Gerald said.
And Gilani notes that if it turns out we are in a bear market:
"it's not too late to take profits, if you still have them. And it's not too late to hedge against further downside moves, or to make money if stocks have a lot further down to go, which I think they do."
One way to make money in a bear market, he said, is to invest in inverse exchange-traded funds (ETFs).
Gilani said:
"There's always a place to make money… always.".
Two of his top picks are:
ProShares Short Dow30 (NYSE Arca: DOG), an inverse ETF that correlates to the Dow Jones Industrial Average. It's up 6% in the last month.
ProShares Short QQQ (NYSE Arca: PSQ), an inverse ETF that tracks the performance of the Nasdaq 100 Index. It's up 5% since Aug. 18, when the recent downturn started.
Editor's Note: Kent's spotted a new pattern set to drive record-making profits in the world's fastest-growing market. 2 Catalysts About to Hand You the Best Energy Investment of the Decade is yours free of charge along with all of Kent's Oil and Energy Investor briefings when you click here.