by Michael Clark
THE MARKET CRASH IS NOT A SURPRISE TO MANY OF US. We have been warning of this necessity for years now.
What caused it? Many things caused it. Caused may not be the best word to use. I have questions about causality. I tend to see sequences in a archetypal pattern rather than discrete causes. DEBT; the proliferation of monopoly money; and the unwillingness of central banks to continue keeping the lie of 'normalcy' and 'recovery' going. Free milk-money to invest from the taxpayer's breast: is it really over; is the golden age of speculative investing ending?
We have spent years trying to learn how to understand a proprietary indicator we designed years ago. It is an indicator composed of seven of our best indicators, a king of sum of sums indicator. We call it CGTS PROPHECY, because it essentially prophesies the state of health of an issue. There is a structure to this indicator that we finally understand. As long as CGTS Prophecy stays at or above -7, a stock (and its bull move) are essentially alive. Negative 7 acts as a kind of floor — if selling keeps adding to the weight of the issue (think of selling as lead or stone, if you will), this floor will eventually collapse. But as long as the floor does not collapse, one can assume a kind of health in the issue.
We have two versions of this CGTS Prophecy. One for stocks and indexes; a second for currencies. We have found that looking at both gauges helps us. The CGTS Prophecy CUR tends to 'ink' shorter-term moves. Both indicators seem to be very affective as trading instruments.
Let's look at a few charts. Let's start with China, Shanghai Index to be exact. Last night, before going to bed, I checked China on the internet, seeing that SSEC was down 9%. I knew it would be a golden day for our positions — our portfolio is about 80% short. And so it was, when I woke up, reading that the Dow was down some 1,000 points, before settling down some 600 points after a valiant mid-day rally failed.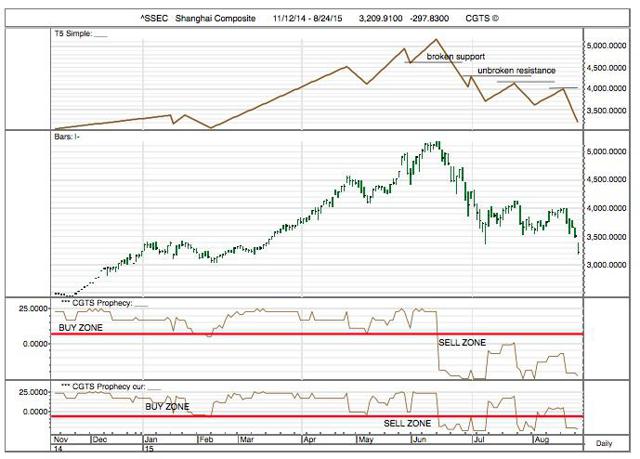 (click to enlarge)
I am short CHINA through FXP Short China ETF — and I will watch both of the Prophecy indicators to determine where to close this short. Any Prophecy buy or sell signal will need to be accompanied by a turn-around in trend. My options on FXP expire in March, so I am not eager to cover, but I know markets can change fast, especially when Big Money wants a change, being it the Chinese government and/or the FED.
Apple Computer's CGTS PROPHECY floor has not collapsed; although both the CGTS Prophecy CUR floor and trend support have collapsed.
TODAY'S SIGNALS
We have a few signals for today.
LONG: VXX, VIX Long ETF
SHORT: FSLR, First Solar
This trading system is somewhat conservative in that we trade the CGTS Prophecy Sum indicator (brown line, second pane down). We buy when this indicator his 10; we short-sell when it hits -10. We ignore short moves that do not carry through. We sell and cover when there is any contrary move to our position. We always buy long-duration options, four to six months out.
SHORT: SSYS, Stratasys LTD
LONG: EPV, Short MSCI Europe ETF.
Look in this chart how the trend (T5 Sum) picture has put in higher highs and higher lows.
LONG: EWV, Short MSCI Japan ETF
The Trend (T5 Simple) suggests that this issue has finally made a long-term bottom, breaking through several resistance levels.
Our portfolio, using options only, is up 300% over the same positions' underlying stock moves.
---
We have been gloating a bit on our call of this crash — back in January 2015 we wrote of the US Dollar strength crushing the Global Debt Bubble.
seekingalpha.com/instablog/428250-michae…
We offer one-month free trial subscriptions to the CGTS Newsletter, a daily email listing of our daily trading signals.
MJC, CGTS
---
See below how your stocks are doing. Remember, above -7 is the Buy Zone, below -7 is the Sell Zone. And PROP 2 is the shorter-term version of PROP, the currency trading version.
| | | | | |
| --- | --- | --- | --- | --- |
| Column1 | Column2 | Column3 | Column4 | Column5 |
| Symbol | Close | Prop | Prop Cut | Company |
| 1128.HK | 12.84 | -25 | -25 | WINN MACAW |
| 1288.HK | 3.14 | -7 | -25 | Agricultural Bank of China LTD. |
| 1398.HK | 4.7 | -7 | -25 | Industrial and Commercial Bank of China |
| 3968.HK | 17.1 | -7 | -25 | China Merchants' Bank |
| 3988.HK | 3.7 | -25 | -25 | Bank of China |
| ^AORD | 5,014.20 | -7 | -25 | All Ordinaries Australian Index |
| ^BKX | 69.018 | -5 | -5 | Banking Index |
| ^BVSP | 44,446.05 | -25 | -25 | Sao Paolo Brazilian Index |
| ^DJI | 15,871.28 | 5 | -7 | DOW JONES INDUSTRIAL AVERAGE |
| ^DJT | 7,595.08 | -5 | -23 | Dow Jones Transport Index |
| ^DRG | 547.08 | -7 | -7 | Pharmaceutical Index |
| ^FCHI | 4,383.46 | -7 | -25 | CAC French Index |
| ^FTSE | 5,898.87 | -7 | -25 | FTSE Daily Index |
| ^GDAXI | 9,648.43 | -7 | -25 | DAX German Index Daily |
| ^GSPC | 1,893.21 | -7 | -7 | S&P 500 Index |
| ^HGX | 227.48 | -5 | -5 | Philadelphia Housing Sector Index Daily |
| ^HSI | 21,251.57 | -7 | -25 | HANG SENG INDEX HONG KONG |
| ^HUI | 116.525 | -13 | 5 | Gold Stock Index Daily |
| ^JPN | 195.571 | -5 | -5 | Japan Index |
| ^KS11 | 1,829.81 | -7 | -25 | Kospi South Korean Index |
| ^N225 | 18,540.68 | 5 | -7 | Nikei Japan Index |
| ^NDX | 4,038.60 | 5 | -7 | Nasdaq Index Daily |
| ^OEX | 835.8 | -7 | -7 | S&P 100 Index |
| ^RUT | 1,117.27 | -7 | -7 | Russell SMall Cap Index Daily |
| ^SOX | 566.58 | -7 | -25 | Semiconductor Index |
| ^SSEC | 3,209.91 | -23 | -23 | Shanghai Composite |
| ^SSMI | 8,472.41 | 5 | -7 | Swiss Index Daily |
| ^TNX | 2 | -7 | -25 | 10-Year CBOE Interest Rate |
| ^TWII | 7,410.34 | -7 | -25 | TAIWAN WEIGHTED INDEX |
| ^UTY | 549.22 | -5 | -23 | Utility Index |
| ^VIX | 38.03 | 21 | 21 | CRB Volatility Index Daily |
| ^XAU | 48.09 | -13 | 3 | Philadelphia Gold and Silver Index Daily |
| ^XCI | 1,462.91 | -7 | -25 | Amex Computer Index Daily |
| ^XOI | 1,049.48 | -25 | -25 | Oil Stock Index |
| AA | 8.23 | -25 | -25 | ALCOA, Aluminum Company of America |
| AAPL | 103.87 | -7 | -25 | Apple Daily |
| ABX | 7.245 | -13 | 3 | American Barricks Gold |
| ACH | 7.69 | -23 | -23 | Aluminum Corp of China |
| ACHN | 7.235 | -25 | -25 | Achilliion Pharma |
| ACN | 93.87 | -5 | -5 | Accenture PLC |
| ADBE | 74.64 | -5 | -5 | Adobe Daily |
| AEM | 24.87 | -13 | 5 | Agnico-Eagle Mines |
| AFFX | 8.845 | -7 | -25 | Affymetrics Inc. |
| AFG | 68.56 | -5 | -5 | American Financial Group |
| AGNC | 19.315 | -23 | -23 | MREIT American Capital Agency Corp |
| AGQ | 31.94 | -23 | -5 | Ultra Silver Leveraged ETF (Pending:BULL) |
| AHGP | 35.31 | -25 | -25 | Alliance Holdings Mining |
| AIG | 57.2 | -7 | -7 | American Intl Group Daily |
| AKAM | 67.08 | -7 | -25 | Akamai |
| ALGT | 211.1 | -5 | -5 | Allegiant Travel |
| ALNY | 93.8 | -7 | -25 | Alnylam Pharma |
| AMAT | 15.2 | -25 | -25 | Applied Materials |
| AMGN | 149.26 | -5 | -23 | Amgen |
| AMSC | 3.482 | -25 | -25 | American Superconductor |
| AMTD | 31.5 | -7 | -25 | Ameritrade Corp |
| AMZN | 467.23 | 7 | -5 | Amazon |
| ANZ.AX | 26.91 | -7 | -25 | Australia/New Zealand Banking |
| AP4.SI | 1.6 | -5 | -5 | RIVERSTONE HOLDINGS |
| APO | 18.34 | -25 | -25 | Apollo Global Management |
| APOL | 10.795 | -25 | -25 | Apollo Group |
| APU | 42.93 | -5 | -23 | AmeriGas Partners |
| AR | 22.58 | -25 | -25 | Antero Petroleum |
| ARE | 88.88 | -5 | -23 | Alexandria REstate Equities |
| ARGT | 16.27 | -7 | -25 | Argentina ETF |
| ARNA | 2.73 | -25 | -25 | Arena Pharmaceuticals |
| ARO | 1.175 | -25 | -25 | Aeropostale Daily |
| ARUN | 24.67 | -3 | 5 | Aruba Networks |
| ASH | 102.3 | -7 | -25 | Ashland Energy |
| ASYS | 4.96 | -19 | -19 | AMTEC SYSTEMS |
| ATVI | 26.43 | -5 | -5 | Activision Blizzard |
| AVEO | 1.27 | -7 | -25 | AVEO Pharmaceuticals |
| AVL | 0.116 | -25 | -25 | Avalon Rare Metals |
| AXAS | 1.51 | -19 | -19 | Abraxis Petro |
| AXON | 17.54 | 0 | 0 | Axovant |
| AXP | 74.89 | -5 | -23 | American Express |
| AXPW | 1.1 | -25 | -25 | AXION |
| AZO | 691.41 | -5 | -5 | Auto Zone |
| BA | 127.86 | -7 | -25 | Boeing Daily |
| BABA | 66.574 | -25 | -25 | Alibaba |
| BAC | 15.42 | -7 | -25 | Bank of America Daily |
| BAL | 42.83 | -21 | -3 | Cotton ETF |
| BAP | 105.925 | -25 | -25 | Credicorp Ltd. |
| BAR | 27.37 | -23 | -15 | * Gold Bullish ETF 3x |
| BBD | 6.42 | -19 | -19 | Banco Brandesco SA |
| BBL | 30.58 | -25 | -25 | BHP Billiton |
| BBRY | 7.008 | -25 | -25 | Blackberry (RIMM) |
| BBVA | 9.235 | -25 | -25 | Banco Bilbao Argent SA |
| BBY | 29.41 | -7 | -25 | Best Buy Daily |
| BCRX | 11.67 | -19 | -1 | BioCryst Pharmaceuticals |
| BCS-PD | 25.875 | -5 | -5 | Barclays APD |
| BEAV | 46.53 | -25 | -25 | BE Aeorspace Inc |
| BEN | 39.61 | -25 | -25 | Ben Franklin |
| BHI | 45.77 | -25 | -25 | Baker Hughes Daily |
| BHP | 32.39 | -25 | -25 | BH Billiton LIMITED |
| BIDU | 142.29 | -25 | -25 | Baidu |
| BIIB | 281.99 | -19 | -19 | Biogen Idec |
| BK | 39.09 | -7 | -7 | Bank of NY Mellon |
| BLK | 300.47 | -7 | -25 | BLACKROCK |
| BMI | 58.52 | 3 | 5 | Badger Meter |
| BMO | 50.36 | -25 | -25 | Bank of Montreal |
| BMY | 58.99 | -7 | -25 | Bristol Meyers |
| BOX | 13.03 | -25 | -25 | BOX |
| BP | 31.27 | -25 | -25 | British Petroleum Daily |
| BRK-B | 130.61 | -7 | -25 | Berkshire Hathaway B Shares |
| BRKR | 18.475 | -7 | -25 | Bruker Corp |
| BRZU | 21.69 | -19 | -19 | * Brazil Stocks Bullish ETF 3x |
| BSAC | 18.11 | -25 | -25 | Banco Santander Chile SA |
| BSX | 15.965 | -7 | -25 | Boston Scientific |
| BTU | 1.545 | 3 | 3 | Peabody Energy Corp |
| BUNT | 48.93 | 7 | -11 | * German Bunt Bullish ETF 3x |
| BWC | 32.8 | -7 | -7 | BABCOCK & WILCOX |
| BWLD | 187.73 | -3 | -3 | Buffalo Wings |
| BYD | 15.62 | -5 | -5 | Boyd Gaming |
| BZF | 15.1 | -17 | -1 | Brazilian Real long currency |
| BZH | 16.02 | -7 | -25 | BEAZER HOMES |
| C | 50.85 | -7 | -25 | CIT Group Daily |
| C | 50.85 | -7 | -25 | CIT Group Daily |
| CA | 26.61 | -7 | -25 | Computer Associates |
| CAAS | 5.82 | -25 | -25 | Chinese Auto Daily |
| CAB | 41.13 | -25 | -25 | Cabela's Inc |
| CAF | 22.92 | -25 | -25 | Morg Stanley China Shares |
| CAT | 73.13 | -25 | -25 | Caterpillar |
| CATM | 33.79 | -7 | -7 | Cardtronics |
| CBI | 40.49 | -7 | -25 | Chicago Bridge and iron |
| CBPO | 89.79 | -7 | -25 | China Biologic |
| CBPO | 89.79 | -7 | -25 | China Biologic |
| CCU | 20.51 | -5 | -23 | Compania Cerveceria S.A. |
| CCV | 25.69 | -5 | -5 | Comcast |
| CDE | 3.225 | 3 | 3 | Coeur D'Alene Daily |
| CDNS | 19.215 | -5 | -5 | Cadence Design Syst |
| CDXS | 3.64 | -5 | -23 | Codexis Inc |
| CELG | 115.465 | -7 | -25 | Celgene Corp |
| CEW | 16.75 | -25 | -25 | Emerging Currency ETF |
| CF | 56.56 | -3 | -21 | CF Industries |
| CGW | 26 | -7 | -25 | Global Water ETF |
| CHAU | 15.735 | -25 | -25 | CHINA DIRECTION 3x |
| CHIX | 12.96 | -25 | -25 | China Banks ETF |
| CHK | 6.631 | -25 | -19 | Chesapeake Energy |
| CHKP | 75.56 | -5 | -23 | Checkpoint Software |
| CHOP | 1.21 | -21 | -21 | China Gerui Adv Materials |
| CHRW | 65.93 | -5 | -5 | CH Robinson Worlwide |
| CLB | 98.44 | -5 | -23 | Core Labs |
| CLF | 3.28 | 5 | -13 | Cliffs Natural Resources |
| CLH | 47.63 | -5 | -5 | Clean Harbors |
| CLI | 19.225 | -23 | -5 | Mack-Cali Realty Corp |
| CLMT | 24.06 | -7 | -25 | Calumet Speciality |
| CLR | 27.53 | -25 | -25 | Continental Resources |
| CM | 65.27 | -25 | -25 | Canadian Imperial Bank of Commerce |
| CM | 65.27 | -25 | -25 | Canadian Imperial Bank of Commerce |
| CMA | 41.18 | -7 | -25 | Comerica (banking) |
| CMP | 79.465 | -5 | -23 | Compass Minerals |
| CNTF | 0.78 | -25 | -25 | China Tech-Faith Wireless |
| COCO | 0.012 | -25 | -25 | Corinthian Colleges |
| COL | 80.88 | -7 | -25 | Rockwell Collins Daily |
| COP | 43.08 | -25 | -25 | Conoco Philips Daily |
| CORT | 4.53 | -23 | -23 | Corcept Therapeutics |
| COW | 25.77 | -7 | -25 | Livestock ETF |
| CPA | 51.85 | -25 | -25 | Copa Holdings SA-A |
| CPF | 20.33 | -7 | -25 | Central Pacific Financial Corp |
| CPHD | 47.76 | -7 | -19 | Cepheid |
| CQP | 28.45 | -5 | -23 | Chenier Energy Group |
| CRBQ | 31.715 | -25 | -25 | CRB GLOBAL COMMODITIES |
| CRL | 66.49 | -7 | -25 | Charles River Labs Intl |
| CRM | 66.07 | -7 | -7 | Salesforce.com |
| CROC | 62.22 | 5 | 5 | Short Australian Dollar |
| CSC | 61.09 | -3 | -21 | Computer Sciences |
| CSCO | 25.29 | -7 | -25 | Cisco Systems Daily |
| CSUN | 1.294 | -25 | -25 | China Sunergy Daily |
| CTIC | 1.62 | -25 | -25 | Cell Therapeutics |
| CTL | 26.15 | -25 | -25 | Century Link |
| CTSH | 60.67 | -5 | -5 | Cognizant Tech Solutions |
| CURE | 31.51 | -7 | -25 | * Healthcare Stocks Bullish ETF 3x |
| CUT | 23.17 | -7 | -25 | Lumber ETF |
| CVS | 101.335 | -7 | -7 | CVS Healthcorp |
| CVV | 11 | -21 | -1 | CVD Equipment |
| CVX | 73.13 | -25 | -25 | Chevron |
| CYB | 24.26 | -25 | -19 | Chinese Yuan ETF Wisdom-Tree |
| CYH | 52.79 | -7 | -25 | COMMUNITY HEALTHCARE |
| CYNK | 0.15 | 5 | 5 | CYNK TECH |
| CYOU | 19.505 | -25 | -25 | Changyou.com LTD |
| CYOU | 19.505 | -25 | -25 | Changyou.com LTD |
| CYTX | 0.346 | -25 | -25 | Cytori Therapeutics |
| CZR | 9.11 | 25 | 23 | Caesar's Entertainment |
| DAKP | 0.71 | -19 | -19 | Dakota Plains Holdings |
| DAKP | 0.71 | -19 | -19 | Dakota Plains Holdings |
| DANG | 6.01 | -23 | -23 | Dangdang E-Commerce China |
| DATA | 95.765 | -7 | -25 | Tableau Software |
| DB | 28.68 | -25 | -25 | Deutsche Bank |
| DBA | 20.75 | -25 | -25 | Agriculture ETF Powershares |
| DBB | 12.528 | -25 | -25 | Base Metals ETF |
| DBO | 9.91 | -25 | -25 | OIL POWERSHARES DB |
| DD | 50.51 | -25 | -25 | DuPont |
| DDD | 12.37 | -25 | -19 | 3D Systems |
| DE | 81.06 | -7 | -25 | John Deere |
| DFS | 52.88 | -7 | -25 | Discovery Financial Services |
| DGP | 21.664 | -13 | 5 | Gold ETF leveraged |
| DHI | 29.53 | -3 | -1 | DR Horton Daily |
| DIS | 96.41 | -7 | -25 | Disney |
| DISH | 58.812 | -7 | -25 | Dish Network |
| DOV | 58.4 | -25 | -25 | Dover Corp |
| DRN | 61.59 | -21 | -21 | * Real Estate Stocks Bullish ETF 3x |
| DRYS | 0.336 | -19 | -19 | Dry Ships Daily |
| DSX | 6.6 | -7 | -25 | Diana Shipping |
| DTRC | 0.069 | -25 | -25 | Dakota Territory |
| DV | 25.46 | -25 | -19 | DeVry INC |
| DWSN | 4.17 | -5 | -23 | Dawson Geophysical |
| DZK | 49.25 | -25 | -25 | * Developing Markets Bullish ETF 3x |
| EA | 63.92 | -5 | -23 | Electronics Arts Daily |
| ECH | 32.06 | -25 | -25 | ENCANA CORP |
| ECR | 3.16 | -23 | -23 | Eclipse Resources Corp |
| EDC | 11.131 | -25 | -25 | * Emerging Markets Bullish ETF 3x |
| EDU | 19.665 | -7 | -25 | New Oriental Educations and Technology |
| EIRL | 38.05 | -5 | -5 | Ireland ETF |
| EL | 76.84 | -7 | -25 | Estee Lauder |
| ELD | 35.42 | -25 | -25 | Emerging Market Local Debt |
| ELNK | 7.92 | -5 | -5 | Earthlink Inc |
| ELY | 8.34 | -5 | -23 | Calahan Golf |
| EMB | 105.56 | -7 | -7 | Emerging Market Bonds |
| EMC | 23.89 | -5 | -23 | EMC Daily |
| EMES | 12.44 | -25 | -25 | Emerge Energy Services |
| EMHY | 49.3 | -7 | -7 | Emerging High Yield Debt |
| ENDP | 74.22 | -7 | -25 | Endo Pharmaceuticals |
| ENZN | 0.923 | -25 | -25 | Enzon Pharmaceutical |
| EOC | 35.395 | -25 | -25 | EXPRESA NATIONAL DE ELECT.CHILE |
| EOG | 69.935 | -21 | -21 | EOG Resources |
| EPI | 18.615 | -7 | -25 | India ETF |
| EPP | 35.72 | -7 | -25 | Asia (No Japan) ETF |
| EQR | 70.77 | -5 | -23 | Equity Residential |
| ERX | 25.49 | -25 | -25 | * Energy Stocks Bullish ETD 3x |
| ESI | 3.04 | -19 | -19 | Intl Educational Svc |
| ETFC | 24.255 | -7 | -25 | E-Trade Financial Daily |
| EUFN | 21.36 | -7 | -25 | Euorpean Financial Index |
| EURL | 25.76 | -25 | -25 | * European Stocks (FTSE) Bullish ETF 3x |
| EVEP | 7.09 | -25 | -25 | EV Energy Partners |
| EWA | 17.48 | -25 | -25 | Australian Stocks ETF |
| EWC | 22.72 | -25 | -25 | Canada ETF |
| EWG | 25.72 | -7 | -25 | Germany ETF |
| EWI | 14.25 | -23 | -5 | Italy Shares ETF Bullish |
| EWJ | 11.55 | -7 | -7 | Japan Index ETF |
| EWL | 31.74 | -7 | -25 | Switzerland ETF Country Fund |
| EWM | 9.45 | -25 | -25 | Malaysia Index ETF |
| EWP | 31.64 | -7 | -25 | Spain Index |
| EWQ | 24.51 | -7 | -25 | France ETF |
| EWS | 10.21 | -7 | -25 | Singapore Index |
| EWZ | 24.14 | -25 | -19 | Brazil ETF |
| EXLP | 17.84 | -25 | -25 | Exterran Limited Partners |
| EZCH | 20.77 | -1 | -1 | EZChip Semiconductor |
| F | 13.19 | -7 | -25 | Ford Daily |
| FANUY | 26.32 | -19 | -19 | Fanuc A |
| FAS | 26.01 | -7 | -25 | *Financial Stocks Bullish ETF 3x |
| FB | 82.853 | -7 | -25 | FACEBOOK |
| FCX | 8.665 | -19 | -19 | Freeport McMoran Mining |
| FDS | 154.135 | -5 | -5 | Factset Research |
| FDX | 149.8 | -7 | -25 | Federal Express |
| FFIV | 118.41 | -5 | -5 | F5 Networks |
| FINU | 69 | -7 | -25 | * Financial Stocks Bullish ETF 3x |
| FISV | 82.43 | -5 | -5 | Fiserve Inc |
| FITB | 18.8 | -7 | -7 | First Third Bancorp |
| FLIR | 27.7 | -7 | -25 | Flir Systems |
| FLR | 43.72 | -25 | -25 | Fluor Corp |
| FMCC | 2.02 | -25 | -25 | Freddie Mac Daily |
| FNMA | 2.12 | -25 | -25 | Fannie Mae Daily |
| FOLD | 13.51 | -7 | -25 | Amicus Therapeutics |
| FRO | 2.215 | -25 | -25 | Frontline Limited Shipping |
| FSLR | 44.05 | -23 | -23 | FIRST SOLAR |
| FXA | 71.85 | -23 | -23 | Australian Dollar ETF |
| FXB | 154.668 | -13 | -13 | British Pound ETF |
| FXC | 74.95 | -25 | -25 | Canadian Dollar ETF |
| FXE | 113.64 | -13 | -13 | Euro vs Dollar ETC |
| FXF | 103.7 | -15 | -15 | SWISS FRANC ETF |
| FXI | 34.61 | -25 | -25 | FTSE/XINHUA China 25 Index ETF |
| FXY | 81.589 | -15 | -15 | Japanese Yen ETF Daily |
| GASL | 4.42 | -25 | -25 | * Natural Gas Stocks Bullish ETF 3x |
| GAZ | 1.11 | -25 | -25 | Natural Gas ETF |
| GD | 142.13 | -5 | -5 | General Dynamics |
| GDDY | 25.85 | -7 | -23 | GO DADDY |
| GDXJ | 19.87 | -13 | -3 | Gold Junior Minors ETF Daily |
| GE | 24.02 | -7 | -25 | General Electric Daily |
| GES | 20.08 | -7 | -25 | Guess? Inc |
| GG | 14.19 | -13 | 5 | Gold Corp |
| GGB | 1.335 | -25 | -25 | GERDAU S.A. |
| GILD | 102.725 | -5 | -23 | Gilead Sciences |
| GIS | 54.97 | -5 | -5 | General Mills |
| GLD | 110.51 | -13 | -13 | SPDER Gold Shares |
| GLEN.L | 137.9 | -25 | -25 | Glencore International |
| GLRE | 24.46 | -7 | -25 | Greenlight Capital RE |
| GM | 27.99 | -7 | -25 | General Motors |
| GME | 43.39 | -7 | -7 | GameStop |
| GNW | 4.43 | -19 | -19 | Genworth Financial |
| GOOG | 593.25 | -5 | -5 | Google |
| GRES | 22.41 | -25 | -25 | Global Resources |
| GRPN | 4.01 | -25 | -25 | Groupon INc |
| GS | 180.49 | -7 | -25 | Goldman Sachs Daily |
| GSK | 40.315 | -5 | -23 | Glaxo-Smith Klein |
| GSS | 0.206 | -19 | -19 | Golden Star Resource Gold |
| GT | 28.21 | -5 | -5 | Goodyear Tires |
| GVA | 32.22 | -7 | -25 | Granite Construction |
| HAIN | 60.45 | -7 | -25 | The Hain Celestial Group |
| HAL | 33.72 | -25 | -25 | Haliburton |
| HAP | 27.67 | -25 | -25 | Hard Asset Producers ETF |
| HCG.TO | 26.01 | -25 | -25 | Home Capital Growth Canada |
| HD | 113.08 | -5 | -5 | Home Depot |
| HEDJ | 54.81 | -7 | -25 | Dollar-Hedged European ETF |
| HEDJ | 54.81 | -7 | -25 | Dollar-Hedged European ETF |
| HGSH | 1.72 | -25 | -25 | HGS Realty China |
| HL | 1.945 | -21 | -3 | Hecla Mining |
| HLF | 54.45 | -5 | -5 | HERBALIFE |
| HMC | 30.5 | -23 | -23 | Honda Motor Company |
| HME | 73.66 | -5 | -5 | Home Properties Inc |
| HMY | 0.99 | -15 | 1 | Homestake Mining |
| HOG | 54.52 | -5 | -5 | Harley-Davidson Daily |
| HON | 95.83 | -5 | -5 | Honeywell Daily |
| HOT | 70.67 | -7 | -25 | Starwood Hotels |
| HOV | 1.59 | -19 | -1 | Hovnanian Daily |
| HPQ | 26.69 | -25 | -25 | Hewlett Packard Daily |
| HRS | 75.73 | -5 | -5 | Harris Corp |
| HSIC | 134.81 | -7 | -7 | Henry Schein |
| HTZ | 16.925 | -21 | -3 | Hertz |
| HURN | 72.49 | -3 | -3 | Huron Consulting |
| HYG | 84.84 | -7 | -25 | High-Yield Corporate Bonds |
| IAU | 11.145 | -13 | -13 | Gold Daily |
| IBB | 326.28 | -7 | -25 | Biotechnology ETF Daily |
| IBM | 144.24 | -25 | -25 | IBM Daily |
| ICI | 41.75 | -25 | -7 | Carry Trade ETN Optimized Currency |
| ICN | 20.185 | -25 | -7 | Indian Ruppee ETF |
| ICON | 12.19 | -19 | -19 | Iconix Brand Group |
| ICPT | 181.04 | -25 | -25 | Intercept Pharma |
| IDI | 6.75 | -25 | -25 | Tiger Media |
| IDX | 16.16 | -25 | -25 | Indonesian Index ETF |
| IEF | 107.77 | 7 | 5 | 7-10 Year TBond Fund |
| IES.DE | 2.98 | -7 | -25 | Intesa San Paolo SA |
| IGOI | 3.23 | 7 | 7 | I Go INC |
| IGT | 16.34 | -5 | -23 | Intl Gaming Tech |
| ILMN | 193.325 | -7 | -25 | Illumina Corp |
| IMAX | 29.56 | -7 | -25 | Imax Corp |
| IMMR | 11.395 | -7 | -25 | Immersion Robotics |
| INDL | 12.537 | -25 | -25 | * India Stocks Bullish ETF 3x |
| INFY | 16.58 | -5 | -5 | Infosys |
| INTC | 26.535 | -7 | -25 | Intel Daily |
| INTL | 26.21 | -19 | -19 | Intl Assets Hold Co. |
| IO | 0.456 | -19 | -19 | Ion corp |
| IRBT | 28.665 | -23 | -23 | I-Robotics |
| IRWD | 10.84 | -23 | -5 | Ironwood Phama |
| ISIL | 10.2 | -25 | -23 | Intersil Corp |
| ISIS | 44.86 | -25 | -25 | Isis Pharmaceuticals |
| ISRG | 494.59 | -5 | -5 | Intuitive Surgical |
| IYJ | 97.19 | -5 | -5 | Dow Jones Industrial ETF |
| IYR | 71.1 | -5 | -23 | Real Estate ETF |
| IYT | 137.53 | -5 | -23 | Dow Jones Transports |
| IYW | 95.62 | -7 | -25 | US Tech ETF |
| JAKK | 9.31 | -5 | -5 | JAKKS Pacific |
| JBLU | 21.36 | -5 | -23 | Jet Blue |
| JCI | 40.68 | -7 | -25 | Johnson Controls |
| JCP | 7.945 | -7 | -25 | JC Penney |
| JDSU | 10.87 | -7 | -19 | JDS Uniphase |
| JEC | 38.59 | -23 | -23 | Jacobs Engineering Group |
| JGBD | 14.91 | -25 | -25 | * Japanese Govt Bonds Futures Bullish ETF 3x |
| JGBT | 26.02 | 5 | 5 | * Japanese Govt Bond Futures ETF 3x |
| JJC | 26.246 | -25 | -25 | Copper ETF |
| JJG | 32.66 | -25 | -19 | Grains ETF |
| JJM | 20.31 | -25 | -25 | Industrial Metals ETN |
| JJU | 13.93 | -25 | -25 | Aluminum ETF |
| JNJ | 93.37 | -7 | -25 | Johnson and Johnson |
| JNK | 36.385 | -7 | -25 | Barclay's High-Yield Bond |
| JNUG | 8.59 | 5 | -21 | * Junior Gold Miners Bullish ETF 3x |
| JO | 19.593 | -23 | -23 | Coffee ETF |
| JOE | 17.35 | -13 | 5 | St. Joe Company |
| JOY | 23.47 | -25 | -25 | Joy Global Machinery |
| JPM | 60.615 | -7 | -7 | JP Morgan Daily |
| JPNL | 39.23 | -7 | -25 | * Japan Stocks Bullish ETF 3x |
| JW-A | 49.09 | -7 | -25 | John Wiley & Sons, Publisher |
| KBH | 14.055 | -7 | -25 | KBH Home |
| KBR | 16.455 | -5 | -23 | KBR INC |
| KGJI | 0.59 | -25 | -25 | Kinggold Jewelry |
| KLAC | 47.5 | -25 | -25 | KLA-Tenacor Corp |
| KMI | 30.46 | -25 | -25 | Kinder Morgan |
| KNM | 19 | -21 | 5 | Konami Corp |
| KO | 38.48 | -7 | -25 | Coca Cola Daily |
| KOF | 66.15 | -25 | -25 | Coca-Cola Femsa |
| KOL | 8.41 | -25 | -25 | Coal ETF |
| KORU | 16.34 | -25 | -25 | * South Korean Stocks Bullish ETF 3 x |
| KR | 34.14 | -7 | -25 | Kroger |
| KRE | 39.58 | -7 | -7 | Regional Banks ETF |
| KSU | 89.8 | -5 | -23 | KANSAS CITY SOUTHERN |
| KWT | 51.31 | -25 | -25 | Solar ETF |
| LBJ | 15.97 | -25 | -25 | * Latin America Stocks Bullish ETF 3x |
| LBND | 53.41 | -11 | 5 | * Long-Bond Bullish ETF 3x |
| LBTYA | 47.1 | -7 | -25 | Liberty Global |
| LEMB | 40.41 | -25 | -25 | Emerging Market Local Currency Bonds |
| LIFE | 13.77 | -25 | -25 | TYR Pharma |
| LL | 15.02 | -19 | -1 | Lumber Liquidators |
| LLL | 106.57 | -7 | -25 | L3 Communications |
| LMT | 198.9 | -5 | -5 | Lockheed Martin |
| LNG | 60.44 | -5 | -23 | Cheniere Energy |
| LNG | 60.44 | -5 | -23 | Cheniere Energy |
| LNKD | 172.66 | -25 | -25 | Linked In |
| LOCO | 11.48 | -25 | -25 | El Pollo Loco |
| LODE | 0.57 | -1 | -1 | Comstock/Goldspring Mining |
| LQD | 115.68 | 3 | -5 | Investment Grade Corporate Bonds |
| LULU | 59.275 | -5 | -23 | Lululemon |
| LXRX | 11.82 | -3 | -21 | Lexicon Pharmaceutical |
| MA | 88.33 | -5 | -5 | MASTERCARD |
| MAT | 21.51 | -25 | -25 | Mattel |
| MATL | 38.09 | -25 | -25 | * Basic Materials Stocks Bullish ETF 3x |
| MCD | 93.29 | -5 | -5 | Mc Ddonalds Daily |
| MDRX | 13.265 | -7 | -7 | ALLSCRIPTS HEALTH SOLUTIONS |
| MET | 47.61 | -7 | -25 | MET LIFE INSURANCE |
| MGM | 19.585 | -23 | -5 | MGM Mirage |
| MIDD | 106.17 | -7 | -7 | Middleby Corp |
| MIDU | 20.47 | -5 | -23 | * Midcap Stocks Bullish ETF 3x |
| MKL | 800.12 | -7 | -7 | Markel Daily |
| MLM | 155.97 | -5 | -5 | Martin Marietta |
| MMM | 139.28 | -7 | -25 | 3-M Daily |
| MNK | 83.27 | -25 | -25 | Mallinnkrodt (Biotech) |
| MO | 52.475 | -5 | -5 | Altria Group |
| MOO | 48.8 | -7 | -25 | Agribusiness ETF |
| MRK | 54.135 | -5 | -23 | Merk Pharmaceuticals Daily |
| MSFT | 42.145 | -5 | -23 | Microsoft Daily |
| MSI | 61.38 | -5 | -5 | Motorola Solutions |
| MT | 7.69 | -25 | -25 | Arcelor-Mittal Steel |
| MTL | 0.675 | -25 | -25 | Mechel Open Joint Stock Company |
| MTW | 18.21 | -7 | -25 | Manitowoc |
| MTZ | 15.08 | -25 | -25 | Mas Tec |
| MUB | 108.948 | -1 | -21 | I-Shares Muni Bond Index |
| MWA | 8.47 | -5 | -21 | Mueller Water Products |
| MWW | 6.87 | -5 | -5 | Monster Worldwide |
| MXWL | 4.495 | -5 | -23 | Maxwell Technologies |
| N | 87.94 | -5 | -23 | Netsuite |
| NAB.AX | 29.71 | -7 | -25 | National Bank of Australia |
| NANO | 13.33 | -7 | -25 | Nanometrics Inc |
| NBIX | 41.69 | -7 | -25 | Neurocrine Biosciences |
| NDLS | 11.6 | -25 | -25 | Noodles |
| NEM | 16.88 | -17 | 1 | Newmont Mining Daily |
| NFLX | 97.244 | -5 | -23 | Netflix |
| NFX | 27.7 | -5 | -23 | Newfield Explorations |
| NG | 3.36 | -1 | -1 | NovaGold |
| NIB | 40.01 | -1 | -1 | Cocoa ETF |
| NILE | 32.47 | -3 | -5 | Blue Nile |
| NKE | 104.37 | -5 | -5 | Nike Daily |
| NKY | 18.02 | -7 | -7 | Nikkei 225 ETF |
| NOC | 161.22 | -5 | -5 | Northrup Grumman * |
| NOG | 4.35 | -25 | -25 | Northern Oil and Gas |
| NOV | 37.54 | -25 | -25 | National Oilwell Varco |
| NSM | 16.03 | -25 | -25 | Nationstar Mortgage |
| NTAP | 30.13 | -25 | -25 | NetApp Inc |
| NTDOY | 22.25 | -5 | -5 | Nintendo |
| NTRS | 67.9 | -5 | -5 | Northern Trust Corp |
| NUGT | 3.51 | 5 | -15 | * Gold Miners Stocks Bullish ETF 3x |
| NVDA | 20.95 | -5 | -5 | Navidia Daily |
| NVMI | 10.41 | -7 | -25 | Nova Measuring Instruments |
| O | 46.06 | -5 | -23 | Realty Income Corp |
| OCN | 6.845 | -19 | -19 | Ocwen Financial |
| OIL | 7.04 | -25 | -25 | Oil ETF |
| ORCL | 36.285 | -7 | -25 | Oracle Daily |
| OREX | 2.79 | -25 | -25 | Orexigen Pharmaceuticals |
| OSK | 38.35 | -21 | 5 | Oshkosh |
| OTIV | 0.918 | -25 | -25 | On Track Innovations |
| OUTR | 59.8 | -1 | -19 | Outerwall-Coinstar |
| P | 17.215 | -5 | -5 | Pandora |
| PALL | 55.58 | -21 | -21 | Palladium ETF |
| PCL | 40.16 | -5 | -23 | Plum Creek Timber |
| PCLN | 1,181.96 | 7 | -5 | Priceline.com |
| PCY | 26.81 | -7 | -7 | Emerg Mark Soverign Debt |
| PDLI | 5.32 | -25 | -25 | Protein Design Labs |
| PEIX | 6.6 | -25 | -25 | PACIFIC ETHANOL |
| PEP | 92.12 | -5 | -5 | Pepsi Daily |
| PFE | 32.27 | -5 | -5 | Phizer Drugs Daily |
| PG | 69.5 | -7 | -25 | Proctor and Gamble Daily |
| PHM | 19.74 | -3 | -3 | PULTE GROUP HOUSING |
| PKI | 46.34 | -7 | -25 | Perkin Elmer |
| PKW | 44.03 | -7 | -7 | BUYBACK ACHIEVERS ETF |
| PLND | 16.018 | -25 | -25 | Poland ETF |
| PNC | 89.385 | -7 | -7 | PNC Financial Svc Daily |
| POL | 31.6 | -7 | -25 | PolyOne Corp |
| POT | 24.55 | -25 | -25 | Potash |
| PPA | 33.51 | -5 | -5 | Aerospace and Defense ETF |
| PPS | 55.73 | -5 | -5 | Post Properties REIT Retail |
| PRU | 76.72 | -7 | -25 | Prudential |
| PTR | 79.82 | -25 | -25 | PetroChina |
| PXD | 112.31 | -23 | -23 | Pioneer Nat Resources |
| QCOM | 55.71 | -7 | -25 | Qualcom Daily |
| QIHU | 50.925 | -7 | -25 | QIHU 360 Tech China |
| QLGC | 9.4 | -19 | -19 | Q-Logic |
| QLTI | 3.4 | -19 | -19 | QLT Inc (Biotech) |
| QQQ | 99.96 | -7 | -7 | Powershares QQQ |
| RAVN | 17.56 | -25 | -25 | Raven Industries |
| RBS | 9.64 | -7 | -25 | Royal Bank of Scotland Daily |
| RDN | 17.03 | -7 | -7 | Radian Group (Mortgage Insurance) |
| RDS-A | 50.038 | -25 | -25 | Royal Dutch |
| REGN | 512.12 | -5 | -23 | Regeneron |
| REM | 10.355 | -23 | -23 | NA REIT Motgage Plus ETN |
| REMX | 15.82 | -25 | -25 | Rare Earth Metals ETF |
| RENN | 3.15 | -5 | -23 | RenRen (China) |
| RETL | 29.53 | -5 | -23 | * Retail Stocks Bullish ETF 3x |
| RGLD | 51.12 | -13 | 3 | Royal Gold Inc |
| RGR | 56.72 | -5 | -5 | Sturm Ruger |
| RGRA | 18.65 | -23 | -13 | RBS Rogers Enhanced Agriculture ETN |
| RGRC | 19.24 | -23 | -13 | RBS Rogers Enhanced Commodity ETN |
| RH | 92.41 | -7 | -7 | Restoration Hardware |
| RHT | 69.28 | -7 | -7 | Red Hat |
| RIG | 12.41 | -23 | -23 | Transocean Ltd. |
| RIO | 34.43 | -25 | -25 | Rio Tinto |
| ROK | 105.61 | -7 | -25 | Rockwell Automation Daily |
| ROP | 156.25 | -7 | -7 | Roper Industries |
| RRGB | 79.73 | -7 | -25 | Red Robin Gourmet Burgers |
| RS | 55.24 | -23 | -23 | Reliance Steel |
| RSX | 14.56 | -7 | -25 | Russian Index ETF |
| RTN | 102.84 | -5 | -5 | Raytheon |
| RUSL | 11.61 | -25 | -25 | * Russia Stocks Bullish ETF 3x |
| RY | 53.74 | -7 | -25 | Royal Bank of Canada |
| SAH | 21.08 | -7 | -25 | Sonic Automotive |
| SAN | 6 | -25 | -25 | Banco Santander |
| SAP | 65.63 | -7 | -25 | SAP |
| SBUX | 50.65 | -7 | -7 | Starbucks Daily |
| SCCO | 25.05 | -7 | -25 | Southern Copper |
| SCHN | 16.15 | 3 | 3 | Schnitzer Steel Indust |
| SCTY | 45.235 | -25 | -23 | Solar City |
| SEA | 15.361 | -25 | -25 | Global Shipping ETF |
| SEIC | 48.19 | -5 | -5 | SEI Investment Corp |
| SFL | 14.515 | -7 | -25 | Ship Finance Intl. |
| SGG | 24.88 | -19 | -19 | Sugar ETF |
| SGOL | 112.73 | -13 | -13 | Swiss Gold Shares Phyysical |
| SHAK | 45.46 | -25 | -25 | Shake Shack |
| SHLD | 22.09 | -5 | -5 | Sears Holdings |
| SIAL | 139.15 | -5 | -5 | Sigma-Aldrich Corp |
| SINA | 34.25 | -25 | -25 | SINA CORP |
| SIX | 42.73 | -7 | -25 | Six Flags Entertainment |
| SLG | 106.16 | -3 | -21 | SL Green Realty |
| SLGLF | 0 | -25 | -23 | Silverado Gold Daily |
| SLM | 8.24 | -7 | -25 | Sallie Mae Daily |
| SLV | 14.14 | -23 | -23 | Silver ETF |
| SLW | 12.385 | -21 | -3 | Silver Wheaton |
| SLX | 23.282 | -25 | -25 | Steel ETF |
| SNA | 155.52 | -5 | -5 | SNAP-ON INC |
| SNDK | 48.03 | -25 | -25 | SanDisk Corp |
| SNE | 23.315 | -7 | -25 | Sony Daily |
| SNP | 64.66 | -25 | -25 | China Petrol & Chemical Co |
| SOXL | 18.38 | -25 | -25 | * Semiconductor Stocks Bullish ETF 3x |
| SPG | 183.54 | -5 | -5 | Simon Property Group |
| SPU | 0.94 | -25 | -25 | SkyFruit Juice China |
| SPXL | 70 | -7 | -25 | * S&P 500 Bullish ETF 3 x |
| SPY | 190.62 | -7 | -7 | Spider S&P 500 ETF |
| SRPT | 33.35 | -5 | -5 | Sarepta Therapeutics |
| SSL | 28.27 | -25 | -25 | Sassol Ltd S Africa |
| SSRI | 6.3 | 5 | -1 | Silver Standard Resources |
| SSYS | 28.24 | -25 | -25 | Stratasys LTD |
| STJ | 66.6 | -7 | -25 | St. Jude Medical |
| STNG | 8.95 | -7 | -25 | Scorpio Tankers |
| STT | 70.14 | -5 | -23 | State Street |
| SWKS | 81.23 | -7 | -25 | Skyworks Solutions |
| SWN | 15.43 | -25 | -25 | Southwestern Energy Corp |
| SYK | 96.28 | -5 | -5 | Stryker Corp |
| SYNA | 68.03 | -25 | -25 | Synaptics Inc |
| T | 32.66 | -7 | -7 | ATT |
| TAN | 27.34 | -25 | -25 | Global Solar Energy ETF |
| TASR | 20.64 | -19 | -19 | Taser |
| TD | 37.273 | -7 | -25 | Toronto Dominion Bank |
| TECL | 27.3 | -7 | -25 | * Technology Stock Buliish ETF 3 x |
| TER | 16.95 | -7 | -25 | Teradyne INC |
| TEVA | 64.63 | -5 | -5 | Teva Pharmaceutical Daily |
| THC | 47.42 | -7 | -25 | Tenet Healthcare |
| THD | 60.16 | -25 | -25 | Thailand ETF |
| THLD | 3.95 | -7 | -7 | Threshold Pharma |
| TIP | 111.73 | 1 | -25 | Barclay's TIPS Bond |
| TLH | 137.52 | 7 | 5 | 10-20 YEAR LEHMAN TBOND |
| TLT | 126.26 | 5 | -19 | 20-Year TBond |
| TMF | 85.2 | 5 | 5 | * 20+ Year Treasury Bull ETF 3x |
| TNA | 63.5 | -7 | -25 | Direxion Daily Small Cap Bull |
| TNK | 5.535 | -7 | -25 | Teekay Tankers Ltd. |
| TNP | 6.9 | -25 | -25 | Tsakos Energy Navigation LTD |
| TOL | 38.25 | -5 | -5 | Toll Brothers |
| TOO | 15.43 | -25 | -25 | Teekay Offsore Partners |
| TOT | 43.89 | -25 | -25 | Total S.A. |
| TPUB | 11.185 | -19 | -1 | Tribune Publishing |
| TQQQ | 84.36 | -7 | -25 | * Nasdaq (NASDAQ:QQQ) Bullish ETF 3x |
| TRP | 32.97 | -25 | -25 | Trans-Canada Pipeline |
| TSLA | 221.86 | -7 | -25 | Tesla Motors Daily |
| TSU | 11.65 | -25 | -25 | TIM Part (Tele Cellular) |
| TTI | 6.49 | 5 | 5 | Tetra Technologies |
| TTM | 22.6 | -25 | -25 | Tata Motors |
| TUR | 36.25 | -25 | -25 | Turkey Index ETF |
| TWOU | 33.42 | -5 | -23 | 2 U (NASDAQ:CHINA) |
| TWTR | 25.11 | -25 | -19 | Twitter |
| TWX | 70.07 | -7 | -25 | Time Warner Daily |
| TXN | 45.25 | -5 | -23 | Texas Instruments Daily |
| TXT | 38.955 | -5 | -23 | Textron Corp |
| TYD | 47.52 | 5 | 5 | * 7-10 Year Treasury Bull ETF 3x |
| UAL | 52.48 | -23 | -5 | United Continental Holdings |
| UBS | 20.56 | -7 | -7 | UBS AG |
| UDN | 22.645 | -13 | -13 | US DOLLAR INDEX BEARISH |
| UDOW | 51.495 | -7 | -25 | * UP DOW ETF 3x |
| UGA | 30.01 | -7 | -25 | US Gasoline ETF |
| UGAZ | 1.67 | -25 | -25 | * Natural Gas Bullish ETF 3x |
| UGLD | 9.74 | -13 | 5 | * GOLD ETN BULLISH 3X |
| UHN | 17.05 | -25 | -25 | Heating Oil ETF |
| ULTA | 159.36 | -5 | -5 | Ulta Salon (Cosmetics) |
| UMDD | 47.79 | -5 | -23 | * Midcap Stocks Bullish ETF 3x |
| UNH | 111.08 | -5 | -5 | United Healthcare Daily |
| UPRO | 52.9 | -7 | -25 | * S&P 500 Ultrapro ETF 3x |
| UPS | 95.97 | -5 | -23 | United Parcel Service Daily |
| URTY | 73.2 | -7 | -25 | * Russell 2000 Bullish ETF 3x |
| USG | 29.75 | -5 | -5 | USG Corp |
| USLV | 13.169 | -23 | -23 | * Silver Stocks Bullish ETF 3x |
| USO | 12.545 | -25 | -25 | United States Oil |
| UTX | 91.32 | -7 | -25 | United Technologies Daily |
| UUP | 24.41 | -25 | -7 | US DOLLAR INDEX BULLISH ETF |
| UWTI | 0.75 | -25 | -25 | * Crude Oil Bullish ETF 3x |
| VALE | 4.35 | -25 | -25 | VALE S.A. |
| VLO | 59.152 | -5 | -23 | Valero Corp |
| VMC | 88.98 | -5 | -5 | Vulcan Materials |
| VNM | 14.46 | -25 | -25 | Vietnam Market Vectors |
| VNQ | 74.985 | -3 | -21 | REIT Index ETF |
| VNR | 6.54 | -19 | -19 | Vanguard Natural Resources |
| VOO | 175.91 | -7 | -7 | S&P 500 (VANGUARD) ETF |
| VRX | 221.8 | -7 | -25 | Valeant Pharmaceuticals |
| VVUS | 0.99 | -19 | -19 | VIVUS Inc |
| VZ | 44.97 | -5 | -23 | Verizon Communications |
| WBK | 20.621 | -25 | -25 | Westpac Bank Corp (Aus) |
| WDAY | 70.19 | -7 | -25 | Workday |
| WFC | 51.484 | -7 | -7 | Wells Fargo |
| WFM | 32.13 | -19 | -19 | Whole Foods |
| WLL | 15.06 | -25 | -19 | Whiting Petroleum |
| WMB | 46.68 | -7 | -25 | Williams Companies |
| WMT | 64.48 | -7 | -25 | Walmart Daily |
| WPRT | 3 | -25 | -25 | Westport Innovations |
| X | 15.445 | -23 | -23 | US Steel Corp |
| XBI | 208.24 | -7 | -25 | Biotech ETF |
| XBI | 208.24 | -7 | -25 | Biotech ETF |
| XES | 18.007 | -25 | -25 | SPIDER Oil Gas Equipment ETF |
| XHB | 35.8 | -5 | -5 | Homebuilders ETF |
| XIDEQ | 0.005 | -25 | -25 | Exide Technologies |
| XIN | 2.4 | -5 | -23 | Xinyuan Real Estate China |
| XLF | 22.855 | -7 | -7 | Financial Sector ETF |
| XME | 18.41 | -25 | -25 | Spider Mining Metals ETF |
| XOM | 69.02 | -25 | -25 | Exxon Mobil Daily |
| XOMA | 0.733 | -1 | -19 | XOMA |
| XOP | 33.43 | -25 | -25 | Spider Oil Gas Exploration ETF |
| XRT | 88.97 | -7 | -7 | Retailers ETF |
| XRX | 10.005 | -5 | -23 | Xerox |
| YELP | 23.31 | -19 | -19 | Yelp |
| YGE | 0.81 | -25 | -25 | Yingli Green Energy China |
| YHOO | 31.52 | -25 | -25 | Yahoo Inc. |
| YINN | 17.31 | -25 | -25 | * China Stock Bullish ETF 3x |
| YNDX | 10.3 | -25 | -25 | Yandex NV |
| YOKU | 16.19 | -25 | -25 | YouKu China |
| Z | 24.61 | -25 | -25 | Zillow Inc |