Money Morning Article of the Week
by Tara Clarke, Money Morning
A surprise Swiss Bank policy change shocked the stock market today (Friday)…
On Thursday, the Swiss Central Bank ended a three-year old policy that prevented the Swiss franc from appreciating too much against the euro.
The move sent the Swiss franc soaring 30% against the euro within minutes.
It also caught financial firms unprepared…
You see, the franc is the sixth most-traded currency in the world. While holders of Swiss francs realized gains, financial institutions with large holdings of euros or dollars against the franc were routed – especially smaller firms that cannot bear big losses.
And Swiss exporters saw their goods become 30% more expensive to European buyers in a matter of minutes.
Take a look at the devastating effect the surprise Swiss Central Bank policy had on small firms, big banks, and major Swiss exporters like The Swatch Group SA (VTX: UHR), Holcim Ltd. (VTX: HOLN), and Nestle SA (VTX: NESN)…
How Swiss Bank Policy Slaughtered Small Firms
New York-based currency broker FXCM Inc. (NYSE: FXCM) may be insolvent. FXCM stock fell 15% on Thursday. In pre-market hours Friday morning, shares had plummeted more than 90%. The firm said its clients suffered losses that:
"Generated negative equity balances owed to FXCM of approximately $225 million."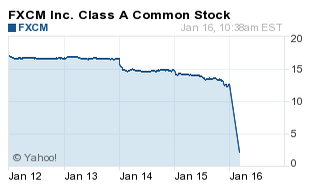 Alpari, a London-based brokerage firm that sponsors the shirt of English Premier League soccer club West Ham United, was forced to shut down.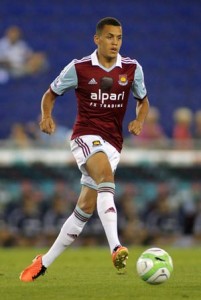 The company's statement read:
"Where a client cannot cover this loss, it is passed on to us. This has forced Alpari (U.K.) Limited to confirm today that it has entered into insolvency."
And Global Brokers NZ, a New Zealand-based currency trading house, also went bust. It could no longer meet regulatory minimum requirements.
Global Brokers NZ director David Johnson said:
"News of the impact of this event on companies and traders is just beginning to come to light. As directors and shareholders we would like to offer our sincerest apologies for this devastating turn of events."
Swiss Bank Policy Shook Big Banks
While not as devastated, big Swiss banks also got zapped…
UBS Group AG (VTX: UBSG)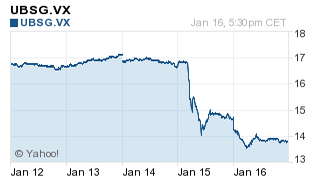 Credit Suisse Group AG (NYSE ADR: CS)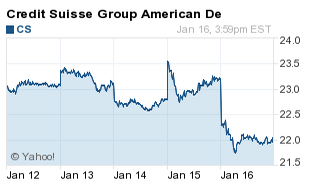 Julius Baer Gruppe AG (VTX: BAER)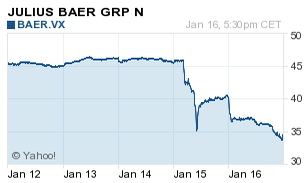 Swiss Bank Policy Crushes Swiss Exporters
The world's biggest maker of Swiss watches, The Swatch Group SA (VTX: UHR), lost 22.39% Thursday, and lost another 7.09% today. Swatch Chief Executive Officer Nick Hayek said:
"Words fail me. Today's [Swiss National Bank] action is a tsunami; for the export industry and for tourism, and finally for the entire country."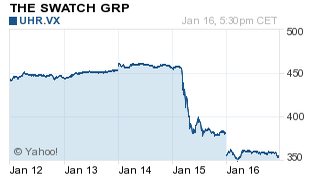 World's biggest cement maker Holcim Ltd. (VTX: HOLN) lost nearly 16% Thursday and fell another 5.42% Friday.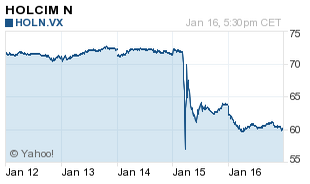 Switzerland-based Nestle SA (VTX: NESN), the world's largest food company, gets roughly 98% of its revenue from outside its home country. Thursday's 12.81% fall marked the company's biggest intraday drop in more than 17 years.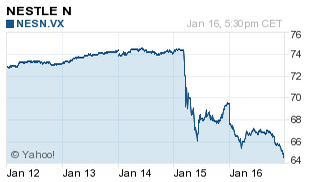 The Swiss Bank policy shook Switzerland's stock market 9% on Thursday. On Friday, Swiss stocks slid another 5.2%. Additionally, Swiss bond yields turned negative for first time ever.