by Greg Guenthner, Daily Reckoning
This week, I've already showed you two major trends I'm convinced will dominate the market in 2015.
And guess what – today you're going to see the third. Think the first two were controversial? Well, get ready for this bombshell, Jack…
If you wanna double your money over the next year, it's time to buy housing stocks.
Did you just spit up your coffee? I know the mere mention of housing stocks can still induce post-traumatic stress disorder. But hear me out…
Look, folks have put off buying a house because of the lousy economy. But now…they're slowly coming around. We're beginning to reach a tipping point. People are going to start buying homes again. I don't know whether it's because some deep-seated economic perceptions are changing or what- but the charts are talking…
Here's the most important fact of all: homebuilder stocks are quietly telegraphing a monster comeback. I can actually measure it, and I'll show you the proof in a minute…
Sure, I know the official jazz about housing. First-time home buyers have sunk to their lowest level in 30 years. Mortgages applications are down. Home prices are still too damn high. Interest rates have to nowhere to go but up…
Forget this garbage – all of it.
As I've said before, this sort of backwards-looking data won't help you get in on the ground floor of a major trend like this. Listen- home sales data, refinancings and first-time buyer numbers- they're already baked into the pie. These are known issues. Unless new data starts painting an even scarier picture, this doom and gloom is just consensus-driven claptrap. We don't pay attention to that junk around here.
---
What is the Income Play Rich Investors Love? (Hint: It's Tax-Free)
---
Another major reason why I'm so bullish about homebuilders right now? The real estate cycle…
"Real estate tends to peak about every 18 years," explains technician John Murphy over at Stockcharts.com.
"This reliable pattern has been traced back to the 1800s…The last real estate peak took place in the 2006-2007 period. That means that the next real estate peak isn't scheduled until 2024-2025. That means this upturn in real estate (and housing) still has a long way to go."
Simple enough. And guess what? That last real estate peak back in 2007 arrived right on time for the 18-year cycle. So when Murphy says we have a long way to go, he means it. You'll be streaking across the sky in your new Google self-flying car before this next real estate bubble bursts.
Homebuilder sentiment is also deeply negative right now- which is another key element that will help these stocks bottom out and move higher. You see, investors gave up on homebuilder stocks at just the wrong moment. While the market churned higher in 2014, the homies eeked out a small gain of about 3%- and that was after almost imploding back in the fall. But in October, the trend began to change…
Remember this chart?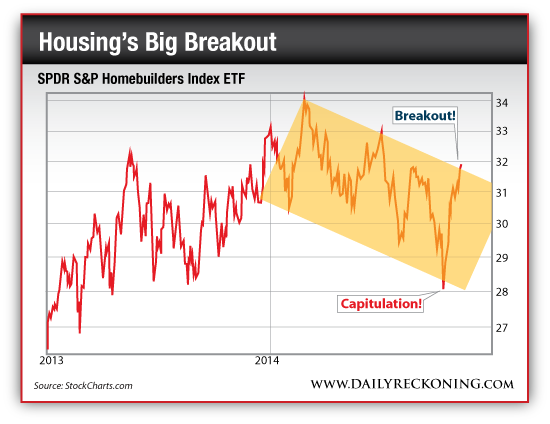 There's your moment of capitulation…and the breakout that followed. Homebuilder stocks will lead the housing comeback, not follow it. And you can expect this trend to continue.