by Greg Guenthner, Daily Reckoning
Today, I'm unveiling- especially for you- my fourth and final long-term play for 2015.
I'm talking about small-cap stocks.
Yup, the little guys. And they've got small-man syndrome. They're painfully insecure about their size, and they're tired of getting sand kicked in their face by the big boys. So this year, they're doing something about it. They're already starting to put on some serious muscle. And by the end of this year, they'll be the market's biggest winners – not the big boys of the S&P.
And if you put your money on these underdogs today, you'll set yourself up for what could be the best year of your trading career. You think that's just hype? You should know me better than that by now… seriously.
I'll tell you exactly how to ride this trend for all it's worth in just a minute.
Sure – the "small man" Russell 2000 index did squat in 2014. All investors got from these runts was a whole lot of sideways noise that led nowhere.
Traders were banking on the big boys and safety trades like utilities. Heck, even megacap giant Microsoft tripled the S&P's performance over the past year.
Small stocks? Please. Fugeddaboutit. Just more sand in the face…
Oh, but what a difference a few months makes. Small-caps have been mounting an underground insurrection over the past three months. They've been lifting some serious iron. And rumor has it they might be on the juice. They're starting to feel their oats. So watch out, S&P! Amazingly, hardly anyone seems to have noticed-but the signs are there.
---
What is the Income Play Rich Investors Love? (Hint: It's Tax-Free)
---
And we first noticed them in mid-October, just after that huge market scare which so many mistook for "the big one." Here's what I wrote on that date in October:
"The real winners after all the bloodshed are small-cap stocks. After coughing up more than 1.2% at the open, the Russell 2000 small-cap index caught a bid and finished the day up 1.8%. That's right-the Russell posted a 3% gain trough to peak, stomping the throats of the major averages."
And just look at the performance shift since the October bottom: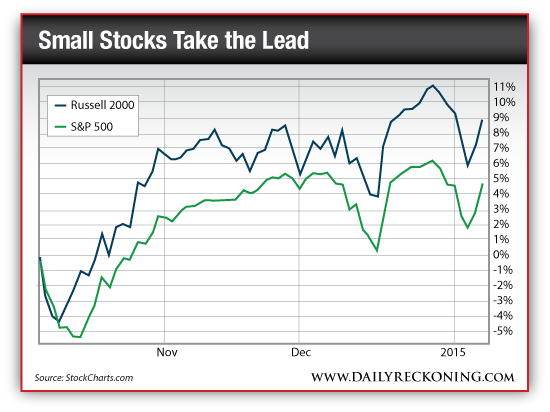 Yessir, small stocks are in the early stages of reclaiming their leadership role. The Russell is flat-out crushing the S&P since October 13th – that's the week stocks bottomed out then hit the trampoline.
That's a sign of a healthy bull market. You want to see the small companies-considered much more speculative investments-outperforming the big kids. Investors who are willing to take more risk leads to rising prices. That's what's been building over the past three months. The Russell is up nearly 9%, compared to a 4.75% gain in the large-cap S&P 500.
This newfound muscle is your signal to grab onto these smaller stocks now before they really start kicking the S&P's ass this year. After an entire year of consolidation, I wouldn't be surprised if traders and investors alike spark an insane rally sooner rather than later.
Right now, I think you're looking at the number-one performing group of stocks in 2015. Think small this year. If this trade ignites, there's no telling how far it will take us…