Money Morning Article of the Week
by Tara Clarke, Money Morning
"What's that stench? It's fantastic."
Only the Grinch could love the dreadful customer service, sexist CEOs, and concealed safety issues that were served up by the most-hated companies of 2014.
Here's a list of five firms that "stink, stank, stunk" this year…
5 Most-Hated Companies of 2014
No. 1: American Apparel Inc. (NYSEMKT: APP)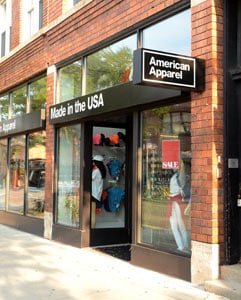 The fashion brand has logged $300 million in losses since 2010. APP stock lost half its value this year, from Jan. 2, 2014 ($1.14 per share) to March 28 ($0.47 per share). It has slightly rebounded since, and will finish the year down roughly 12%.
In 2005, two former employees filed harassment lawsuits against (now former – keep reading) American Apparel Chief Executive Officer Dov Charney. They claimed Charney conducted job interviews in his underwear, hired women based on his sexual interests, and made crude gestures in the office. The cases were settled out of court, but Charney's behavior never stopped.
In 2011, former employee Irene Morales sued Charney for $250 million. She claimed Charney sexually harassed her as a minor. Charney said in a deposition on the matter, "There's some of us that love sluts. It could also be an endearing term." That year, four more women filed piggyback lawsuits on Morales' claims.
On June 18, 2014, the APP board suspended Charney, in part based on new arbitration information from the Morales case.
New co-chairman Allan Mayer said:

"We have heard for years allegations and rumors in newspaper stories that were not sufficient to take action.   But what came to our attention was not allegations and rumors but established fact."
Charney's bad behavior strained the company's finances – the other factor that played into his ultimate dismissal on Dec. 16.
No. 2: Comcast Corp. (Nasdaq: CMCSA)
Comcast has made lists of most-hated companies since…well, we got to 2007 and stopped looking. All the lists cite exorbitant costs, the intentional stunting of Web speeds, and horrendous customer service as Comcast's top offenses.
But this year, the largest broadcasting and cable company in the world (by revenue) truly outdid itself…
We present to you this July customer service call that's the stuff of legends:

Despite its most-hated status, CMCSA stock is up more than 11% in 2014.
No. 3: Uber
Five years ago, Uber was just an app that allowed customers to summon a private cab with a few taps on their smartphones.
As of December 2014, Uber's value reached $40 billion. The service is available in roughly 64% of the United States.
CB Insights' Chief Executive Officer Anand Sanwal told Bloomberg:
"At this valuation, investors appear to be thinking that when Uber goes public, it might be worth $80 billion to $100 billion. This type of mega-financing affords Uber a great deal of flexibility in terms of when they might go public."
But perhaps Uber has grown too fast…
Waves of lawsuits and protests against the company this year cite unfair business practices and false advertisement of safety standards. Uber currently faces bans in India, Spain, Belgium, and the Netherlands.
On Dec. 8, a 27-year old female passenger was raped by an Uber driver who had a record of sexual offenses. The driver was out on bail for a 2013 rape case, and had worked with Uber for almost six months.
And in the latter half of 2014, Uber execs faced scrutiny over misogynist remarks against female journalists. For example, in mid-November, Uber senior vice president Emil Michel suggested silencing journalist Sarah Lacy (who had criticized Uber) by hiring a team of researchers to dig up dirt and spread details of her personal life. (This article from Megan Carpentier at The Guardian is an excellent piece on Uber's anti-women issue).
No. 4: General Motors Co. (NYSE: GM)
This year's 29 million-plus recalls are three times General Motors' 2013 sales of 9.7 million cars and trucks. By July, the company had issued enough recalls to account for 3% of the world's total cars.
But that's not why GM made our list of the most-hated companies of 2014…
It was a cover-up of the ages. You see, the car manufacturer straight-up tried to hide for more than a decade a safety defect connected to at least 13 deaths.
"This is going to be a legacy issue for years to come," Money Morning Capital Wave Strategist Shah Gilani said of the damage done to GM stock in an interview with Neil Cavuto on FOX Business News in February.
GM stock lost more than 17% over 2014 as a result of the recalls and cover-up – and our experts don't see an end to bleeding anytime soon…
Our last most-hated stock comes from Money Morning Defense & Tech Specialist Michael A. Robinson. His Dec. 19 article, "Five Tech CEOs Who Could Get the Boot in 2015," put Twitter CEO Dick Costolo first – and for good reason.
Federal Debt is a Ticking Time Bomb 0:33 POWERED BY WISTIA Watch the full presentation.
Under Costolo's scattered leadership, TWTR (NYSE:TWTR) stock lost more than 40% in 2014, and user growth continues to slow. In the most recent quarter, Wall Street thought Twitter would add 16 million to 18 million new monthly active users. But the number came in at 13 million, 38% below the high-end estimate.
Meanwhile, key executives have cashed out in droves. And in November, Costolo's family trusts sold 50% of their shares in the social media company.
In late December, Sun Trust analyst Robert Peck appeared on CNBC and said:
"We think there's a good chance [Costolo] is not there in a year."
The market found the idea of a Costolo exit agreeable – Twitter stock popped 4% on the comment.
Don't let the five most-hated companies of 2014 shrink your heart "two sizes too small." Get cheerful with Money Morning Executive Editor Bill Patalon's pick for one of the best stocks of 2015 – you may find it a pleasant surprise…