Money Morning Article of the Week
by David Zeiler, Associate Editor, Money Morning
Republican control of the U.S. Senate has made approval of the Keystone pipeline imminent.
The controversial $8 billion project, skillfully delayed for years by U.S. President Barack Obama, would transport oil sands crude from Canada to refineries on the U.S. Gulf Coast.
TransCanada Corp. (NYSE: TRP), the company building the Keystone XL pipeline, would be the greatest beneficiary of its approval, of course. But dozens of other companies also figure to gain from the project.
With the Democrats soon to be the minority party in the Senate, Majority Leader Harry Reid, D-Nev., will lose his power to block voting on Keystone XL pipeline bills, as he has done for years.
The new Majority Leader, Sen. Mitch McConnell, R-Ky., plans to hold a vote on the Keystone pipeline shortly after the 114th Congress takes office in January. The Republican-controlled House of Representatives already has approved several Keystone bills.
No More Obama Wiggle Room on the Keystone XL Pipeline
As for President Obama, the clock has just about run out on his stalling tactics. When asked by reporters about the Keystone XL pipeline yesterday (Wednesday), the president stuck to the neutral position he's held all along.
"On Keystone, there's an independent process. It's moving forward. And I'm going to let that process play out," President Obama said. He was referring to a pending Nebraska Supreme Court case. The court is to rule on whether the state's governor had the authority to approve a Keystone route change in 2012.
But when the Keystone pipeline bill lands on his desk next year, President Obama will have to either sign it or veto it. Both options put him in political hot water.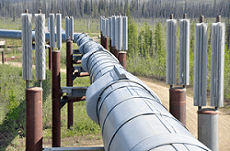 Signing the bill will enrage the environmental wing of the Democratic Party. But a veto would anger a much larger group of people.
The Keystone pipeline has significant Democratic support in Congress, making this a bipartisan issue. A non-binding Senate vote on the Keystone bill taken earlier this year won 11 Democratic votes.
But what will really give President Obama pause is public opinion. A Pew Research Center poll taken in the spring showed that 61% of Americans favor building the Keystone XL pipeline. And that includes almost half of all Democrats (49%).
"I actually think the president will sign the bill on the Keystone pipeline because I think the pressure – he's going to be boxed in on that, and I think it's going to happen," Republican National Committee Chairman Reince Priebus said on MSNBC.
When the Keystone pipeline bill is approved early next year, it will boost at least a dozen energy stocks…
The Winning Stocks of the Keystone Pipeline
It's easy to see why oil and gas companies from Canada to the Gulf Coast are eager to see the Keystone XL pipeline built.
It's a massive project.
TransCanada says the pipeline will have a capacity of 830,000 barrels a day over its 1,179 mile length.
Many of these stocks have been slammed lately as oil prices have dropped. But that's just made them cheaper.
The stocks that will benefit from a completed Keystone pipeline fall into several categories:
The Pipeline Companies: TransCanada (Thursday's close: $49.22) has waited a long time for this. And even though the Keystone XL is partly priced into the stock, official word next year should bring a nice pop. TRP also may be in the crosshairs of some activist investors. And TransCanada pays a 3.6% dividend.
Another pipeline company that could win from the Keystone pipeline is Enbridge Inc. (NYSE: ENB). A rival of TransCanada, Enbridge (Thursday's close: $45.14) could enjoy a halo effect from Keystone. If Keystone gets approved, it could grease the regulatory wheels for several pending Enbridge projects. ENB pays a 2.7% dividend.
The Oil Producers: These companies need the Keystone pipeline to get their product to the refineries. The lack of infrastructure has been a drag on Canadian oil prices. But Keystone – along with several other pipeline projects – will fix that problem. Higher oil prices will drive higher profits.
Among the top picks here is Suncor Energy Inc. (NYSE: SU). Suncor (Thursday's close: $33.62) was a Canadian oil sands pioneer and continues to add to its large acreage position in Alberta. SU pays a 3.2% dividend.
Another is Imperial Oil Ltd. (NYSEMKT: IMO). Imperial (Thursday's close: $46.89) is building the largest crude oil terminal ever constructed just outside Edmonton, Alberta. The terminal will be able to move 250,000 barrels a day from the IMO Kearl oil sands project. IMO pays a 1% dividend.
Other plays in this group include Canadian Natural Resource Ltd. (NYSE: CNQ), Cenovus Energy Inc. (NYSE: CVE), and Baytex Energy Corp. (NYSE: BTE).
The Gulf Refiners: The Gulf Coast has a large concentration of refineries capable of handling the heavier, harder-to-process oil sands liquids. While the oil can get there by other means, a pipeline is the cheapest and most efficient.
One of the biggest refiners in the Gulf region is Valero Energy Corp. (NYSE: VLO). Valero (Thursday's close: $50.24) has seven refineries that can process more than 1.5 million barrels a day. And all of Valero's refineries are equipped to process the heavy Canadian oil. Valero has already committed to taking 100,000 barrels a day from the Keystone XL pipeline through 2030. Plus, Valero has an option to buy 15% of the Keystone pipeline. VLO pays a 2.2% dividend.
Phillips 66 (NYSE: PSX) only has about half of Valero's capacity (733,000 barrels a day). But Phillips 66 (Thursday's close: $75.42) has two refineries that can process the heavy Canadian crude. And most of Phillips' profits come from refining. PSX pays a 2.7% dividend.
Other plays in this group include Exxon Mobil Corp. (NYSE: XOM) and Alon USA Energy Inc. (NYSE: ALJ).
The Bottom Line: There's no need to wait for the official approval of the Keystone pipeline. At this point it's a near-certainty. So now is the time to buy the stocks that will benefit the most.
What We Learned from Midterms: In the wake of a surprising midterm election that resulted in an overwhelming Republican victory, we asked Money Morning's experts to assess what it all means for your money. You can't get this insight anywhere else…