by Greg Guenthner, Daily Reckoning
Buy what you love…
That's the oldest amateur investor adage in the book. When your neighbor wants to dabble in the stock market, he probably buys a few shares of his favorite brands. It's not the worst investing idea ever – but it's far from the best.
Today, I'm going to show you three stocks I hate. I don't like the companies. I don't like their longer-term prospects. And common sense would tell me I should steer clear of these tickers.
However, the charts are telling me (and you) a different story. This morning, these three stocks are setting up for higher prices. And even though I dislike these companies, they could deliver impressive short-term gains.
First up is Best Buy Co. (NYSE:BBY):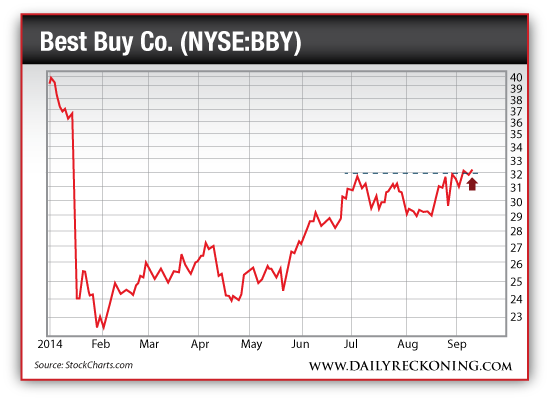 Best Buy has the unfortunate distinction of being a massive electronics retail superstore in an age when consumers are shunning the showroom for online orders. I've written about Best Buy many times before. In the long run, I think its days are numbered. I just don't see how the retail operation – with all of its advertising and overhead – can compete with the likes of Amazon and other online retailers.
But look at that chart. The stock has been fighting off its January swoon all year. Yesterday, it closed above its June highs. It looks like the breakout will lead to higher prices this month.
Next up is lululemon athletica (NASDAQ:LULU):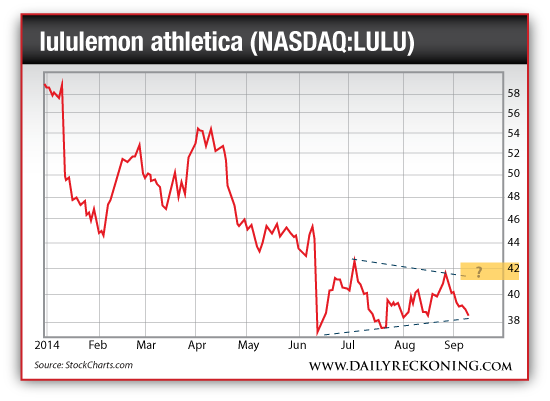 LULU shares have trended straight down for almost a year now. Remember the yoga pants scandal? The company's unlikable CEO and poor earnings have pushed this stock to prices not seen since early 2011. It's almost as if overpriced luxury workout clothes was somehow a terrible business model…
---
What is the Income Play Rich Investors Love? (Hint: It's Tax-Free)
---
However, LULU is about to snap back in a big way. Shares are up double-digits in pre-market trading after the company beat second-quarter earnings and revenue expectations. If this move sticks, the stock will break out of its sharp downtrend this morning. That could spark a powerful new rally over the next few weeks…
Finally, we have Glu Mobile Inc. (NASDAQ:GLUU):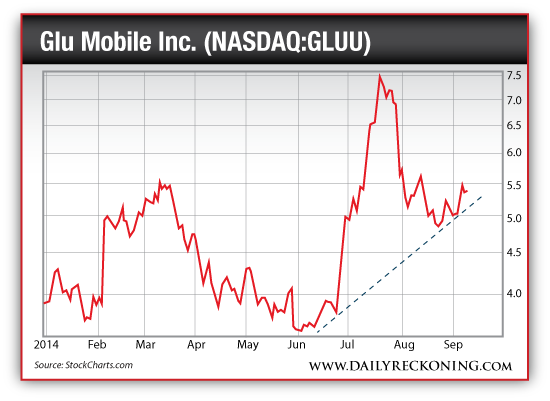 Glu Mobile develops games for mobile phones. That's it. It lives and dies by its latest release. And once the game's popularity fades (as they all will), it has to come up with another title that will pick up the slack.
The stock has been a bizarre rollercoaster ride this year. Shares shot from $3.50 to $7.50 in just a couple of months. After overheating, the stock gave back nearly half of its big move. Now, GLUU stock looks like it's setting up once again. It has established uptrending support and is knocking on the door to $5.50. If it can top this price, GLUU could be a great momentum play as it attempts to attack its summer highs…