by Greg Guenthner, Daily Reckoning
Editor's note: This was written (and first published at the Daily Reckoning last Monday).
The market is sending out a few critical warning signals this week…
"But Greg," you say. "Haven't you been talking about a potential correction all summer? Last I checked, the market's hitting new highs. Open your eyes, man!"
Well, you're right.
The S&P 500 just clocked a new closing high last week, while the Dow and the Nasdaq both fell just short of their previous highs.
But under the surface, you'll find a few bits of evidence pointing toward lower prices. For the record, I'm not calling for a market crash. I don't think you should sell everything you own and move to the wilderness. However, I am seeing several warning signs that could point to market weakness.
Here are three reasons you should plan for a pullback sooner rather than later:
1. Small-cap performance is getting even worse.
We've discussed small-cap underperformance before. After leading the bull higher for years, small stocks are beginning to crack…
You can see where the Russell 2000 and the S&P 500 begin to diverge back in early April. And aside from playing catch-up for a hot second back in June, small-caps have underperformed their larger cousins by a huge margin. So far this year, the S&P 500 is up more than 7%, while the Russell 2000 has dropped more than 1.6% over the same period.
Small-cap performance is typically a good gauge of investors' risk tolerance. That makes the flight to larger stocks a concern for the overall health of the market…
2. Momentum is fizzling at new highs.
Sure, "the market" is making new highs. But is the big index running out of steam?
---
What is the Income Play Rich Investors Love? (Hint: It's Tax-Free)
---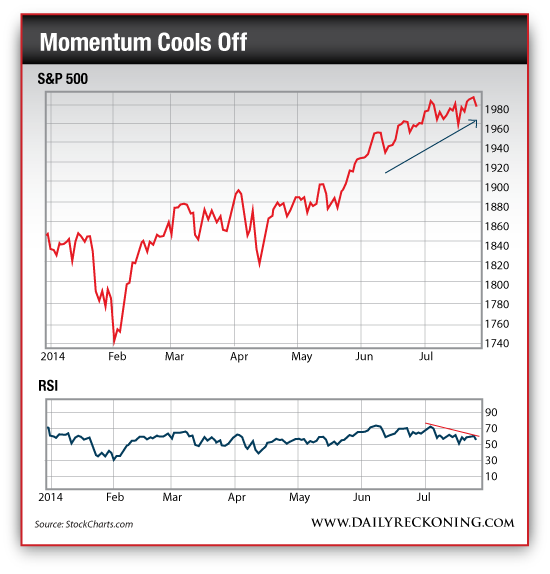 "We are seeing some cracks in the rally more recently," comments our redident trading expert Jonas Elmerraji. "While the S&P 500 has been moving higher since June, our momentum gauge at the bottom of the chart has been trending lower. That disconnect is known as a bearish divergence, and it's typically a precursor to a drop in price."
3. The market needs a "reset".
A bull market doesn't move up in a straight line. Stocks occasionally need to blow off some steam. But since mid-April, the S&P has churned higher without as much as a pullback…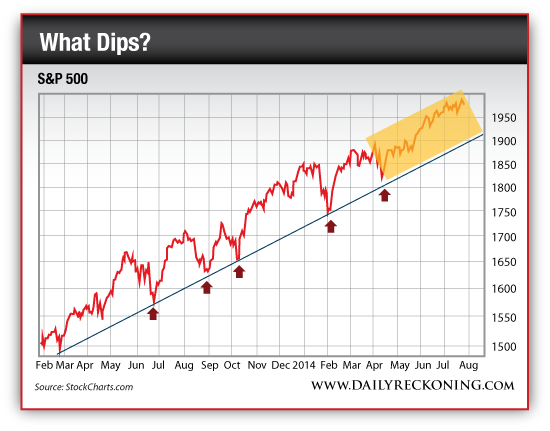 Pullbacks help keep the market's wall of worry intact. They shake out the loose hands and offer investors strategic buying opportunities. We haven't seen many of those lately. Instead, the market has been clinging to the very top of its trading range. Even if you're longer-term bullish, you want to see stocks release some of this pressure and "reset" before heading higher.