by Greg Guenthner, Daily Reckoning
As the real estate market slowly begins to show signs of life, homebuilders continue to slide.
The iShares Dow Jones U.S. Home Construction ETF is down almost 4% year-to-date. Over the past 16 months, the builders have been stuck in neutral, while the S&P has risen more than 26% over the same period.
Something has to give…
Marketfield Asset Management chief executive Michael Shaoul tells MarketWatch:
"The new-home market is about the only part of the U.S. domestic economy that still remains in recession territory. I don't think that normality for the U.S. economy and the abnormality of the U.S. housing market can coexist for too much longer."
In case you think the housing market is getting overheated and is due for another slump, allow me to point out some interesting statistics:
---
What is the Income Play Rich Investors Love? (Hint: It's Tax-Free)
---
Sales of new single-family homes just hit an annual rate of 504,000. But the average annual pace clocked in at 940,000 over the decade leading up to a 2005 peak, according to MarketWatch. Then, there's new construction on single-family homes, which is up 5% over last year. But this metric remains well below the average pace of almost 1.4 million starts during the boom days…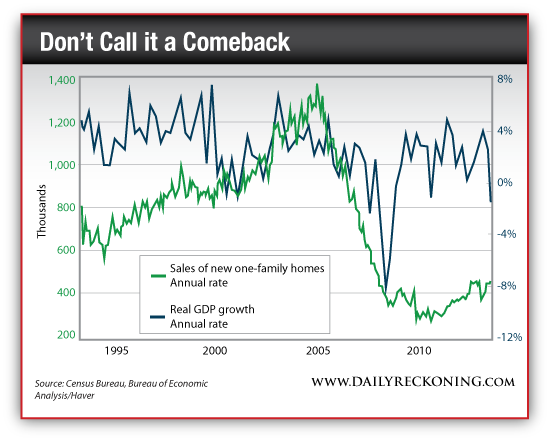 However, housing might finally gain its footing this year. In May, home purchases jumped by almost 5% to a 4.89 million annualized rate – the biggest increase since August 2011.
But what we're seeing right now is a do-or-die moment for homebuilding stocks. It's important to note that the iShares Dow Jones US Home Construction ETF (NYSE:ITB) and the retail-heavy SPDR Homebuilders Index ETF (NYSE:XHB) underperformed the S&P in 2013, while home prices actually increased 10.9%. This year, we've been waiting for the snap-back rally…
ITB and many of its homebuilder components are trading near long-term support. This marks a perfect opportunity for a low-risk buy. If prices can't hold these levels, you can sell with little to no harm to your portfolio. But I think they'll hold and eventually shoot higher.