EURUSD Weekly Outlook: Why More Downtrend Likely and What Drivers Will Decide
by Cliff Wachtel, FX Empire
FX Traders' weekly EURUSD fundamental & technical picture, this week's market drivers that could change it, & how Monday trading volume is a Super Bowl indicator.
The following is a partial summary of the conclusions from the fxempire.com weekly analysts' meeting in which we share thoughts about what's driving major global asset markets. The focus here is on the EURUSD's weekly outlook for forex traders, from both a fundamental and technical perspective.
Summary
EURUSD Weekly Outlook: Bias Flat/Lower
USD strengthens versus Euro, the technical picture and its underlying fundamentals suggest more downside
-Technical: Break below 5 month old support of 1.35 zone, four week downtrend, downward technical momentum on daily and weekly charts, weekly chart shows EURUSD near the double Bollinger band sell zone.
-Fundamental: USD risk aversion appeal from China, Emerging Markets, taper-related global tightening fears point to further test of support this week
-Top EURUSD market movers this week that will decide the pairs' fate
Fading Risk Appetite: Technical Picture
After a month of consolidation in a tight trading range of the S&P 500, our preferred risk appetite gauge, the index bent. Given the drop in risk appetite of the past 2 weeks, it's no surprise that the EURUSD resumed its 4 week downtrend.
First, to get you quickly into context, here's a look at the index and the EURUSD on their weekly charts.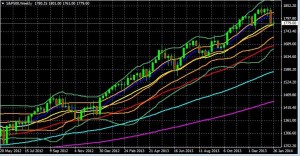 EURUSD Weekly Outlook: Why More Downtrend Likely & What Drivers Will Decide
S & P 500 WEEKLY CHART MAY 2012-PRESENT
Source: MetaQuotes Software Corp, www.fxempire.com, www.thesensibleguidetoforex.com
Legend for both graphs, above and below.
10 WEEK EMA DARK BLUE,
20 WEEK EMA YELLOW,
50 WEEK EMA RED,
100 WEEK EMA LIGHT BLUE,
200 WEEK EMA VIOLET,
DOUBLE BOLLINGER BANDS NORMAL 2 STANDARD DEVIATIONS GREEN,
1 STANDARD DEVIATION ORANGE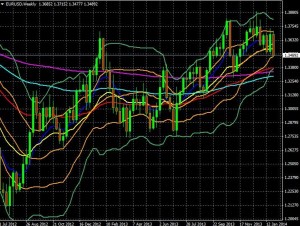 EURUSD JULY 2012 – PRESENT
Source: MetaQuotes Software Corp, www.fxempire.com, www.thesensibleguidetoforex.com
This EURUSD downtrend accelerated Thursday and Friday, with the pair closing near its weekly lows, and worse, below its 5 month support around 1.35, lending further bearish bias to the start of this week.
Note that the pair is now, for the first time since the summer, poised to enter the lower quarter if its double Bollinger bands – which would indicate strong downward momentum and thus more downside ahead. See here for an explanation. The good news is that each of the past three times that happened in 2013 it signaled a bottom.
What are the real fundamentals behind the move?
Fading Risk Appetite: Fundamentals Driving It
The EUR underperformed similarly against the JPY. Like the S&P 500 and other Yen crosses, the EURUSD is moving with the general risk aversion of the past two weeks. The primary drivers of which have been:
-The normal vulnerability of risk assets to pullbacks after long uptrends. Indeed, given the bottoming of the S&P 500 last week, the initial dive in EM assets appears to be mostly a typical rush of hot money out of risk assets and unwinding of shorts positions on safe haven assets. See here for details. This made markets vulnerable to events like:
-A simultaneous but unrelated rise in political unrest in multiple EM nations
-Concerns about a worsening slowdown in China hitting risk appetite in general (for reasons we detailed here and here), and exacerbating concerns about many of those EMs in particular.
What Made The EURUSD More Sensitive To Risk Appetite Than Usual?
The EURUSD's sensitivity to risk appetite has increased in recent weeks because the EUR's recent support has come from risk or yield seeking cash inflows into the sovereign bonds of the Eurozone's periphery.
As we've warned repeatedly (see here and here for example) these were already among the riskiest assets out there, and contrary to popular belief, they've become more risky thanks to the EU's recent attempt at a single resolution mechanism (RSM) for its banks. Investors have taken on more risk for less yield, without a corresponding improvement in these economies. Yields in the periphery in general are near multi-year lows, and Spanish and Italian 2-year rates are at record lows, and are now far closer to yields from stronger countries, making further gains for peripheral assets difficult even with continued strong risk appetite.
The increased volatility and correlated corrections across a variety of asset classes in recent weeks suggests risk appetite has weakened and at risk of further correction. If that happens, the over-leveraged, over-valued and fundamentally-unsound peripheral EU assets would sell off and drag the EURUSD down with them.
Is The Long Anticipated Gap Between Fed And ECB Outlook & Policy To Finally Happen?
Even without a sustained bout of risk aversion, the pair is vulnerable to the long awaited widening gap in Fed and ECB policy direction, and ultimately in rates, as the Fed maintains its tightening and the ECB does the opposite.
Last week the US Federal Open Market Committee (FOMC) made no reference to EM troubles as it announced the next planned $10B taper of Quantitative Easing treasury and mortgage bond purchases. In doing so the Fed sent a message that it was not alter long term policy like the QE reductions based on short term market fluctuations as seen this week, nor based on single monthly data points like the weak December US jobs reports. That the FOMC was unanimous in its vote to continue reflects optimism about US growth that contrasts with ECB's dour outlook for the EU.
This week it's the ECB's turn to update us on its outlook. No rate cut is expected simply because it wouldn't address the EU's prime concerns, contracting business lending and deflation. Whatever attempts to address these issues is more likely to come via some kind of more exotic stimulus program, with the primary goal to encourage commercial lending. Regardless of what or when that might be, the ECB continues to look more dovish than the Fed.
In sum, likely near term directions for both risk appetite and relative central bank policies of the Fed and ECB point to more EURUSD weakness in the week ahead and beyond.
Top EURUSD Drivers To Watch This Week
In addition to overall risk appetite (whatever your preferred barometer of that may be – watch it), here are the things that are likely to determine the fate of the EURUSD this week.
US January Jobs Reports
US monthly jobs reports released Friday, and those reports that hint at their outcome during the week. These include the jobs components of the ISM mfg and non mfg PMI (especially the latter), and the ADP NFP report. There are a few unique aspects to consider for the January 2014 jobs reports.
6.5% Unemployment Rate Not A Tightening Signal
If the unemployment rate continues to fall, it could drop below last month's 6.7% (and forecasted result for Friday) to the 6.5% level that the Fed has said is a threshold (but not trigger) for a more hawkish policy. Relax, even if it's hit, we don't anticipate any change because:
-The recent drop didn't reflect an improved jobs picture but rather a rise in those too discouraged to look for work.
-Back in December Bernanke suggested that forward guidance would be changed to a more qualitative than quantitative measure, that is, he was already backing away from any commitment to change policy when unemployment reached 6.5%. He likely realized the error of committing to any hard figure. Even if the fed were to revise that figure to 6% (just in case it thought that after another revision anyone would still believed it mattered), it would likely wait 1-2 months.
Weekly Jobless Claims? Huh?
Weekly jobless claims is not generally a big market mover, but it could be market moving IF it is low enough to get the 4 week moving average to resume its down trend.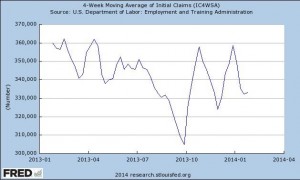 As shown in the chart above, the 4 week moving average for new weekly claims has been in an uptrend since October 2013, had been dropping since late 2013, but recently started moving higher yet again.
ECB Monthly Rate Statement And Press Conference
No major changes expected but any surprise that shifts the anticipated gap in USD and EUR rates should move the pair
EU Periphery Data? Only If Risk Appetite Returns
A batch of Spain, Italy data comes out this week, and while normally these are not market moving, given the recent interest in GIIPS assets, and the inflows it has brought, these could feed or douse that interest and inflows, but ONLY IF risk appetite turns around this week, and tempts investors to revisit these and buy on the dip.
My Retail Trader Positioning Sample For EURUSD: Fading The Downtrend
For what it's worth, my real time sample of retail traders from forexfactory.com, (mostly medium-term traders with an average holding period of 7 weeks) have actually become more bullish on the EURUSD.
They began last week with only 36% long the EURUSD, and ended the week 55% long – apparently they disagree with me, and see the pullback as a buying opportunity.

Source: forexfactory.com
Why NFL Marketing Dept. Should Monitor Asia, Europe Trading Volume Monday
In both my book and articles I regularly stress the importance of inter-market analysis. Here's a mostly-serious observation for the NFL's marketing folks.
For those watching the world's most watched televised/streamed event, the Super Bowl, from Europe and Points East, it's a very late-night affair. We've a 1:15 am kickoff here in Jerusalem, Israel – the only city on the planet where you can watch the game at bar – packed with Orthodox & Hassidic Jews as well as an assortment of the city's diverse mix of expats, tourists, and locals of all faiths & backgrounds.
However, those of us watching will likely be a bit late to our trading stations Monday, or even if we make it, a bit less inclined to trade or do much of anything else.
Lower trade volume this Monday than last year's post-game Monday would suggest an uptrend in market penetration for the NFL, at least among international traders. They're a good sample of the NFL's core demographic: guys with disposable income, heavy users of almost everything they like to peddle during those $4 million commercials.
So the NFL's marketing team should be watching trading volume in Asia and Europe on Monday. When they can confirm a trend of lower volumes versus previous post- Super Bowl game Mondays in Europe and eastwards, they'll know it may be time to move forward with the next steps for their planned expansion overseas.
Heck, even here in the Holy City, we've got lit stadium (thanks again, Mr. Kraft) with a New England Patriots logo on the 50 yard line. We've even got a full-contact league, though it retains some distinct local flavor. Happily, Sabbath candles remain only uniquely "Friday Night Lights" in this town.
To be added to Cliff's email distribution list, just click here, and leave your name, email address, and request to be on the mailing list for alerts of future posts.
DISCLOSURE /DISCLAIMER: THE ABOVE IS FOR INFORMATIONAL PURPOSES ONLY, RESPONSIBILITY FOR ALL TRADING OR INVESTING DECISIONS LIES SOLELY WITH THE READER.