by Lee Adler, Wall Street Examiner
Banks are apparently getting out of the business of trading pretty much everything except Treasuries thanks to the Volcker rule. Perhaps the story may be in spinoffs and hedge funds they've funded to trade off the banks' books. I'll leave that for someone else to tell.
While the banks are dumping their trading account holdings, or suffering losses for the past year thanks to their fixed income trading positions, they're apparently moving much of the money, as well as new money, over to their non Treasury, non Agency, and non-MBS investment accounts. Those accounts grew by about $50 billion between late December 2012 and late December 2013. The increase in those accounts has mirrored the rise in stock prices since the fourth quarter of 2011. Or did they lead?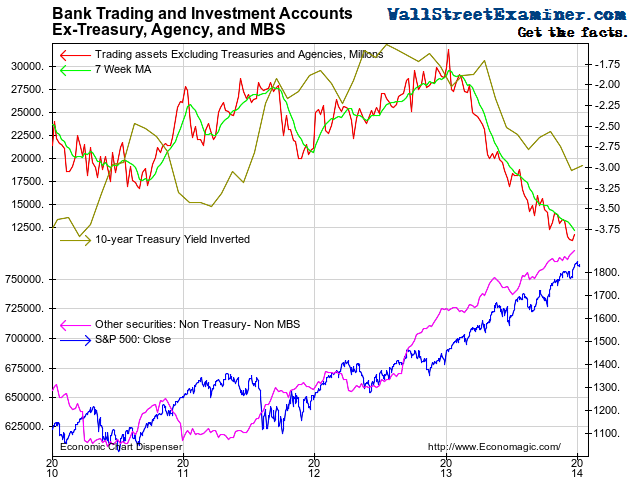 Bank Non Treasury, Agency, Or MBS Trading and Investment Accounts – Click to enlarge
Many pundits, particularly those in denial about the connection between Fed QE and the direction of stock prices, like to repeat that "correlation does not imply causation." Correlation might not prove causation, but it certainly may imply it. Whether the implication is accurate or misleading is a matter of judgement. Judgement comes from knowing facts and data, and having some understanding of how the system works.
However, even if the correlation is not a result of cause and effect, I say if it works, it works. Pay attention to it as long as there's a plausible reason for it to work. In other words, is it logical in light of the facts we know. Does it make sense? For the moment, this one makes sense. Some banks are buying something that correlates with rising stock prices. That is probably not coincidence.
The trend is still your friend. For now, rigging, particularly central bank rigging, works. History teaches that a mistake will be made and that it will stop working, but that time probably hasn't come yet.
You can follow this and many other correlation charts weekly in the Fed Report. ______________________________
Stay up to date with the machinations of the Fed, Treasury, Primary Dealers and foreign central banks in the US market, along with regular updates of the US housing market, in the Fed Report in the Professional Edition, Money Liquidity, and Real Estate Package. Try it risk free for 30 days. Don't miss another day. Get the research and analysis you need to understand these critical forces. Be prepared. Stay ahead of the herd. Click this link and begin your risk free trial NOW! [I cover the technical side of the market in the Professional Edition Daily Market Updates.]
See Rick Santelli use one of my proprietary charts on CNBC to explain how the Fed impacts the stock market directly through its trades with the Primary Dealers. This is just one example of the dozens of proprietary charts that I build that will help you to clearly see and understand the market's trend, and when that trend is beginning to change.