by Cliff Wachtel, FX Empire
Coming Week Lessons Part 1: Making sense of seemingly contradictory market behavior
The following is a partial summary of the conclusions from the fxempire.com weekly analysts' meeting in which we share thoughts about what's driving major global asset markets. The focus is on global stock indexes as these are the best barometer of overall risk appetite and what drives it, and thus of what's moving forex, commodities, and bond markets.
Here's part 1 of our lessons for the coming week. We added some extra forex notes here.
It's no surprise or news that economic reports believed to most influence Fed QE taper timing are the prime driver of global risk appetite as portrayed by its most popular barometer, the leading international stock indexes.
As we detailed here, global stocks and other risk asset markets spent Monday – Thursday falling on positive indicators about the Friday US monthly jobs reports, or rising (actually just cutting losses a bit) on the one negative report, the disappointing ISM services PMI report on Wednesday.
Good news was ultimately bad news, because good news heralded the end of the only thing that markets believe is sustaining the rally, QE 3 and its variants. A common phenomenon.
Then on Friday these fears were realized: the actual jobs reports were very positive all around. Yet after a weak of diving on the rumor, instead of selling off, markets rallied on the very thing that they feared.
Huh?
After spending the week fearing (and selling off on) good data that fed early QE taper fears, European and US traders embraced it.
Why?
There were three interpretations floating around:
Data Was Good, But Not Too Good To Advance The Taper
One, as we've noted repeatedly, the most bullish results are those that are good enough to indicate continued slow growth, but not too good to warrant an a QE taper that is earlier or faster than currently expected. That was just what they got.
The range of estimates for the NFP report to show between 125k- 230k new jobs, so markets interpreted the 203k figure as being good enough to reflect continued economic recovery but not so strong as to cause the Federal Reserve to end its QE stimulus program earlier than the current March 2013 consensus date.
Also, there were negatives lurking beneath the headline number that could easily lead the Fed to remain cautious, as WSJ reporter Jon (Mr. Unofficial Fed Mouthpiece) Hilsenrath wrote last week. His key points include:
The 0.2% drop in the unemployment rate was due to a 0.2% drop in the labor force rather than a real 0.2% increase in the number of job seekers finding jobs: The household survey – the source of the UE level – shows unemployment rate dropped from 7.2% in September to 7% in November, however labor force participation rate fell to 63% last month from 63.2% in September (and 63.6% a year ago).
That could cause the Fed to change its guidance and indicate it wants a 6.5% headline unemployment rate before it starts the taper
The US Economy Can Handle An Earlier Taper and Rising Rates That It Will Bring
The second explanation was that the US economy would be strong enough to handle an earlier taper as improving growth and earnings would make up for any concomitant increases in borrowing costs.
Markets Don't Expect Bond Yields To Rise Much From The Coming Taper
The third explanation, a variation on the second, was that interest rates were unlikely to rise much beyond their current level, with the benchmark 10 year treasury note still holding around 2.85% at the close on Friday. In other words, markets have already priced in the taper.
Which explanation is correct? We'll know better after the next FOMC minutes. Our best guess is that, as we discussed here, the benefits of waiting the extra few months until the incoming Fed Chairperson Janet Yellin is settled in at the helm, outweigh the risks.
We wouldn't offer a fourth possibility of a "sell the rumor buy the news," a short sellers' version of the "buy the rumor sell the news." No way. The 4 day retreat was very much a bull-market technical pullback, nothing more. It was a minor drop on minor volume, obviously lacking conviction.
This was the climactic report of the week and we expect it to provide some bullish fuel into the coming week. Expect to see Asian markets pop higher as they play catch-up to the bullish news when they open Monday.
How To Profit (Or Avoid A Loss)
Like reigning bond deity Jeff Gundlach, we suspect the odds favor bets on:
rates staying down for at least the coming months

nothing more than a symbolic start to the taper at most
For currency traders: hold off on new USD longs, as the taper, and the benefits it brings to the USD, may yet be a while.
Another reason for caution, per forexfactory.com's real time long/short ratios of EURUSD positioning, retail traders are already exceptionally short the EUR versus the USD for trades that are held for 8 weeks on average. In other words, long USD is a crowded trade per this real time sample of retail traders.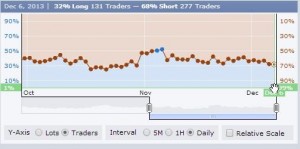 EURUSD LONG/SHORT RATIO PER REAL TIME SAMPLE OF RETAIL TRADERS FROM FOREXFACTORY.COM
Source: forexfactory.com homepage
For stock traders or investors, there are many ways to play that. At minimum, we'd avoid shorting the high-yielding interest rate sensitive mReits (NLY, AGNC, etc.) or MLPs (KMP, LINE, EDP etc.).
RELATED LESSONS
Watch 10 Year Treasury Note Yields Best Barometer On Taper Timing & Pace
Yields on 10 year notes are considered a key benchmark for US bond yields. Because they're a pure interest rate barometer, they're also a clearer barometer than stock index movements of whether markets believe the taper is coming sooner or later, as they are purer interest rate barometers.
US: GDP Figures Bullish? Debatable
European and US indexes overall closed lower, the Dow and S & P for their fifth loss in a row (Dow -0.41%, S&P -0.41%, Nasdaq -0.12%), after U.S. Preliminary GDP and weekly new jobless claims both beat expectations and thus increased fears of an early (pre-March 2014) taper.
We remind readers that as was the case with advanced GDP, most of the surprise gain came from inventory increases. The debate continues over whether that buildup was a bullish anticipation of higher demand or a bearish indicator of slowing sales (and is thus likely to reverse and drag down Q4 GDP).
The dour start to the US holiday shopping season lends weight to the bearish interpretation.

On the other hand, Deutsche Bank's Joe LaVorgna wrote to clients.


"Importantly, there is little evidence thus far in the quarter that suggests inventories are being unwound. In fact, the inventory subcomponent of the Chicago purchasing managers' index soared 13.1 points to 61.1 in November, the highest reading since October 2006. Consequently, we expect further incremental inventory building this quarter, which is why we see growth above 3%."
No Divergence Between Currency And Bond Traders: EURUSD Moving On EUR Strength Too
These days it's easy for currency traders to view all USD moves as a reflection of taper sentiment. Beware of that. We had an example of potential confusion last Wednesday.
The yield on 10-year Treasury notes rose from Wednesday's high of 2.85 to close 2.863%, signaling that bond traders too see higher odds for an early taper. Meanwhile, the EURUSD is higher (meaning the USD is down versus the EUR. On the surface that might suggest that currency traders disagree, however the USD's relative weakness is more likely just due to EUR strength in response to the ECB's relatively hawkish rate statement Thursday (it's not easing monetary policy any further at this time).
As we've noted in the past, the EUR and USD tend to push each other in opposite directions, so strength in one usually spells a selloff in the other. For an explanation of why this is, see here.
To be added to Cliff's email distribution list, just click here, and leave your name, email address, and request to be on the mailing list for alerts of future posts.
DISCLOSURE /DISCLAIMER: THE ABOVE IS FOR INFORMATIONAL PURPOSES ONLY, RESPONSIBILITY FOR ALL TRADING OR INVESTING DECISIONS LIES SOLELY WITH THE READER.