by All About Trends, Zentrader.ca
The following is a snippet from this weekend's premium update from All About Trends. Subscribers receive daily commentary and a weekend wrap-up. Experience our accurate market analysis, trading methodology, and stock selection to raise your equity curve for only $20 for the first two months. That is an incredible deal, but before you spend money, give our free newsletter a try to see what we're all about and grab a free report as well.
ABC? Could it Be? As in is this just a B wave bounce up to numerous resistance zones? IF IF IF then the battle cry next up in the coming days is going to be? I would not want to be caught on the downside. Take a look at the daily index charts below.
Click to enlarge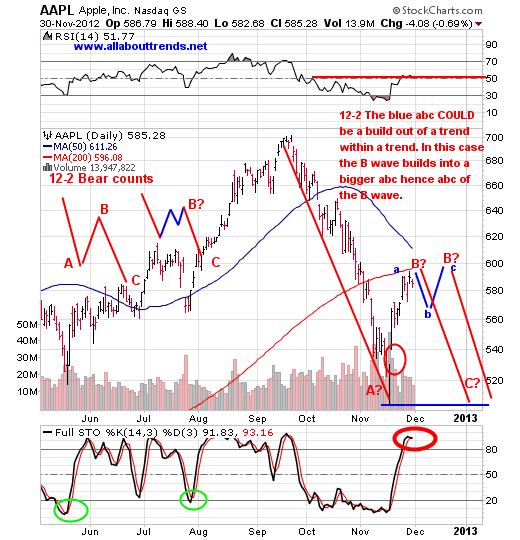 What we also want you to be aware of is how many names on our short side watch list are sporting this same type of set up (RED A with us in B waiting for a decisive with conviction break to the downside).
For those who are into Elliott Wave? If this whole leg down off the top was an A (wave 1) and this whole dead cat bounce/snapback rally, whatever you want to call it is a B (wave2?) then the next step in that sequence is a C or the dreaded Wave 3 which for short sellers is a wonder to behold as they say.As you can see in each of the charts above we added another count just in case and that is the little blue abc's. Those little blue abc's could be this B wave building out to a bigger B wave. Regardless of which occurs per the bear count? Both say lower. Quite frankly? Overall the market's condition here REALLY bothers us. Consider yourself being made aware.
Bottom line:
We either topped and finished the first leg down and are now in or ending a short cover rally.

We make one more run to retest the highs and then we top. The only way that occurs is if Washington agrees to things.
On the Long Side → It's all about protecting YOUR big picture portfolio regardless of whether they fix the cliff or not. Upside is limited.  Hedge some of your risk by adding a few inverse index etf's or even short some names on our list.

For the Short Side → If we were to retest highs of 2012? Big deal it's not that much more higher from here.

For those who are opportunists like us? Neither matters because we just trade what we see (lot of short sell patterns out there setting up) and trade accordingly long or short. All we're saying is batten down the hatches as next week could be a bumpy ride on the long side. We'll know a few days into next week. We either fall apart up in here in a "decisive" and "with conviction" move lower (think impulsive) or we get more constructive (think corrective) pullback chart action.
If you have short exposure try to hang with it. We have some names come Monday that we may want to do a little short side nibbling on in the form of "be there" trades so don't miss out on receiving our paid newsletter with our complete current watch list and Trade Trigger email alerts whenever we do a trade so you can trade in tandem with us. Take QID for example: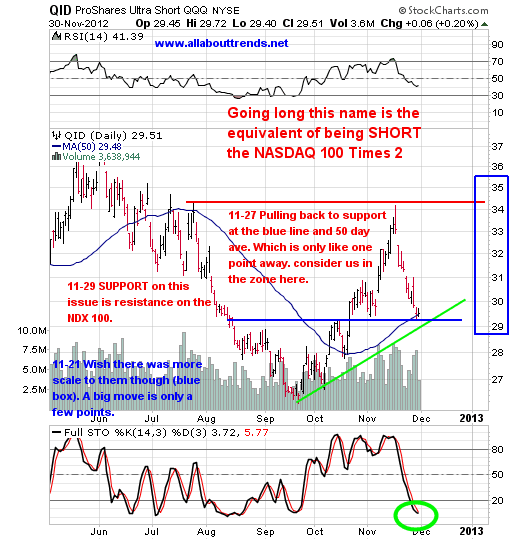 Trading in a defined range and currently at support and well oversold. This is how you gain short exposure but also be able to add to gains in your IRA.