by Guest Author Gregory Hines

As politicians, institutional investors, and policy makers grapple with the current sovereign debt crisis and its effect on global markets, another problem
half a world away is threatening to shake global financial markets in a similar manner. In its Global Financial Stability Report, the IMF reported that China is facing an impending credit crisis due to its loose lending policies to local governments.
Prior to 2008, China experienced a credit and construction boom fueled by low rates and easy lending policies to local government authorities. According to the IMF, China experienced one of the highest rates in credit expansion from 2009-2010. In addition, China has an extremely high level of gross debt which is roughly 173 % of GDP as of the end of June.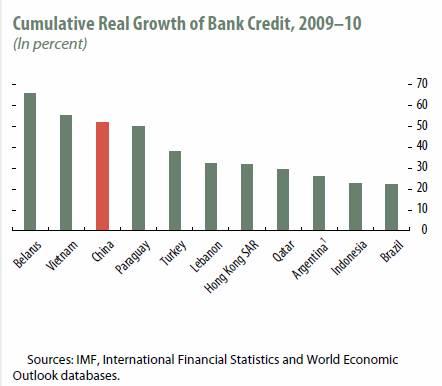 After the fall of 2008 and the market crash, China experienced a substantial increase in inflation; rising from -2% in July 2009 to 6.2% by current estimates from TradingEconomics. The reasons for this increase are twofold. First, the increase in credit created a naturally inflationary effect. Money supply growth reached 22% in 2007. Second, as the Federal Reserve began balance sheet and monetary expansion in form of asset purchases, QE I, and QE II, China, in order to maintain a peg to the dollar, was forced to devalue in a similar fashion. Both of these helped to push inflation to a considerable level.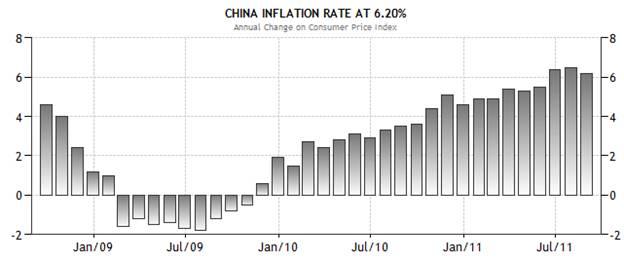 Policy makers in China have responded by increasing interest rates and tightening lending policies. Interest rates have increased from roughly 5% a year ago to 6.6%. The easy lending policy and subsequent credit contraction have left a legacy of doubtful loans and long-term projects that lack commercial viability. These effects, however, have been noted. See here and here. Another unfortunate effect of the current contraction is that many businesses are turning to alternative sources of financing that require sky high rates (roughly the equivalent of a payday loan). According to a recent report, 55% of all new lending now comes from outside the banking system, three times the level seen in 2006.The reverberations of the credit squeeze are beginning to surface as workers protested after a business owner was unable to pay several hundred workers.
The words of Cheng Siwei, head of Beijing's International Finance Forum, sum up the recent developments.
"The tightening policy is creating a lot of difficulties for local governments trying to repay debt, and is causing defaults…our version of subprime in the US is lending to local authorities and the government is taking this very seriously."
Investors have already begun to excess the risks of China's lending woes. From a peak of 2.8 times book values, shares in China's largest banks are currently trading at 1.6 times book value. In addition, funding costs for property developers have risen as high as 16%. While analyst debate over whether China can weather this pending crisis without dipping into recession, some conclusions can be drawn immediately. Unlike 2008, when the world looked to the BRIC nations to be the engine of global growth, if the globe sinks back into negative growth it is unlikely emerging nations will be able to shoulder the burden again. However, if such an event would occur investors can expect a similar market environment to that of 2008. Expect commodities (including precious metals) and equity markets to sink while yields fall even further and the U.S. dollar appreciates in a flight to safety.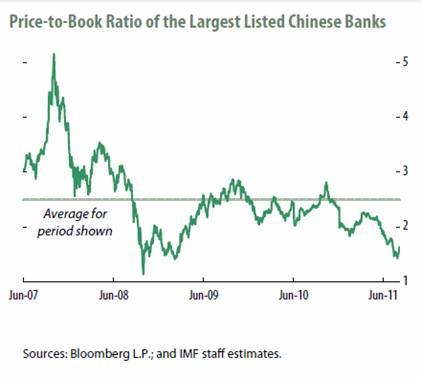 Editor's note: The data quoted in this article was current as of October 5, 2011.
Related Articles
Real Estate:  Not the Big Overinvestment Problem in China by Michael Pettis
China:  Misallocation and Overinvesting? by Michael Pettis
Shadow Banking, A Menace in China by Waiching Li
About the Author
Greg is a recent graduate of the University of Virginia, majoring in economics and foreign affairs. He is currently pursuing an M.S. in finance at Virginia Commonwealth Univesity. In addition, Greg is a CFA candidate.