by John Lounsbury
It has been observed for a couple of years now that the U.S. stock market tends to advance when the dollar declines and to retrench when the dollar advances. This will be examined in more detail later, but first let's look at just the opposite relationship between the euro and the German stock market DAX index. The following graph from the 5 Min. Forecast shows the obvious positive correlation between the DAX and the euro over the past six months.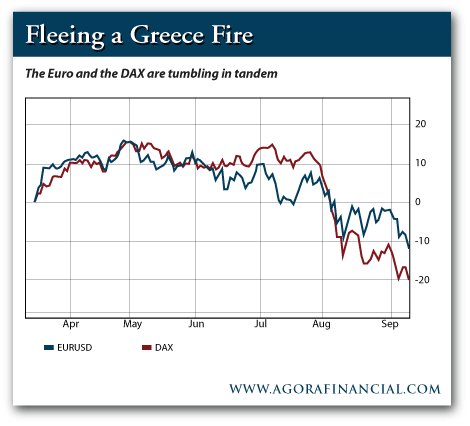 The above correlation is in sharp contrast to the relationship between the dollar and the S&P 500 shown in the following graph: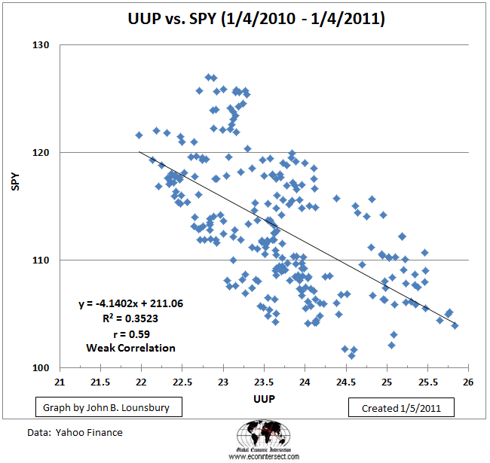 Here we see that the dollar and U.S. stocks are negatively correlated, although the correlation is not strong for daily trading data.
Over longer data time periods the stronger negative correlation for stocks vs. the dollar over longer time periods is seen in the following graph from TheStreet .com: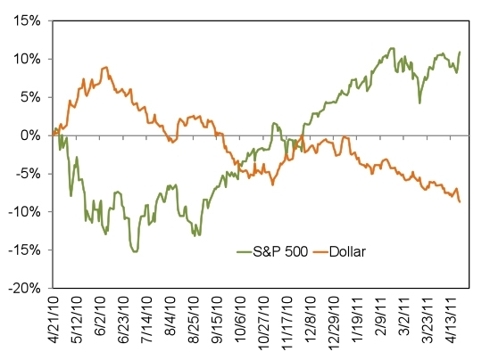 The positive correlation for the euro and the DAX is interesting because Germany is so active in trade and has current account surplus. A weaker euro is an advantage for German exporters so the first order expectation is that the DAX should be negatively correlated to the strength of the euro. Yes a weaker euro makes imports more expensive, but exports are a larger currency amount.
The U.S., on the other hand, has a current account deficit so a weaker dollar would be expected to aid the U.S. economy more than a weaker euro would aid Germany and so the U.S. is also displaying an anomoly, at least at first glance.
Proposed explanations? Here are a couple of attempts.
1. The U.S. has a negative correlation because more than half of S&P 500 earnings are overseas and a weaker dollar means that earnings there produce more equivalent dollars and therefore inflate the nominal value of stocks.
2. Germany has a positive correlation because their balance of trade is difurcated. Substantial amounts of exports are within the EU and are not affected by changes in the value of the euro. A substantial amount of Germany's imports come from outside the EU and cost more when the euro loses value.
Perhaps readers will have better explanations?