by David Grandey, All About Trends
We are in a time period of volatility expansion and when, coupled with a news driven reactionary environment, you have all the ingredients for a chef Emeril "BAM" market.  That can go in both directions I might add.  It's imperative that you maintain your composure and DO NOT allow your emotional state to dominate your thinking or trading.  Know where your trade is in current trend channels, avoid gambling against the trend unless you "know something" and do not bite off more than you can chew per trade.
This week we have some new short-term trends to watch.  First, the index charts: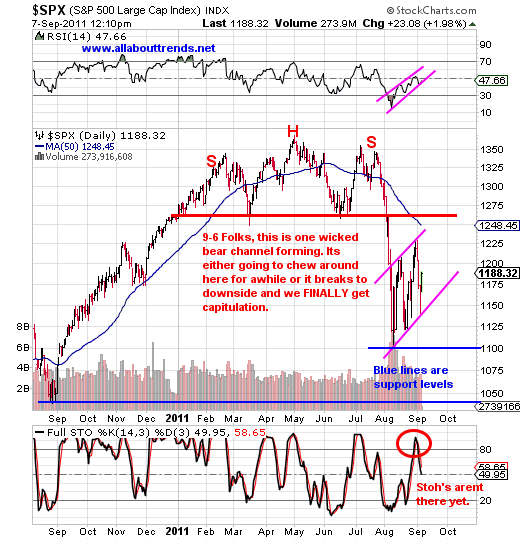 Here are the 60 minute time frequency charts: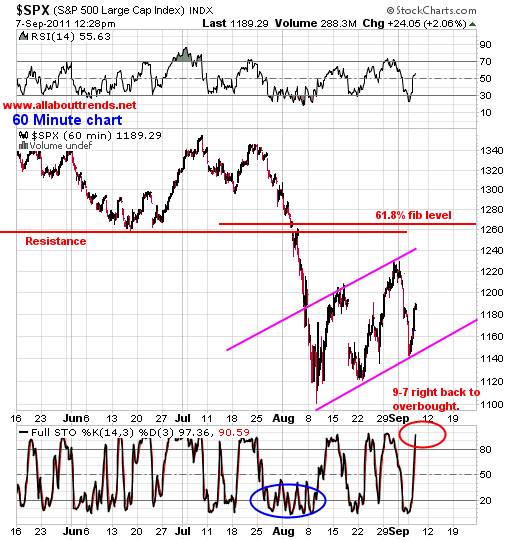 While in a channel we can still go higher and of course lower.  It's all about the channels. Until we break to the downside expect to get chewed around back and forth. That all said could we still make another gap and go run for a retest of recent highs?  If so it could be in the form of a REACTION from a news event and we all know the news event in mind right?
Hmm Friday morning's reaction to the new potential stimulus that, from what we hear, is about 300 Billion? You know, the one that we'll do now and PAY LATER FOR? Huh? What? Say Again? More kick the can? More extend and pretend? Whatever, we say.
Look, one way or another the market is going to make the call on that whole speech come Friday morning.  If the markets get popped on it? We've got major resistance just above.
If the market balks at it? 

Well then trend channel support is next stop then a break of the channel so you see either way we've got levels of support and resistance that we can use to manage our emotional state.
So you see until we get some resolve to the channel one is best to just let it work itself out.
As for the longside? Well with regards to the leaders I need to see some sort of chart pattern stabilization and right now I'm not seeing much I can work with from a daily chart pattern perspective. As for other things on the longside to look at? I've got one BUT it needs to pullback to some sort of support level as shown in the chart below.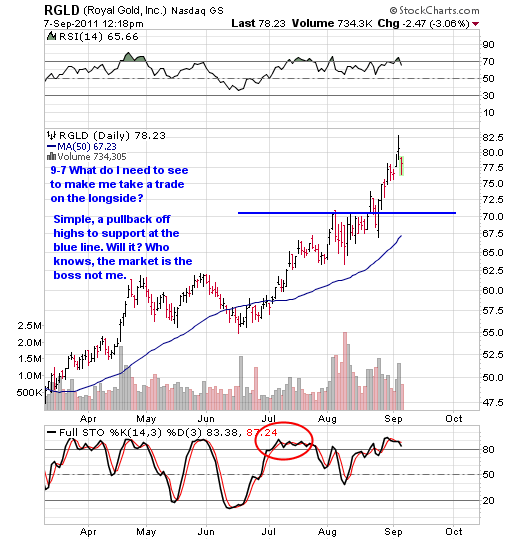 So what is one to do?  Nothing but sit back let the leaders over the next few weeks come to us.  That means a resolution of the bear channel that's building itself out. Should we get a break out of it to the downside for another leg down of a potential sell off?  Then we'll use that to be buyers on the longside.  We don't look for much in the way of leadership till then. Don't forget, good things come to those who wait
Game Plan for the week of 9-6-11
We will using weakness to lock gains in our short sells. BUT until we break below the bear channel on the indexes we can just chew around it in wide and loose form.
That means we expect whipsaws back and forth. Nobody is going to fault you this week for locking short sell gains on market weakness.
So what happens IF we were to retest the lows?  Well we'd want to lock some gains along the way, that's for sure.
What happens if we break new lows? Here too we'd use that weakness (strength on the short side) to also lock gains. Then IF we were to get a September capitulation low?  We'd want to be able to use that Greedy Gus strength on the shortside and Nervous Nelly face of capitulation fear on the longside to start picking off pieces of the leadership type names on the longside. While waiting for this to play out we'll take it a day at a time.
Between Now And Year End Template
What happens after this 5th wave? Simple, if Elliott Wave theory is all about fives and threes then a three waves up counter-trend rally to the upside would be in order. Below is an example of a past market leader whose done just that, albeit the red 5-waves down sequence isn't as extreme as the one we are experiencing currently but you get the point.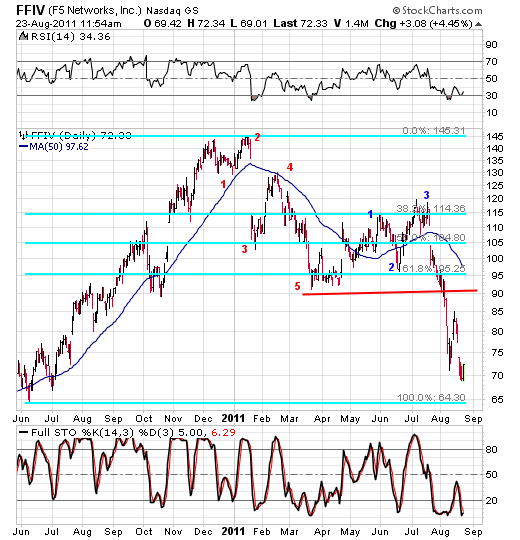 As you can see, after 5-waves down we have a 3-waves up affair. Once that 3-waves up affair completes itself?  Well you can see what typically takes place after the counter trend rally. It's another sell off. You can also see this blue 123 waves up rally lasted a few months and that is common, it's going to take that long to repair all the damage we've seen out there as it won't be repaired overnight and just about the time it gets what 'll look as repaired?  It's time to roll 'em back over to the down side again.
As for 401k's, mutual funds and long positions?
(Note we are not talking long positions that have been held since eternity in taxable accounts with a cost basis of nil or extremely low because to sell those the tax implications would be huge — we're not talking about that type of money here.)
With a chart that should look like a 123ABC up pattern, when there are no tax consequences, you should consider action.  At the end of such patterns, THAT is when you want to raise some cash in your 401k plan by moving out of equities and into the safest vehicle they offer.
For those who have a matching contribution where your employer matches you up to a certain percent? You are already doubling your money with the match what the heck do you need to have that money in the market for? So traditional Wall St. can keep getting their management fees while you get squat like you really have over the last 10+ years?
Notes from 9/6
We are going to need to see stalling at the highs and or a break to the downside of the Pink line to get us to short this issue. Sure these pharma's are strong relatively speaking but, remember in bear markets, they all ultimately "get with the program" (down)..
Kinda reminds me of HANS. It too broke into a new high and staged a shake and bake. A shake and bake is where an issue breaks out into a new high gets everyone all excited and shaken up –  then bakes them by rolling right back over. That's wide and loose patterns for ya folks.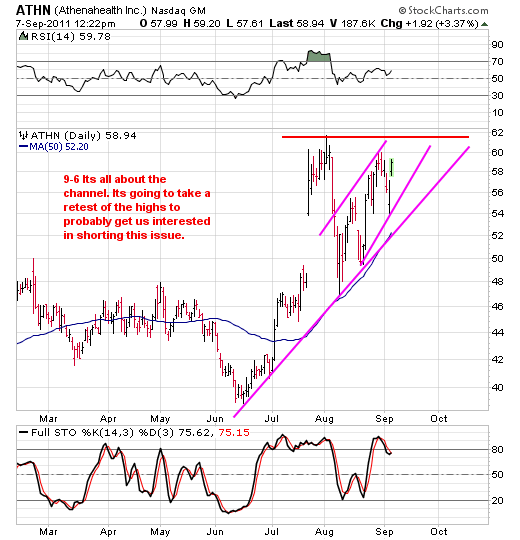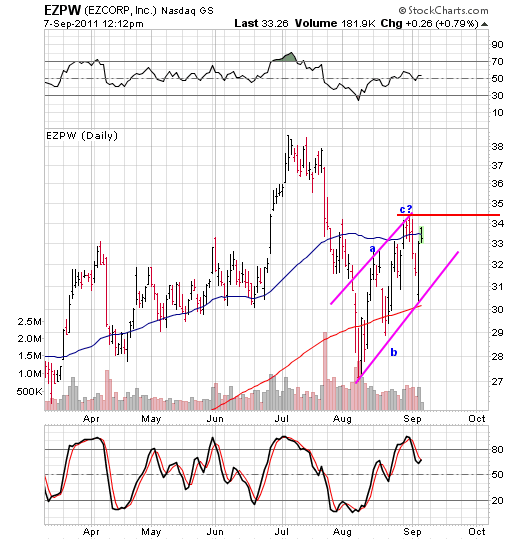 Note from 9-7
In the event the markets want to retest recent highs then the red line ought to act as a resistance level. And we all know what we need to do at resistance right?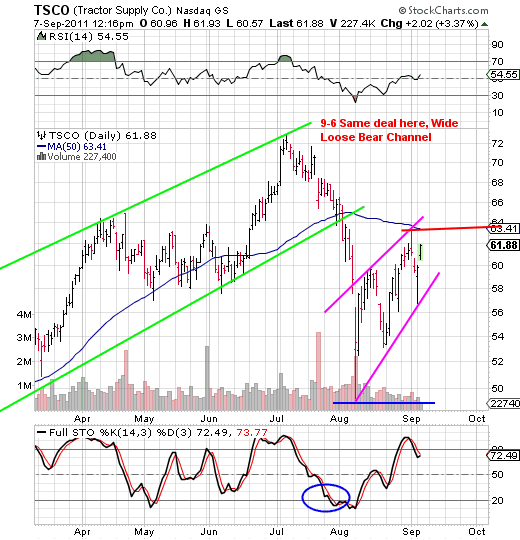 As you can see with all of the above, none have yet to break and that's good because it allows you to be prepared in advance should you need to take some action on the shortside, be it to gain exposure in order to profit from a potential 5th wave or to offset long-term legacy longs that you'll never sell anyway.
About the Author
---
David Grandey is the founder and CEO of All About Trends, a subscription based newsletter service focused on helping individuals secure consistent profits in the market by trading what they see, not what they think, hear or fear. The focus is on how to trade uptrends, downtrends and changes in trends. All About Trends offers a free newsletter at www.allabouttrends.net and a free report — "How To Outperform 90% Of Wall Street With Just $500 A Week."
---
Disclaimer from All About Trends



THESE ARE NOT BUY RECOMMENDATIONS!

Comments contained in the body of this report are technical opinions only. The material herein has been obtained from sources believed to be reliable and accurate, however, its accuracy and completeness cannot be guaranteed. All About Trends reserves the right to refuse service to anyone at anytime for any reason.

Allabouttrends.net

is not an investment advisor, hence it does not endorse or recommend any securities or other investments. Any recommendation contained in this report may not be suitable for all investors and it is not to be deemed an offer or solicitation on our part with respect to the purchase or sale of any securities. All trademarks,

service marks

and

trade names

appearing in this report are the property of their respective owners, and are likewise used for identification purposes only. The member/subscriber agrees that he/she alone bears complete responsibility for his/her own investment/trading decisions.

Allabouttrends.net

shall not be liable to anyone for any loss, injury or damage resulting from the use of any information. Trade at you're own risk, this information is strictly for educational and informational purposes only. Allabouttrends.net assumes NO responsibility whatsoever for any losses experienced by anyone who uses its educational materials to make financial decisions. All charts courtesy of

stockcharts.com

.



Want to know more? Visit our

web site

. Have you enjoyed good results from our newsletter or have a comment or question? Contact us at

[email protected]

. We'd love to hear from you. If you enjoy these newsletters, tell a friend!

Finally, we have a public list at www.stockcharts.com

— you can help us out by voting for it each day.

At the bottom of our list is a place to vote for us. Voting for us each day helps our list get closer to the top which means more visibility and more subscribers and more opportunity for us to help others like you be successful.